Browsing articles tagged with " ye"
Brethren, as it is.
On this day, December 21, 2012, SABBATH ASSEMBLY, in representation of the Process Church of the Final Judgment, is proud to announce THE END.
"The Process is the End; the Final Ending of the world of men. It is the agent of the End, the instrument of the End and the inexorable Power of the End."
-Robert De Grimston, 1967
www.sabbathassembly.com, designed by Karla Lemus, launches today, offering an unprecedented collection of hymns, teachings, and prayers of the Process Church – an Apocalyptic, Gnostic Church active in the '60s and '70s that espoused the peculiar theology of worshiping Christ and Satan, Lucifer and Jehovah. Also available are links to the music of SABBATH ASSEMBLY, who perform the hymns of this mysterious Church, as well as upcoming live dates of the band, which include:
"The Unification Tour" EUROPE 2013
*with Uhrijuhla
10.4.2013 Turku, FI – Klubi
*with Hexvessel
11.04.2013 Helsinki, FI – Kuudes Linja,
12.04.2013 Oulu, FI – Nuclear Nightclub
13.04.2013 Jyväskylä, FI – Lutakko
15.04.2013 Warshaw, PL – Harenda
16.04.2013 TBA. PL
17.04.2013 Hamburg, GER – Hafenklang
18.04.2013 Berlin, GER – Cassiopeia,
19.04.2013 Tilburg, NL – Roadburn Festival
(http://www.roadburn.com/2012/12/sabbath-assembly-confirmed-for-jus-oborns-the-electric-acid-orgy-at-roadburn-festival-2013/)
ChiarAlice Lorenzini of Milano, Italy, has directed a new visual adaptation of the song "We Come From the One" from SABBATH ASSEMBLY's latest album, "Ye Are Gods", released in September by SVART and THE AJNA OFFENSIVE. The video pairs the liturgical text of the Process Church with the pure magic ritual energy of the 1907 film Le Spectre Rouge, and can be viewed here:
So be it!
Sabbath Assembly
Label : Grailight Productions
Review by Vard Aman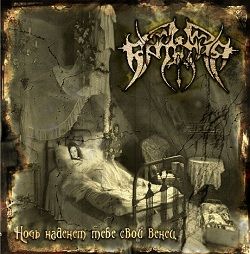 In Russian: Артания – "Ночь Оденет Тебе Свой Венец" ("Noch Odenet Tebe Svoy Venets"). Formed in 2007, Artania hail from Voronezh in Russia (about 450km South of Moscow) and "Night Shall Crown Ye" is their debut offering. They play some highly accomplished melodic Symphonic Black Metal with all of the right ingredients for fans of this genre to enjoy, and enjoy a lot. Artania are very good at what they do but the originality is somewhat lacking. With this album they seem to have chosen to excel at the tried-and-tested rather than to take the ingredients, mix them up a little and create something new or at least somewhat different. The album is generally well produced and the songwriting and performance are of a very high standard. The guitar work is the stand out feature on the album throughout – intricate, melodic and heavy; perfect for this genre of music. The symphonic elements back up the guitar work well, without ever becoming dominant (this could be a good or bad thing depending on your personal tastes). The drums have suffered a bit in the mix however – they sometimes tend to sound a little 'typewriter-esque' in places, especially during some of the blast beats, although not nearly as bad as the 'typewriter-esque' drum sound on Cradle of Filth's "Cruelty and the Beast". Fortunately the problem is relatively mild, so it does not detract too much from the overall quality of the album, nor from the quality of the drumming which is really good. The lyrics are all in Russian and cover such topics as the works of Aleister Crowley; the prophecies of Nostradamus; Countess Bathory; etc. The tracks are all in fairly similar vein and/so there are no weak songs on the album but there are a few that do stand out from the others: for me they are "Mysteries of the Order of Priorate Zion"; "Liturgy in Black Colours"; and most notably, "Fogs of Witches' Heath". The vocals, handled mostly by Vadim (aka "Vad Kaiphas") are as they should be for this kind of music with plenty of high and low pitched growls. They're very effective and well delivered, but never really stray into the realm of the demonically awesome (but that may well still come). Backing vocals are provided by the keyboardist Elena (aka "Bathory"), and here is where I think Artania have missed a trick or two. Elena performs a few spoken word passages, some really good soprano vocals (she has a beautiful clear voice) and also possesses a harsh, cold, evil scream which she delivers most prominently on the final track "Secrets of the Moon" but better on "Fogs of Witches' Heath". Elena has been severely underutilized on this album! Had her vocal talents been used more extensively, they would have added a really dynamic (and evil in the case of her scream) extra dimension to the music and to the sound of the band – something that would have made Artania really stand out from many of the rest of the bands in this genre. There is a hint of what I mean in "Fogs of Witches' Heath" where in places the dual vocals create a considerably more intense atmosphere, as opposed to the standard solo, or dual male vocal growls. Hopefully, Artania will realize the potential of what they have at their disposal in time for their next album, and if they do while continuing to develop on what they have done here on their debut, it should to be a mouth watering cracker of a prospect indeed! "Night Shall Crown Ye" is a good melodic Sympho-Black album and is a must have for any fan of this genre. Don't expect something new, but expect something good. This is a very competent debut from a very competent band, and they have displayed the potential to grow and to rise above the rest of the genre in the future. Artania – you'd do well to keep an eye open for this name!
Rating – 79/100
Tracklist
Алхимический Сон (Демоническая Мантра) (Alchemic Dream – Demonic Mantra)
Ночь Оденет Тебе Свой Венец (Night Shall Crown Ye)
Тайны Ордена Приората Сиона (Mysteries of the Order of Priorate Zion)
Литургия в Чёрных Тонах (Liturgy in Black Colours)
Сан-Гриньол (Театр Смерти) (San-Grinyol – Theatre of Death)
Туманы Ведьминской Пустоши (Fogs of Witches' Heath)
…За Северным Ветром (…Towards Northern Wind)
Тринадцатый Знак Нострадамуса (Thirteenth Sign of Nostradamus)
Секреты Луны (Secrets of the Moon)
Line Up
Vadim (Vad Kaiphas) – Vocals
Alexander (Graf) – Guitar
Yuri (Jason L. Madness) – Guitars
Elena (Bathory) – Keyboards & Vocals
Vyacheslav (Iskariot) – Bass
Artem (Set) – Drums
Links
6 color styles available:

Style switcher only on this demo version. Theme styles can be changed from Options page.