Browsing articles tagged with " yuliana"
Label: Sound Age Productions
Review by Vard Aman
My introduction to Andem (whose name is derived from a combination of Angels and Demons) came with the release of their debut album, "Маятник Жизни" ("Pendulum of Life"), in 2008. It was an album that was very well received among many Power Metal fans across the world, but failed to win me over completely; it was their second album, "Дочь Лунного Света" ("Daughter of Moonlight") that did that, with a sound of their own (a style of driving Power Metal with touches of Gothic and Symphonic Metal thrown in) consisting of monster riffs, catchy melodies and well controlled vocals perfectly suited to the music, as well as unforgettable songs such as "Хранитель Мечей" ("Keeper of Swords") and the title track. "Грааль" ("Grail") followed in 2011, a four track EP that consolidated their style and showed progression at the same time (re-recording two of the highlights from "Маятник Жизни" for the EP as well), with vocalist, Yuliana Savchenko, showing a lighter side to her vocals to add to her potent Power Metal style. Continue reading »
Label : Irond LTD
Review by Tony Cannella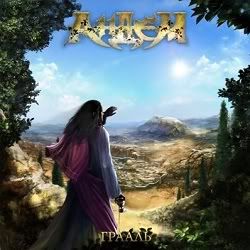 Andem (Meaning Angel and Demon in English) is a really good band. I don't mean to oversimplify things, and it is only my opinion, but this female fronted power metal outfit is one of the best bands to emerge from Russia. Formed in 2005 Andem has thus far released two full-length albums and now return after two years with their new 4-song EP, "Graal" (English translation "Grail"). Their new EP features two brand new songs and two re-recorded versions of older songs. Like their previous albums all the lyrics are sung in Russian, not that it matters any, good music is good music and metal is universal anyway. The opening track – and one of the new ones – "Graal" opens somewhat subdued, before the galloping rhythms kick in as the band runs through this piece of melodic power metal effortlessly as the clean, soaring vocals of Yuliana Savchenko leads the charge. The heavy melodic power of the second new song "Ti Uvidish Svet" is next and the band proves to be just as hungry as on the first one track. New power and life are injected into the final two songs, re-recorded versions of "Bezumnity Angel" and "Iz Nichego". In my book Andem continues to grow and prosper into a truly potent power metal band. "Graal" is good for what it is – which is hopefully a bridge to their next full-length.

Rating – 92/100
Tracklist
Graal (Grail)

Ti Uvidish Svet (You Will See The Light)

Bezumnity Angel (Out of Nothing)

Iz Nichego (Mad Angel)
Line Up
Yuliana Savchenko – Vocals

Sergey Polunin – Guitars

Natalia Ryzhko – Keyboards

Andrey Karalynas – Bass

Denis Zolotov – Drums
Links
MySpace * ReverbNation * Facebook * Twitter
Label : Irond Records
Review by Tony Cannella
Andem come from Moscow, Russia and they play a solid, up-tempo brand of power metal. Their strong debut "Pendulum of Life" was released in 2008 and it really hinted at what this band was capable of and now the band is back with their new release "Doch' Lunnogo Sveta" (translated into English the title means "Daughter of Moonlight"). As is evidenced by the song titles, the band sings in their native Russian language which is one of the more endearing things about this band. The intro track "Principium et Fons" leads us into the crushing riffage of the opening tune "Hranitel Mechey" and we're off. Right away their is a bit of a Helloween feel – especially with the guitar harmonies and pacing of the song. Lead vocalist Yuliana Savchenko has a strong vocal style that is tailor made for the power metal mayhem that is accompanying her – her vocals are instantly impressive. The title song "Doch' Lunnogo Sveta" is next and this track brings the tempo down a notch. This has an instantly infectious chorus that will stay with you long after you've heard (so the vocals are in Russian, the chorus is still catchy as hell). Other "Master i Margarita" is one of the heavier and fastest songs on the CD. It is also quite aggressive and features some growling style vocals in conjunction with Yuliana. "Molitva" is a great ballad that offers a change of pace from the more up-tempo material. Other highlights include: "Polnochyi Gost", "Goty idut na Rim" and the eerie closing track "Pesni Peschanyh bur'" which is a moving symphonic-like instrumental track. Definitely a cool way to bring this fantastic CD to a close. The level of musicianship and the songs that can be found on this CD (and their first one as well) is of a very, very high caliber. The band certainly put their heart and soul into each and every track and that can be found in the overall quality of the material.

Rating – 85/100
Tracklist
Principium et Fons

Hranitel' Mechey


Doch' Lunnogo Sveta

Polnochyi Gost'

Pravedniki Sveta

Doroga v Pandemonium

Master i Margarita

Molitva

Goty Idut na Rim

Pasni Peschanym Bur'
Line Up
Yuliana Savchencho – Vocals

Sergey Polunin – Guitars

Natalya Ryzhko – Keyboards

Evgeniy Yakovlev – Bass

Danila Yakovlev – Drums
Links
MySpace * ReverbNation * Twitter * Site
6 color styles available:

Style switcher only on this demo version. Theme styles can be changed from Options page.