Interview by Miriam C.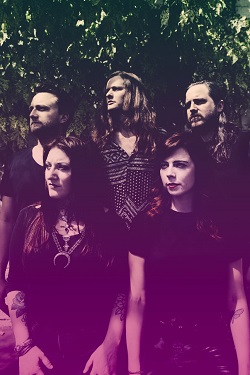 Leeds's stoner rock/metal quintet Black Moth, in this recent period, has positively impressed with their third sophomore full-length "Anatomical Venus" released via Candlelight Records this past March. On occasion of their upcoming tour in November along with Corrosion of Conformity, Orange Goblin, and Fireball Ministry, I got the chance to discuss more in-depth with singer Harrier Bevat about their current plans, their past achievements and their next plans.
Hello Harriet, welcome to Femme Metal Webzine, how life is treating you?
Hullo, Femme Metal Webzine. I'm hiding out at my parents' house in the secluded North Yorkshire countryside so life is treating more gently than usual thanks.
First of all, for what I have knowledge of is that Black Moth was founded back in 2008 in Leeds and since then the band's discography counts already 3 acclaimed full-lengths. Despite this, many of our readers are not very familiar with your music and history. Would you like to share some useful information of how Black Moth got together?
Gosh, it was a long time ago now! Jimmy (guitar) and I met aged 13 in high school over a Nirvana biography. We picked up Dave (bass) a few years later. We formed a 60s garage rock band called The Bacchae which was a space to explore our vast and multifarious musical interests. When Dom joined on drums he brought with him a heavy sound that helped to cement the band's sound. For album #2 we recruited our good pal Nico– a surf/rock'n'roll guitarist who would bring something unique to our sound. For album #3, Nico's shoes were filled by Federica, our Italian heavy metal weapon who shreds like no one we'd ever met before. We've all been through a lot together and the band has evolved with us.
On 2nd March 2018, Black Moth has released their third album "Anatomical Venus" via Candlelight Records. What can you recall about its overall musical and lyrical production?
I wrote the lyrics for this one with my good friend and poet Jessika Green. We were very much influenced by the book of the same title by Joanna Ebenstein. We lit candles and meditated on the surreal Anatomical Venus models in order to inspire the themes of the record. It was wonderful to share the lyric writing this time as it is usually such a solitary process. The record was produced by Andy Hawkins, a very smart man, in his beautiful studio The Nave in an old church in Leeds. Andy was so good to work with as he has such a creative mind and shares our aversion to clichéd/tired hackneyed sounds.
The actual outcome (of which I surely must congratulate for it), I was literally piqued by the album's title. What it stands for and from a lyrical perspective, how it generally relates to it?
Well like I said above, the title refers to a book which I initially bought as a birthday present for Jess (who ended up by being my lyrical co-writer on the album) and then ended up falling in love with it so I kept it and got her another copy. The Anatomical Venus was a creation of the 18th century- a wax surgical sculpture designed to teach training doctors about the female anatomy. It's easy to see, these are not just medical models for education, they are fetish objects. They were designed by men under the guise of their scientific purpose, but there's more to it than that. On the sleeve notes, I referred to it as: "A surgical excavation into the spirit of a woman." Gratuitously beautiful and adorned with golden hair, pearl necklaces, feet tied, allowing her to be scrutinized and invaded. As a trainee psychotherapist and as a woman in 2018, I have found myself digging deep into my experience as a female; a very personal and often painful process. However, the Venus simultaneously represents my personal exploration alongside a history of man's dissection of a woman, invading her every crevice in an attempt to understand her, reveal her magic, snuff out her unruly flame… and all the while sculpting her to be aesthetically pleasing to their taste.
On top of all, "Anatomical Venus" marks your debut on an important label such as Candlelight Records. How did you come across them?
We were approached initially by Spinefarm Records and they had recently joined forces with Candlelight. They thought we'd be an ideal addition to their roster and we agreed!
In support of your recent full-length, not so long ago it was published the brand-new single "Pig Man" whose direction was taken care by Ged Murphy and Rob Hoey. What memory do you cherish the most about this experience and do you mind to give us a comprehensive insight into this specific song?
It was super fun doing a live video as it was a bit more relaxed and we could really just go wild. It was also nice to be reunited with Ged and the cameraman Louis Caulfield who I worked with a few years ago when I helped out on a documentary about David Bowie for the BBC! With this talent involved, I knew we were in safe hands! "Pig Man" is certainly the most debauched and demented song on the album. It's the song we currently end our set with as well, and it nearly kills our poor drummer every time! Ha! The theme was inspired by a brilliant book called "Perv" by Jesse Bering which celebrates how we're all sexual deviants in our own unique and colorful ways. In reading it, however, one particular story stood out for its horror and absurdity. Most people know of the atrocities committed towards women in 17th century New England in the Salem Witch Hunts. Deranged rumors circulated that they cut off men's penises, bewitched them and kept them as pets! To this day women are 'slut shamed' and outcast for possessing their own innate power and sexuality. A lesser-known story is that of the 'Pig-man' hunts that obsessed the congregations of New Haven. The poor dears in their infinite repression managed to convince themselves that certain men were secretly in league with the Devil to impregnate barnyard animals. The offspring would be Satan's children walking the earth wreaking destruction in their orderly Christian society. It seems the arrival of a deformed pig fetus was enough to incriminate the farmhand for 'buggery' and lead to his brutal execution… How could I not write a song about that?!
From what I've learned, on your last tour you successfully share your journey with the all-female grunge alternative band L7 and in recent times, you had a one-off appearance with stoner rock legends Sleep. As a newcomer, which sort of knowledge did you gain out of these adventures?
The gig with Sleep was incredible as they are musical heroes of ours and one of the best live bands around. Such a treat to play to their crowd. The tour with L7 was nothing short of a dream come true. Those women have influenced me more than they will ever know. They were so kind and open with us and their crowds were exactly the sort of people I want to be playing too- smart, funny, strong people of all genders and sexualities. L7 were honest, authentic people who only not treated us as equals (rare for a support!) but had the crowd chanting our name every night. They even referred to me as their "frozen embryo baby" which filled me with pride like you wouldn't believe!
Also, it's hot off the press the news that Black Moth will be heading out on tour again later this year between October and November as part of the 4 band package of Corrosion of Conformity, Orange Goblin, and Fireball Ministry. Mainly as a band, what are your expectations?
Yes, what a ridiculous lineup!! I expect it to be one of our best tours yet!
So, Harriet, we're almost at the end and with this please be free to say hi to your fans and our readers. Thank you so much for this interview!
Thank you so much for your support and interest in Black Moth! Always come to say hi at our gigs, we love to meet people who enjoy our music.
Photos by Gobinder Jhitta
Links