Interview by Miriam C.
After some painful band splits (we have already seen her in action with Axxis and Xandria), the German singer Kerstin Bischof has decided to going solo (helped by her husband – and former Axxis guitarist – Guido Wehmayer) with her first independent offering called "Project Ava", that at the moment is only avalaible digitally via ITunes. Read what she says about this new musical adventure in the following interview.
Hi Kerstin, first of all thanks for accepting the interview! It's an honour!
Hi Miriam, thank you for the opportunity to talk about my music 🙂
As an artist what is your background and influence and what is the fact that triggered you to become a singer?
There is no single fact that triggered me to become a singer. It was always an urge or a drive inside me and I absorbed everything musical around me. A big influence was Kari Rueslåtten when I was a teenager. Nowadays it's artists like Tori Amos and my husband Guido Wehmeyer who inspire me the most.
So, we're here talking about your new debut album called "Project Ava". Do you mind telling us how's born this album?
The idea of a solo album had been around for years. Even before my collaborations with Axxis and Xandria. But 2012 seemed to be the perfect time to get things finished and released.
Also what is the reason of this title? We must expect a second part of it?
Yes, "Project Ava" is to be continued! The title resembles the world I escape into when I sing and compose. However it is not purely autobiographic but fictional as well. The second part will reveal more…
I really like the artwork, what represent and who's the author of it?
The artwork was done by the amazing illustrator Pe Grigo. I told her what the songs stand for and the main idea behind "Project Ava". Then she came up with this amazing cover artwork! The cover also represents the world of  "Project Ava".
Instead talking about the lyrics, what you tell us? What is your favourite?
Haha that is a difficult question. To me the album works as a whole package. There are happier and sadder songs, some of the saddest songs I ever wrote. My favorites are: "Enough", "Midnight Earth #2", "Crimson", "Keep You From Harm", "Battery Eyes" and you see, the list goes on and on 😉
Reading the credits, Guido Wehmeyer, former Axxis, appear to be your partner in crime. Did you develop the entire album with him and how did you share/divide the work?
Usually I come up with the song idea and structure. Guido works out guitar, bass and drum arrangements. That's how most songs develop. We're both equally involved and this proved to be the best way to work for the album.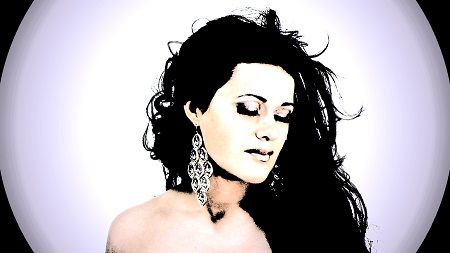 First of all, congrats for the videoclip, appears that Lisa Middelhauve helped you with it. Do you have any funny insights about the shooting?
Haha, it was a great time we had doing the video. Lisa is an angel and her support was a blessing! The most funniest part was doing the zombie-part. They had to hide me from my daughter to not scare her away from me and also, my husband was really distracted by my changing looks 😉
"Project Ava" is out on only digital retailers. Any plans for a physical release?
We hope we can get a physical release out. We will decide this summer about it. But at the moment it doesn't look like we'll be able to do it, 'though 🙁
I was wondering why "Storm" didn't make up on the album, any particular reasons?
"Storm" was a very special project. It was only for the fans and was never intended to appear on an album.
I know that maybe is something that you don't want to talk about and I'll be delicate and I'll totally understand if you don't reply either but why split up with Xandria and Axxis?
Hehe, well: Splitting up with Axxis wasn't really my intention in the first place but we ended up having severe arguments about business stuff, which forced us to decide whether we wanted to continue any collaboration or not. You know what happened 😉 Listen to "Shrink" or "Keep You From Harm" closely and you know the story and the split with Xandria was a very painful one. The guys and me did not share the same professional expectations and I was quite unhappy about how we rehearsed and went on tourÉ The songwriting worked well but I felt I could not cope with some of their visions on the long run. I also wanted to work on my job career apart from the music business and things collided. I decided to leave the band.
In your point of view, what are the pros and cons to be an independent artist without the support of a label?
Pro is that you can do whatever you want 😉 Con is that you have no money to do it and but wait, same goes for working with a label nowadays haha!
Like you and many other singers you are part of Eve's Apple, what is the purpose of this female association?
Eve's Apple is a network for female professional rock and metal singers. When I started working as professional singer with Axxis on tour there was hardly any support for female singers in this genre. I had some rough times on the road. Many other female singers experienced similar things and this is why Eve's Apple was born: to support each other, share experience (good and bad!) and help each other to survive in this monkey business! EA also represents a lot of talented singers to fans of the genre and you won't get more honest and interesting info about your favorite singers anywhere else ;).
Lisa said "A public person is a naked person. Pretending to wear clothes.". Do you agree with this statement?
Yes, sometimes. On the one hand, it is true, especially for artists as we have our work that tells the most intimate parts of our life, hopes and so on. We decide to share it with the outer world and have to cope with the results this brings. This is one of the most exciting and most complex processes ever! On the other hand, the thing is that people think they know you when they listen to your music or look at your paintings and in fact, they only know little bits and maybe those bits are blurred. However, they feel like they know it all and some of them like to explain their opinions to others on the Internet. This is when I feel uncomfortable and I know that some people do not take the time to really understand what the artist wanted to share. But that's the risk we take…
What are your next planes?
Getting the second solo album done. In the meantime working hard, earning enough money to get it done 😉
Well, we're at end. Please greet our readers and your fans as you want…
Thank you for your time, Miriam! It was a pleasure and thanks to everyone who took the time to read the interview 🙂 I know, sometimes it seems like I've vanished from this planet but I'm here working on new material all the time!!
Latest Multimedia
Links