Interview by Alessandra Cognetta
Vocalist Laure Le Prunenec is one of the members of Igorrr, the French avant-garde band founded by Gautier Serre. With Igorrr's latest album, "Savage Sinusoid" being released just recently, I had the chance to chat with Laure about the creative process behind the album, her concept of femininity in her music, the Chicken Symphony and much more!
Hello and welcome to Femme Metal Webzine, Laure! Igorrr's latest album "Savage Sinusoid" was released on June 16th. How has it been received by fans and critics so far?
Hi Alessandra, since the album was released,  I received a lot of positives messages and words of love for my voice, it's crazy, from fans all over the world, it is a big gift!! I did expect a lot good reactions because I think this album really represents the incarnation of Igorrr. Something more assumed, he really deserves this success!
According to the press release, all the work on this album was very collaborative. How did you approach the vocal arrangement from Gautier's general outline to the final product?
As always, we work together since the beginning of the creative process. Gautier sends me a track and most of times I compose voices and it evolves until the end, but in general we find the basement of the voices since the beginning, that never moves so much until the end and the more often I am very happy about the result, when Gautier mixed all that cooking.
Your style on "Savage Sinusoid" is as experimental as the whole record is intended to be. What kind of influences and vocal training played a role in developing your vocals?
I think it's not so technical, but I have a lot of the feeling with the songs, at the moment. I listen very deeply what the song can reveal to me and I can already manage to how it will sound with my voicea little. There are a lot of feelings, and what I hear in my head the melodies come from themselves and then I refine all that but it's really about intuitions and what I want to hear, I have to do exactly the same.
Your vocals range from operatic to powerfully raw screams, sometimes even within the same phrase. How do you manage to control such an extreme switch of vocal registers?
With my little experience, I am tempted to say that more you control and more you break something inside. Singing is really about energy and how you breathe with all that. The most important thing for me is that everything flows well in my body, I sing each time I can because it's the better way for me to connect with myself and feel alive and especially find something new into myself and let it listen.
I wasn't able to find any information on this, but I was curious about the lyrics. Are they tied to a specific language or theme?
It is a language that I invent in the present when I sing. I developed, influenced a lot by Öxxö Xööx (Laurent Lunoir), a new way to communicate my emotions and pictures at the same time with a language that is no conditioned or coded, just by the way that I want to express it. I think one day it will be interesting to do a masterclass to explain it, and let people create their own language, it would be great because the method is just to hollow into yourself and let them see!!
You also worked with Gautier on Corpo-Mente. Could you tell us a little bit about the musical aim of this project?
We enjoy a lot this project and we'll continue to compose but we let this a little bit in stand-by because this time we really want to tour with "Savage Sinusoid".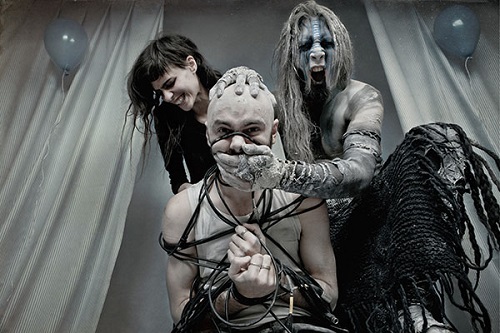 You released a solo album as "Rïcïnn" a year ago, and it's a beautiful avant-garde work that really moved me at a deep, emotional level (I lost it at the Purcell reference). What are the differences between this kind of music and what you do with Igorrr? Are you going to expand this project with future releases?
Thank you you make me shy, yes, "Rïcïnn" is quite different in the musical aim, although we both share similar tastes, including love for baroque music and ancient instrument. Obviously, the other projects influence me and they allow me to stay away from my own project. In the end, I feel really frustrated by the fact that I cannot work in a very constructive and this gives me even more strength for it. At the moment I am assembling a band for the live shows and I work hard on a new album which will be released by Blood Music in 2018.
Igorrr released music videos for "ieuD", "Opus Brain" [here] and "Cheval" [here]. They are wildly different in presentation and perfectly fit the experimental core of Igorrr. Can you give us a little insight on your experience during filming and the concepts behind the videos?
For those music videos it was necessary  at the best but the same being intense and alive in front of the camera because it requires a lot of energy. For example, the moment I had to stay frozen in "ieuD" (the baroque section) and well, my eyes had to express everything but  it was a beautiful experience that I dearly cherish from this clip.
The purpose of these clips, and I think of the project Igorrr in general, is to wake people's fire 🙂
In one of your previous interviews you mentioned "calling on femininity" for the power in your music. What kind of femininity did you infuse in "Savage Sinusoid"?
Femininity for me is not necessarily what characterizes a woman from a man. For me it is linked to an energy, a force of the universe (forces of nature, etc) and in Igorrr, this femininity is really expressed in the contrast between strength and fragility. I like to play with this complexity all the time to the extreme. This femininity is not limited and it expresses what is the ugliest in it and the most beautiful at the same time. It is a femininity that is not afraid to show this hardness, but sometimes with love, beauty and humor.
Speaking of femininity, the music industry still seems to be a challenging space for women, with its stereotypes and often surreal expectations. As someone who sees the industry from the inside, what is your perspective on these issues?
Like my music, I would like to be able to share an another image of woman in an environment which, in my opinion, is ultimately very restricted by the "style" or something that is completely far from the music. But it is a choice, no one forces them. I have the impression that they systematically need to belong to the role of "woman who asserts herself" but it always takes the shape of a jail and I don't find this liberty in their music and in what is expressed and you end up disguising yourself as a wicked witch to show that you are "deep and suicidal". I want to be true and express a universe through my music and my visuals, not the opposite.
Igorrr is going to tour Europe this fall. Personally, I'm hoping to see the Chicken Symphony live… but jokes aside, how are you all preparing to bring the new album on stage, especially considering all the live instruments involved in the recording?
Patrick the chicken left us, he lived something like 10 years, which it is rare for a chicken and he had the most beautiful tribute with this Chicken Symphony! We already play new songs on stage: "Opus Brain", "ieuD", "Spaghetti Forever", "Robert" and "Cheval". Also, we were recently joined by the drummer of "Savage Sinusoid", Sylvain Bouvier, which will more powerful and  we are really happy to go on tour together!
That was my last question, Laure. Thank you so much for your time and we hope to see Igorrr on the road soon! You can leave a message for fans and readers here.
Thank you for these pertinent questions, it was very nice to talk about my impressions. People, see you around soon on the big Savage Tour Oct/Nov 2017, thanks so much for your support, as always.
Laure Le Prunenec's photo by Etienne Varin
Links