Interview by Alessandra Cognetta
Finland's ever prolific music scene brings us another gem. It's time to dive back into the '70s with Seremonia's psychedelic rock, with the help of lead singer Noora Federley, to find out more about the band, its self-titled debut album and the dangers of Rock 'n' Roll…
Hello and welcome to Femme Metal, Noora! With Seremonia's debut album just released and upcoming tours and festivals right ahead, the first thing I need to ask you is "how's it going"?
Everything's great, thanks for asking. We`ve been playing a lot of shows here in Finland and enjoyed playing them. We are also working on a new album at the moment.
Since it's the first time we have the pleasure of featuring you on the webzine, how would you describe Seremonia to someone who has yet to approach your music?
Seremonia is psychedelic hard rock with simple riffs, primitive sounds and lyrics in Finnish.
The first thing that catches the listener's attention upon listening to the album is the lyrics. What led you to the choice of using only Finnish? Are there, in your opinion, and pros and cons to it?
No one seemed to be doing this sort of music these days in our language and we wanted to do it. I think it sounds more original that way. English translations are included to album covers so people abroad would understand what we are singing about.
The other thing that catches (at least in my case) the "ear" is your voice. I find the vocals very fitting to the overall music style and yet still recognizable, with their own identity. I could almost feel the confidence coming out from them. So, how did you develop such a firm voice? And what brought you to the path of singing in the first place?
I`ve played in some bands but I`ve never been a vocalist before Seremonia. When I heard the first song ideas, I knew this was the type of music I`d be able to sing. The lyrics are quite dark, and that of course influenced the way I sing them. The vocal recordings were very spontaneous, there wasn't too much planning, premeditation or second takes, and that's actually the overall approach to Seremonia's music.
Speaking of singing (forgive me the word play), what do you think a vocalist should bring to the music experience? I always thought that the voice was indeed a musical instrument, but a bit more particular than, say, a piano or a violin. What's a vocalist's role (and, why not, duties) compared to the other musicians?
The vocalist delivers the lyrical message so it`s certainly an important role. Still I think it`s more important how the whole band sounds like. All the instruments in rock music are equally important.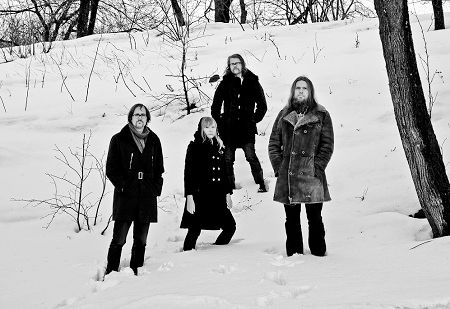 "Seremonia" has been out for a little more than half a month, so maybe it's still a bit early to draw conclusion, but what has been the response so far?
Response has been surprisingly positive. When we recorded the album we didn`t even know if it would get released. Luckily Svart Records was eager to put it out. We are glad that so many people have been interested in what we do.
Finland is without doubt a country that has given a huge contribution to the development of metal and music in general. What's the situation of the Finnish music scene at the moment?
I think we have many very original underground bands and labels. For example Ektro, Fonal and Svart Records release interesting music all the time. Finland is a small country but there`s a lot of great DIY action here, and this active underground scene is what I´m interested in.
Seremonia follows a path that has a solid foundation, genre-wise. I'm sure the first name that comes to mind upon listening to the songs is "Black Sabbath", but I'm also sure that there's much more than that. What are the elements that influence your music and your songwriting (and why did they become such an important influence)?
Our influences mostly come from 60`s/70`s proto metal, Finnish 70`s rock and primitive garage/punk rock. We prefer organic and fuzzy sounds, modern production values usually sound boring to us.
You have already released two videoclips, one for "Rock 'n' Rollin Maailma" and one for "Uhrijuhla". Can you give us a bit of insight on the songs and the meaning of the videos?
Videos are directed by our good friend, musician and film-maker Sami Sänpäkkilä. Those two videos are the first parts of music video trilogy. The first one, "Rock `n`Rollin maailma" pretty much visualizes the lyrics of the song, a young girl is seduced by the evil powers of Rock `n` Roll. Second one, "Uhrijuhla" is a more mysterious piece. "Uhrijuhla" lyrics are an invitation to a some kind of sacrificial ritual, but I would leave it to the viewer to figure out what the video is about. Sami understands our musical ideas so it`s great to work with him.
Now that the first album is out, what are Seremonia's plans for the future? Are you going to keep the iconic sound you already have or are you going to surprise us yet again (or both!)?
Well, with Seremonia there`s always surprises! We are recording the second album later this year, so we are working on the new songs at the moment. It will definitely be another weird psych rock record. We will also continue touring, we are supporting Witchcraft on their tour in Finland and look forward to play at Roadburn Festival 2013 in Holland.
That's it! Thank you again for taking the time to answer our questions, we wish all the best to Seremonia and hope to have you here to celebrate another milestone of your career! This is a "free space" where you can write whatever you want to fans and readers.
Thanks for the interview and your interest in what we do!
Latest Multimedia
Links
Please follow and like us: