Label : Phonotraxx Publishing
Review by Tony Cannella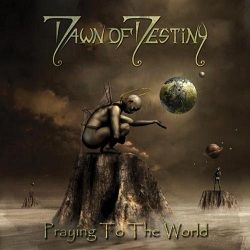 The German melodic power metal band Dawn of Destiny returns with their fourth album and first since 2009's "Human Fragility". My introduction to this band came via that album and I was very impressed with the vocalist Tanja Maul, but alas the band changed vocalists shortly following the release of "Human Fragility". Enter new vocalist Jeanette Scherff and while her style differs from Tanja's (Jeanette's is more of a soaring power metal style), she has definitely proven to be more than a good fit for Dawn of Destiny and sounds as if she has been with the band for more than just this one album – the chemistry is that good.
Dawn of Destiny wastes little time in getting right to it with the hard driving, bombastic opening song "My Life In Ruins". New vocalist Jeanette Scherff has proven to be a worthy edition to DOD's ranks. Bass player Jens Faber handles the male vocals on the album and his performance on the album is impressive. He sings in numerous styles, for instance, on the opening track he sings in a black metal screaming style, but he also contributes clean vocals and grunt vocals to "Praying to the World". Happily DoD's melodicism remains intact throughout the album while still managing to come up with some heavy songs. Some highlights include: the majestic 7-minute song "Majestic". This is just a great melodic song with tempo changes, orchestration, some great duel vocals, an awesome guitar solo and everything that makes DOD so great and did I mention Jeanette's vocals? If there was ever any doubt that she would fit in nicely, than those fears were swept aside with her amazing performance on this song. I would refer any doubters to "Misunderstood". "Promised Land" is more of a straight forward song that features a classic metal riff throughout the song. "Praying to the World" marches on triumphantly with some great material, like: "My Four Walls", the awesome "Beast Human", "Bleeding Me", "This Aching Heart" and "Praying to the World" to name a few.
The regular album has 13-songs on it and the limited edition features 2-bonus tracks which brings the album to over 70-minutes worth of music. There is certainly a lot music to sift through, but "Praying to the World" doesn't seem like a long album, it is not a chore to sit through. Dawn of Destiny has definitely released an ambitious album that should hopefully gain the attention of the power metal faithful.
Rating – 88/100
Tracklist
My Life in Ruins
The Right Path
Miracles
Place of Mercy
Misunderstood
Promised Land
Another Pain
My Four Walls
Beast Human
Bleeding Me
One Last Word
This Aching Heart
Praying to the World
Different World
In Another Time
Line Up
Jeanette Scherff – Vocals
Veith Offenbächer – Guitars
Dirk Raczkiewicz – Keyboards
Jens Faber – Bass
John S. – Drums
Links
Latest posts by Miriam Cadoni
(see all)