Label: AFM Records
Review by Tony Cannella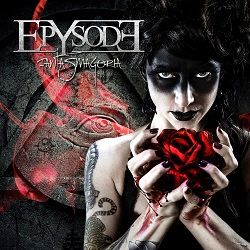 For their second epic album, "Fantasmagoria", Epysode main man Samuel Arkan has assembled another impressive array of metal musicians to complete his vision. When their first album "Obsessions" was released in 2011 it had all the ear marks of another all star metal project, yet it proved to be something more than that. With "Fantasmagoria", Epysode takes it a step further and has crafted an intensely dark, symphonic/progressive metal masterpiece. Rather than each musician recording their parts at their various homes, they all convened at Noise Factory studios in Belgium to record their parts, which is unusual in this day and age and it certainly goes a long way towards giving "Fantasmagoria" a unified band feeling, which according to their bio was their intention. 
Lyrically, Epysode weaves another cinematic tale that – quite frankly – would make a pretty cool novel. The story is set in Missouri and deals with a serial killer. It's quite task to go through it here, so I would refer you to the album booklet to get a better overall synopsis of the story. Suffice it to say, each singer plays a different role and adds their unique talents to the story. After the intro "4180-2", "The Arch" is next and features lead vocals from Tom Englund from Evergrey who I have long felt is one of the more underrated vocalists in metal. He is always able to convey such emotion in his voice and it seems like this part was tailor made for him. There are two female singers present on "Fantasmagoria": Ida Haukland from Triosphere and Tezzi Persson from Between the Silence both offer enormous contributions. "Fantasmagoria" flows like all good movies or novels should and the band are all at their very best on songs like, "Venom", "The Black Parade", "Garden of Exile" and "Raven's Curse".
"Fantasmagoria" is not simply a star studded album with no heart. Each and every musician present contributes to the overall greatness of Epysode. They can all take ownership of the audio success of "Fantasmagoria". This is a beautiful album.
Rating – 93/100
Tracklist
File 4180-2
The Arch
Morning Rose
Venom
The Black Parade
T.H.O.R.N.S
Garden of Exile
Raven's Curse
Living Fortress
Fantasmagoria
The Inheritance
Now and Forever
Forgotten Symphony
Unreal
Line Up
Vocalists
Tom Englund
Henning Basse
Ida Haukland
Matt Marinelli
Tezzi Persson
Musicians
Samuel Arkan – Guitars
Simone Mularoni – Lead Guitars
Julien Spreutels – Keyboards & Piano
Mike LePond – Bass
Léo Margarit – Drums
Links
Latest posts by Miriam Cadoni
(see all)