Label : Independent Release/Nightmare Records
Review by Tony Cannella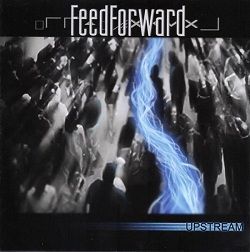 The Dutch Progressive Rock/Metal band FeedForward has been around since 2002. After releasing two demos in 2002 and 2003, they issued their full-length debut "Barefoot & Naked" in 2007. Now, after a five year absence FeedForward returns with their sophomore effort and first for their new label Nightmare Records, "Upstream".
Like a lot of prog music, FeedForward are a band that loves to play long, complex epic type numbers and the songs on "Upstream" are no exception. Mixed in with the longer songs are more accessible 4-5 tracks. Actually, even their longer songs are pretty accessible as well.
FeedForward definitely has an ear for melody and the smooth vocals of Patrice really add a lot to the music. The songs on "Upstream" can and should appeal to prog fans and melodic rock fans alike. From the opening intro "Ahead of Echoes" and leading into "Deepest Thoughts", it is quite obvious that FeedForward has a lot to offer a wide variety of rock and metal fans. Musically, I would describe them as sort of similar to latter day Fates Warning andQueensryche "Empire" era , with a nod to 70s era prog rock here and there. Other highlights include: "Thin Ice", "As Time Goes By", the 8-minute "As One" and the fantastic final track "For Now" which clocks in at about 12 ½ minutes. I love prog rock and metal, but a lot those prog bands have a difficult time securing a fan base outside of their genre. There are exceptions however of bands that managed to cross over while still staying true their prog roots. I have a feeling that "Upstream" from FeedForward can have crossover appeal and reach a broader fan base.
Rating – 87/100
Tracklist
Ahead of Echoes (Intro)
Deepest Thoughts
Thin Ice
As Time Goes By
Relevant
As One
Promises
Give
For Now
Line Up
Patrice – Vocals
Mario – Guitars
Job – Keyboards
Jan – Bass
Pi – Drums
Links
Latest posts by Miriam Cadoni
(see all)