Independent Release
Review by Tony Cannella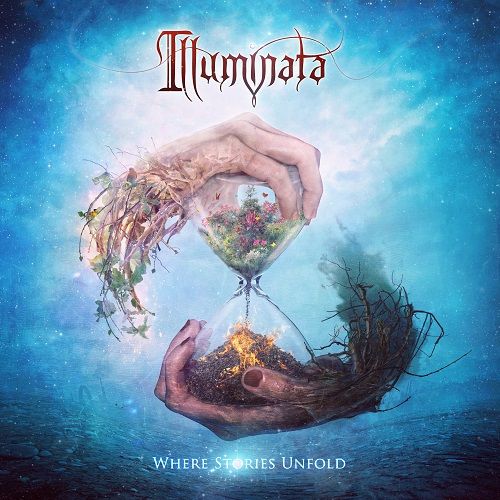 From Austria, the symphonic metal band Illuminata has existed since 2006. With their 3rd album "Where Stories Unfold", the band has released an epic record that should resonate with fans of Nightwish and Epica.
The 11-song, 63-minutes of pure symphonic metal begins with the movie score-like intro "A Story Unfolds", which lead us into the bombastic "Eternity of Today". Lead vocalist Katarzyna Nieniewska has an operatic voice and she is joined by male vocalist Mario Plank (ex-Visions of Atlantis) on three songs. "Violet's Compass" is next and has a dramatic feel. "Arbitrary Asylum" is next and the first of the three to feature Mario Plank on male vocals. One of the central moments for me was the 10-minute epic "The Brass Ring". While there are definitely some similarities in style with the likes of Nightwish and Epica, I would defy anyone to accuse them of being an out and out clone. "Danse Macabre" is unlike anything that those bands has recorded. The almost 10-minute "The World Constructor" brings the album to its conclusion.
What I really liked about Illuminata is their ability to mix cinematic and dramatically sweeping song arrangements with more accessible material. It's a pretty cool combination that really works on "Where Stories Unfold" and contributes to the overall enjoyment of the record.
Rating – 87/100
Tracklist
A Story Unfolds
Eternity of Today
Violet's Compass
Arbitrary Asylum
White Heart
Phoenix
The Brass Ring
Entwined
Danse Macabre
The Phantom Rickshaw
The World Constructor
Line Up
Katarzyna Nieniewska – Lead Vocals
Luki Knoebl- Electric and Acoustic Guitars
Sabrina Supan- Keys
Christoph Vide – Bass, Acoustic Guitars
Tom Kern – Drums, Percussion
Links
Latest posts by Miriam Cadoni
(see all)