Independent Release
Review by Tony Cannella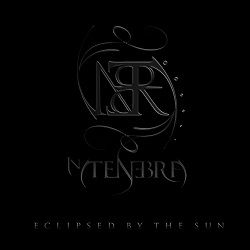 Another band from Italy, the operatic/symphonic metal band In Tenebra was formed in 2005 and releases their first demo "Introspection" in 2009. The band follows that up with this 2-song promo CD.
"A Breaking Path" opens the 10-minute disc and right off the start the thing that impressed me is the fact that In Tenebra has so many layers. The songs are very much heavy, guitar driven metal, mixed symphonic parts. The vocals are quite varied too. Vocalist Veronica Bordacchini's contributes a couole of different styles. First her opera technique is a little over-the-top and kind of overdone for me, but then she has an outstanding female vocalist that has a lower Floor Jansen style to it. There are also two male vocal styles, you have a clean and growly extreme style and these are all in the first song. The second song "Eclipsed By the Sun" charges in propelled by a huge, relentless guitar riff. The operatic vocals are more in check and listenable on this song, and Veronica continues to add a diversified presence and makes this track my favorite – it has an After Forever vibe to and the band does tend to remind me of the great Dutch band.
Wow, consider me impressed. In Tenebra makes the most of the 10-minute playing time of their 2-song promo. I would like to see the band focus more on the lower female vocals than the operatic singing, but the bottom line is both songs on display are both very well done and has me very, very interested in a full-length from this Italian band. Hopefully that will come sooner rather than later.
Rating – 88/100
Tracklist
A Breaking Path

Eclipsed by the Sun
Line Up
Veronica "ValchiRea" Bordacchini – Dramatic Soprano
Christian "Chris" Bastianoni – Guitars & Back Vocals
Francesca Trampolini – Piano, Keyboards & Back Vocals
Fiorenzo "Fiore" Pelucca – Bass
Giulio "Buro" Burini – Drums
Links