Independent Release
Review by Tony Cannella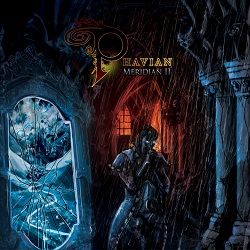 The progressive/avant-garde metal band Phavian returns with their third album "Meridian II". The band first came on the radar in 2009 with their debut "Kiena". After releasing an EP ("Foreword") in 2011, they released the epic "Meridian I" a few months later and have now released the follow-up.
The acoustic, melancholy of "Adam's Ale" begins the 6-song, 39-minute album on a beautiful note. Lead vocalist Elizabeth Matson shows what a diverse singing style she has and fits in perfectly with the music. The opening song clocks in at almost 3-minutes and is followed by two 8-minute tracks. "Purl" is next and is a nice mid-paced song, with tempo changes that goes from heavier, guitar driven and back to the acoustic style of the first song – in fact, it is almost like an extension of the opening number. The songs have plenty of atmosphere and emotion throughout the CD. "Hexenring" is a straight-forward track with a crunchy metal riff that dominates the song. "Mirror Skin" is a melancholic piano instrumental which leads us into the 11-minute epic "Watersong". This is simply an outstanding track and definitely my favorite. The final track "Fall of Cruor" is another highlight.
Phavian is a band that presents the listener with a lot of nuances and complexity in their music and "Meridian II" is no different. Phavian is a band that is both adventurous and fearless and with "Meridian II" they continue to push boundaries.
Rating – 78/100
Tracklist
Adam's Ale
Purl
Hexenring
Mirror Skin
Watersong
Fall of Cruor
Line Up
Elizabeth Matson – Vocals
Puyan Hassani – Guitar
Jason Lobell – Bass
Patrick Hassani – Drums
Links
Latest posts by Miriam Cadoni
(see all)