Label: SPV/Steamhammer
Review by Tony Cannella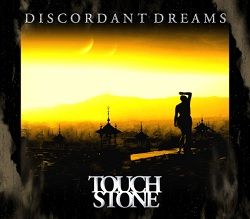 The U.K. based band Touchstone does a wonderful job in walking the fine line between over-the-top progressive rock and more mainstream rock music. Some of their songs have a flair for the intricate and grandiose, whilst others fall in the category of more accessible rock. The band formed in 2003 and in 2007 released their debut EP "Mad Hatters" and followed that in the same year with their full-length debut "Discordant Dreams". After inking a deal with SPV/Steamhammer records, Touchstone released "The City Sleeps" last year, which proved to be a favorite amongst prog rock fans worldwide. Now, thanks to the good people at SPV, their back catalog is getting the re-issue treatment with bonus material. Not a bad deal at all. There is not much – if anything – to dislike about Touchstone (for me anyway), their songs are well thought out, meticulously crafted and grandiose melodic prog rock music with sweeping arrangements at its best. In a way, their music is a throwback to some of the great prog rock bands of the 70s, but with a modern edge. "Discordant Dreams" also features the debut appearance of female vocalist Kim Seviour – who continues to sing for the band to this day. The opening "Intro" leads us right into classic melodic rock style of "Discordant Dreams".
The two vocalists pretty much sings the lyrics in unison throughout most of the song, which makes it kind of unique. The two vocalists Kim and Rob work well together, many times one will sing the lead part, while the other adds harmony and backing vocals like on the song "Curious Angel". The 7-minute song "See the Light" is next and is just an excellent song. The track is mostly up-tempo, and a melodic prog feast, but the slower more moody parts had sort of a Pink Floyd-ish vibe to it. The band does a good job in mixing shorter songs "Being Hannah", "Black Tide" and "Dignity" with longer more epic songs like the wonderfully grandiose 11-minute epic "The Beggars Song – Part I". In addition to the regular album, this version "Discordant Dreams" also includes two live songs ("Winter Coast" and "Strange Days"). The total duration for the CD is over 70-minutes.
I really like Touchstone's latest album "The City Sleeps", but up until now that was all I heard from this band. Now, thanks to these re-issues from SPV, it gives newer fans a chance to hear some of their earlier material and see how they started and progressed. And the die-hard fans are also rewarded with bonus material, so it's a win-win situation.
Rating – 86/100
Tracklist
Intro
Discordant Dreams
Curious Angel
See the Light
Being Hannah
Shadow
Winter Coast Instrumental
Ocean Down
Blacktide
Dignity
The Beggar's Song
Winter Coast (live)
Strange Days (live)
Line Up
Kim Seviour – Female Vocals
Rob Cottingham – Male Vocals, Keyboards
Adam Hodgson – Guitars
Paul Moorghen – Bass
Alasdair Melville – Drums
Links
Latest posts by Miriam Cadoni
(see all)