Label : Sleazy Rider Records
Review by Tony Cannella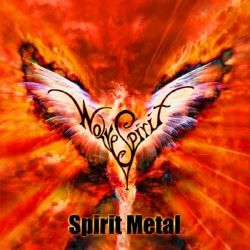 From Germany, WolveSpirit offers something a little bit different than today's crop of Female Fronted metal bands.With their debut album "Spirit Metal", WolveSpirit gives the listener a healthy dose of pure heavy metal, combined with 70s era classic hard rock/heavy metal, to create an album that ironically sounds fresh in today's metal landscape. The opening duo of "Change" and "Hero" gets the ball rolling. While technically, Debbie is not the greatest vocalist you will ever here, she has got a huge voice loaded with passion and heart, which in some cases is more valuable than technicality. Her voice is just a great metal style, which at times is reminiscent to me of Jutta from the legendary German metal band Zed Yago. Also, the Hammond Organ sound provided by Oli is what helps to give the band their 70s influence. The 3rd track "Ride On" has a very up-tempo style and free spirit to go along with the subject matter. This is just a good song to cruise around to on a gorgeous summer day, with your stereo cranked to 11. Other highlights include: "Wolves of Woden", "Dune", "Release" and "Home". I will always find time for a band like WolveSpirit who plays just no frills, to-the-bone metal and for that reason I can highly recommend "Spirit Metal".
Rating – 87/100
Tracklist
Change
Hero
Ride On
Wolves of Woden
Night of the Wolve
Light and Shadow
Dune
Release
Home
Line Up
Debbie – Vocals
Rio – Guitar
Oli – Hammond
Andy – Bass
Wolf- Drums
Links
6 color styles available:

Style switcher only on this demo version. Theme styles can be changed from Options page.