Browsing articles tagged with " 77"
Label: Neurot Recordings
Review by Alessandra Cognetta
Ides of Gemini is a mysterious band, under every aspect. The music, the lyrics, the musicians themselves, it is all coated in a veil of uncertainty and unknown. And, as weird as it may seem, this is what makes their work so enticing. Every word, from the album title to the songs, has a specific meaning. What meaning, though? That's for you to discover. Sera Timms's imposing but eerie voice is our guide through "Old World New Wave", since the album has been written, as Bennett stated in an interview, to be a conduit for her voice. The other instruments certainly feel a bit drawn back, but the void is so masterfully filled by Timms's encompassing vocals that it is hard to see it as a disadvantage. The sound feels a bit distant, as if it were really hailing from the Old World. Continue reading »
Label: Reprise Records/Warner Music
Review by Tony Cannella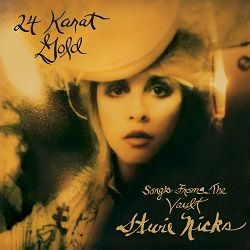 To say that Stevie Nicks is a rock and roll legend is an understatement, naturally. She has influenced countless artists over the years – both with the iconic Fleetwood Mac and through a successful solo career. With her 8th solo album – and first since 2011 – Miss Nicks returns to expound on her legend status.
"24 Karat Gold" is a bit different than your average new album. The album track-listing is mostly made up of re-recorded demos that were originally done between 1969-1987. It's obvious that Stevie Nicks had a ton of music in the vaults and it is a great thing that she decided to share the songs. Lasting over an hour, "24 Karat Gold" opens with the up-tempo "Starshine" and is followed by the AOR rich ballad "The Dealer"; this is Stevie Nicks at her best. Continue reading »
Label: Strange One Records
Review by Tony Cannella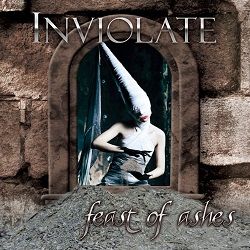 From Atlanta, Georgia the alternative electro-metal band is led by front woman, belly dancer Kadria. The uniqueness of their shows has already created quite a buzz for this band, but their potent music should not be undervalued. Inviolate released their debut EP in 2007 and now return with a new 7-song 28-minute EP titled "Feast of Ashes".
The industrialized opened "Condemned" gives way to a truly pounding and aggressive rhythm. Lead singer Kadria proves she is up to the task as she more than manages to keep pace with the thrashing rhythms flying around her while still injecting the song with a melodic tone – particularly on the chorus. This is my favorite song – hands down! Middle-Eastern like rhythms open the next tune "Illusion of Mercy" and like the previous song, it soon evolves into a hard charging up-tempo metal song. Continue reading »
Label: Inferno Records
Review by Tony Cannella
It seems like a lot of albums of the classic metal variety have been coming my way as of late. That's fine by me, keep 'em coming! One of the latest is the second album from the Bulgarian band Rampart. These guys and girl released their debut album "Voice of the Wilderness" in 2009 – which was an excellent debut in my opinion – and now they return with their sophomore effort "War Behest".
The first thing that comes to mind about Rampart is that Maria's vocals take some getting used to. She is not operatic and her style isn't clean. She definitely has that rough-around-the-edges technique. Musically Rampart mixes in bits of thrash metal to go along with the classic metal direction – either way, "War Behest" is definitely a throwback album that recalls the mid 80s – ah, the mid 80s, now that was a great period for music – sorry I was just getting a little nostalgic, let's move on, shall we? Continue reading »
Independent Release
Review by Tony Cannella
From Denmark, the Symphonic/Gothic metal band Akoma formed in 2004. Since their inception, the band released an EP in 2006 ("Angels of Revenge"), followed that up with a demo in 2007 ("Lost Forest") and then… there was silence, until now. In late 2012 Akoma released a new EP (finally), entitled "The Other Side". The sweet symphony of the opening tune "Bittersweet Memories" gets things going and this is a beautiful piece of music which segues into a heavier metal riff and crashing drums. Before long the operatic vocal of Tanya Bell join in and helps to transcend this song into a great opener. "Your Sacrifice" is next and has more of a deliberate pacing than the previous song, but it is full of bombastic elements, heart, passion and melody. Next up we have "My Love", which being a ballad is a change of pace. I really didn't know if I was a fan of this song or not, but once the track got heavier it won me over. The final three songs "Without You", "Guardian Angel" and "Immortal Love" brings things to its conclusion and should please fans of the band. "The Other Side" is not the full-length that we had been hoping for from Akoma, but for now, it'll do just fine. Continue reading »
6 color styles available:

Style switcher only on this demo version. Theme styles can be changed from Options page.
Archives
Calendar