Browsing articles tagged with " alternative"
Interview by CriX
Medeia
is a bright star in a sea of monotonously predictable heavy bands.  This Tampere-based band, with their sound so fresh and brutal, gained the attention of the specialized media with their 2013′s album "Iconoclastic" getting rave reviews. So, Femme Metal Webzine have had the honor to chat with the female vocalist and the keyboard player Laura Dziadulewicz (with the help of Janne and Samuli). Let's read what Laura herself  says about the upcoming plans of the band…
Continue reading »
Label: Flower Army Records
Review by Luisa Mercier
Elizaveta is a Russian, USA based singer songwriter that I already come to love and appreciate with her previous record "Beatrix Runs". She plays an elegant, classical influenced adult pop that is paired with beautiful videos like the one for "Dreamer". After leaving her former record label, she recorded this new EP and as always it is very high quality music. The record is opened by the title-track, a beautiful song with a magnificient strings background crowned by her sweet, vocals. I was really pleased when I got to listen to it for the first time and it just confirms her talent. "Red Balloon" is quite different on the other hand. She was used to play piano based music, quite slow paced, while here she tries an electro track with a clear dance vibe, very cheerful and happy.  Continue reading »
Interview by Salvatore P.
Belgian Hooverphonic are not your average pop band and their 19-years long career had taught them to never give up in front of the adversities (take Geike Arnaert's departure in 2008). After the 2012 successful live album "With Orchestra", the trio is back with a brand new album called "Reflection" and for this reason we've asked to the singer Noémie more insights about it.
Hi Noémie, we're all very pleased to have you here, thank you very much. Let's break the ice: how's the promotion of your new effort "Reflection" going so far?
Continue reading »

Interview by Tony Cannella
The veteran Italian metal band Lacuna Coil has been blazing a metal trail across the U.S. as part of the Hottest Chicks in Hard Rock tour – which by all accounts has been a huge success. With their new album "Broken Crown Halo" set to be released the band is poised for a long road of touring. Recently we spoke to one half of the bands lead vocal duo Cristina Scabbia to talk about the new album, the departure of two key members and more.
You are currently out on the Hottest Chicks in Hard Rock tour. How has it been going so far?
Continue reading »
Label: Century Media Records
Review by Tony Cannella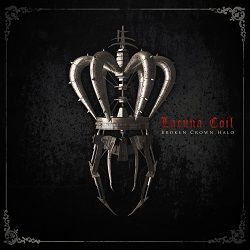 It's hard to believe that Italy's Lacuna Coil first released their self-titled debut EP sixteen years ago. Well, obviously a lot of time has passed but the band has maintained a certain amount of consistency on their subsequent releases. Some albums have been better than others, but for the most part the band has delivered throughout their history. 2014 sees the release of the seventh Lacuna Coil full-length album entitled "Broken Crown Halo" which in my opinion is the most inspired work this band has done in years.
The opening track "Nothing Stands In Our Way" is just pure awesomeness and a song that is all about positivity and gets the listener pumped for what is to follow. That is followed by "Zombies" and "Hostage to the Light". Continue reading »
6 color styles available:

Style switcher only on this demo version. Theme styles can be changed from Options page.
Archives
Calendar
September 2014
M
T
W
T
F
S
S
« Aug
1
2
3
4
5
6
7
8
9
10
11
12
13
14
15
16
17
18
19
20
21
22
23
24
25
26
27
28
29
30