Browsing articles tagged with " amanda"
Label: Liljegren Records
Review by Tony Cannella
Per Fredrik "PelleK" Asly is a Norwegian rock/metal vocalist. He is a member of several bands including the British symphonic rock band Damnation Angels and the progressive rock collaboration project The Anabasis. With "Bag of Tricks" PelleK has released his debut solo effort. It may have his name on the sleeve, but it is collaboration between PelleK and some talented musicians in the metal world, in that way it is similar in concept to projects like Avantasia or Ayreon. Musically, PelleK displays an up-tempo symphonic metal sound similar to the likes of Avantasia or Stratovarius.
There are only two females that is featured on "Bag of Tricks" one is Amanda Somerville who seems to be the one everyone wants on these 'all star' album and judging by her performance on "Send My Message Home" – a song where she duets with PelleK – it is easy to see why. Continue reading »
Interview by Ary R, Massimo M. & Alessandra M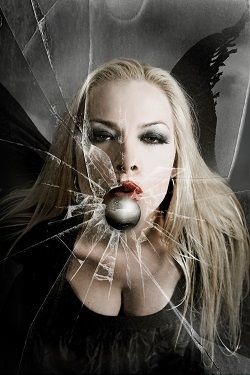 Despite her longest music career, Amanda Somerville has become a guarantee in the metal panorama. On the occasion of the new Avantasia European tour, we had the chance to talk about the recent and latest news with this amazing American singer. A special thanks goes to Serena M, who helped us in the transcript of the article! Thanks Serena

Today we're here with the amazing Mrs Amanda Somerville. How are you doing?
I'm doing quite well, thank you very much, still doing well, still busy since the last time we spoke.
You're back on tour with Avantasia a few days ago. In 2011 Tobias Sammet said "No more Avantasia shows", but this sentence of his has been denied since he's back on the road. What was your reaction about Tobias in changing his mind?
No, I was not completely surprised that Toby changed his mind because he changes his mind a lot about a lot of different things which is his good right to do, so no… but I was, you know pleasantly surprised that I was asked to be a part of it again and of course the time frame and everything and how expensive this tour was, so it's really, really a big tour and a lot of places, lots of countries that I've never been to before so…that was really cool. Continue reading »
Label : Lion Music
Review by Tony Cannella
It doesn't get more progressive or grandiose than Docker's Guild. This project is put together by Douglas R. Docker (Biloxi, Area 51) and bears his name (along with his brother Donald). The first in a five season series is titled "The Mystic Technocracy – Season 1: The Age of Ignorance" and will be followed by four more seasons. An outstanding list of musicians has been assembled for this release which can only be described as epic progressive rock and metal.
With a playing time of almost 80-minutes, "The Mystic Technocracy" is filled to capacity and there is no shortage of epic numbers. Some of the songs definitely recall old school progressive rock (like Yes and older Genesis) combined with more current prog metal and veering off into other territories. Obviously a lot of thought went into writing and crafting the songs to go along with the concept. The conceptual end of things is quite intriguing as it tells a science fiction story and there will be more chapters to come. Among some of the talented musicians who take part in this project, the only female is Amanda Somerville (Trillium). Continue reading »
Label : Inner Wound Recordings
Review by Tony Cannella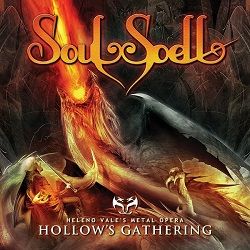 Soulspell is the all-star metal opera brainchild of Brazilian drummer Heleno Vale. The project got off the ground in 2007 with "Soulspell" an album that represented part I in the metal opera. It was soon after followed by Part II called "The Labyrinth of Truths". Now this all star metal project is back with Part III "Hollow's Gathering".
First of all Heleno Vale has done a great job in assembling some hugely talented musicians for "Hollow's Gathering" as he has on the previous albums. Next are the lyrics. You can check out the story on the official web site, but Heleno has written an incredibly detailed and complex story with each singer/musician playing a part. Third and most important is the songs. "Hollow's Gathering" had me wanting to listen again and again. The songs are well written and range from pounding classic metal style numbers, prog, ballads, power metal and symphonic metal. Starting with the 9-minute title song, this really is an album that is unrelenting –several singers can be heard on this monstrous opener. Continue reading »
Label : SPV/Steamhammer Records
Review by Tony Cannella & Luisa Mercier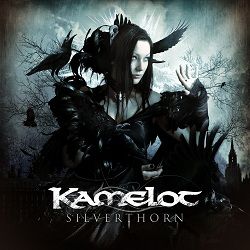 It is finally here. One of the most eagerly anticipated symphonic metal releases this year has to be "Silverthorn" by Florida's Kamelot. Of course it is well documented that the band parted ways with popular longtime vocalist Roy Khan. After utilizing Rhapsody's Fabio Lione to fulfill their remaining tour dates, Kamelot finally settled on a permanent replacement for Mr. Khan… His name is Tommy Karevik from the Swedish band Seventh Wonder. One thing Kamelot has always done is incorporate some of the most talented female vocalists to further enhance their albums and "Silverthorn" is no exception. Elize Ryd from Amaranthe, Alissa White-Gluz from The Agonist and Amanda Somerville has already been on tour with Kamelot and they all turn in tremendous performances when they are called upon. "Silverthorn" is a concept album about "a young girl who dies in the arms of her twin brothers, taking the three siblings' secret to the grave". Kamelot has really outdone themselves in the lyrical department, and the music has that movie soundtrack feel to it to really compliment the lyrics. After the opening intro "Manus Dei", the band goes into "Sacrimony (Angel of Afterlife)". I would say that this is probably my favorite song, which also features some killer vocal performances courtesy of Elize Ryd and Alissa White-Gluz. Alissa adds a more aggressive style. I was surprised to hear that Alissa was on tour with Kamelot and that she sings on this album. She definitely has a more aggressive style to contrast the angelic voice of Elize Ryd. Next is the heavier "Ashes to Ashes". One thing is apparent, Tommy Karevik definitely has Roy Khan thing going with the vocals, I wouldn't say he is a carbon copy sound-alike, but with him at the helm the band loses nothing in the way of vocals and musically this is the most inspired they've sounded in years. "Torn" is next and has an up-tempo style. Next is the ballad "Song for Jolee". Next is "Veritas" which features a huge sounding choir on the chorus. Other highlights include: "Falling Like Fahrenheit" and the closing 9-minute epic "Prodigal Son" which is divided into three parts: "Funerale", "Burden of Guilt (the Branding)" and "The Journey". There are a lot of similarities in both look and style between Tommy and Roy, but for the most part, I like the bands choice of singers, and I don't know if it is a coincidence, but "Silverthorn" is probably my favorite Kamelot album since "The Black Halo".
Rating – 90/100
All of us Kamelot fans were eagerly waiting for this new record. Two years ago, Roy Khan stated that he would have not toured with the band for a while, and after some months he left Kamelot. Since then, I was quite sceptical and curious about his replacement, since Roy voice is unique ine power/symphonic metal and it was the main feature of the band, the one that made Kamelot stand out. It was with relief that I welcomed Tommy Karevik into the band, since he is not the typical power metal singer, but he's quite versatile and really talented. On the other hand, it was the record that partially did not meet my expectations, since it is hit and miss for me. Do not misunderstand me, the balance in the end is good, but it stays quite below legendary records like "The Black Halo" or "Poetry for the Poisoned". There are very good songs and songs that are quite average, not the best melodies, sometimes they are just cheesy and too power for my taste. "Manus Dei" is the usual symphonic intro, nothing new if you love this kind of music: orchestra, piano and choirs that build the climax for guitars and the beginning of "Sacrimony (Angel of Afterlife)", the first single. The song has power/symphonic riffs and Tommy is scarily similar to Roy, so similar that I am almost convinced that it was a conscious choice. In the song, he duets with Elize Ryd from Amaranthe and Alissa White-Gluz that is in charge of harsh vocals. All in all, it is a nice track, nothing oustanding. Another track that did not impress me much is "Song for Jolee", the ballad. Kamelot are masters of ballads, think for example of "Abandoned", but this is way too cliché. Of course there are positive sides and I can name a few. Beside Karevik vocals, I really liked "Torn" that, even though short, has a good variety of styles and tempo changes without relying too much on power. Same for "Veritas" that recalled me the sound of the previous masterpiece "Poetry for the Poisoned": epic, more prog-oriented and Tommy is magnificent. Title-track and "Falling Like Fahreneit" are quite good, but the real highlight is "Prodigal Son" in which Tommy uses several vocal styles and also musically goes from solemn to balladesque to heavy metal, symphonic and epic. I wish the others were the same. Nonetheless, the album is good, not a masterpiece, but the result is positive in the end. So Kamelot fans like me will keep on listening to it.
Rating – 70/100
Tracklist
Manus Dei

Sacrimony (Angel of Afterlife)

Ashes to Ashes

Torn

Song for Jolee

Veritas

My Confession

Silverthorn

Falling Like the Fahrenheit

Solitaire

Prodigal Son

Continuum
Line Up
Tommy Karevik – Vocals

Thomas Youngblood – Guitars

Oliver Palotai – Keyboards

Sean Tibbetts – Bass

Casey Grillo – Drums

Elize Ryd – Guest Vocals
Alissa White-Gluz – Guest Vocals
Amanda Somerville - Guest Vocals
Links
MySpace * Facebook * Twitter * Site
6 color styles available:

Style switcher only on this demo version. Theme styles can be changed from Options page.