Browsing articles tagged with " arkona"
Label : Sound Age Productions/Napalm Records
Review by Vard Aman
Arkona (Аркона) have existed for only 10 years (well, 11 now), it feels like they have been around much longer given their achievements. 11 years ago, Masha Arkhipova and Alexander Korolyov, two members of a local Slavic Pagan society decided to form a band called Hyperborea, which a little later, and after gaining more members, changed their name to Arkona (named after the last Slavic fortress destroyed by the Christian invaders). They wasted no time; in late 2002, they recorded and released their first demo entitled "Русь" ("Rus") and followed it up by their arrival on the Russian underground live scene, where they quickly gained popularity. After a a complete line up change around Masha in 2003 (the line up which has been together ever since), their debut album "Возрождение" ("Revival") was released in 2004. Continue reading »
Interview by Vard Aman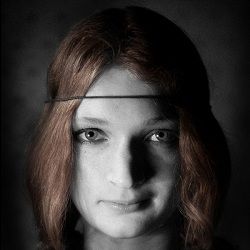 Near Manaus in Brazil the dark clear Rio Negro joins the muddy Amazon and the water from two rivers flow beside one another without mixing, distinctly separate for a distance of about 6 km in the same river bed. It is known as the "Meeting of Water", and such an unusual natural phenomenon has made it one of the main tourist attractions in Manaus. In Moscow, Russia, the beautiful melodic vocals of Slavic Folk joins the heavy, powerful guitars; pounding drums; and electronic elements of Industrial / Industrial Metal without mixing, distinctly separate from each other in the same band, and throughout an entire album and 3 track maxi-single. They are known as Risha, and such an unusual and unique blend has made them one of the hottest new prospects around. I spoke to two of those responsible: vocalist and bassist, Rishafox (also known as Risha, and sometimes, on the odd occasion, as Irina Lvova), and guitarist and programmer, Andrey Ostrav.
Hi, welcome to FMW. Nice to be able to talk to you!
Risha & Ostrav:  Zdravstvujte!
So, how did the three of you meet and when did you decide to start Risha?
Risha: We met a long ago. I was 17 then and it was probably my first time on stage, exactly with the musicians who play in Risha now. After that we were scattered about different music projects but 2 years ago we met again. I and Ostrav have created the idea of Risha and Alex, the drummer, joined us thereafter.
Tell us a little about your musical background, previous bands, and your session work.
Risha: Oh… During my not-that-long rock'n'roll life I played with about 20 bands, went on a European tour with Arkona, performed at big venues in Moscow, St. Petersburg and other cities, as well as in small underground clubs all over Russia. I always played in bands that differed a lot by style.
Оstrav: For about 8 years with the drummer Sasha we made part of one of the cult Russian industrial gothic bands of the 00′s – Deform. We toured over our endless country from side to side, shared stage with famous Russian and foreign bands like Korn, Papa Roach, Marilyn Manson, Eisbrecher, Deathstars, etc. This was fantastic! Continue reading »
Label : Sound Age Productions
Review by Vard Aman
Rarog (the band) formed in 2004 in Moscow (although Shmel' had been writing material for some time already), released their debut album "Az Boga Vedayu!" in 2006 and then went a little quiet for a while, mainly due to a series of line up changes (Shmel' also played bass for Kalevala from 2007-2011). Now they're back with 2 albums in quick succession, "Vzoidi Solntse" in 2011 and now this one, "Syny Sokola"; and they're doing very well for themselves. Rarog play Slavic Folk/Pagan Metal – a unique subgenre of Folk/Pagan Metal that has gradually left its native lands and is now growing ever more popular in the Metal world abroad, thanks largely to its most iconic band, Arkona. For Rarog, comparisons with Arkona are inevitable but not entirely justified; they may both share the same musical roots, but both bands have their own unique distinctive sounds. Still, fans of Arkona are likely to enjoy Rarog too, and for those who have not yet been introduced to the subgenre of Slavic Folk/Pagan Metal, Rarog are as good an introduction to it as any. Rarog are also more versatile and progressive than many of the other bands in their subgenre, and this should make them more easily accessible to fans of other subgenres. Their musical style moves with ease from the typical Slavic folk progressions to a fast Pagan/Black Metal style with furious blast beats, to a slow melodic Doom Metal style without ever losing their distinctive sound. Like most Slavic Folk/Pagan Metal, Rarog makes use of several different traditional Slavic musical instruments to compliment their sound; and in Rarog's case, a few non-traditional ones as well, like violins and cello.
Their lyrical topics cover ancient Slavic myths and legends, the history of the Slavs and Slavic Paganism before the Christian invasion in what was then Rus. Since 2010 Rarog has been fronted by Aleksandra Sidorova (also a member of Moscow's Silver Voice choir), and it is her voice that gives Rarog its real edge – she is the beautiful Siren-like call of the Firebird (if I may mix up legends slightly). She is capable of many different vocal styles; the two that are most prevalent on this album are her Slavic folk style and her academic/operatic style. She excels at both; but what really makes Aleksandra an exceptional singer is the uniqueness of her voice and the emotion she is capable of generating. At times, her voice takes on an almost innocent childlike quality, at other times it is more plaintive, sometimes even desperately so – she can bring her voice to just about breaking yet stops just short, without ever losing her vocal control. It is haunting indeed. Few academic/operatic singers are capable of generating such emotion… or maybe it's just that they don't try, maybe they are concentrating so much on vocal control and projection that they end up forfeiting the emotion and become effectively singing machines. Aleksandra proves that an academic/operatic singer can have both total control and convey powerful emotion at the same time; and it is very, very effective! While I'm at it: if you want to hear how operatic vibrato can be used in such a way that it leaves the listener with gooseflesh and a lump in the throat (as opposed to making the cat go AWOL), listen to how Aleksandra uses it at around the 1:00 mark in "Serdechnaya". Seriously, wow!
Male vocals, both clean and growls (and battle cries), are provided by Shmel'; and he is also very good at what he does. The production is clear, similar to the previous album, but the songwriting on "Сыны Сокола" is better and it is a more mature album overall – Rarog is a band that is continuing to improve. Highlights from the album there are aplenty: "Syn Sokola", the first track is brutal and fast, with some beautiful violin melodies; "Ognenniy Mech" is a heavy Folk Metal song; "Rogneda" has a slow tempo in which Aleksandra's versatility and range of styles comes to the fore; "Perunova Ren" is fast and furious, good to have in the heat of battle (with a slight breather in the middle); "Veschiy Sokol" has a climatic feel to it as does the final (Rarog) track "Serdtse Voevody", which is a slow and powerful track where Shmel' gets to show his own versatility as well. But out of all the highlights on this album the biggest one is the third track, "Serdechnaya" – easily one of my candidates for song of the decade so far. It is a slow and powerful song with amazing melodies and harmonies, and features one of the best and most unique singers around delivering a performance of note! The album ends with "Krov Nashih Vragov", which is a Russian cover (in Russian) of "Blood of My Enemies" by Manowar.
Rarog make the song their own while staying true to the original. Lyrically, the gist of it is the same. Norsemen (Varyags) had a large influence on Rus up to the tenth century CE prior to the Christian invasion and occupied much of the Northern Rus states, so the Norse mythology that makes up the background to the lyrics of "Blood of My Enemies" is not really that out of place. How well the Varyags and the Eastern Slavs got along at the time (people being people) I do not know, that's a question for some genuine historians (and not a CD reviewer), but one thing that is known well enough is that what came next for both Slavic and Nordic Paganism was not exactly pleasant. But the legends and the cultural knowledge have survived and Rarog (and others) are here to tell you about them; and if you do not understand what they're singing about, no worries, just turn up the volume and admire the awesome power of the Firebird, and melt to its hauntingly beautiful call.
Rating – 90/100
Tracklist
Сын Сокола [Syn Sokola – Son of the Falcon]
Невидаль [Nevidal – Wonder / Far Far Away]
Сердечная [Serdechnaya – Heartfelt]
Пятый Снег [Pyatiy Sneg – The Fifth Snow]
Огненный Меч [Ognenniy Mech – Burning Sword / Flaming Sword]
Рогнеда [Rogneda]
После Победы [Posle Pobedy – After the Victory]
Перунова Рень [Perunova Ren]
Вещий Сокол [Veschiy Sokol – Prophetic Falcon]
Сердце Воеводы [Serdtse Voevody – The Heart of the Governors]
Кровь Наших Врагов (Manowar cover) [Krov Nashih Vragov – Blood of Our Enemies]
Line Up
Aleksandra "Rys'" Sidorova – Vocals – Vocals
Pavel Kuzmin – Guitars
Aleksandr "Shmel'" Shvilev – Bass
Vadim Semenov – Drums
Links
Interview by Si Smith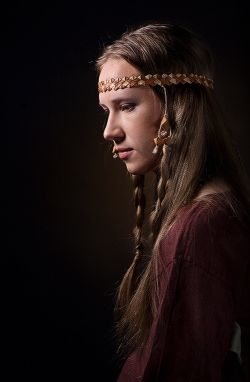 Arkona are probably one of the best known Russian folk metal bands and a new release is always hotly anticipated. While we wait for a new album, an EP has been released recently containing a variety of tracks that explore the various inspirations for the band and provide us with a bit more metal to dance and mosh to. I spoke to Masha Scream to ask her about the new EP and the band in general.
First of all, welcome to Femme Metal webzine, it is great to speak with you today. It's no secret that the roots to the band Arkona began in the pagan community "Vyatichi" – are you guys still members and how is the community these days?
The Pagan community appeared when Arkona was created and with other people. Now members of our band are not taking part in any community.
All these years on from your formation in 2002, are you still discovering new and exciting lyrical material in the ancient national beliefs and history of Slavonic Russia, or do you think this kind of material limits you as a band?
We are not just a musical band. In Arkona I'm explaining my worldview to people and I create the music as my soul wants it.We are known as a diverse band, I always make a lot of experiments, developing in the arrangements. Every time I use something new in my songs, so nothing is limiting me.
In 2004 the first LP "Vozrozhdenie" was recorded without even a single rehearsal – I gather that things are very different now from how they were at the beginning, seeing as there are now so many orchestrations and ethnic instruments involved also…..have things changed that much since then? Is there anything about those times that you miss?
Old albums are still loved by me and the most of listeners. Some fans even believe that our first works much better than our next, because it has its own individual atmosphere and tells about the life that I had before. All that I have done – was done sincerely, and it's the most important thing!
Many speak of your "irrepressible creativity" which always pushes you on to cover new ground with the band – what would you say are the things that drive you personally? What really inspires you?
I'm inspired by life and all depends on the situation around me. Every my song is an emotional flash or pain about something.
Signing with Napalm Records must have been a high point of your careers – as time goes on are they still the best place for you to be? In what ways do they help you as a band?
Yes, we are fully satisfied of working with Napalm Records! We are really getting the biggest support in promotion and many other things. It's very important when band and label are working and developing together, and the same time – we are a help to each other.
You are well known as an active live band, as shown by your recent live DVD. Heidenfest kicks off in late September this year, billing you alongside Finntroll, Turisas and others. What are the keys to maintaining your artistic integrity as a live band would you say? Are there any particular live events you are looking forward to this year?
We never sit in one place. Always we're in movement: making albums, playing shows. The number of shows has started to grow. Of course, we are spending a lot of time on tours and every show for us is a part of every day life. The shows, which I waited for, is already in the past, but all of us so much like to play live, so we are waiting for every show!
On May "Stenka na Stenku" is released to the public. What are your hopes for this release?
EP is already released, so all hopes are come true! Some people like the EP, some don't like but it must be like that! So, all is going normal!
The new (title) track from the album is a traditional style folk romp through two and a half minutes. For our non-Russian readers, would you like to tell us the inspiration behind this delightful track?
This song is called "Stenka na Stenku" and it will be on new album. "Stenka na Stenku" translated means "Wall on Wall" – it's a ancient Slavic men's fun, it can consist of any number of people of different ages. They were formed in 2 groups (walls). They stay face to face and start a friendly fist-fight. In ancient times it made strong warriors from men. It is something similar to the "Wall of death" . I was inspired by the idea of a Slavic celebration "Perunov Den'".The music, which I made first, fit the atmosphere of this celebration.
In "Valenki" the pace is picked up quite a bit alongside some pretty emotional vocals from yourself as well as hearty "gang vocals". Once again traditional rhythms win through – is this still where the band's strengths lie do you think, or will you be experimenting more in the future?
This song is a Russian national song, we just recorded a metal cover of it. In any case this song is not showing a further way of development of our band, because we always bring in the music something new. I just saw an arrangement of this song as you can hear it on the EP.
"Goi Rode Goi" has become quite an recognisable anthem for the band recently, accompanied as it was by the dynamic promotional video. Your acoustic treatment on this EP certainly takes it into new territory. What is it about this song that made it such a good candidate for reworking? Are there any other classics we will see reworked soon?
We use this version of song before recording on acoustic show of Arkona in Moscow. Then we decided to record it, because, in my opinion, it's the most successful from all our acoustic program. Yes, we plan in future to record a full acoustic album with new and old songs, but still it is only in the plans.
"Skal"
features Freki from Varg as guest musician – how did Freki get involved with this project?
We were on tour with Varg last year and this song was our "drinking song"! Later we decided to realize it and show friendship of Russian and German people. I think – we made it not bad ?
Your final two tracks on the CD are covers of slightly more melancholy tracks which show off your diversity as artists. Why were these tracks and these bands particularly chosen (Svarga and Shaman)? Do you have any guidelines in mind when interpreting other bands' songs?
Both bands I respect a lot and I show them my respect with these cover versions.
As most of this release is taken up with non-album tracks, what can we expect from the new album? Any secrets you can reveal?!?
Now, I will not tell about all the secrets of the new album, because you will hear it very soon. I will tell you just that this album is my favorite and it is the most strong album of all our history.
It appears that ardent fans always lap up this kind of release, with acoustic versions and covers, as they provide unique views of bands we have already come to know and love. How important are your fans to you, and have you any special message for diehard fans that may be reading this interview now?
Not all people understand me and my songs, but those who can do it – really great people! So stay the same and listen to your heart!
Finally, at this point in your career when you look back do you have any regrets? Or advice for people also pursuing their dream to be in a folk metal band?
"Regret is a sin" – the words of one famous band. You don't need to regret about what you have done because it's part of your life and also part of you. You just need to remember your mistakes and to not make them again in the future
!.
It only leaves me to say thank you to you for giving us of your time. We wish Arkona all success in the future with this and the new album.
Links
Latest Multimedia
Label : Napalm Records
Review by Tony Cannella & Si Smith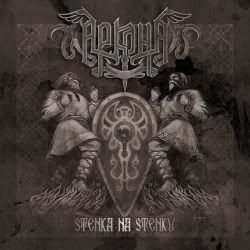 Russian Pagan/Folk Metallers Arkona are currently prepping their next full-length album for later in the year, in the meantime they have managed to come out with the EP "Stenka Na Stenku" to appease their ever growing fan base. 6-songs and 25-minutes of power folk is what you will receive on "Stenka Na Stenku". Included here you will find a new track that will appear on the next album, as well as five non-album tracks. The opener "Stenka Na Stenku" is a fast up-tempo opener and one that sets the pace for what is to follow. The energetic and melodic "Valenki" keeps things going full speed ahead. The bands signature Folk Metal sound remains intact, as you can tell on the acoustic "Goi, Rode, Goi!", "Skal!" (Featuring guest vocals courtesy of Frekl from the band Varg), "Duren" and the album closer "Noviy Mir". While this is not the full-length that their fans have been waiting for, "Stenka Na Stenku" gets the job job in building anticipation for the impending release of Arkona's next slice of pagan, folk nirvana.

Rating – 80/100
6 color styles available:

Style switcher only on this demo version. Theme styles can be changed from Options page.