Browsing articles tagged with " barbara"
Interview by Laura Medina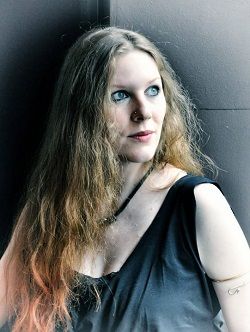 Caladmor is an Epic Folk female-fronted Metal band from Switzerland, who has just released their sophomore album, "Of Stones and Stars" in which is currently out now. Caladmor is not only making a name for their band with a "more mature sound" that you can be heard in their current release but also they are proving to their fans that they do belong and are here to stay! What I liked most about Caladmor is not only are they are a female fronted band but they sing about topics that brings fans from all over the world together like wisdom, truth and enlightenment. I had the absolute and complete honor and pleasure to chat with Babs Brawand of Caladmor to discuss Caladmor's current release, her favorite hobbies like sewing and much more.
Hi Babs and welcome to Femme Metal Webzine! Thank you so much for allowing us to interview you today!
Continue reading »
Independent Release
Review by Luisa Mercier
Anti-M is a California electronica band formed by keyboardists John Wardlaw, Ruston, and Mark Rumer (who's no longer with the band). This album is their third full-length release, all self-recorded, produced and released by the band. This album has a nice range of styles within its seventeen tracks spanning from hard edged goth metal tracks to dreamy ethereal interpretations.
The album is opened by the pulsating ethereal "Dreamin in Metaphor" who prepares us for the alternative gothic rock pieces "Let U In". This features Barbara Mosely's melodic vocals over the guitars and sets the stage for other catchy tracks along this style like the title track (more-guitar-oriented), the sweet electronic ballad "Deep" and following the down-tempo, gloomy and sexy but edgy piece "Rage". Later, "Little Things" also deliver itself as a nice example of female-fronted alternative rock style. Continue reading »
Label : Ravenheart Music Records
Review by Tony Cannella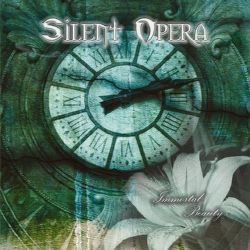 Italy continues to be a major contributor to the Metal world, especially where operatic, symphonic metal is concerned. One of the latest is Silent Opera who have just released their debut album "Immortal Beauty". Prior to releasing "Immortal Beauty", Silent Opera also released a 5-track demo in 2008 and have since been signed to the burgeoning label Raven Heart Music. Silent Opera offers the listener a 54-minute ride with "Immortal Beauty" as the album displays a lot of heart and passion. "Mask Manor" kicks things off with a symphonic intro before the band joins in and helps to turn this into a powerful, fist pumping opening track. Vocalist Victoria has an ultra-operatic voice which offers a nice presence to the music. The lyrics are fantasy based and you can pretty much understand Victoria throughout most of the CD. Some ominous sounding keyboards lead us into the pounding "Chapter 7″. Victoria's vocals are really the main focus point here as she really lets it rip on this track. The next track "Morningstar" opens with a traditional metal riff, but also includes symphonies and a choir. "Lilium" has a dramatic quality to it. This was one of the true highlights for me as the song goes through numerous tempo changes and some top notch performances by the band. The ballad "Farewell" is next and that segues nicely into some more traditional metal riffing in "Hidden Lies". Undoubtedly the biggest moment comes with the albums closer. A nearly 10-minute epic called "The Silent Opera". This is just a huge sounding epic that incorporates all of the positive things that Silent Opera has to offer. I would never assume that a band is influenced by this band or that, but in Silent Opera, I hear a definite Nightwish influence. Not so much with the vocals, yes Victoria has an opera style but sounds different to Tarja, musically is where Silent Opera, reminds me the most of Tuomas and crew. The music has that same thoughtfulness and drama in its writing and combines symphonic elements with traditional metal-isms to create a solid debut with "Immortal Beauty".
Rating – 80/100
Tracklist
Mask Manor

Chapter 7

Morningstar

Lilium

Selene

Farewell

Hidden Lies

Always With You

Introducing the Muse

Your Muse

The Silent Opera
Line Up
Lady Victoria (Barbara Vigolo) – Vocals

Rain (Marco Clari) – Guitar

Alexandre (Davide Papa) – Bass

Shadow (Loris Volcizzi) – Drums
Links
MySpace * ReverbNation * Facebook * Site
Label : GMR Music Group
Review by Tony Cannella
Ever since they burst onto the metal scene in 2005 with their excellent debut "In Distortion We Trust", the Swedish all female metal band Crucified Barbara has become one of the best and most successful bands of the femme metal genre. There is a definite feeling of knowing what you are going to get with Crucified Barbara – let's face it, they're not trying to re-invent the wheel or heavy metal for that matter and that is always re-assuring to their fan base. They just continue to churn out high energy, raw and powerful metal with plenty of attitude. Why should their 3rd – and latest – album "The Midnight Chase" be any different? It is a new Crucified Barbara album but features the same intensity and enthusiasm as their previous two. The frenzied drum intro lead us into the opening tune "The Crucifier" and this is classic Crucified Barbara. It has almost a Motorhead feel to it and I picture this song opening their live shows on their upcoming tour. The whole album has a live feel to it and no shortage of energy and enthusiasm. Next is the powerhouse riffing that opens up the confrontational "Shut Your Mouth". Lead vocalist Mia Coldheart is at her raspy voiced best. "Into the Fire" is next and another straight-ahead exorcise in heavy rock. "Rules and Bones" became one of my favorites and I found myself singing the chorus 'rules and bones were made to be broken' long afterwards – this is just an excellent song. "If I Hide" has great potential as a single if the band chose to release it as one. While still being heavy this is a really cool mid-tempo track. "Count Me In" is an acoustic ballad that has a cool melancholic and mournful vibe to it and is packed with emotion and heart. This is one of the few times that you will hear the tender side of Crucified Barbara. Other highlights include: "Everything We Need", "The Midnight Chase" and "Rock Me Like the Devil". "The Midnight Chase" is one of those albums that is not very hard to like. Sure, Crucified Barbara continues to follow the same musical path as their previous two, but what is wrong with that? "The Midnight Chase" should satisfy longtime fans as well as (hopefully) see the band gain more. I can't really say if "The Midnight Chase" is better or worse than its predecessors, it is just a band that sounds like they are having fun and continues to maintain a high level of consistency. That is not a bad place to be.
Rating – 85/100
Tracklist
The Crucifier

Shut Your Mouth

Into the Fire

Rules and Bones

Everything We Need

If I Hide

Rock Me Like the Devil

Kid From the Upperclass

The Midnight Chase

Count Me In

Rise and Shine
Line Up
Mia Coldheart – Vocals, Guitar

Klara Force – Guitar

Ida Evileye – Bass

Nicki Wicked – Drums
Links
MySpace * Facebook * Twitter * Site
Interview by Si Smith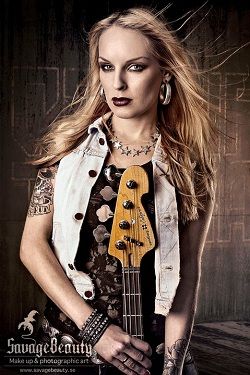 Crucified Barbara will stomp across your skull and leave skidmarks, such is the impression they are having all over the world. Their style is balls-to-the-wall hard rock, no holds barred. Third album "The Midnight Chase" hits the streets soon so Femme Metal caught up with bass player Ida Evileye for a quick word.
First of all thank you for taking the time for this interview, and a warm welcome from all at Femme Metal Webzine. For those who are presently unfamiliar with the band, would you like to introduce the different members to us?
Yeah. We're a four piece band and I (Ida) play the bass, Mia sings and plays lead guitar, Klara plays rhythm guitar and Nicki plays the drums.
Almost 15 years since your humble beginnings you are back with another powerful album. From the outset it is clear that you mean business, with opener "The Crucifier" giving it large 100%. For this listener it is a remarkable trip back into the early Motorhead days and punk-influenced heavy metal. Do you think the band in 2012 still reflects those kind of influences?
Absolutely, we love that type of music. We listen to a lot of different music (Mainly old school for me) and of course that shines through in our songwriting.
You certainly have a memorable band name – could you enlighten us as to where it originates from?
Actually "Barbara" in Sweden is the name for a blowup doll (a sextoy). We were at the Roskilde festival many years ago and we saw that somebody had pinned a barbara on a cross and it looked really evil and cool so that's where it comes from.
You guys look great in all the promo shots we see and have a very distinct look that reflects your music style – how important is image to the band?
The music is of course the most important thing without a doubt but image is important too. I love to go to concerts and it's always more fun when the band wants to entertain the audience. So that what we're trying to do with clothes and makeup!
It has been a remarkable journey across three albums. What are the highlights of the journey for the band?
Oooohhh, there are soo many. The Motörhead tour, the Nuclear Blast deal, the Russian tour, playing at the Download festival, the Australian tour. Meeting Brian May, having a drink with Lemmy……the list goes on!
Throughout the band's life your lyrics have touched on all the usual hard rock topics. Does this reflect your lifestyle? Who is the biggest party animal?
Hahaha, of course! I am the party animal. You can always count on me and Nicki!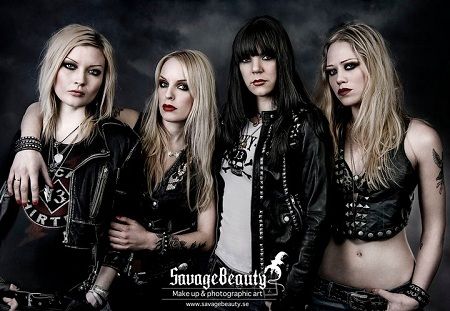 Three years on from "'Till Death…" , you seem to have a tradition of working a long time on your albums, what is it you are looking for in the final product?
We don't want it to take so long time but we've toured a lot and there has also been business things that's prolonging the releases. And of course that we don't wanna release something that we aren't 100 percent happy with!
"The Midnight Chase" has 11 well-crafted anthems. How does the song-writing process work for you as a band?
It's different with every song. Some of the songs has been written by one person only and then we've worked on the arrangements together ("Kid for the Upperclass" in on example, Mia wrote that song). Other songs we've done based on a riff or a melody and we're written it together ("The Crucifier", "Shut Your Mouth"). So it's different with every song really!
By the time this interview gets to you, the band will have just played the Sweden Rock Festival. How did it go?
Greaaaaat! It was fantastic, so many people and a really good crowd! We had a great time, I love that festival!
In July you are heading to Italy alongside Elvenking. That should be some good shows! How have you found the band's reception in different countries? Have you a favourite?
Italy is really good for us and France is very good too. It's been good from the beginning and it's always so nice to come back, you feel like home!
You have also recently been booked for the Getaway Rock Festival in Sweden alongside bands such as Manowar, Saxon and Nightwish. What are your hopes for the festivals this year?
I really like that festival, it's a bit smaller than Sweden Rock but a lot of cool bands are playing. So we're gonna have a great show and then drink some beers and watch the other band, so it'll be a fun night!!!
Finally, what is the next stage for the band? After all the touring this year is there a plan?
More touring, another album etc! This is what we love to do and we've just got started so you won't get rid of us anytime soon!
Thanks for your time, we at Femme Metal wsih the band all the best for the rest of 2012.
Thank you! I wish you the same!!!!!!!
Links
MySpace * Facebook * Google Plus * Twitter * Site
Latest Multimedia
6 color styles available:

Style switcher only on this demo version. Theme styles can be changed from Options page.