Browsing articles tagged with " beneath"
Label: Inverse Records
Review by Tony Cannella
Caelestia is a progressive melodic death metal band from Greece. The band formed in 2012 under the name Me and Myself before changing their name to their current moniker in 2013. That brings us to their debut full-length, "Beneath Abyss". With this effort Caelestia brings together a solid mix of death metal, progressive metal, symphonic and cinematic influences are present as well, and healthy amounts of melody ties it all together to create a relentlessly, chaotic and beautiful piece of metal work.
"Beneath Abyss" begins dramatically with the intro of the opening track "Malleus Maleficarum – The Secret Cult" before the track reaches an explosive crescendo and this is a great introduction. The band uses extreme male vocals evenly with clean female vocals – a technique that they use quite well. Continue reading »
Interview by Andy Axworthy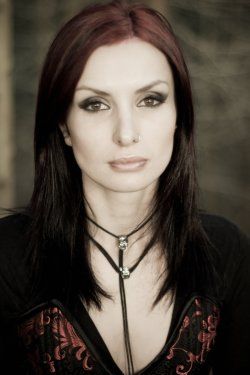 Based out of São Paulo, Holiness have hit the ground running with their first release, a gem of an album boasting as good a set of melody-driven metal tracks that you are likely to hear this side of 2011 and one that grows on you more with each listen. Femme Metal sat down with vocalis Stéfanie Schirmbeck to talk about the power and the potency that is "Beneath The Surface".
Hi Stéfanie – welcome to Femme Metal. It must have been some journey, starting from Erechim in 2006 to Sao Paolo in 2010. What has it been like and what can you tell us about your fellow band members in Holiness?
Hello everyone from Femme Metal!! Since Holiness' beginning it has been a really hard working time for all the band. We are still building our base as a metal band. In São Paulo we are having more opportunities to show our work than we did in Erechim, so we are really glad! I believe that me and the guys are going through a learning period; they are really dedicated musicians, and easy people to live with.
Your first album "Beneath The Surface" is new to us, however it's been available for a while in Brazil. How has having a CD released changed life for the band and how do you feel the album has been received by your fans?

Actually, the decision to launch the CD was completely ours, we didn't have a label supporting us, so from the beginning we were prepared to leave our family and our home. We all feel that the album has been really well received by fans and critics here in Brazil. They are interested in our ideas and in what made us choose this kind of music.

The album was produced by Aquiles Priester with keyboards performed by Fabio Laguna, both members of Hangar. How did they become involved and what was it like to work with them on the album?
Aquiles was doing a workshop in Erechim and we told him we had a band. At the time he was part of Angra, which is a band known around the world. We sent him our demo and he liked it, so we arranged the details and started to record the album. We were able to see how things worked; we really learned a lot – it was a new world shown to us.

You also employed the talents of Adair Daufembach as sound engineer and Tommy Newton on mixing/mastering duties. What did you gain from the experience that they brought to the recording process? Also, how did it feel and what did you think when you were recording and listening to the playbacks for the first time?
Adair is an amazing professional, and most important, he's an amazing person! We became friends after the recording. We learned a lot from him and Tommy Newton was really open and attentive to our taste. The first time I heard the songs, when they were ready, I felt very happy and satisfied.

The pre-production video on your MySpace page shows a band that look like they are really enjoying themselves. What can you tell us about that time, the place and your adventures with the swimming pool? ; )
Haha, that place is my father's farm, he lent the house for the pre production and recording of the album. We were isolated from the world at that period, so we ended up getting kind of retarded, hahaha!! On the last day of recording we had a party to celebrate, I was all dressed up and they threw me into the pool, and the water was really cold!! The results certainly speak for themselves – "Beneath the Surface" is a very good album. Your style has been described variously as melodic power metal to romantic and emotionally charged. How would you describe Holiness to readers who have never heard your music before?
Thank you! I think is a huge mix of influences from all the members. I really like the definition that a friend gave to our sound: he said it's "Modern Metal".
You also have the video to "Into The Light" up on your MySpace page. What is the story behind the song, the film, and the location?
The song talks about moving on, leaving a bad situation by choice, and we did the screenplay based on Spiritualism.The guys are lost souls who don't accept their own death, so another spirit comes to send them to the other side. The location has a really interesting story; the house belonged to former governor of Santa Catarina, a very important person for the country's history.
You have a beautifully rich and resonant voice. How did you get into singing and how do you take care of your voice now you are in a band?
Thank you! I started singing because I used to play guitar in a band that had no singer, so it was like: "you'll sing", and I started to like it – it was a long time ago… I take care of my voice doing singing lessons, sleeping well, rarely drink and eat soft foods.
Who or what are your influences, both as a singer and on your music in general?
As a singer right now I'm searching for my own style, as a musician I like to listen to Hard Rock, Heavy Metal, Progressive, Metalcore and gothic Metal. I don't listen only rock bands, I also like pop rock bands and some Brazilian rhythms.

You have already worked with Hangar, providing vocals on their track "Dreaming of Black Waves". Do you have any more collaborations planned and if you could choose any one musician to play on a song with Holiness, who would that be and why?
Right now, I don't have any collaborations planned but if I could choose someone I think it would be James Labrie, we are all Dream Theater fans and it would be amazing to have his voice on our record.
There is a cover of Alanis Morissette's "Uninvited" on the album, and you have also covered Eurythmic's "Thorn In My Side" for the Japanese version of the album. How did you come to decide on these two tracks, and if you could pick one Holiness track to be covered by the band of your choice, which track and which band would you choose?

We decided we wanted "Uninvited" for the Album because Alanis is one of my first influences as a singer, and I love this song! It's really intense and spiritual…
If I could choose a song I think it would be U2 playing "Waiting for a Change" because they sound unique and we would like to hear the result.

Talking of the album release, at present the cd is available from yourselves and Die Hard Records in Brazil, with a couple of tracks available through Talent Space Records in the US. "Beneath the Surface" cries out for a more general release. Is this something you are working on and if so, how are things progressing?
Yes, we are looking for a nationwide distribution in Brazil; we would also like to sell our record in Europe. Right now we are making contacts and reviewing proposals.

Can you tell us about your tastes in clothes and jewellery? What catches your eye and do you find yourself going for a certain style or is it down to whatever your favourite things are in that moment or whenever you play live?
I used to wear a black a lot – now I'm in a lighter stage. When I'm on stage I like to use corsets, leather gloves, jeans and combat boots. I don't wear jewelry much, I have a necklace my mother gave me and I use it everyday, that's all.
Talking of live performances, you have a couple of shows in Sao Paulo in September. How is the music scene in that area and if and when you come over to Europe, which festivals would you like play if you could take your pick?
I think São Paulo has the stronger Metal scene in the Country; it is the best place to be if you want recognition and opportunities. We would really like to play in Europe, in festivals like Wacken Open Air, Download Festival, Graspop Metal Meeting…

If you were not singing for Holiness did you have a Plan B? What would you be doing instead?
I went to college and graduated. I studied fashion and I would be starting my business. Some day I will – It's in my plans.
Finally, what sort of plans do Holiness have for rest of 2010 and into 2011?
We'll be working on Beneath the Surface tour until next year, we hope it leads to all corners of the world and then we'll start working on our next album.
Stéfanie, thanks for sharing your thoughts with us. Is there anything else you would like to say or add before we let you escape? : )

Thanks, I really enjoyed it!! I would like to thank the love and support people have given us!
Thanks for the Space!
Links
MySpace * Facebook * Twitter * Site
Latest Multimedia

Interview by Si Smith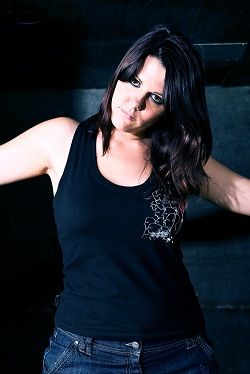 It was clear from their early days that Benighted Soul were no average French symphonic metal band. From the Greek lettering on their 2005 bonus DVD demo "Catharsis" to their themes of mythology and history, Benighted Soul trod a unique path among the female fronted bands of the time. With their 2008 EP "Anesidora" we were introduced to a character who would now become the central focus of the band's repertoire. I spoke to vocalist Geraldine Gadaut to discover more about this mysterious character….. First, may I welcome you to Femme Metal and thank you for talking to us. Also congratulations to Jeyms and we hope that little Eleonore is doing well and is in good health.

Thank you very much, it's my pleasure ! Little Eleonore is fine. She's beautiful. She's a very calm and quiet baby.

Beginning in around 2002, that is quite a long life for any band already! How did you guys come up with the theme and style of the band?
It's been a long way ! In the early days of the band, we had no real intention of becoming professional musicians. We just wanted to make a few gigs and have fun ! We did covers of Nightwish or After Forever and our own compositions were naturally influenced by these bands. The line-up changed in 2006 : our goals and aims changed too. We felt Benighted Soul could bring something to the metal scene but we had a lot of work to do. We had to find our own style. We released a first EP, "Anesidora", in 2008. We see it as a first step towards finding our way through music. This is the reason why we released an EP rather than an album. Our style was not fully grown at this time. With "Start from Scratch", we manage to make a mix between rock, progressive and symphonic metal. But this is not something absolutely still. Our style will keep evolving with the next album.

For those who don't know, would you like to tell our readers a little about Anesidora, and where she comes from?
When recording the EP "Anesidora", we were thinking about the artwork and which ideas it should convey. The lyrics were about childhood, innocence, but there was also this song, "Anesidora", about Pandora's box. The artists who were working on the artwork came to us with the idea of a little doll, symbolizing childhood and its disappointments, leaned against a chest that can be either a simple toy box or pandora's box. This little doll with red hair and wings on her back immediately won our hearts. She took the name of the character Anesidora and became sort of a mascot for the band. The fans definitely love her ! So we decided that she would be the main character of our first album.

The new album brings Anesidora right up to date as she progresses through her life in this world. How much of Anesidora do you see in yourself? After all you act her role very convincingly!
I could say she's like a part of myself that would have come out of me and made its own way. So, she's not really me and I'm not really her. She's more of a symbol. But yes, just like her, I hated growing up. I found it difficult. So I use my own experience to describe what Anesidora must face. But she doesn't react like I would. She's a bit more rebellious, I think
I see from your performance video reports that you take your singing very seriously, yet in between takes you are also a happy person with a great sense of humour. How do you reconcile these two "sides" of yourself? Do you adopt a different persona when you perform the tracks live or record? If so, who is the "real" Geraldine?……
I think these two sides are part of me. But of course, I'm not quite the same on stage and in everyday life. On stage and even in studio, there's a big part of acting that requires attention, that's why I can look very serious. I think acting is about deepening something that's already in you, a part of you that you don't necessarily show in everyday life. If I acted in normal life like I do on stage, I guess people would think I'm really crazy…
The little doll figure appears on your album covers and also in your videos. Who originally came up with the little doll characterisation? Will the doll grow up as Anesidora does?
As I said earlier, we were looking for a symbol of innocence, of childhood…That's how we adopted this little rag doll. But with "Start from Scratch", we wanted her to change, to evolve. We asked Eliran Kantor, who designed the artwork, to give her a makeover. He changed her into a doll that looks more like a little girl. We like this idea of Anesidora evolving, maybe growing, album after album.
The album is rich in orchestration and also involves a 20-person choir. How different was it having to work with all these different people? (or did you not have anything to do with them in the recording process….)
The recording of the choir was amazing. We had to find 20 people motivated enough to rehearse twice a week during 3 months. It didn't seem easy. But we found them and it was incredible to see how much these people got involved in the project. They were all very different : music students, family members, friends… But they all saw how important this was. Above all things, we really, really had fun together !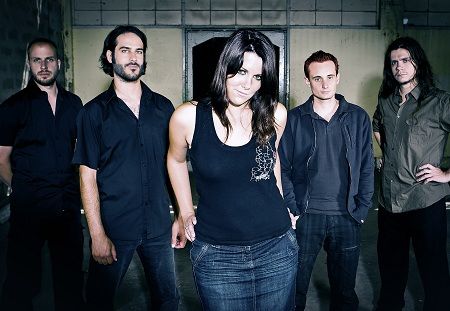 It is clear from a brief listen that despite the "symphonic" tag, there is no denying that there are some heavy riffs lurking in the mix there (for example at the beginning of "Wrong Reflection")! What are your influences as a singer and are there any specific bands that inspire you?
We don't see Benighted Soul only as a symphonic metal band anymore. As you said, there are other aspects in our music : rock, progressive metal, even pop music ! As a singer, my influences changed. When I start singing, I was a big fan of Tarja Turunen and Floor Jansen although they are really different singers. I'm still fond of their works today but I have also new influences : Pain of Salvation, Ram-Zet… bands that are not inevitably considered as "symphonic metal".
Although this album is more rooted in the "real" world, there are still traces of the old Greek mythological themes (eg the last song "No Warning Signs" speaks of the Fates and the thread of life they weave and cut). Will we see more from the Greek themes in the future, or do you think that with this album the band has really "turned a corner" into a new direction?
As you said, the band has really turned a corner. On our old demo "Catharsis", our music was really rooted in epic metal. The way I sang was very lyrical. The mythological themes suited very well then. But "Start from Scratch" brought more rock in our music and I felt the need to write something more real, maybe more personal and stop hiding behind mythological character. It doesn't mean there won't be hints about mythology anymore. I like this subject and I think it suits very well the choir's parts.
You guys have really gone to town promoting this new album. 15 reviews and 7 interviews just in February! How has the reception of the new album been in general? It would seem quite positive, achieving such scores as 5/5, 18/20 and 8.5/10! First place in the metal charts by FNAC!
We worked a lot on this album. So of course, we were hoping it would be well received by people and reviewers. But the reception exceeds what we were expecting. What was amazing is that reviewers really understood our music, they understood the sense of our work. There was no gap between what we had intended to do and what was perceived.
Even more exciting for you, you went on tour supporting Tarja Turunen on the "What Lies Beneath" tour in 2010! What was that like? Have you any secret stories to tell for us?
This was really exciting for me considering that in 2001, I decided to take singing lessons when I first heard Tarja sing on "Dead Boy's Poem". So this tour was amazing for two reasons : 1 – Being in a band supporting one of my favorite singer ; 2 – The audience ! It was incredible ! We were very happy to meet people who like our music in these countries. Any secret story ? An interesting music video was shot by Pat from Kells in the tour bus but I can't tell if you'll get the chance to see it one day !
You begin your "Start from Scratch" tour soon. What can fans expect from this tour? Any surprises in the live gigs? Will Anesidora herself make an appearance?
As its name suggests, we will mainly perform song from the album "Start from Scratch" but there will be a few surprises for people who know the older songs. Anesidora will follow us on tour, of course !

Most of your appearances are in France. Has your music travelled well across the borders? Do you get any messages from far-off fans? (this one [me] is in the UK, which is not so far…).
As we live in France, it was important for us to meet our fans in our own country. That's why most of our gigs takes place there. However, our music has already travelled. We have fans in Italy since we've performed there with Tarja on tour. But on social networks, we receive messages from South America, United States, Netherlands, Greece, Hungary…In the future, we really would like to be more active on the European scene.
I think that when the album is over, the listener has been taken through a large range of emotions from our little doll-girl. How do you guys relax after shows or recording sessions? It must be quite draining for you!!

It's a 70 minutes- album and yes, I think when it's over, the listener must be a little bit lost ! When we perform the songs live, it's always very intense. But when we leave the stage, there's always lots of things to do and we don't have the opportunity to relax until late in the night ! First, we like to meet our fans after the show so we always take the time to speak with everyone who wants to. Then, we have to pack up everything, instruments, hardware, clothes… When all is over, we can get in the car and, at last, sit down ! But there's always lots of things to talk about : how was the show, the audience, who did the wrong note during one or other song…Once in the car, we're still in the live energy, in the effervescence. But after an hour or so, everyone begin to relax and fall asleep, exhausted !
Finally, a great big thank you from all at Femme Metal for talking to us and we wish Anesidora a full and exciting time as she tours the country!! Any final message for the readers?
Thank you for your interest, thank you for your support !
Links
MySpace * ReverbNation * Facebook * Twitter * Site
Latest Multimedia
Label : Femme Metal Records
Review by Tony Cannella
Here we are again. This is the latest compilation album put out by Femme Metal Records and like the ones before it, this is as comprehensive a look into the Femme Metal scene that you are going to find anywhere. "Melody and Malice" features 32-songs and over two hours worth of music spread out over two discs, in short, this compilation is packed to capacity with some great music. The beauty of compilations such as this is that it displays how wide and varied the Femme Metal genre is. All styles are well represented here, from power metal to symphonic metal to goth metal to prog metal to thrash metal, well you get the point. CD 1 begins with the modernized metal warfare of Deadlock with the track "Virus Jones". Exoterik is next with the great track "Revive", another modern metal song with some great moments of melody. Kittie is ferocious as ever with "Cut Throat" and In This Moment are on hand with the ultra melodic "A Star Crossed Wasteland". Mongrel contributes the chugging, marching vibe of "Zombie War". This compilation does a great job in mixing the well known bands such as Kittie, Lacuna Coil and Arch Enemy with some of the more obscure acts like Regardless of Me, Katra and Alerion and it all flows together quite nicely. The first disc is completed by the raucous hard rock of Jaggedy Anne (who also gets my vote for the best band name). It would be difficult to go track-by-track (not to mention long), but suffice it to say there is something for everyone here. Some other highlights that can be found on disc one are: the great classic metal outfit from Poland, Crystal Viper with "Blood of the Heroes", "And Their Eulogies Sang Me to Sleep" by the Canadian metalcore troupe The Agonist and the UK's Sarah Jezebel Deva with "The Corruption of Mercy". Disc 2 begins with the Romanian Power Metal band Magica with "Wait for Me", which is one of their very best songs (in my opinion). With compilations such as this, it is possible to find those gems that otherwise you might not be privy to. One such band for me, would have to be Witchburn from the U.S. I was completely blown away by this band and their down tuned contribution "Bleed the Stone", just excellent. After that, we get the more familiar with Austria's Edenbridge and The Mariana Hollow. Luna Mortis contributes "Ash", sadly this band is no longer with us, but "Ash" is a pretty good representation of what this band from Wisconsin had to offer, which is a lot. Two of my current favorites Triosphere (with "The Anger and the Silent Remorse") and Solsikk ("Relish in Nervous Delights") are two more highlights. Other highlights that can be found on the second disc are: Achilla (another revelation as I had never heard them before), Amberian Dawn, Evil's Desire and Rising Dream. I can't imagine the work that goes into compiling a compilation such as this. It must be a daunting task, but the end result is a resounding success. Like the compilations before it, this is a great place to start if you would like to investigate some great Femme Metal bands.

Rating – 95/100
Tracklist
Disc 1
Deadlock – "Virus Jones"

Exoterik – "Revive"

Regardless of Me – "Until I Die"

Kittie – "Cut Throat"

In This Moment – "A Star Crossed Wasteland"

Mongrel – "Zombies of War"

hAND – "Fate Sewn On"

Decadence – "Vulture"

UnSun – "Whispers"

Katra – "One Wish Away"

Crystal Viper – "Blood of the Heroes"

Winter Storm – "The Embrace"

The Agonist – "And Their Eulogies Sang Me to Sleep"

Alerion – "Turn of Fate"

Sarah Jezebel Deva – "The Corruption of Mercy"

Jaggedy Ann – "Skin of Your Teeth"
Disc 2
Magica – "Wait for Me"

Witchburn – "Bleed the Stone"

Edenbridge – "Higher"

The Mariana Hollow – "Your Halo"

Luna Mortis – "Ash"

Beneath the Stares – "Guilty Bystander"

Achilla – "Mirrors"

Amberian Dawn – "Talisman"

Lacuna Coil – "Spellbound"

Triosphere – "The Anger and the Silent Remorse"

Solsikk – "Relish in Nervous Delights"

Noctis Notus – "Scarlet Storm"

Arch Enemy – "I Will Live Again"

Further From The Truth – "Drifter"

Evil's Desire – "Touched by Insanity"

Rising Dream – "Religion for the Weak"
Label : Universal Records
Review by Tony Cannella
For anyone who thought Tarja Turunen would be nothing without Tuomas and the rest of her ex-Nightwish band mates, than I would urge you to listen to her new solo album "What Lies Beneath". Her second album, "My Winter Storm" was a positive first step to the start of her solo career – it actually exceeded all of my expectations. Now, with "What Lies Beneath" Tarja has released a sophomore CD that shatters all expectations, and once and for all should put all comparisons to her former outfit to rest. Of course, it doesn't hurt that Tarja has surrounded herself with some world class musicians and collaborators. But still, it's that amazing voice that really makes "What Lies Beneath" come alive. "Anteroom of Death" gets things off and running in a big way. This immediately became one of my favorites. The track also features contributions from a cappella metallers Van Canto who add their special touch to this track. "What Lies Beneath" is a steady, relentless CD that very rarely falters. Throughout the course of the 55-minutes worth of playing time, the listener is treated to a mixture of dramatic, heavy, symphonic, ballads and classical metal styles. "Until My Last Breath", "Dark Star" (featuring a duet with All That Remains singer Phil Labonte) and "Underneath" are pure magic. Enough can't be said about the array of talented musicians that Tarja has assembled for this album. Guitarist Alex Scholpp, Bassist Doug Wimbish (of Living Colour) and Drummer Mike Terrana all provide great performances, as do some of the guests, such as Drummer Will Calhoun (also of Living Colour) and guitar virtuoso Joe Satriani who adds a blazing solo to "Falling Awake". The trio of "Falling Awake", the ballad "The Archive of Lost Dreams" and the 7-minute musical tour de force "Crimson Deep" brings "What Lies Beneath" to a beautiful conclusion. The limited edition includes a bonus disc featuring three songs including an interesting cover of the Whitesnake classic "Still of the Night". As we head into the last quarter of 2010, "What Lies Beneath" by Tarja will most certainly be among my favorite albums of the year.
Rating – 95/100
Tracklist
Anteroom of Death

Until My Last Breath

I Feel Immortal

Dark Star

Underneath

Little Lies

River of Lust

In for a Kill

Falling Awake

The Archive of Lost Dreams

Crimson Deep
Line Up
Tarja Turunen – Vocals, Piano

Alex Scholpp – Guitars

Doug Wimbish – Bass

Mike Terrana – Drums
Links
6 color styles available:

Style switcher only on this demo version. Theme styles can be changed from Options page.