Browsing articles tagged with " casket"
Interview by Danny Robertson
We spoke to vocalist Gogo Melone from Greek metal act Luna Obscura, to get an insight into the band's history and influences.
How and when did the band first get together?
It was in 2000. In the beginning there wasn't any major plan on creating LO, we just wanted to experiment with our musical preferences. I met Dimitris and Aris and I joined the band in the recordings of the demo "Darcanda". The idea to have male and female vocals came easily, I guess that we all loved this combination at that time and somehow we felt it was the right direction for our music.
Who first influenced you to become a vocalist?
As I've already said in the past, my first moment with the metal scene was when I bought the "Black Album" by Metallica, so I have the feeling that everything started then. I took vocal lessons, I was in chorus at school, in high school I started to sing in different bands…the usual stuff.
Who/what are the band's main influences as a whole?
Lyrically we're inspired by human psychology, moments in everyday life, our feelings and thoughts, sometimes by poetry and books!
How would you describe your sound to those unfamiliar with the band?
Our sound has atmospheric, death, gothic elements with harsh male and clean female vocals.
How long did it take to write and record "Feltia"? Had your sound changed at all since the early demo days?
I guess it's more mature now, has many dark elements, better balance in the vocal lines, better production but we are still in the same genre with our previous releases. The whole approach with this album was always so serious and important for us because we wanted to do everything in the right time, with the right people. After a small break and the release of the EP "Evilyn", we've started to work again. The problem was that we had already enough songs ready, recorded in different periods and so much new stuff. It took us 5-6 months to refresh and make the old songs to fit with the new. We've spent nearly a year with the recordings and the mixing of the album. It was a really tough period for all, especially for our guitarist Dimitris who is responsible for the most parts of our music and he did the whole work with the producers of this album.
What would you say has been your biggest non-musical influence?
Red wine and candles…. are killer inspiration :))).
What's your local scene like back in Greece? Is it easy for bands like yourself to get noticed?
Without the internet and the press, it couldn't be easy for anyone, you need everything…good music and good promotion as well. The Greek Metal scene is growing and many bands have started to act in a more professional way…this is really good. Of course the metal music industry has the normal ups and downs but people are always interested to discover new bands and artists.
Which other bands/acts, past or present, do you feel you share the most common ground with?
Maybe Draconian, Trail of Tears, Tristania, Theatre of Tragedy, Crematory and every band with death and gothic elements.
What have been your career highlights so far? What are your main goals and ambitions?
This album gave us everything and it's the start for our career. As for the goals and ambitions, we just want to share our music with the people, be creative and record another good album! Sometimes it's good to have a low profile and not expect so much.
What's next for the band?
Well, we just got signed with Casket Music/Copro Records, so the next plans are new album and gigs!
Any last messages for people?
A big hello and thanks to all of our fans! For those who don't know us please listen to "Feltia" and hope it gives you something good to remember!
Links
Label : Casket Music
Review by Tony Cannella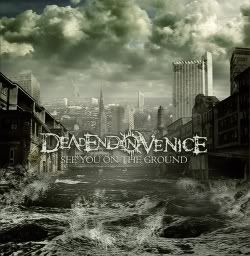 Germany's Deadend in Venice combine melodic Death Metal with old school Thrash riffs to create a 9-song, 32-minute powerhouse of a debut, that hits you hard, fast and straight between the eyes, never wasting time before reaching its conclusion. The band features the duel lead vocals of clean female singer Annabell Klein and the more aggressive style of Christian Litzba. Comparisons are sure to be drawn to another band that excels at melodic death, namely Arch Enemy. Those similarities are there, but the old school thrash influences also surface throughout the debut, which is titled "See You on the Ground". The fact that "See You on the Ground" clocks in at a brisk 32-minutes means that there is very little wasted moments on the album. From the ferocity of the opening track "Hate Sweet Hate", Deadend in Venice know only one direction and that is full-on heaviness. The duel vocals of Annabell and Christian are well done goes along with the Death/Thrash style riffs very well. The power riffing opens the next track "Personal Decay". The melodicism that this band is capable of is on full display here, primarily with the vocals of Annabell. Some of the guitar riffs and the way songs are presented brings me back to 80s style Thrash Metal, a perfect example of this is the 3rd track "Brain Execution". Other highlights include: "War", "Long Way Home", "The Monkey in My Closet", "Dirty Little Princess" and the great album closer "Tomorrow Never Comes". I never expected what awaited me when I put on "See You on the Ground". Deadend in Venice has delivered a solid, no compromising, aggressive, adrenaline filled debut that never fails to impressive throughout it's all too short playing time.

Rating – 90/100
Tracklist
Hate Sweet Hate

Personal Decay

Brain Execution

War

Long Way Home

Last Chances

The Monkey in My Closet

Dirty Little Princess

Tomorrow Never Comes
Line Up
Annabell Klein – Vocals

Christian Litzba – Vocals

Kevin Klein – Guitars

Tim Schmidtke – Guitars

Andreas Ackermann – Bass

Frank Koppe – Drums
Links
MySpace * ReverbNation * Facebook * Twitter * Site
Independent Release
Review by Tony Cannella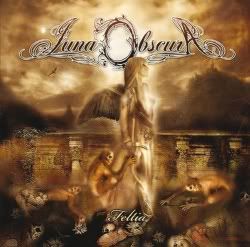 From Greece comes Luna Obscura. The band play a dark style of gothic, atmospheric metal with some avant-garde elements thrown in as well. The band has two singers, the female vocalist is Gogo Melone and Aris Potonos handles the more extreme male vocals. The band is completed by Dimitris Papachristos on guitars and backing vocals and Stratos Kountouras on bass. The band has just released their full-length debut titled "Feltia" and I can say that it is 11-songs and 46-minutes worth of some of the most powerful and atmospheric music I've heard in quite some time. Getting right into, the CD begins on an interesting note right off the bat with the 2 and-a-half minute intro track "Enochian Chant". This sets things up quite nicely some eerie music and a male spoken word section before the rest of the band joins in and the vocals of Gogo Melone come to the front. This song definitely creates a strong atmosphere and you can't wait to see what is next. That is answered with the next track "The Burden Of Solitude". Aris Potonos takes the lead early on and his voice is very fierce and when Gogo joins the fray you see how well the contrasting styles work together. I like both vocal styles a lot. I love the way Aris's vocals are produced, they are not too low in the mix and not too far out in front so that it overwhelms everything. They are done just right. Gogo's vocals are nice as well. She's got a great range and a great deal of emotion and passion in her voice. "The Burden of Solitude" is a great song and one of the highlights for sure. The next song "Oronar" is another great song that features a cinematic element and again the vocals leave the listener breathless and in awe. "Ex Caelis Oblatus" is next and it starts off with a heavy riff and we are off and running again. The two vocals share equal time on this one, sometimes singing together. The next song "Symphony of Sighs" is probably my favorite song. It starts off at a slower pace but then really gets going. This is also one of the more aggressive songs. Other highlights include: "The Ancient One", "Waltz into Darkness", "Away" and the instrumental closer "5 Visions". Luna Obscura are a very impressive band and "Feltia" is a tremendous debut. The songs, the feeling and attitude all combine to make it one of the better debuts I have heard in awhile. The song writing is also top notch with the lyrics evoking a poetic feel. Overall Luna Obscura come highly recommended.
Rating – 90/100
Tracklist
Enochian Chant

The Burden of Solitude

Oronar

Ex Caelis Oblatus

Symphony of Signs

Codex Daemonicus 1516

Ancient One

Waltz Into Darkness

Away

Dance of Forsaken Souls

5 Visions
Line Up
Aris Potonos – Harsh Male Vocals

Gogo Melone – Female Vocals

Dimitris Papachristos – Guitars & Backing Vocals
Links
6 color styles available:

Style switcher only on this demo version. Theme styles can be changed from Options page.