Browsing articles tagged with " columbia"
Label : Columbia/Sony Music
Review by Luisa Mercier
Lucy Rose is a young folk singer coming from Warwishire, that moved to London to attend college and there met Jack Steadman of Bombay Bicycle Club, who invited her to sing on their last two records. She also toured worldwide with them in supoort of Noah and The Whale, gaining a great live experience.
"Like I Used To" was recorded at the home of her parents in Warwickshire with producer Charlie Hugall and displays Lucy's sweet and soft voice that already has gained her comparisons with famous colleagues of the folk scene. Her music offers nothing new if I have to be sincere, since a lot of singer-songwriters are crowding the stage right now, so it is difficult to be original, but she has her positive features.  Continue reading »
Independent Release
Review by Tony Cannella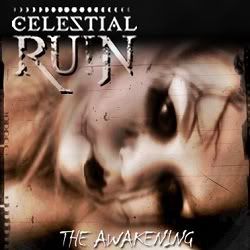 From Vancouver, British Columbia, Canada comes the Gothic, Symphonic Metal outfit Celestial Ruin. The band has not been together for a long amount of time, yet their debut EP; "The Awakening" boasts professionalism in both the musicianship and songwriting. The opening track "From Beneath You" begins with a thumping bass to open the song as the track quickly morphs into a catchy, straight-forward metal track. "Goddess" is next and begins with a slower tempo as the truly beautiful vocals of Larissa Dawn joins in. As the song progresses the tempo speeds up and gets heavier. This song quickly became my favorite of the four songs featured here. "Behind These Doors" is next and begins with a nice piano intro, before developing into a nice, melodic mid-tempo number. Vocalist Larissa Dawn shows off her diversity on this one. "The Hunted" neatly wraps things up, after about 18-minutes. Celestial Ruin is currently looking for a label and if they continue to progress, based on what is presented on "The Awakening", they should find a home in no time. This band has tons of potentia.
Rating – 73/100
Tracklist
From Beneath You

Goddess

Behind These Doors

The Hunted
Line Up
Larissa Dawn – Vocals

Logan Constant – Guitar

Nathan Loflin – Keyboards

Mike Dagenais – Bass

Adam Todd – Drums
Links
MySpace * ReverbNation * Facebook * Twitter
Interview by Alessandro Narcissus
We have already have the occasion to promote A Sound of Thunder with the review of the self titled debut EP in 2009 and before that with the demo's review of Blood Corps, now instead it's time to give voice to "Out of Darkenss", the second album by US heavy metallers A Sound of Thunder, so we took a chance to ask some questions to Nina Osagueda, let's see what she has to say about it….
Hi Nina! How are you and how is the promotion for the new album going so far?
Hi! I'm doing great. Promotion is going well, looks like we're getting lots of great reviews and I'm really excited to know how many people are enjoying the album.
The first thing that strikes the eye is how fast A Sound of Thunder is growing, with four valid releases in four years. What's the secret of such an abundant creativity? How can you be so productive without missing a single hit?
I think the secret is really just that we all love what we do. We have so many ideas because we keep wanting to do more more more, and it's harder for us to stop writing then to keep writing! We've got at least two more albums worth of material already written, and we're never short of ideas. Since all of us enjoy the songwriting process, it's probably our greatest strength and deterrent.
Typical question now: would you please introduce to us the new album and its themes? What does the title stand for, what are the songs about?
The title stands for the album as a whole. Each of the songs deal with life and death and your reaction to it, from fear, to comedy, to sadness. We wanted to express the fact that from darkness, there is light, which is why we write about death so often. There's more than one day to talk about death.
What I appreciate the most while listening to "Out of the Darkness" is its wide range of diverse influences and blend of different styles. How do you manage to keep track of all those sounds during the creative process without having them overlap one another?
I think it's just a matter of us wanting to do a lot of different things as the mood strikes us. Each of us comes from a different background, so there are times when one of us is in the mood for blues, or power metal, or classic rock. So we'll write a song in that vein and it will feel right, so we'll keep it. We don't believe in limiting ourselves to a specific genre because we hate the idea of being repetative.
With every release, an artist learns new things and grows. How did the experience you made with the recording and release of "Metal Renaissance" help you with the new album?
It helped us to learn how our music can be refined in the studio. With our first album, we recorded the old fashioned way, on tape, with little to no editing. All of my takes were straight through recorded and the sound was nice and raw. However, we had a lot of things we weren't able to do because recording on tape is quite limiting, so while it was a good learning experience, it didn't provide us with all of the options we desired.
While not being excessively boosted by the production and having the right place among the other instruments, your vocals are a striking feature in this album. Your style is very versatile and you can easily switch from a more soaring to a more aggressive style. Are you a trained singer or are you self-taught?
I'm mostly self taught. I learned to sing from listening to my hero, Aretha Franklin. The way I felt, if I could imitate what she could do, I knew I could be good. By the time I was a senior in high school, I'd already been a soloist for gospel and traditional choirs and was singing with the Washington Opera as my age permitted. However, I wanted to get better, and I was playing with the idea of being a professional opera soloist. So, I took a few private lessons to learn arias that I might use for auditioning purposes. Not long after, I started college, and I didn't have time to continue with the opera business. In college, I learned to appreciate metal, so I took all my experiences and influences from opera to rhythm and blues, and used them to create my own sound.
They say you can't judge something from the cover, but that of "Out of the Darkness" is really outstanding and deserves a mention. Can you tell us about the idea behind it and how it was developed?
When searching for an appropriate cover for our new album, the guys and I wanted an image that could be interpreted in different ways. We were struck by the art and found that each of us could give it a different story, so we purchased it based on that.
How is the live activity going? How are the fans' reactions to the songs performed live? Do you like to make some variations when playing a gig to add a different flavour that will make the live experience unforgettable even if compared to the album?
We get pretty great reactions live and playing live is probably the greatest feeling ever. We do sound a little different on stage, since we only utilize one guitarist. However, that seems to give us more of the raw sound that we enjoy and makes us work harder to produce a full experience. To make it unforgettable, I ham it up on stage. I crack jokes, grab guys by the collar, strike poses, and generally act like a tiny tyrant dictator.
The so called "female-fronted" scene is something that originated in the mid-Nineties and grew esponentially during the 2000's. Did you find it hard to start basically anew in this new decade and find your own "living space" in such a crowded bunch?
I sort of find it hard for us to separate ourselves from people's expectations. They see me as a female and expect one thing, and I give them something else. I've noticed that when I do use traditional vocals, like in "The Night Witch", people either love it or they hate it. I'm alright with that, because even if I dip my toe into the opera metal sometimes, I'll never do it all the time. It's just something fun that comes when the mood strikes me. I'm not going to be up there wearing a corset and singing soprano every time I go on stage, so I don't find our genre to be crowded at all.
Another typical question: what are the plans now? What do you see in the close future of A Sound of Thunder and what do you wish to see in the long run?
Our plans are to continue writing and producing albums until we die. Hopefully we'll get to the point where we're writing and performing for a living, but until then, we're going to keep pushing the creative boundries of our brains.
That was the last question. Thank you for the interview! Would you please say something to see the readers off?
Thanks so much for all your support. It means a lot to us that so many people enjoy our music enough to pay us any attention and we all promise to continue making it worth your while. Our fans are our best friends.
Links
MySpace * ReverbNation * Facebook * Twitter * Site
Latest Multimedia
Independent Release
Review by Tony Cannella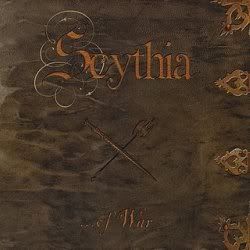 Okay, so here is another Folk-Metal band.This band, Scythia hails from Vancouver, British Columbia, Canada and makes no mistake about it; they play Epic Folk-Metal.The main lead vocalist Dave Kahn (I believe) but they could use several different singers since there are a couple of different styles at play here – some better than others. Some Female vocals are used as more background or harmony vocals. Musically, Scythia is Folk-Metal and they don't stray too far from that path. The best track on display here is the 7-minute "Red Wizard". This is just a cool epic type number that features a lot of tempo changes. Another favorite is the orchestral instrumental piece "Elegy". Other highlights include: "Fierce Riders of Scythia", "The Black Death" and "Dies Irae Pt.1". Folk-Metal is a sometimes polarizing metal genre and I don't see Scythia really appealing to fans outside of said genre. Still, "…Of War" features plenty of strong material that will please the many in the Folk-Metal crowd.
Rating – 70/100
Tracklist
Caspian Rhapsody
Fierce Riders of Scythia
The Black Death
Red Wizard
Elegy
Adamantium
Dies Irae Pt. 1
Warrior's Anthem
Epilogue
Line Up
Dave Kahn – Lead Guitar, Vocals

Scott F. Thompson – Keyboards

Morgan Zentner – Oboe

Terry Savage – Bass
Nik Golar – Guitars, Bass, Vocals
Scott F. Thompson – Keyboards
Celine Derval – Drums & Vocals
Links
MySpace * ReverbNation * BandCamp * Facebook * Twitter * Site
Independent Release
Review By Tony Cannella
From Vancouver, British Columbia, Canada comes Without Mercy, a female fronted 4-piece band that specializes in death metal. On their self-titled debut, Without Mercy unleashes an unrelenting feast for aggressive metal fanatics everywhere. "Without Mercy" only features 8-tracks, but they are loaded with aggression, energy and raw appeal. Also the songs on the CD have a live feel and energy to them. Impressive too are the brutal vocals of front woman Alxs Ness. There is simply no slowing down or letting up for this band on their debut. "Succumb" is just a pure juggernaut of a track. Other highlights include: "Death Remains", "Through the Haze" and "All Else Fails". Amidst the pure mayhem, however there are flashes of some virtuoso playing, the Guitar solo in "CMDUC" comes to mind. Actually, the guitar playing of DJ Temple was really a huge highlight for me. The debut from Without Mercy is just a good thrash/death Metal release that is worthy edition to one of the most underappreciated and resilient genres in all of metal. It is good to hear more and more young bands re-discovering this field of metal and Without Mercy are one of the better ones I've heard in quite awhile.
Rating – 85/100
Tracklist
Death Remains

Through The Haze

Slit

Chasm

CMDUC

Succumb

Pattern

All Else Fails
Line Up
Alxs Ness – Vocals

DJ Temple – Guitars

Dallas Lacey – Bass

Matt Helie – Drums
Links
6 color styles available:

Style switcher only on this demo version. Theme styles can be changed from Options page.