Browsing articles tagged with " dancer"
Label: Frontiers Records
Review by Luisa Mercier
Ninth record for the band led by legend Ritchie Blackmore and his wife Candice Night. If I should sum up in a few words the new album I might say that there is nothing really new apart from a more present electric guitar and a couple songs that recall the past of Mr Blackmore. I am talking about "The Moon Is Shining (Somewhere Over the Sea)" where you can actually hear an interesting guitar solo and the closing track "Carry On… Jon" that clear is a rock attempt. I especially liked the electronic intro to the first of the aforementioned tracks. The rest of the album is what all Blackmore's Night fans love: folk acoustic music with a Medievil atmosphere, costumes and the enchanting voice of Candice fronting everything. I want to mention the single, the title track that is really lively and the melody is very catchy! Continue reading »
Interview by Alessandra Cognetta
Many of you remember her from Kamelot, but Elize Ryd's career is so rich I don't think I can fit it all in an introduction. A talented artist and a really sweet person, she agreed to answer some questions for us about her latest effort with the unique band Amaranthe (their second album "The Nexus" will be in stores by the end of March, check their website to see when it's out in your country!). You're going to read about music, dancing, Eurovision (?!), bizarre incidents on tour and, well, I'm not gonna spoil anything, see for yourselves, you're in for a truly interesting interview!
Hello and welcome once again to Femme Metal, Elize! It's always a pleasure to have you with us at the 'zine. Amaranthe's new album is about to be released, and the band has a world live premiere planned for March 2nd in Sweden. How's it going with the preparations for the event? What can we expect to see?
Thank you very much, it's a pleasure for me as well! It is going great, on Monday the band are gonna meet in Gothenburg and start to rehears of the new songs. You will see Amaranthe in full and healthy shape, we all have had some time of the scene so it will be extremely fun to gather again and start this what will be an extremely intense and exiting year
Interview by Matteo Bussotti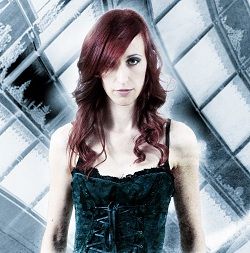 The debut album is of course an extremely difficult task for every band; we must say Siren's Cry completed this task with excellent results. Their first album, "Scattered Horizons", is a powerful example of what prog-metal should sound like. Siren's Cry frontman…I mean, frontWOMAN, Katie Joanne, is a very peculiar character: grown up in a family filled up with classical music, she one day decided to completely change path and follow the "prog-metal way". Reading about her childhood, about her experiences and Siren's Cry's ones was really interesting, and we are here to share them with you. Let's not wait one more second and read what Katie has to say to you!
Hi Katie! We're very proud and honored to have you here at Femme Metal! So, how was having your first album released after so much efforts?
Hi Matteo! Thank you, the pleasure is on my side! I am glad that our debut album is finished and I can leave it now for what it is: the powerful start of a great journey. I'm really excited to continue the journey and sail away to "new horizons".
Do you already have an idea of what's going to be in the next album? Have you already started composing something, or maybe is there any song you composed which wasn't included in "Scattered Horizons" and which we may see in future releases?
Definitely yes! We are already preparing new material. There are many parts and even finished songs we didn't put on "Scattered Horizons" due to lack of space! The album would have gotten too long and we wanted to show as many facets as possible, so that the listeners get a chance to hear and feel what Siren's Cry is all about. Take Sahara Sagas for instance, which is a trilogy. The first part can be found on "Scattered Horizons", while the remaining songs will find a home on future albums, along with other songs that didn't make it so far.
How was growing up in a family filled up with music? We know your grandfather is an awesome violin player and your father was a ballet dancer at the Volskoper. You sure had a lot of pressure on you!
Yes, both my father and my grandfather were really passionate artists. Living in such a family is not much different from others. I would say you just have different interests than other children and this is often a point where you are left alone when you say "No, I don't want to play with dolls, I want to play piano". It often happens that you have to sacrifice something in order to have enough time to practice. However, if you really want to do this and you want to grow as musician it is necessary and if you are aware of this, it's not a big sacrifice in the end.
We know you've had a quite difficult, or "challenging" childhood, musically speaking. You played different instruments, you entered in a music school, although at the beginning you weren't as good as the other students and had to really work hard to keep up the peace. Later, you found out you wanted to be a "prog-metalhead"! How did your father react to this? Can you tell us more about your childhood?
I don't think I have so many stories for you about my childhood, but yes, my dad went bananas as he heard that I decided to be a prog-head, because Vienna is very conservative and it is often a challenge to make your parents and friends understand why you have to do this whole stuff about making your own music. My childhood was not very easy but I'm happy for all lessons life has taught me and I don't get back to those times anymore, because future lies ahead and not behind, so I'm always moving forward with no regrets!
What have you learnt from music school? I mean in terms of "not giving up" etc. As I said before, I guess it was a quite challenging period of time!
I studied music theory, learned playing the piano and started to study opera and classical chant and all other things you need to use as tools for composing… and beside that, I would say I learned a lot about discipline, about the spirit of art and music itself and how to move beyond my limitations.. There is no "I can't", there is only "I will".
How do you feel now that all your efforts have brought you here, with a successful band, a great album (seriously, it's great, I have to say it),and the opportunity to do what you really like?
First of all thank you very much for the compliment, I really appreciate it and am sure that the boys also do! I think we are no superstars now and when the first album is finished, the real work begins. Until the stone keeps rolling by itself it is a very long way. It is a lot of hard work to live your dream, we live a normal life like everyone else, we pay our rent, we go to work, we definitely don't get anything for free, so it's not as easy as it often seems. On the one hand there is all the energy, effort and of course passion and love straight from your heart you put into your work, on the other hand there is support and response that we get from each other and of course from our fans. I think this is the biggest reason for our success and we really appreciate it.
What can you tell us about Siren's Cry members? How's the "group's alchemy"?
The band's alchemy is excellent! We are a great team with aspiring and extraordinarily talented musicians who really appreciate each other! I don't want to seem arrogant, I just want you to understand how happy I am about my instrumentalists and how proud and honored I am to work with them. The vocalist is often put to the front and all eyes are just on him, but I really have to remember that a vocalist without good instrumentalists is nothing! Only emphatic and musically sensual instrumentalists can highlight a voice wherever necessary, so I'm really thankful about my team. I have a lot of space to do what I want as a singer and as a songwriter, but if you want to know more, check out our upcoming "Making of"! People will get the chance to know a lot of things about the way we work! It will be available soon on our website (www.sirenscry.com).
Has there ever been a point when you thought you'd take another direction, trying maybe another musical style or genre (Even if I can't imagine you playing Reggae or Pop, for example!)?
All of us have a lot of projects going on beside the band and also give lessons. Because of our students, we often get in touch with alternative, pop and soul music, some of us have classical projects, or have also a second or a third band. We are open minded and interested in all kinds of music.
I'm a great fan of HP Lovecraft, so, as you can imagine, I kinda got very excited when I read (and listened to) "Elegy of R'lyeh"! So, how did this Lovecraft reference found its place in your album? And so, who are your favorite writers, and how do they influence your lyrics (I mean, how do, if they do, affect you choice of words, your language and the themes of your songs)?
I must say that at first, I didn't want to read Lovecraft because I was a little bit scared. But one day, Michael came up with some story about "R'lyeh", a city under the water, evil gods waiting to rise up. He showed us the piano theme during a rehearsal break and suddenly I was obsessed with this melody. Michael didn't expect such a huge reaction from us, but it was like taking deep breath of fresh air! He showed us the first parts, including the main theme, some little bits and the great chorus! He was not sure what to do with this little bits between the main melody and the chorus, so I just grabbed it and created immediately a verse and a bridge with some little arrangement changes, and there we had the first two minutes of the song! I was hypnotized by the sound and the writing process was so easy going and natural, an excellent feeling! I realized I had to read this book. Writing this song was one of the best moments I had during the making of "Scattered Horizons" and I'm really thankful for this experience! Writers who really inspire me are all the fantasy guys like J.R.R Tolkien, J.K. Rowling, Terry Pratchett, Bernhard Hennen, now of course H.P. Lovecraft and so many others. The influence of classical literature by John Milton and William Shakespeare can't be neglected as well. I would say that every story you read affects your writing in a way. It always depends on what you want to express in your lyrics.
A simple, yet very important question: how was meeting Dream Theater?
I would say like meeting Symphony X: unforgettable! We are all huge fans of their music and extremely inspired by them. Their music has accompanied some of us throughout their whole life and it fills us with strength and hope. To have the chance to meet someone who "guides" you through your life for such a long time is just incredible! The guys are really nice and humble therefore we really enjoyed the time with them and really appreciate those moments!
I was very excited when I found out you played with our best metal band: Rhapsody of Fire. Did you have the chance to have a nice talk with them? Even if Austria and Italy are really close to each other, did you find any differences in your way of playing metal?
Playing together with Rhapsody Of Fire was fantastic. I had the chance to talk to Fabio Lione and Tom Hess, they are the kindest guys on earth! We had a great time after the show and were talking a lot about music and projects and so on. It was really nice and I hope I will have the chance to meet them again very soon. About the difference, oh boy… If I start to tell you about differences between Austria and Italy, you will be forced to sit here for aeons and never come home…(laughs). No, seriously now, what I want to say: There are definitely a lot of differences, but in a positive way for Italy! Italy has a lot more discipline, ambition, the will to try something new and to try to overcome hurdles, great precision and passion and of course much more professionalism and the better musicians!

I love Italy for all that! I think Austria definitely has the prerequisites to arrive at the same level, but the motivation to work on it is often a problem here! Of course we have a few really nice bands like Dragony, Planewalker, Juvaliant, Dignity. But if I think now of what I can list on bands from Italy, there is no comparison. I would start with A like Athena an end with V like Vision Divine, which are all fantastic musicians.
How's being supported, and being friends also, by a lot of famous metal musicians (As I said before, like Dream Theater, or Ross Thompson of Van Canto, as I can read on your Facebook page)? How's the metal industry, the metal scene? Does it creates lots of bonds among musicians, or is it a very competitive musical scene?
This is fantastic indeed. I love Ross! I will never ever forget his support during our gigs in Germany. I love all of them!!! George, Roland, Apollo, Fabio, Tom, Jordan, Mike, Russell, Olaf and so many other great friends and musicians, you can always learn so much of them and I love to exchange experiences with other musicians and I really appreciate this. The whole work we do on our own and we don't want to be friends with someone just because of business. The funny thing is that we never had some kind of friendship bonus like: "My mom knows someone who knows someone who knows someone". I never wanted to be this kind of person; I always wanted to achieve everything with my own hands and my own strength. I can't say much about competition, because I don't want to be part of such nonsense. I'm a musician and I'm here for the music! We always mind our own business, but what I can definitely say, and this is funny indeed: the less known the artist, the more competition. If you get in touch with experienced professional musicians you will soon find out that it actually is all about the music. Music shall not divide people, it shall unite them!
Thank you so much for your time and your replies, it was a real pleasure and an honor to have you here!
Thank you for this nice Interview! I had a great time!
Links
MySpace * ReverbNation * Facebook * Twitter * Site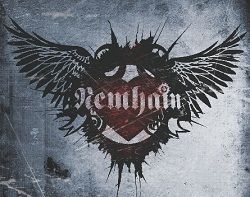 Interview by Robin Stryker
Gritty, Jack Daniels-fueled punk rock is alive and well in London. Nemhain, formed in 2006 by vocalist Amber Erlandsson and her husband, drumming maestro Adrian Erlandsson (ex-Cradle of Filth, The Haunted, At the Gates), have just unleashed their debut album, "From the Ashes" (released 22 January 2010 on Tiefdruck Musik). The band's name captures the essence of its music perfectly – Nemhain is the Celtic goddess of battle frenzy. And what a frenzy it is! With a pair of oven mitts and a fire extinguisher close at hand, Femme Metal sat down with Amber (aka Morrigan Hel) to get the whole story from the fire-breathing Welsh dragon herself.
Welcome, Amber! Please tell us more about Nemhain's blues-stained style of punk rock.
Cheers! It's best listened to when absolutely hammered apparently. We're loud, confident and wrong!
"From the Ashes" includes a raging cover of The Gits' "Second Skin" as a duet with Pete Dolving (The Haunted). Why did you choose this song to cover?
It was actually Lakis who came up with the idea. He came to try out for us and said whether he joined the band or not we had to hear this song and maybe cover it. It's a great song and fits what we're about. It's also a tribute to Mia Zapata and The Gits.
Which tracks mean the most to you personally?
They all do really, although my personal favourites are "Clear My Eyes", "Heroin Child", "Jane Doe", "Babylonia", "Speed Queen" and "Second Skin".
If I understand correctly, you were in a couple of bands and wrote many of the lyrics to "Girls Like Honey" as a teenager but Nemhain is your first experience with recording and gigging. What made you decide to go for it as a professional musician?
It's something I'd always wanted to do. I got to my 27th birthday and figured if I don't make a go of it now I'll have missed the rock n roll boat for good :S
Would you introduce the other members of Nemhain and tell us a little something about each one?
Lakis (Guitar): Is a strange creature from the planet Lak. He gets tangled in guitar leads, has nearly been run over a few times and attracts nutcases where ever we go. He also likes to pace a lot, especially in confined spaces!
Sam (Guitar): Is currently being taken over by his own beard. He has a talent for scat and does some cracking drive by scatting! He also seems to have a hat fetish and smokes brown roll ups.
Lisa (Bass & Vocals): Has OCD and a herd of wild Shitzus. She seems to attract hairy things. She also has narcolepsy and is made up of really intense energy drinks and the blackest coffee…
Adrian (Drums): Likes to hit things, a violent love/hate relationship with mobile phones, horrendous flatulence and a pocket full of pranks ready to weaken people at every opportunity. He's also extremely food aggressive, be warned.
Here at Femme Metal, we are suckers for romance. How did you meet your husband, Adrian? Was there a specific moment that made you think, "yeah, he's the one"?
I was working for Cradle of Filth at a signing when we first met, he'd only just joined the band. He chased me around plying me with Jack Daniels and trying to feed me things. He also fixed my boot which is always a winner. We got married after 7 weeks and now we're coming up to our 9 year anniversary! J
Lest people think that my dragon remark was rude, you really are a fire performer who has torched the stage with bands like Motorhead, Cradle of Filth and Godhead. How in the world does one get into the fire-breathing biz? Have you had any close calls?
Initially I was just messing around with a load of friends in the park, just for fun. A few years later I met my partner Sophia Landi and she taught me a lot and it all went from there really. When I was learning to eat fire and body burn, I got quite a few burns in my mouth/tongue and on my body but nothing too serious. The worst thing that's happened is that I ended up with Chemical Pneumonia from fire breathing. I was really sick for almost a month. Fire breathing is pretty lethal and I really wouldn't recommend it, it can kill you if you're not careful.
Turning from one type of blistering vocals to another, I understand that you have been working with a vocal coach for quite some time now. What areas are you focusing on at the moment?
I'd never had any vocal coaching other than two lessons with a friend back in 2006 and one three weeks ago with a lady called Tona Da Brett. I've got some vocal books and CDs but other than that I've just learned through trial and error and believe me there's been a lot of it ha ha!
Do you play any instruments?
I played violin at school but haven't touched one in years. I've got a lovely matt black Les Paul guitar and a red Zombie. I play mainly for fun and writing vocal harmonies but I'd really love to play live one day when I'm good enough.
With a background as a professional dancer, movie actress, performance artist, fetish model and Domina, you had extensive exposure to bands, performing and the media before forming Nemhain. Do you feel that your previous experience has been helpful?
To an extent it helps with stage fright but singing live for up to an hour takes a lot of stamina which is something I've really had to build up. When I first started out, I'd lose my voice but you learn to breathe and use the right muscles pretty quick! It's either that or no voice.
On the flip side, are you ever underestimated as "just an über-babe propped behind a microphone" (which completely ignores the fact that you write the lyrics)?
Ha ha, propped up! I do tend to prop myself up with my mic stand if I've had a few too many I'm sure there are probably plenty of negative opinions out there, but if you let that bother you'll just end up turning into a paranoid wreck. Anyone who knows me will know the amount of hard work that's gone into this band, there's a lot more than just writing and performing. There's artwork, promotion, booking gigs, organising shoots, the list goes on…
Nemhain and your stage name (Morrigan Hel) are both based on mythology. What is the lure of Celtic and Norse mythology for you?
I was fascinated by the Occult from an early age and part of it involved connecting with aspects of a deity. Celtic mythology is closest to my heart as it all comes from the UK & Ireland. I came across a book which featured The Morrigan pretty heavily & I had some really weird dreams after reading it. I then decided to take it on as a stage name, I think I was about 18 at the time. The Hel part is the Norse Goddess of the underworld and seemed like a good coupling. I used to skive off of school quite a lot as a teenager and spent a lot of my time reading about the Occult and Astrology, writing lyrics, drinking way too much cider and generally being a pain in the arse!
Time for random non-musical trivia … Favourite pair of ridiculously high shoes?
I've got a beautiful pair of black leather Alexander McQueen shoe/boots with skull details.
Cheese-toasties or chocolate?
Definitely cheese toasties, preferably with red onion and mayonnaise!!! Chocolate I can take or leave
Favourite piece of weaponry?
I've got a really nice, almost surgical style Japanese knife that I love.
Things you love?
My husband and close friends/band mates, my geriatric cat andsnakes. The smell of leather, music, fire, garlic, cheese, chili, travel, wildlife, food, booze, freedom, humour, the ridiculous and a good pub!
Things you hate?
Mediocrity, single white females, insecurity and jealousy are horrible traits, liars. Teddy bears, Hello Kitty, the overly processed, people with delusions of grandeur. Crowds and people who have loads of children without thinking about the consequences and then neglect them.
Causes that are closest to your heart?
Preventing animal cruelty, hate crimes and rape.
Your idea of a perfect day?
Being in bed with my husband
I was disappointed to read that the RockInvasion tour with Nemhain, Black Sonic and Die So Fluid has been postponed. Is Nemhain lining up new gigs?
It was a real shame but it will hopefully be rescheduled for later in the year. We have another tour planned for May with The Cumshots, M.A.N and Superbutt. It's a longer tour and we're really excited about it.
What plans do you and Nemhain have for 2010?
Finishing "Murder Mile" our photo studio, finishing and recording the second Nemhain album, filming a new video, tearing it up at festivals and live shows, and draining bars all around the world dry!
Thank you so much for taking the time to talk with Femme Metal, Amber. Any last words for your fans?
Thanks so much for all the support, it means a lot. Be sure to pour yourself a stiff one (or ten) and play "From the Ashes" until your ears bleed! XxX
Links
MySpace * ReverbNation * Facebook * Twitter
Latest Multimedia
6 color styles available:

Style switcher only on this demo version. Theme styles can be changed from Options page.