Browsing articles tagged with " desire"
Interview by Alessandra Cognetta
Anaè is the lead singer of the French metal band Adrana, a combination of progressive metal, heavy metal and classical music, enriched by a strong literary component. The mix of different influences as well as forms of art makes Adrana a unique musical experience and we're here to find more about them.
First of all, welcome and thanks for taking the time to answer our questions, Anaè. How has 2012 been for Adrana so far?
Thank you for giving us the opportunity to present our music and artistic work! I am really thrilled! The year 2012 has been fairly quiet so far. After the release of "The Ancient Realms" and the first part of the French tour we were given a little time to work on new songs, work toward a movie clip and prepare a surprise regarding our future gigs to all of our fans!
One of the things I enjoy the most about your music is the "story" (I won't dare to call it a concept because in my opinion it's far more than that) behind your whole production. Can you describe for us the main themes of Adrana's adventures?
We would like that it becomes much more than a concept. We are working on it, but we are still far from what I wish to do in terms of total art (featuring theater, music, stories, dance, and a whole fantasy world). Our music tells the adventures of the warrior princess Adrana desperate to reclaim her fallen kingdom. It contains many elements of heroic fantasy like the character's actions or places in a rather dark atmosphere, darkening progressively with each new album. Although the story revolves around a princess, this one is more gloomy and sanguine. There are many battles, betrayals, murders and unmentionable secrets that punctuate the epic story of Adrana. Adrana talks about the difficulty of bringing people together in their diversity, and the difficulty to win the trust of others. Adrana shows us that very often we find ourselves alone with our destiny. Finally, this quest leads the Princess to ask the recursive question as to whether the pursuit of a right cause, right as it is, justifies having to kill thousands of human and nonhuman creatures to get there?
We know what influenced your music, but what influenced your lyrics? How were Adrana and her Ancient Realms born?
The band name was invented, without special intention by Ludo and Maxime (guitarist and drummer, the founders of the band). They then included Grhyll, our keyboard player, and me to write the story. The first songs whose lyrics had no relationship between them (stories of vampires, putrefied nymphs, or warrior princess), have become the pillar of the epic story of Adrana. Now, Grhyll has taken charge of the story and I work exclusively on writing lyrics around the story created by Grhyll.
Interview by Robin Stryker
Femme Metal spoke with Leeni-Maria Hovila, frontwoman of Finnish extreme fantasy metal band, Kivimetsän Druidi, six months ago. Since that time, the band has completed a massive North American tour and released its sophomore album, "Betrayal, Justice, Revenge" (Century Media 2010). We are delighted to chat with Leeni-Maria again and get caught up on Kivimetsän Druidi's whirlwind of activity.Hello, Leeni-Maria! We're glad you could join us today.
First things first, please tell us about Kivimetsän Druidi's new album, "Betrayal, Justice, Revenge".
"Betrayal" is our second album — the first in which I have made most of the lyrics, and the first in which we have tracks composed also by our drummer Atte and lead guitarist Rinksa.
If you had to describe the new album's sound in three words, what would they be?
Massive, symphonic, complex.
The title, "Betrayal, Justice, Revenge", has a nice ring to it. Where does the name come from?
It is simply a summary of the things and ideas happening on this album.
From earlier interviews, it sounds as though the band was not completely satisfied with its debut album, "Shadowheart". How much of the harder, more aggressive sound on the new album comes from a natural evolution in Kivimetsän Druidi's music, versus lessons learned from the first album?
The compositions are all natural evolution which was not even as fast as it would seem by listening to these two albums. All the elements of the tracks on "Betrayal" were already present in the few new songs of "Shadowheart", but most "Shadowheart" tracks were both very old and some very new material which sound quite different from one another. On the other hand, the harder, more aggressive sound in general is all about making "Betrayal" sounding how we wished "Shadowheart" would, so that was about a lesson learned.
As I understand it, you are a classically trained soprano. Did you ever consider pursuing a career in opera, instead of metal?
I don't have a great desire for that. The opera world seems a rigid place to me, also I do not have such a big voice. If I do classic genre and I do study it at the present, I am a lied-oriented performer, that is an other-than-opera- kind of classic vocal style. I see myself in the future as a performing cross-over soprano artist, who is most probably chronically broke.
Would you introduce your bandmates, and tell us what you like best about each person?
Joni Koskinen is something of a leader amongst us, if at all it can be said that we have one. I like and sometimes even envy his confidence. He is one of the two of our main composers, who used to do all of the lyrics in the past. He is a founding member and does the growls as well as rhythm guitar. Antti Koskinen, the former's little brother, is our keyboardist and the other main composer. Antti is also a founding member, is somewhat multi-talented, and is very much self-educated as a musician. He is very empathic. Rinksa, our lead guitarist, is also a founding member, although the original idea of Druidi was Joni's and Antti's. But Rinksa has been aboard from the very beginning. He is quiet and conscientious. Simo-Pekka, our bassist, is big and reliable and older than his young years would say. He is always sensible, speaks the utter unquestionable truth, and others never have to worry for him. But, if he gets hungry and there's no food around, you'd better come up with some. Quick! Atte, our drummer, is as far as I remember the last line-up change before myself. He is very good in his area, and the only member besides myself who has at least some classic studies. He used to play the faggot – hold on, I have to check if that, in fact, is how it is written … err, no. I meant to say fagotto. Or bassoon, my dictionary seems to claim they mean the same. Atte is funny. The joker of the band. And open-minded.
"Shadowheart" was inspired by a fantasy story that Joni has been working on. What is the inspiration for "Betrayal, Justice, Revenge"?
I think it still is the same story actually, regardless of the fact that most lyrics are mine or even the fact that most stories of those lyrics I had thought about well before I joined the band. I simply decided — when Joni said I should try writing lyrics and I decided I should try using my old ideas — that fine, now all these things are going to happen in the world he made to happen and that's it. And the truth is that in those stories, both the ones Joni wrote and the ones I'd had in my head before, some very basic things always remain the same. It is the nature of stories regarding where and when they happen. The same things, the same big truths always are the ones that people write stories about or fight wars over. Love. Honour. Justice. Betrayal. Ideals, be they false or true. Religion is the only "big thing" we haven't touched and have no desire of doing so in the future, but I think that if you take religion down to the little pieces to find what it has eaten, what you will find are all those smaller things I already pointed out and some more of their kind. Like pride. Fear. Especially fear.
You wrote many of the lyrics for "Betrayal, Justice, Revenge". Does singing your own lyrics feel different than singing lyrics written by someone else?
Yep. I sometimes feel pretty stupid about them, and this time I can only blame myself.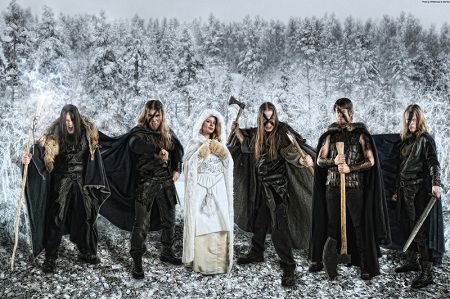 Are you a fan of fantasy? If so, what is your favourite work of fantasy?
Indeed I am. From the works of Tolkien, I prefer "The Silmarillion". The first books I ever read from the genre were the first "Dragonlance" trilogy. Perhaps my all time favourite is Orson Scott Card's strange little one-of-a-kind story "Hart's Hope".
Is "Betrayal, Justice, Revenge" mainly for fantasy fans, or does it have broader themes with universal appeal?
All the themes in our fantasy, as well as fantasy stories in general, are ultimately universal. They are always about the same things which make people move: love, ambition, ideals — betrayal, justice, revenge. Among others.
If you could select any Kivimetsän Druidi song for a soundtrack, which song would you choose and which movie would you put it in?
"Desolation: White Wolf" would be my pick — actually, we made a video for that one lately. Hasn't been published yet. Don't know about the movie, though … maybe it hasn't been made yet. Maybe we should make it. A full-length Kivimetsän Druidi fantasy adventure.
Most of the songs on "Shadowheart" are in Finnish, while most of the songs on "Betrayal, Justice, Revenge" are in English. Was the language switch intentional or happenstance?
Happenstance, actually. I sort of regret that, and hope to make more Finnish ones on the Number Three, whenever that may happen.
In November 2009, Kivimetsän Druidi performed at the Heathenfest Tour in North America, playing 20 different cities and covering 15.000 kilometres in the nightliner. What stands out in your mind from the tour?
Hollywood Boulevard. Giant turkey legs. Helmuth of Belphegor making me drink whiskey. Hilly views. Ridiculously good-looking night liners. Sushi places in NYC. A university campus cafe in Cleveland. Being slightly afraid at Detroit.
When you have a hectic tour schedule far from home, do you do anything special to make sure you stay sane and healthy?
Stay in my bunk whenever I feel bored. Go for a walk outside the bus when possible. Alone! Always, always have good and reliable ear plugs which damp out as much of surrounding noise — preferably talk — as possible. I can't always go for a longer run, sometimes I just jump or run on spot in the backstage or the hall before audience is let in. I go out, if only around the corner, to get a cup of coffee and look and listen to the local people.
Just reading about Kivimetsän Druidi's schedule in 2009 – a Russian mini-tour, writing songs for the new album, recording, going on the North American tour, and back into the studio to finish recording – exhausts me. Were you able to relax some after all that?
We did a little too much relaxing in the summer when we were supposed to be writing songs — or at least I did a little too much "relaxing" when I was supposed to be writing lyrics — so we ended up having to hurry in the studio, again. But it was not too stressing. It's not that all the band activity was overwhelming. It is this stupid thing called "normal life" like going to school, having to work alongside the school, paying the bills, having at least some hobbies and getting to see friends that makes things difficult.
What are the band's plans for the remainder of 2010?
Promoting "Betrayal, Justice, Revenge", doing as many shows as we can, perhaps getting to make a tour later in the autumn, also we have already lightly touched the idea of the Number Three Album if and whether there's going to be one. So writing new songs.
Thank you for taking the time to chat with us, Leeni-Maria. Do you have any parting words for your fans at Femme Metal?
Beware of fragile old bearded guys in strange looking clothes. They are bound to be wizards or something of the kind. Do not piss them off. Come check us out live. Get the new album, it really rocks. Rock 'n Troll.
Links
MySpace * Facebook * Twitter * Site
Latest Multimedia
Interview by Danny Robertson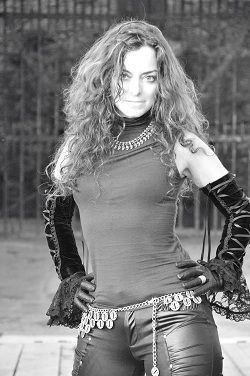 Giorgia Gueglio, singer and founder for heavy/melodic Italian metal act MasterCastle, spoke to us to discuss their debut album "The Phoenix" (released April 2009) and the band's history.
How and when did the band first get together?
I founded the MasterCastle band together with the guitar player Pier Gonella on 2008. We had many bands and collaborations in the past and we decided to put all experience and energy in something different. Pier wrote many hard rock/heavy metal songs and riffs using a particular baritone guitar, and we experimented my female voice on them. The result was an amazing mix for us. We went away composing and we called Steve Vawamas as bass player and Alessandro Bissa as guest drummer. We had known them for many years, as musicians and as people and their arriving changed the project into a real band. We finished 4 songs and we send them to the Lion Music label. They immediately proposed us a deal and we released the album "The Phoenix" on April 2009. We are grateful to all of Lion Music staff's work and promotion for us.
Who first influenced you to become a vocalist?
My musical background is based on British and American hard rock. My first influence was David Coverdale of Whitesnake. I like his voice because it's full of energy and very expressive.
Who/what are the band's main influences as a whole?
Of course Whitesnake was a great influence for me. Then many 70's, 80's stuff like Led Zeppelin, I like very much Robert Plant's voice also.
What inspired you to name the band MasterCastle?
We choose the MasterCastle name during travel after a gig. We were searching for something that could represent Giorgia Gueglio and Pier Gonella. Finally we found "Master" because of the great experience of Pier, as guitar hero, composer and producer and "Castle" because of my travelling passion. I visited many castles, especially in Scotland, and they've given me great emotions. So the two words are very common, but putting them together they become something different and original. You can translate them as "Main castle", or "castle of the master", and we like all those meanings.
How long did it take to write and record "The Phoenix"?
We sent a 4 tracks demo to Lion Music on August 2008. And at the end of December 2008 we sent to Lion Music all the stuff: the master of the album, three bonus tracks for the Japan release (Japan's edition was released on September 2009 for the label Spiritual Beast), all graphic and booklet files. I consider this as a record! We worked very hard, but without stress, because all the band really believed in MasterCastle's music and this has given us all the necessary energy.
What are the main themes and influences behind the tracks on the album?
I wrote all the lyrics and I get inspiration from human nature as well as forgotten tales and events. For example, the song "Greedy Blade" tells about the disaster of Vajont, a dam on the Italian alps that after a landslide, created a giant wave that destroyed towns and villages in the valley. The titletrack tells a story of human nature that needs to be as strong as the phoenix, the legendary bird which dies and is born again on his ashes. The song "Princess of Love" is a mystical tale about the magic presence of a clan of witches dancing in the forest. I really like this song and we made a videoclip that people can see on our MySpace.
How would you describe your sound? Are you comfortable with labels?
It's not easy to describe our personal style. When we sent the stuff to Lion Music, they described my voice as "very powerful" and I'm very proud of this. Thinking about female (vocalists), expecially metal heads, they always think simply about a voice that is higher than a male voice and frame this in the gothic style, with very few exceptions. I don't wanna do this. I try to be different from all female singers, putting all my energy and power in my voice, not necessarily going so high in frequences. Some months after the releasing of MasterCastle's album, I'm happy that people understood this and considered my voice as an original and particular. All MasterCastle sound was considered unique, not only because of my voice but for the original way in combining heavy metal and hard rock with classical influences.
What would you say has been your biggest non-musical influence?
Many non-musical things influence me, expecially in the lyrics. Maybe the biggest is nature. I like mountains, the sea, I like the color of nature, expecially in autumn and the sounds of nature. In the song "Cradle of Stone" I talk about this and about how man often kills nature with progress and technology. As I said before, I also like travel and visit uncontaminated places. They give me a lot of emotions and inspirations.
Who are your favourite current bands/acts? Made any recent CD purchases?
My last purchase was "The Resistance" by Muse. I like their music and their personal way of mixing rock with classical stuff.
Which other bands/acts, past or present, do you feel you share the most common ground with?
I think Whitesnake, Led Zeppelin, Kate Bush, Mike Oldfield.
What's next for the band? Any tours in the pipeline?
After the release of the album we made some gigs, expecially in Italy but we started immediately composing other songs because our plan is to release another album in April 2010. Lion Music have given us another deal, so we are currently working towards the next MasterCastle album. The album is called "Last Desire".
Any last messages for people?
First of all, thanks to you for this interview. Then I invite all listeners to MasterCastle site, where you can find our videoclips, unreleased songs and many other stuff. See you soon on stage!
Links
MySpace * ReverbNation * Facebook
Latest Multimedia
Interview by Miriam C. & Roberta Ilaria Rossi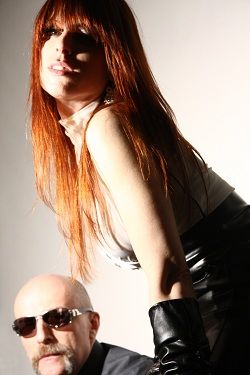 Today, we have the pleasure and the honor to give space to one of the true legend of electronic/darkwave genre. Italy's Kirlian Camera has almost in action from 30 years with a lot live activity and a lot of releases, so we took occasion to interview Angelo Bergamini, the mainman behind this project and the singer Elena Alice Fossi for know more about their tenth release "Nightglory". Also we took advantage of this asking some infos about SPECTRA*Paris and more Elena Alice's side projects….
Hi guys, welcome to Femme Metal.net. Your latest album, "Nightglory", was released not so long ago. How have reviews and feedback been for this album? Are you satisfied ?
Angelo: Perhaps it's a little too early to realize what's going on with "Nightglory", but I can say we noticed huge interest about it. Some people were surprised because of our "change of route", but Kirlian Camera are not that alien to doing what they feel, whether it's approved or not by whoever and couldn't care less of opinions around. Anyway, I think this album will be taken as a very important chapter in the Kirlian Camera history, if one is going to listen to it without any prejudices, then he can easily feel that "Nightglory" is just the highest point of our discography, the one containing our exact identity. If one doesn't like it, it means he doesn't like this band, it's so simple. This album is so filled with passion and purity that we are really proud of its presence within our life. We worked on it with unusual passion, till reaching extreme limits as far as identification is concerned. Yes, we're satisfied, totally. And proud of this "creature"…
Could you please tell us a little bit about the band's history, to get some informations for our readers?
Angelo: We were born more than 30 years ago, springtime, with incredible enthusiasm and need to survive many years to come. Doing a summary of such a long time is rather difficult and it's even more tricky due to the fact Kirlian Camera is quite an anomalous band, which has been moving freely from an atmosphere to another, throughout time. We have been a deep-underground entity, we got platinum records in the pop area, we changed a million members before getting a stable line-up with the arrival of singer/composer Elena Alice Fossi. Kind of a rollercoaster; we met a lot of people, 98% negative idiots who only tried to exploit the band. Poor grotesque characters with no real identity, you know… this band's history isn't that funny and it's filled with several bad events created by absurd people. But I must admit that my collaboration with Elena is the most beautiful event in my life. My hard work finally paid off as for personal satisfaction, thanks to her presence and great inspiration coming from her musical ideas.
Before the main release (I mean "Nightglory") you published the MCD "Ghlóir Ar An Oóche", a really, interesting appetizer that contains a rework of "After Winter" and "Nightglory" both in normal and camera version. First of all what does "Ghlóir Ar An Oóche" mean and why did you choose to have the title in Gaelic?
Elena Alice : It means "Night glory", exactly. We did choose to use a different language for the single, in order not to mix it up with the album. We opted for Irish/Gaelic because it sounds so deep and evocative. Also, Angelo's mother family has some Irish origin: South East Ireland/Waterford area, if I'm correct… I suggested to use such language, as in the last period he's sometimes digging into his far past, so I perceived something natural coming out from those words…
Having given "Nightglory" a listen , I would say the band's sound still remains within darkwave/synthpop genre. Can you please give us more insights about the creation of "Nightglory"?
Angelo: However, pop music is the point from where we started many years ago… even if we had/have in mind a very personal concept of "pop music". So, I'd like to say I don't agree so much with promo-introduction to "Nightglory". I don't think it's our most accessible work ever, or better, I guess it is, but it's misleading to introduce this album in such a way, due to the fact it offers something totally particular: it seems to be able to talk deep to heart, while it succeeds in not sounding oppressive to ears. Doing an oppressive sound to describe a drama is easy… it's (by far!) less easy to compose music about a personal drama by respecting… "Music". Kind of respect to listeners, to yourself as a listener and an attempt to create something beautiful despite the sorrow you feel within. In my opinion, Gandhi was a warrior, not a pacifist as many people think: only, he had a different idea of how a war had to be done. Just an example which is probably going to touch a "too important theme", but… as far as our small garden goes… "Whoever has ears to hear, let them hear"…
The "Nightglory" cover artwork is simply and effective – the huge black panther. What do you want to express with it?
Angelo: The Black Tiger is the symbol of the night itself, for us. That night we come from… Then, we are used to calling Elena Alice "Black Tiger" or simply "Tiger", exactly, maybe this is a little homage to her, hidden in that title… Worthy purity and loneliness…
The song "Winged Child" complete title should be "Winged Child Sitting on a Bench Watching Obscure Clouds Getting Closer While People Seek for Shelter" guys you always surprise me, can I ask where you got a a title like that?
Elena Alice: It's a vision that comes from the inside. One day, when we were taking photos in a local garden, we noticed a beautiful old bench and… the rest is dreamlike. Such a title sounds pictorial, probably. But, how could we turn such a vision into a title without explaining the vision itself…? Well, in the beginning the idea made us laugh, but now, who knows?… Maybe it's just the beginning of a weird new trend, for us… we'll see!
Elena, recently with SPECTRA*Paris you've released your second album "Licence to Kill". Can you talk a little about this other project and in specific about your latest album?
Elena Alice: SPECTRA*paris is a strange beast… one day it sounds glam, the day after goes to meet Ralf & Florian, then it finds the way to Twin Peaks and becomes an empty cinema filled with scary ghosts. S*P is a combination of noir desire, erotica, spirituality, science-fiction, distorted fashion… comics meet suicide tendencies! The last album "Christmas Ghouls" (10-track mini-album) drifted away from "License to Kill" for a while, offering acoustic and acoustic-like ballads, tormented Christmas echoes and dreamy – but worried – pages. I'm working on the third album of this saga and I can say that, at the moment, it sounds electronic, more than former ones. My acoustic/ballad side is finding a place in the cosy arms of my new project Alice Neve Fox, a quartet in which I'm mainly accompanied by musicians on grand piano, acoustic guitar and double bass, even if some theremin and vintage moog is peeping out here and there, occasionally… as well as some guests I attach great importance to. S*P will be roaring again soon with some new sounds and line-up, anyway. Kirlian Camera/Alice Neve Fox's guitarist and drummer Kyoo Nam is now part of the gang…
Talking about Spectra Paris, during Christmas 2010 you've released an interesting experiment called "Christmas Ghouls", I'm curious as to why as it's very far away from your musical visions?
Elena Alice: Making a Christmas album was an old dream, as well as making "my" own Xmas album, as it had to be as personal as possible. Moreover, "Silent Night" had to show a different side, as my Christmas is filled with imaginary toys, dreams, angels… but even with a deep sense of apocalypse. So, my German version to "Silent Night" sounds darker and more dramatic than expected, although I didn't wanna destroy original global atmosphere to the hilt! This album made me realize I need to bring my 'acoustic side' back to light, as I love electronics very much, but I even love so much that magic that acoustic instruments can create, although I sometimes like to add some electronic vintage inputs coming from Theremin and MiniMoog. Practically, "Christmas Ghouls" set the tone to my new project Alice Neve Fox!
Angelo, in the beginning, the sound of the band was more synthpop oriented, you also happened to be in Italian synthpop/disco band Hipnosis in 1982 and 1984 – would you like to tell us something about this experience?
Angelo: I joined the band while they were working on the debut single "Pulstar". After a couple months such single came out and it suddenly went platinum! I honestly must admit that Hipnosis was a funny machine to make some money, although I earned nothing at all! I cancelled the world tour a few days before it started! I left the band after some further experiments, videos and TV appearances. The label offered me some big money to remain on condition that my name didn't appear on any Kirlian Camera work for five years, so I rejected the offer and went away.
Is there any artist or band that, since the beginning, have influenced your work or has it always been your own work?
Elena Alice: Strangely enough, I guess I don't feel any big influence. I love music since when my memories start out, but music is something in the air, for me, so I can catch an idea without knowing who's hiding behind that tune I'm occasionally listening to or whatever. But I can say I like listening to Angelo Badalamenti, David Lynch, Zbigniew Preisner, Ennio Morricone, Susanna Rigacci, Jessye Norman, Giovanni Pierluigi da Palestrina, Arvo Pärt, Hildegard Von Bingen, Jocelyn Pook, Pink Floyd, Laurie Anderson, Danny Elfman, Janis Joplin, Muse, Portishead, some old rock'n'roll grooves and Kraftwerk, of course!
Angelo: In the beginning I used to listening to several bands, but, after a while, I realized that almost none of them was really so essential for me. Anyway, I have been listening to many artists, throughout time, so I had a chance to appreciate Tangerine Dream, Klaus Schulze, Nico, White Noise, Delia Derbyshire, Pink Floyd, Hawkwind, Alvin Curran, Kraftwerk, Giorgio Moroder, Ash Ra Tempel, Neu!, Amon Düül II, Popol Vuh, Peter Gabriel, Le Orme, Klaus Nomi, Joy Division, Metro, The Sound, Ultravox, Gustav Mahler, Max Bruch, Anton Bruckner, Franz Schubert, Francesco Paolo Tosti, Salvatore Licitra, György Ligeti, Marc-Antoine Charpentier, Scott Walker, Mauro Pelosi, Matt Munro, Neil Young, Johnny Cash, etc…
The band name is a clear reference to the Kirlian effect, that is mostly used in bio-physic photography. Who is the one that chose the name?
Angelo: I decided to use such a name in spring 1980, as former name Suicide Commando sounded a bit too aggressive for a project mixing together pop, krautrock and post-punk, at the time!

The band has was founded by you, Angelo in 1980. You've been on the scene for over 30 years now. What has changed since the early days to now?
Angelo: I have noiticed that today's music market doesn't offer any creative chances to a creative musician, rare exceptions aside. I wasn't that used to this "flattening". Stupid producers and idiot labels exist since time immemorial and I worked with a lot of them, but… time ago there was more confidence in some free creativity. Today's bands are boring me stiff and nothing happens since years and years!!! New "rebels" are but spineless posers with no dignity at all and the worst thing is that their music seems to be made for old dumb zombies. Freshness and innovation are two perfect strangers, in music field, currently. The problem is that the audience is accepting all that without any reaction.I feel like I'm becoming a real alien, here!!! Hopefully, nobody will notice my brand new antennas, BRRRR!!!!
You are an electro/darkwave Italian band, maybe you were one of the first band to create this kind of music and, more over, you've also been the first band ever in signing a record deal with Virgin Records. How did this happen? Would you like to tell us more about it?
Angelo: Well, signing to Virgin was so uneasy at the time – and for an Italian band was simply impossible – that when a friend called me saying they wanted us on their roster I did reply by gyawining! I don't know the reason why Virgin wanted us, but I remember that, during a TV-festival, I had been passing near the backstage of the GTR project (Steve Howe from Yes and Steve Hackett from Genesis) and I notice they were playing one of our songs, then the manager of Pet Shop Boys told me that they went crazy for "Blue Room" and Afrika Bambataa was used to performing the same song during his sets… meanwhile Air France had been broadcasting KC on its flights and I had some meetings and free time with Human League, Simply Red, Nico (Velvet Underground), Conny Plank (producer of Kraftwerk, Ultravox, Eurythmics), etc., so… I realized we were a pop band! But it was strange…maybe I didn't feel that at ease in that golden hotchpotch, at the time, as I was much more interested in the underground area and avantgarde/contemporary music…
Let's be straight and clear, I hope you appreciate my frankness, why the hell in Italy an band like you with such a musical history don't give a damn about you, I mean for me and the entire scene you're the precursor of this genre. What must change in Italy? It's because of the wrong mentality, maybe?And why Germany and Belgium seems love your music?
Elena Alice: OK, our relation with Italy is complicated: we like the landscape, we love the food, the traditional culture and even the people, but, as far as real innovations are concerned, Italy decided to give up, some decades ago. In Germany and Belgium exists a kind of "middle area" where some bands have a chance to express themselves. An area placed between underground and mainstream. It doesn't happens in Italy, unfortunately. I am absolutely sure that many people could love the music of KC and many other bands, but… it's like there was a impassable frontier whose checkpoint police is totally alerted 32 hours a day! No one can get in from that border!!! Italian music business has a clear concept in mind: you must sound "super easy"and so, even "important music composers" (some embarrassing but popular rock singers) are doing nothing but music for boring bourgeoisie, pope-boys, fast-food monkeys and tanned people drowsing on a cheerless yellow beach filled with flies. We have some fans, some good ones, in Italy, and we actually are grateful for all the praiseworthy efforts they do to make our sound become more popular, but they aren't so many, not enough to keep us alive, unfortunately. I must realize that this nation's biggest part of music listeners has no respect but for absurd clowns posing as great artists. The sad point is that there are so many good bands… and some of them are even "listenable": I'm sure they'd perfectly fit to buyers' taste! But Massive Attack is the only good alternative that Italian music industry police allows normal people to listen to, more or less, as no further name is jumping in my mind, at the very moment… anyway, I decided to try again, in my Country, as I don't wanna give up, so I guess I'm gonna sing Italian a little more often, in the future… my bridge on this wonderful Country is not collapsed…
What's in the pipeline for KC, what are your future projects?
Elena Alice: As for Kirlian Camera, we're working on the single "Immortal", a song taken from the new album which has been slightly revisited for this occasion. The single will contain some previously unreleased material, as well. We're just planning our first official live album, to be released on audio CD, DVD, BlueRay and digitally, of course. We're told it'll be recorded at the Teatro Regio di Parma (Royal Theatre of Parma) or in a old church… we'll see…
Anything you would like to share with your fans and Femme Metal readers?
Elena Alice & Angelo: Don't judge a book by its cover.
Links
Kirlian Camera : MySpace * Facebook *Site
Interview by Roberta Ilaria Rossi
On the wake of the most famous bands like Arch Enemy, The Agonist, In This Moment, a "newbie" French band is moving its steps in the European metal scene, with one only easy target: spreading the words on the other side of the French boundaries. We're talking about Eths, a new French metal core/nu metal band, already known by many in their native home. Now that a few months have passed from the official release of "III", FM had the pleasure of exchanging a short chat with Candice Clot, that has revealed us something. This is the result of our brief jaw.
Hi Candice. Welcome to our website. How are you doin'?
Fine, thanks!
Let's start our interview. Recently, one of your first records, "Soma", released in 2004, has been issued again by Season of Mist. What's behind the decision of a new reissue?
It seemed to be clear for us to continue the road with SOM, we live in the same town it's easy and we really know each members of the house. We have a great deal with them.
Talking about this new record, I think it's a new and "fresh" one, quite strong. For a moment, please correct me if I'm wrong, my mind associated your sound to the album called "Follow The Leader" by Korn, because of the more robust sounds, which quite remind the thrash of Sepultura or the hardcore of Biohazard, embellished of course by your voice, which is the main point of the sound of the band. Do you agree with this statement?
"Soma" has been released in 2004 so it's quite so long ago.
The first thing clearly noticeable in the listening of Eths music is surely your voice which is quite versatile, because you use a very cutting, sharp growl, showing a first-rate performance, maybe one of the best ever listened in the "female fronted" metal, going through then a use of the clean vocals which result more mellow and persuasive. How do you manage to lead these vocal passages? Do you train your voice a lot or is it a pure and natural talent?
15 years in the metal world breaking my voice but I worked a lot for my clean voice and find a way to mix both voices was with the help of a good breath and a coach. When you have the vocal technique you can afford a lot more things and it's not just talent but only work and experiences.
Step back for a moment: we talked about your voice and maybe some fan has made some comparison with some famous growler vocalist like the German Angela Gossow or the Canadian Alissa White-Gluz. What do you think about these two women? Do you like their music, their vocals?
I know the music of Arch Enemy the singer is a real front woman, she really knows the job but I don't know the other sorry.
Talking about "aggressive" vocalists like the ones I mentioned, is there any other person/female singer you like to listen to the most?
I don't have any references about female voices, but I've always respected the work of Tarrie B from My Ruin.
Eths is a nu metalcore band from France, you are already known and famous there and you're trying to get step by step the way to success all over Europe, but the project was mainly born in 1996 as "What's the Fuck" and right after you changed the name in Melting Point, reaching at the end the final name: Eths. Could you please share something more about the band biography?
We played in Chile Brazil, Russia, England, etc. Done big festivals like Graspop, Szigets, Dour, Wacken etc .So we garnered a lot of good stage memories and saw many big bands, I think we're lucky.
"III" is the latest and newest album, recently released by Season of Mist. The thing that captured my attention in this record was the choice of putting some tracks sang in French and also in English and I've noticed that the same has been done by your "colleagues" and friends Kells. What did cause the choice of putting these tracks in this latest record?
We made 4 songs in English it wasn't easy to rewrite these songs because poetry in French is not the same in English, it's the same subject but not the same words. It was a compromise to record it but the label didn't force us to do it but they let us know it could be a big plus for the band so we made it.
The production of the record has been given to Fredrik Nordström, which has worked in the past with masters like The Haunted, Dark Tranquillity, Dimmu Borgir, Arch Enemy and more and the final result is more than excellent. Why have you chosen to trust this man to work on your material?
Fredrik is a great producer, he's pushing you to your limits to have the best but always let you decide what is the best cause it's your disc, in front of him we could feel his experience in some details, he absolutely don't want to complicate the things, so he was really efficient and we learned to go straight to the point. It was the first time we worked with of a real metal producer and we're really happy with the sound he did, by the way I have to say that Henrik Udd (his acolyte) did also a great job and working with them learned us a lot.
Also the artwork of the record is quite curious. Would you like to talk about it? What is the concept behind it?
This is a post apocalyptic goddess who is the link between our songs. Nicolas Senegas did a real good job we are totally satisfied with the result.
'Till now, your music has been chiefly written using the French language. Will we ever see a record totally sung in English in the future?
No, as far as I write the lyrics I can't write an whole album in English even if it 's only a translation it's a lot of work. Everything has to be changed even sometimes the meaning because of the musical with words. Everything has been simplified for an optimal hearing and I don't like to write like this.
"Tératologie" (2008) was your last album and "III" has been released recently after 4 long years of silence. How come have you decided to wait for so long to release some new material?
After the "Tératologie" tour we were very tired, I've had a kidney infection at the end of the tour and Staif a hand tendinitis so we needed a break. It took a long time to Staif to be in a good shape because he couldn't play guitar anymore. I took time to a have my daughter and time to reconnect to music. Also we realise we needed a break to tell new things, new stories to renew the music and it's very important to create different songs.
Talking about your music career, I know that you've taken part in the track called "La Sphere", by Kells. What could you tell about this cooperation and about your personal friendship with Virginie Goncalves?
I know her from quiet some time, we played on a gig with our bands and one day she asks me if I would sing on a Kells song. Yeah, it's my friend even more today because we've been on tour together and we're mothers, so we share a lot, we understand each other and the simple fact is that we scream, we sing and raise our children that's funny.
Let's talk about lyrics: who is the main person who do write the lyrics in the band? Where does the inspiration for the creation of your music come from?
I write the lyrics and everything could inspire me. Humanity is a great inspiration and I like to shell every part of it. Now "III" reflects a fact of life and a desire for change, a renewal for humanity. We talk a lot about 2012 in general but mostly I'm inspired about the different eras of our earth, the intelligence and the predictions of ancient civilizations disappeared which are necessarily developed the process of "III". The planet has gone through several apocalypses and we are the fruit of it… it helps to ask many questions like birth and death.
Recently you've embarked on a mini-European tour with Kells. What could you tell about this experience?
It's always cool being on tour with friends or other bands now the different thing was that I wasn't the only girl so it was more girly but you know on tour. It's always the same for every band known or unknown. You soundcheck, you wait, you play, you drink, your party and you sleep… with your friends.
What is the most beautiful thing in living on the road?
For sure not the road but to be on stage.
What could you tell, instead, about the relationship you have with the fans?
I'm not a fan of Facebook and I prefer talking after shows than reply to emails it's a better way of communication. I generally do not like fanatics minds and I do not understand them but I owe them respect. We are often associated with young teenagers and I always try to remember when I was 15.
Unfortunately, I've noticed that Eths tours in Belgium and France only. Will you ever embark on a full European tour, setting foot on every single European country and, why not, all over the world?
And we need a good European agent or world agent 😉 it's the only way to see us the band is not so big on Europe so we need someone who believe in the band to bring it abroad.
Any future goal for the band or yourself?
The best for everyone.
Thanks so much for your interest in us and thanks for having allowed us this interview. You have carte blanche in order to speak and say something to our readers and your fans! Thanks so much again!
Thank you all!!!
Credit Photos
Candice Clot Photo by Nicolas Sboub Delpierre
Band Photo by Eric Canto
Links
MySpace * Facebook * Twitter * Site
Latest Multimedia
6 color styles available:

Style switcher only on this demo version. Theme styles can be changed from Options page.