Browsing articles tagged with " drummer"

Year 2013…
After 2 years of creative silence, we are back in the studio recording our 3rd – yet untitled – official surrealistic album. The recordings are currently taking place in Athens (Greece) & Oslo (Norway). We have parted ways with the French company Pervade Productions/Manitou Music/Thundering Records, which released our albums ''No Light but Rather Darkness Visible'' (2008) & ''Esoterica'' (2010).
Karmic Link are also happy to announce & welcome Kim ''Kimbo'' Gustavsson (ex-System Shock, ex-Taketh, ex-Deviant Breed), a multi-instrumentalist musician, to their ranks. Kim, who hails from Sweden, performed with Karmic Link as a live session drummer in Scandinavia, back in 2010. He will record all guitars/drums/bass for the new Karmic Link album. Continue reading »
Label : Inner Wound Recordings
Review by Tony Cannella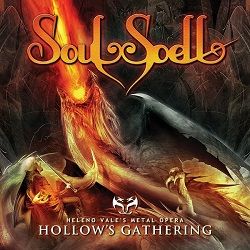 Soulspell is the all-star metal opera brainchild of Brazilian drummer Heleno Vale. The project got off the ground in 2007 with "Soulspell" an album that represented part I in the metal opera. It was soon after followed by Part II called "The Labyrinth of Truths". Now this all star metal project is back with Part III "Hollow's Gathering".
First of all Heleno Vale has done a great job in assembling some hugely talented musicians for "Hollow's Gathering" as he has on the previous albums. Next are the lyrics. You can check out the story on the official web site, but Heleno has written an incredibly detailed and complex story with each singer/musician playing a part. Third and most important is the songs. "Hollow's Gathering" had me wanting to listen again and again. The songs are well written and range from pounding classic metal style numbers, prog, ballads, power metal and symphonic metal. Starting with the 9-minute title song, this really is an album that is unrelenting –several singers can be heard on this monstrous opener. Continue reading »
Photos and report by Jesse StClair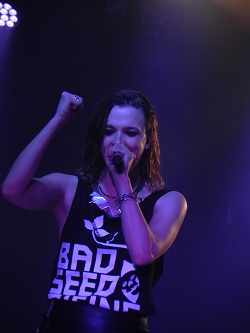 New Years Eve has long been a day of celebration and parties. Everybody knows about the massive countdown in Times Square, New York, but the true party was 3 hours south in a small club in Baltimore, Maryland. Halestorm headlined the Baltimore Soundstage on New Year's Eve to a sold out crowd of 1000 people.
The show was no ordinary concert, but rather a celebration of Halestorm's past, present and future. The night was divided up into two sections: Light and Acoustic as well as Dark and Electric. The first part of the show was the acoustic set. There was no intro music, the lights simply turns on and Lzzy Hale (vocalist, guitarist) walked onstage followed closely behind by the rest of the band. Everybody was dressed in white, and Lzzy even had on a long white gown. Almost right away, the band started playing "I'm Not an Angel" off their first album. Lzzy's powerhouse voice easy soared in the acoustic arrangements, with not a crack or flaw to be heard. Most bands soften their songs for acoustic sets, but not Halestorm. The band left after a few songs, leaving Lzzy alone onstage. Halestorm Rocked harder than most bands out there. Arjay (Lzzy's younger brother and the band's drummer) furiously pounded away on the Cajon drum box while his sister belted and screamed to a cover of Heart's "All I Want to Do Is Make Love to You". The band cleared the stage aside from Lzzy and Joe (the other guitarist). They talked about the old days of Halestorm where they would perform for hours in small bars. They launched into a favourite of theirs back then, a beautiful cover of The Bee Gee's "To Love Somebody" with just the two of them. Joe then left the stage leaving Lzzy alone. She told a humorous story about drinking an entire bottle of wine by herself and recording a song on her record label's voicemail which turned out to be "Hate It When You See Me Cry", which she performed on her own in a beautiful, stripped down arrangement. She then went over to the metal plated piano and played "A Rose in December" which is a song she wrote when she was 16 years old, and Halestorm was in its early days. That wasn't the only rarity in the acoustic set, in fact, most of this section was comprised of older songs, beautiful covers, and newer ballads which typically don't fit into Halestorm's rocking shows.
When Halestorm returned to the stage for the second segment, the Dark and Electric portion of the show, gone were the white gowns and attire and were replaced with black leather jackets, sunglasses and an overall sleek rockstar look. Once again, without any intro music, they dived straight into "Mz Hyde", which possibly is their heaviest song to date. It was quite a contrast from the acoustic set. Despite playing both guitar and singing, Lzzy found the time to run around the stage in her massive stilettos, a task no male rockstar could ever accomplish. Behind her on drums, her Brother Arjay was putting on quite the show. He kept making funny faces and sticking his tongue out at his sister. At one point, he was twirling his drumstick up in the air while using only 1 drumstick to do the part that typically both sticks were needed for. Continue reading »
Independent Release
Review by Vard Aman
Onatra was founded in 2009 in the Ukrainian city of Lviv, and is the brainchild of drummer/composer, Marta Medler; and despite being a somewhat troublesome child at times (breaking up and reforming), Onatra has made some fairly sizable waves in the Female-fronted Symphonic Metal pool. When you hear them, you'll understand why. They describe their sound as "Modern Symphonic Metal" but you might as well read that as "Symphonic Metal", because that's really what it is: good, powerful, multi-layered Symphonic Metal that you can both listen to with your ears and feel with your diaphragm. I have no idea where the "modern" part comes into it, not by its genuine definition (modern as opposed to what? Old fashioned?), and certainly not by its weasel-word definition (no something-core or screamo here). I should add here, however, that Onatra are by no means ordinary Symphonic Metal; they have a distinctive "oomph" that many of their compatriots in the genre lack (but "oomph" in no way equates to "modern").
In January 2012, Onatra released their debut EP called "For Your Soul", consisting of three songs. All three are examples of excellent compositions and display great musicianship, especially instrumentally: powerful guitars and drums interlaced with intricate symphonics (and other bits). Musically, I can't fault any of this and I can't praise it enough, so I'll just say "do yourself a big favour and listen to it" and talk about the vocals instead. On this EP (and the following single), Onatra was fronted by Iryna Vitiv. She is not a bad vocalist by any means, but against the backdrop of the power and the stand-out quality of the music I can't help but feel she is just a little out of her comfort zone. On the title track, "За Твою Душу" (the only non-English track), her voice has a rich and powerful feel to it, and is her best performance on the EP. On the other two tracks she seems to lack the same confidence, and the main reason for this I think is that the other two songs are not suited to her voice or to her style of singing – her vocals are too mono-dimensional. (That said; she excels in the whispered sections of "Shadows' Steps" and in belting out the chorus). "With You" is the main culprit. In my opinion, this song should have been sung in Ukrainian or Russian, or the vocals should have been written in a way that would have better complimented the nature of the music – the first verse especially is a real anti-climax to the way the song built up from the intro.
Label : BadMoonMan Music
Review by Vard Aman
Aut Mori are from the city of Yaroslavl, about 250km North East of Moscow, and were formed in 2009 by three ex-members of Doom Metal band Auto-de-Fe (other ex-Auto-de-Fe members spawned the band Sea of Despair). Aut Mori play a style of atmospheric Gothic Doom Metal, similar in a lot of ways to Auto-de-Fe, but with a very strong Draconian influence. Actually, to best describe Aut Mori's sound on "Первая Слёза Осени" think of a Russian version of a more atmospheric and symphonic Draconian but with less oomph (something along the lines of "She Dies"). It sounds like a promising prospect, doesn't it? Well, it is! Also, while I have your attention regarding Draconian, I should just mention that the guest drummer on "Первая Слёза Осени" is none other than Draconian's Jerry Torstensson, who was also responsible for the mastering of the album; and the guest violinist, Olof Göthlin, was also responsible for the violins on "A Rose for the Apocalypse".
6 color styles available:

Style switcher only on this demo version. Theme styles can be changed from Options page.