Browsing articles tagged with " edition"
Label: Bakerteam Records
Review by Tony Cannella
Are you ready for some Horror Metal? That is the name of the new album from Italy's masters of the macabre, Cadaveria, and that is exactly what you get. Actually, "Horror Metal" has been out for about a year, but it has just received the re-issue treatment (dubbed the "UnDead Edition") with a couple of re-mixed versions of songs as an added bonus. This is actually their fourth album but their first since 2007. Cadaveria mixes elements of Gothic metal combined with thrash, death and black metal, stir it up and you get "Horror Metal".
"Horror Metal" (UnDead Edition) is a 60-minute dark, gothic, melodic and often times chaotic whirlwind of an album. The almost 7-minute opening track "Flowers in Fire" sets the tempo and the course "Horror Metal" is about to take. Continue reading »
Label : Cherrytree Records/Island Records/Universal
Review by Jesse StClaire
In today's pop music, the bass is down low, the tempo is fast and the vocals are processed to elaborate extremes. With this environment, a slower, smoldering album like "Devotion" by Jessie Ware truly stands out and shine. "Devotion" for the most part, has a very stripped down production to let Jessie's haunting voice shine through. The vast majority of the album are reserved mid-tempo songs with hauntingly beautiful vocals. The best example of this are the three kick-off singles, "Running", "110" and "Wildest Moments". They give a very clear glimpse at the album without revealing the true beauty hidden within it.
Another major theme on the album are songs with a 90's retrovibe. Most noticeably "Swan Song", "Sweet Talk" and the title-track. Continue reading »
Greek death metallers SEDUCE THE HEAVEN announce they have signed with Japanese label SPINNING RECORDS and confirm the official release date of a Japanese edition of their debut album "Field Of Dreams" which is scheduled on February 20th 2013. The Japanese edition of the album is going to include two new, unreleased songs as bonus tracks which are also going to be available as digital singles. Continue reading »
Interview by Miriam C.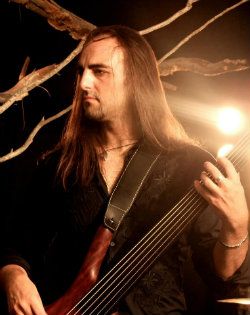 Soon I've have heard that Maltese Gothic Doom Metal Weeping Silence band have had a major line up change I've contacted the band and write down like hell this interview. I'm proud to offer the first exclusive interview the new singer Diane Camenzuli but beside this I've haven't forgotten to investigate more about the third album "For the Unsung" that sees the guest starring of Draconian singer Anders Jacobsson. To know more simply scroll down. Enjoy!
Hi Sean, first of all welcome to Femme Metal Webzine, how are you?
Thank you for the interview Miriam. I'm fine, hope the same for you and the reader of Femme Metal webzine.
Sean, would you mind giving me some biography infos for the users that don't know Weeping Silence?
Weeping Silence was formed in the late 90s and developed from a slow tempo doom female fronted band with the release of "End of an Era" (2008), then symphonic/gothic metal with the release of "Theatre of Life" to a present gothic/doom metal band with the latest full length album "For the Unsung".  As is expected with a band that has been around for some time, we have gone through some line-up changes, the latest being a vocal replacement. Weeping Silence is currently signed to Ravenheart Music Records and operates with Limelight Productions for non-exclusive concert booking in Europe.
So, your third album is out on Ravenheart Music and is called "For the Unsung". Can you tell us more its genesis?
The album is a reflection of the members' thirst to play gothic/doom with an aggressive edge. The insertion of male growling is an obvious indicator, but the riffs just sound heavier and more powerful, with several slow tempo passages. We wanted to do something that hits the core of the music we like and at the same time sounds modern.
"For the Unsung", it gives me an impression like something obscure and unfinished. What does the title mean for you, what did the band want to express?
The album is dedicated to all contemporary heroes that go unnoticed in the world. They do not have monuments erected in their honour or wear medals. They are the everyday people who comes to a cross roads and chooses the path they feel is right with courage. This idea can be transposed to many life situations, and the idea is for everyone to see it from their own perspective.
Also what infos can you reveal about the album cover? It's enigmatic…..
The artwork captures the theme of "For the Unsung" in the form of the Greek myth of the Coronides who in self-sacrifice saved the people from their doom. The Coronides are the two comets on the artwork, who are the daughters of the god Orion. They offered their lives in sacrifice to save their people from the plague. The gods were so touched with their humanity that they transformed them into comets to shed their eternal light. It is not a very popular myth when compared to others but it is a good representation of 'the unsung'. This artwork was done by Jan of Darkgrove, and we feel it looks very nice, especially on the digi-pack edition.
On "Love Lies Bleeding" Draconian's Anders Jacobsson participates as a guest star, when was the first contact with him and how's working with him?
Anders appears as guest singer on "Love Lies Bleeding" and "The Search Within". Joe knew him through Facebook, then I got to know him over the internet. He's a great guy really. To be honest, he could have easily said no to our request for him to feature, but he chose to do it even though we are not as famous as Draconian. This shows he loves the metal scene and is not a big-headed person. We respect him a lot. He did his vocal parts at Dead Dog Farm Studio in Sweden.
Also for "Love Lies Bleeding" you have shot your first videoclip, can you tell us more about it? How's was this experience?
This was a great experience. We did not have a great budget, and between us and the label we thought of shooting this video because we know how powerful YouTube has become. The experience was a blast! It was shot in summer, so you can imagine the heat. As a band, it really brought us together, and individually we realised how far we want to go in this scene. It was an eye-opener as well as a good experience.
Between "Theatre of Life" and "For the Unsung" passed only 1 year from the publication, do you notice (or better) are you able to notice any differences?
The difference is noticeable to anyone who has both albums. It is true that the release dates are close, but "Theatre of Life" was recorded in 2006 and released in 2011. So the music is much older than the release date. "For the Unsung" was composed between 2007 and 2011, and released in 2012. So the difference in composition time is more obvious to us!
Joseph and Rachel have recently left the band. And on Facebook you have already announced t
hat you have found a new female singer, mind you give the honours and present her?
We wish Rachel and Joe all the best with their future projects. The new female vocalist is Diane Camenzuli. She is 24 years old and ready for your questions!
Diane, welcome, I assume that this is your first interview that you ever made, how do you feel? Excited? Do you have any curiosity to share about yourself rather you prefer doing a detailed presentation of yourself?
Hi Miriam, thank you for the interview. Actually, I had some interviews about my music career in general, but this is my first interview regarding Weeping Silence. Yes, I am very excited about this new phase in my life. I have been into rock and metal for many years but never managed to settle down, the main reason being the difficulty to find musicians who are truly into the genre. Joining Weeping Silence is a challenge that has energized me like never before. All the band mates are on the same wavelength as I am, and I can feel a lot of positive energy between us – something I haven't felt for a very long time since my involvements in bands. The teamwork is fantastic and I can already sense the need & the will to create music & performing on stage with such great people.
How do you feel replacing Rachel after so many years that she was in the band? Do you feel any pressure?
I know how much Rachel is loved and have only respect for her achievements.  At first it was overwhelming and I cannot deny that it took me sometime to absorb what just happened to me. I had to make several adjustments to my new life such as cutting down on working hours. Having said all this, I can finally say that now, I have summoned the strength and courage to deliver at this new level of me.
A little bird told me that you have musical training, can you tell us more about your musical background?
To become a band member of a gothic metal band was a plan that had been in my mind for many years. Whilst awaiting the right opportunity to come my way, I used the time I had to learn more about music in general, to take piano and voice lessons, find my natural voice timbre and write a lot of lyrics. This was crucial and it is how I got to know myself better musically. It was the many rehearsals, auditions, live showcases, music courses and music lessons I attended, that helped me develop my voice & that thought me how to take care of it as much as possible.
How did you come across Weeping Silence? Did you know before someone from the band or did you simply apply for the position?
Being a fan of Weeping Silence myself, I saw their post on facebook and thus applied for the position.
For what the little bird  told me you're really enthusiastic and you are already doing rehearsals with the band: how hard is it to get started in a band that already has an "internal" equilibrium?
I am getting along extremely well with them. I had never experienced such teamwork. They are all committed, hard-working and open-minded. Their support has also been very encouraging.  I feel that my life is finally falling into place.
Instead let's talk about your personal tastes, what are your private passions?
I have always been interested in make-up and costumes. I love dark photography and gothic culture. Having said this, my greatest passion still remains that of being a singer-songwriter. It is a great way of expressing my feelings to the extent I want to, without harming anyone or anything.
Sean, what are the future project for Weeping Silence?
The future projects are definately composing a new album, that we hope will see the light of day in 2014. Between then and now, we will also be playing as many concerts and festivals as we can! All this should keep us busy!
So, Sean & Diane, we're at the end of the interview, please greet freely our user on Femme Metal Webzine and speak you soon!
We would like to thank the fans, Femme Metal Webzine and its readers who have always been behind the band giving us much support. We will be hitting the stage in 2013 and maybe we'll get the opportunity to meet some of you. Until then, visit our FB page, see what's brewing, and hit the like button: www.facebook.com/weepingsilence
The new album and earlier releases are available from the band's e-store on the website www.weepingsilence.com . Thank you for the support!Thank you very much Femme Metal readers, fans of female-fronted metal and metalheads in general all over the world! Keep it metal and hope to see you around someday! Thanks Miriam for this interview – Cheers to all!! Sean & Diane
Latest Multimedia
Links
Interview by Gaia Stella Rotondi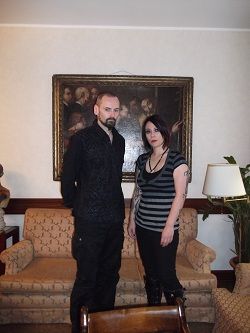 We have met vocalist and mastermind Aaron Stainthorpe and bassist Lena Abé from UK doomsters My Dying Bride for get the latest updates and info about their twelfth album out on Peaceville "A Map of All Failures". Be enchanted and be doomed by this symphony….
Welcome guys how are you doing?
Very well, thank you very much, good to be here.
You are here in Milan to talk about and promote your new album. It is produced by Peaceville Records and it will be in stores on October 15th. It is named "A Map of All Our Failures". Would you like to tell us something about this album?
Aaron: Yeah, it's brilliant. It's um, it's been a while since we did a full studio album, because last the last project was all classical music and then the last thing an EP. So it has been a while since we did a full rock studio album. Three years I think. So that is I think a good evolution from the previous album, we are older now and I think we are wiser, I would like to think we are wiser and better songwriters. I think the more you work on something, the better it should be. We've been working on this stuff for a long time. So in theory, with those mathematics the album should be the best one we've ever done. And all new bands who have a new record say their new album is the best they've ever done. And it's true, this is what you've just achieved, so you're very proud of it, it's like it's you just had a baby, the greatest thing ever. And so, it is wonderful. We've worked hard on it; you can tell its My Dying Bride still, we're not trying to write something completely out of our style. It's recognizable as My Dying Bride, but still fresh enough to be interesting, new and exciting for the fans. So if you've liked anything we've done the past there's pretty much a good chance you're going to love this.
Lena: Some people give us feedback and that it's quite reminiscent of the early works as well. People who like the early work are probably going to like this.
I know that there will be a special edition with CD and DVD and also a double vinyl edition. So what is the reason for this release?
Aaron: It's the record label I guess. Vinyl despite it being not very popular is popular enough for the record label to still do it. They wouldn't do it if they couldn't sell. And I love that as well and I don't even have a record player but I love vinyl because…. Especially gatefold, this thing is huge you don't even see these anymore. It's like an antique but it's a lovely thing to have because we've worked hard on the artwork, photography and the lyrics. So I think if you buy something even a CD, it's something you're hard earned money is well spent on. It's a good piece of rock. I think downloading it, you're missing out. You really are missing out. If you're buying something, have it, don't have it digital, have it in your hands because you can see and appreciate the work we've put into it. And special editions are great. I think special editions are for the diehard fans. They always want a little bit extra. And I was the same when I was younger. I would collect picture disks of Iron Maiden, any weird shit. I loved all that. I would spend all my money on this stuff, box sets. I loved it. And so we do a similar sort of thing. And so the special edition has nine songs instead of eight and will come with a DVD. Which for the first time ever in our history we are showing people behind the scenes of My Dying Bride what goes on the tour bus, how boring it is on tour. You know some live stuff, interviews with all the members of the band. Explaining how we feel on tour. We've never normally done that, we've been a very private band. We sit in the background quietly. When we do an album we talk about it and then disappear again but I think for the DVD we just said let's shout about what we do and then people will see and they'll think it's actually quite boring. The DVD is just a little history of what we do. And the vinyl is great but I'm not gonna play it because I have nothing to play on.
A few days ago, we were given a chance to download the single "Kneel till Doomsday" off the new album for free. Can you tell us something about this song?
Lena: A good general vibe of a whole album, it starts off with slow riffs, it comes back down again, it goes back up and comes back down. It's a good representation of the whole album in general. You've got death metal and a bit of doom metal in there. It's good representative of what "A Map of All Our Failures" is all about.
Aaron: Some of the songs have a specific feel and if you choose an unusual sounding track for download, people assume the whole album is like that. You need a track that has the good spread of what My Dying Bride is about to give people the chance to know that it contains all kinds of stuff. So that is why that one was chosen.
The artwork for this album is very dark. It represents a women sitting on a bed and in a white sheet, with a veil covering her face. Would you like to talk about the album concept and tell us who created this artwork?
Aaron: The album cover was created by a guy called Rhett Podersoo who did the previous albums artwork, "For Lies I Sire". He's quite a visionary guy. I like his work a lot. I gave him the lyrics for the actual track "A Map of All Our Failings" and I explained to him what I wanted and when he came up with a concept, with the idea of my concept, I thought, "Ja that works", because in the lyrics of that song, it's about someone who's just completely alone and in complete and utter silence they have absolutely nothing, nothing at all. The only thing they can sense is their breathing. There's just nothing else there. And there is just a bed and a chair and the chair is just there for when death comes. And it's just terribly tragic. It's a very lonely song. I so I was explaining this to Rhett and I said I want complete misery. I don't want sparks and blood and guts and mayhem. I want loneliness and inspired death looking image, but it works like that. His artwork is throughout the whole CD. Every single page in the CD booklet, an image related to the words. It's not just random artwork, it's all been really well thought out. We worked long and hard for a few months to make sure each image, even though it's covered with lyrics, each image has the feeling of that track. Again that's something you'll miss if you download it. So for the full package, buy it kids!
You're going to be on a European tour in December and you are going to come back here to Italy for two days. What do you think of the Italian audience?
Aaron: They're alright (LAUGHS)
Lena: I've only played there once before at the Frozen Rock Festival. I think it was 2007 so it's been a five years since we came here. I believe the band has played there before, a few years ago? I have some really good memories of playing there.
Aaron: The Italian fans have been backing us back from the demo, a long time ago. You kids weren't even born then. You don't even know what a demo tape is. We've had letters from Italians before the Internet even, when people use to write to us with a pen. They've backed as for years, so every opportunity we get when we on the road, includes Italy, to say thank you.
How is your relation with fans in general? Are there chances to meet them, maybe after your shows?
Aaron: We have lots of time before the show because after the show we're too drunk. Before the show we always agree to do what we call "meet and greet". We always agree to do these things at our own shows because these people have payed for your records, they've bought your things with their hard earned money and it's rude to not say thank you. So playing live for them isn't enough, it's important to meet them. And every time anybody says there's these lines of people outside, they want an autograph, we go outside and sign their autographs because it's important. And they love it as well. The jam their faces between us and we have a photo. It's a special moment. It's easy for a band to do; I don't know why other bands don't like to meet with fans. The fans, without them, there is no band.
Lena: I was in America in January and there was this guy and we had a really good chat and he came from Australia to America just to come see us. He wasn't so bothered about any of the other bands. When people start doing that, why wouldn't you want partisan and say thank you? That kind of dedication means quite a lot to us.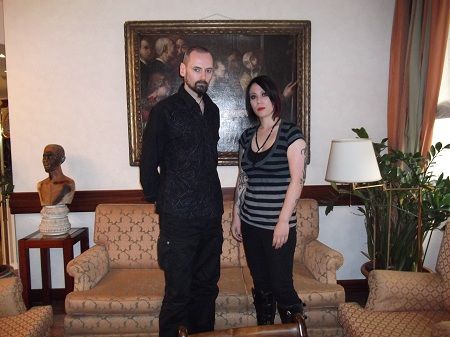 What do you think about British and International gothic scene of this day?
Aaron: Um, I'm only aware of the scene when we perform live because I don't really stay up to date with what's happening in the scene. Because the scene is quite split because we're sort of Doom gothic death metal, it's almost three genres stuck together, that's what we do. So there doesn't appear to be single website dedicated to that kind, or even a single festival. We play metal festivals, extreme metal festivals, gothic festivals, we play lots of different sorts of festivals. We have quite a broad appeal. So it's hard to see what the scene is like because we're seeing different scenes at different times. We still get messages from young upcoming bands who are actually saying thank you for the influence, we love My Dying Bride, and we've created a band because we love you guys. And that's wonderful. That's quite a big thing. We see loads of bands who have mentioned us as an inspirational force. We've done some good old festivals, which are attended really well, despite it being no money in the world at the moment. Some festivals that we've played, particularly Graspop in Belgium, have thousands and thousands of people there. So it's wonderful. We span different genres, so it's hard to see if one is more potent than the other.
How often and how much have you changed since the beginning? What do think of these changes in your 23 years of career?
Aaron: Well, I've got older but I've got wiser? Importantly, we're all going to get older but some people don't get wiser. I don't know? I still like the same sort of subjects that I sang about in the early days. f you picked up our first album and the new album and looked at the song titles and the lyrics, you would see similar themes because those are the things I find interesting. I'm not going to start singing about something I know very little about because it would be pointless. I sing about the things I understand and the things I am comfortable with. And so those subjects have spanned all of our albums. But I think the vocals have developed for sure because in the early days there was a lot of shouting and some clear vocals that weren't great. But that's what I did when I was younger. I was a shit singer and I can hear it. When I listen to the early records I think; "He was a young boy back then". I can't play an instrument, so I have to develop vocals and you get older you feel more, brave. You want to experiment more. So now, on the new album, there's screaming, shouting, whispering, spoken word, all sorts of harmonics going on. And so that's completely different from the first album. Something's don't change much and other things develop and evolve as we get older because it's such a long period of time, 23 years now. Changes are nice and steady, it's not suddenly; "What's going on now?". It's slow evolution and that's a nice way of doing it, I think.
A question about your voice actually. Your voice has its own style. It is clear especially in the later works. What is a change made that you haven't planned. How and why were you moved to follow such a personal approach?
Aaron: Well, again, it's all about experimenting and about expanding. If you're good at something you want to be better at it. And I'm not different, these people that play instruments, they are getting better and better at it. A bit more flashy and stylish on stage. They're looking cool. I am thinking "I have to expand". I am not going to stand there doing nothing. I am going to elaborate and gesture like performers do. Again, it's the braver thing, as you get older you don't care so much about the image. You think I am going to sing this! I don't care about Death metal songs. I am going to sing because it's a good lyric on a nice piece of music, no point doing a death metal vocal just for it. So I much more open to performing vocals in a more appropriate style for each song. And to keep a good variety keeps in interesting not only for the fans, for me as well. I don't want to do the same thing over and over again.
Do you have any artists you look to for inspiration?
Aaron: No, not really. I did in the early days. Not from a vocal point of view. I did in the early days. In the early days, influences were from bands like Celtic Frost and Candlemass. But even not from a vocal point of view. I like Nick Cave. Nick Cave and the Bad Seeds was a great band. I like Swans, Michael Gire has a great voice. They would the closest thing I could associate with an influence.
The band has gone through lineup changes. The arrival and departure of Katie Stone and who has been replaced by Shaun MacGowen. How did you find Shaun?
Lena: When Katie left it was quite sudden. It was about 4 weeks to our next gig. And our tour manager had a feeling that she was not quite committed. We asked her, "What's going on?". She said she wanted to leave and work on her career. She a student psychologist. So that was it and she left. My friend Shaun, he is a big My Dying Bride fan, he plays violins and keyboards. We all got together at our rehearsal studio. We auditioned him and he was fantastic. That was it really.
The music industry convention suggests problems in terms of dealing with business detracting from the musical side. How do you manage to keep working ahead after seeing what could be the pitfalls that the business has to offer through the years?
Aaron: It is difficult. It's a juggling act. A balancing act. When My Dying Bride formed, it was just a band. A bit of fun. Now it's a business, we pay VAT. All that shit. And we've never had a manager, myself and Andrew manage the band. We have an accountant, because our math is terrible. It is boring. Sometimes our accountant will ring us and say "Ok guys, come to the office. Let's look at some figures". And it's so dull; I didn't form a band to band to do this shit. This is what we are paying you to do. I don't want to see any good news or bad news, I don't care if we are making money or losing money. This is boring! So Andrew would normally deal with statistics. And will try and concentrate on the more visual side of things. The T-shirt designs, that's more my thing. I work with the artists to come up with the album covers. But it's hard and sometimes you do see problems in the business. We've shit that goes on you wouldn't believe! And you just think, "This is a criminal business we're in". But you just gloss over it and think "but well that doesn't matter" because we've got the good stuff, the songwriting. So if you're having problems in the office, get out the office and write the songs, because that's where the front of your business is, that's where the passion is. Someone else can do all the calculations later. Let's concentrate on the artistic side of things. They clash sometimes but we try and keep them apart.
Lena: The thing that keeps us going as well, is that we are not constantly touring. So we are not constantly feeling that kind of business pressure. Almost like a part time kind of band, if that makes sense. A lot of bands they do many concerts a year. We're not really under that much pressure. That keeps are more focused and enthusiastic about what we do. We will never turn up at a show looking tired and not bothered. We are totally focused on one event and that particular moment in time, we are there do that job.
Thank you very much for being here. Would you like to tell us anything else?
Aaron: Pleasure.
Aaron: Well actually, next year there is an EP coming out as well, because we wrote and recorded 13 songs. So after the special edition, there's 4 more songs. So the record label would like to do an EP. So in maybe March/April next year an EP with 4 brand new My Dying Bride tracks on it. More stuff to come yet!
Thanks for the good news.
Aaron: Thank you very much!
Credit Photos
Photos by Erika Cremonesi
Links
MySpace * Facebook * Twitter * Site
6 color styles available:

Style switcher only on this demo version. Theme styles can be changed from Options page.
Archives