Browsing articles tagged with " edition"
Label: Nuclear Blast
Review by Tony Cannella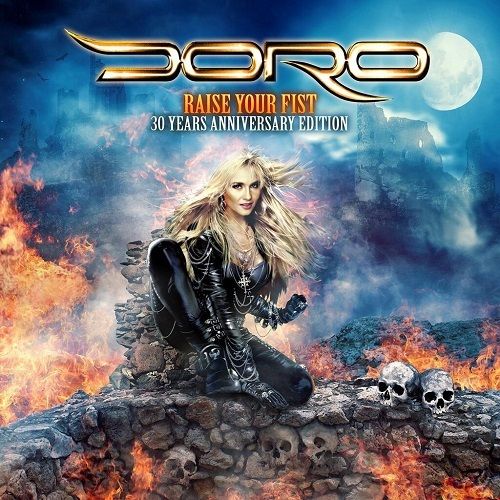 The latest studio album from the reigning metal queen Doro Pesch "Raise Your Fist" was released back in 2012. Time flies… It seems like it was only yesterday when this excellent album was unleashed on the world. To celebrate her 30th anniversary, the album has been re-released with a special bonus CD entitled "Powerful Passionate Favorites" which features rare covers, alternate version of songs and assorted other goodies.
Since the original "Raise Your Fist" album was released in 2012, there is probably no need to go into it at this point. Suffice it to say, it's still pretty damn good, so fans old and new should check it out if you haven't done so already. The bonus CD on this one "Powerful Passionate Favorites" is a pretty cool collection in its own right. Continue reading »
Label: Fueled by Ramen/Warner Music
Review by Tony Cannella
Formed in Tennessee in 2004, Paramore first rose to prominence with their fantastic second album "Riot!" in 2007. That album was a great edgy punk pop record. With their self-titled 4th album – which was released last year – the band has maintained that edginess whilst also maturing as songwriters and musicians. Over a year after its release, Paramore has given their self-titled album the "deluxe" treatment. In addition to the regular album you can find 12 additional songs from bonus songs to alternate versions of songs to a bunch of live songs. It's actually a really nice deal.
This is definitely a grown up more mature version of Paramore. The first part of this set is the 60-minute original album. Is every song great? No. Are the great songs great? Abso-freakin-lutely. Continue reading »
Label: Bakerteam Records
Review by Tony Cannella
Are you ready for some Horror Metal? That is the name of the new album from Italy's masters of the macabre, Cadaveria, and that is exactly what you get. Actually, "Horror Metal" has been out for about a year, but it has just received the re-issue treatment (dubbed the "UnDead Edition") with a couple of re-mixed versions of songs as an added bonus. This is actually their fourth album but their first since 2007. Cadaveria mixes elements of Gothic metal combined with thrash, death and black metal, stir it up and you get "Horror Metal".
"Horror Metal" (UnDead Edition) is a 60-minute dark, gothic, melodic and often times chaotic whirlwind of an album. The almost 7-minute opening track "Flowers in Fire" sets the tempo and the course "Horror Metal" is about to take. Continue reading »
Label : Cherrytree Records/Island Records/Universal
Review by Jesse StClaire
In today's pop music, the bass is down low, the tempo is fast and the vocals are processed to elaborate extremes. With this environment, a slower, smoldering album like "Devotion" by Jessie Ware truly stands out and shine. "Devotion" for the most part, has a very stripped down production to let Jessie's haunting voice shine through. The vast majority of the album are reserved mid-tempo songs with hauntingly beautiful vocals. The best example of this are the three kick-off singles, "Running", "110" and "Wildest Moments". They give a very clear glimpse at the album without revealing the true beauty hidden within it.
Another major theme on the album are songs with a 90's retrovibe. Most noticeably "Swan Song", "Sweet Talk" and the title-track. Continue reading »
Greek death metallers SEDUCE THE HEAVEN announce they have signed with Japanese label SPINNING RECORDS and confirm the official release date of a Japanese edition of their debut album "Field Of Dreams" which is scheduled on February 20th 2013. The Japanese edition of the album is going to include two new, unreleased songs as bonus tracks which are also going to be available as digital singles. Continue reading »
6 color styles available:

Style switcher only on this demo version. Theme styles can be changed from Options page.