Browsing articles tagged with " EP"
Label : Sword of the Spirit LLC
Review by Tony Cannella
"Afterlife" is the debut EP from the Detroit based operatic metal band Upon Wings. The EP features only 4-songs and 15-minutes worth of material but from the very beginning it made a positive impression on me. Musically there is a lot to like about this band, but it was the enthralling vocals of Anne Autumn Erickson along with the thoughtful, introspective lyrics that drew me in.
Anne Autumn Erickson does have an operatic vocal style but it is not over-the-top. She knows exactly when to rein it in and be a little more subdued. Some singers are so enamored with the fact they have this immense vocal ability that sometimes they go a little overboard. Continue reading »
Label : Ravenheart Records
Review by Tony Cannella
From Rome, Italy the Gothic metal band Maledia released their debut album "She and Her Darkness" in 2009. It was quite impressive for a debut and now finally three years later they follow that up with a 7-song 38-minute EP "Your Angels Cry".
At 38-minutes it is obviously longer than your average EP but not long enough to be considered a full-length. "Your Angels Cry" is a heavier album than their debut and a bit darker, and injects their Gothic sound with a bit of a Black Metal influence. This is never more evident than on "Obscura" which sees one of the more bizarre vocal duets of the year, with female vocalist Luana Imperatore teaming up with the Italian Black Metal growler Agonia Blackvomit. Continue reading »
Independent Release
Review by Tony Cannella
Alhena is a progressive rock/metal outfit from Poland. The band formed in 2010 and here they are with their self-titled EP. Actually at 35-minutes it is more like an EP. Since the release of "Alhena" the band has switched singers, replacing Katarzyna Dziemianowicz with Natalia Bassak. The first five songs are with their previous singer and the final two tracks are re-recorded versions of two songs with their new vocalist. "Trial" gets us started and has a nice ethereal and melancholic vibe. The next track "Better" is a song that changes tempos several times and is really a complex track. It's got a nice guitar riff and the bands use of synths are well done and don't overwhelm anything. "You Lost Me" is a cool ballad that could be easily accessible if given the chance. "Breath" has a romantic, ethereal vibe and "Nemesis" is a pretty cool instrumental. Continue reading »
Independent Release
Review by Tony Cannella
From Denmark, the Symphonic/Gothic metal band Akoma formed in 2004. Since their inception, the band released an EP in 2006 ("Angels of Revenge"), followed that up with a demo in 2007 ("Lost Forest") and then… there was silence, until now. In late 2012 Akoma released a new EP (finally), entitled "The Other Side". The sweet symphony of the opening tune "Bittersweet Memories" gets things going and this is a beautiful piece of music which segues into a heavier metal riff and crashing drums. Before long the operatic vocal of Tanya Bell join in and helps to transcend this song into a great opener. "Your Sacrifice" is next and has more of a deliberate pacing than the previous song, but it is full of bombastic elements, heart, passion and melody. Next up we have "My Love", which being a ballad is a change of pace. I really didn't know if I was a fan of this song or not, but once the track got heavier it won me over. The final three songs "Without You", "Guardian Angel" and "Immortal Love" brings things to its conclusion and should please fans of the band. "The Other Side" is not the full-length that we had been hoping for from Akoma, but for now, it'll do just fine. Continue reading »
Interview by Vard Aman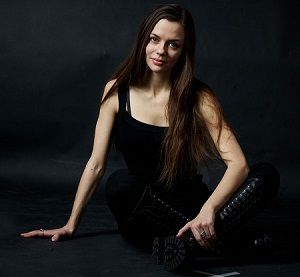 Sunwalter – an Extreme Metal band from Moscow who have recently released their debut album, "SETI Evidence". I caught up with their vocalists: Natalia, to talk about her singing career and the projects she has been and is involved with (such as Pesante, who also have a new EP out, called "Overplayed"); and Alexio, to talk about "SETI Evidence" and all things Sci-fi; and a few other topics too. At the time of this interview, the members of Sunwalter that featured on "SETI Evidence" had just parted ways; Alexio will continue with Sunwalter and Natalia will continue with Pesante.
Natalia, to start off, when did you start singing and what inspired you to become a singer?
Natalia: You know, I've been loving singing since childhood. As my mother says I tried to sing some tunes even when I was two. Then in high school I used to sing in all amateur concerts. At that time I was always preparing some songs of rock or metal bands to sing in front of audience. Continue reading »
6 color styles available:

Style switcher only on this demo version. Theme styles can be changed from Options page.