Browsing articles tagged with " exilia"

Interview by Connie Bach
"No Tears for You" is featured on the upcoming Femme Metal compilation Beauty and Brutality is an example of the fiery energy that can be felt when listening to Exilia's music. I must admit, I was a little surprised by the sound, which is pleasant and strong as hot cider.
Hi, Masha. How is the year 2010 shaping up for Exilia?
Hi, and thanks for your interest in Exilia. It's going really well, we are happy with our live activity and we are happy about our new release "Naked" that came out on June 2010.
Exilia
has a new album on the horizon, entitled
"Naked"
. How did this album come together?
"Naked"
came in a natural way, we did few unplugged shows last year and all shows had good response from the audience. So we thought to prepare something unique and do a limited edition cd for the fans this year.
What were some of the ups and downs of the recording process?
"Naked" was a challenge for us, we never did something like this before it was our first time with acoustic guitars and percussions, the heavy part was to find the best arrangements for guitars in order to keep the power of the riffs in the acoustic side too. The good part was to sing because I could experiment new sound with my voice and give more expression to the lyrics.
How would you say this album differs from all of
Exilia
's previous releases?
This one is totally different! This is a limited edition unplugged cd! Only "No Tears for You" is fully produced, "Naked" is a special thing in our discography.
I love how "No Tears For You" discusses righting wrongs and carrying on. Would you tell me more about the personal story or idea behind those confident lyrics?
It's a crazy story!! In the song I'm talking to Mr stupidmanthis guy has a record label and that made me lose a lot of time with his stupid tons of words, this people are the ones that destroy music.
They say writing lyrics is like writing poetry. Is it?
Yes, I really really think so.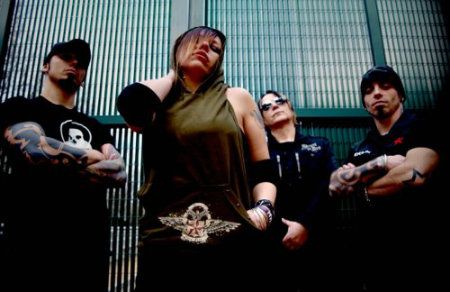 For those less familiar with the band, Exilia has been around since 1998.They originated in the towns of Milano and Lombardy, Italy. Masha, can you tell me how you personally became involved with Exilia?
I started with Exilia in 2000, I met Alien (our guitar player) in a music shop, I was there to take guitar lessons and after some months we decided to start a band. thats how Exilia came up!
With the departure of your former bassist in 2007, how do you feel it changed the overall chemistry and sound of the band?
We found a brilliant bass player after Random left the band so we didn't feel any difference in the sound, we had a new positive energy in the band with the new guy so we felt definetely better!
You have been Exilia's vocalist for quite some time. What do you use free time for? Do you have any hobbies or musical side projects?
I like jogging, I like swimming, I love to take a walk with my dog and stay in the nature, I practise meditation, I teach vocal in 3 schools in Milan, I do a radio program and further more I have my own side projects where we do acoustic things with 2 amazing guitar players and where I play percussion.
Lots of bands sing in English and seldom use it otherwise. How difficult is it to transition to using English lyrics?
It's really difficult !!! But I love your language and I try to do my best!
As the vocalist for a metal band and as a woman not from the United States, I'd like your take on the ongoing news coverage of the oil spill and how it reflects your views on American culture?
It's a big matter and it would be my pleasure to talk about it in a deep way when it will be possible. What I can tell you is that everything that happened made me really sad because this thing destroyed a part of our planet and our nature and it twill take several years to recover from this injury. I don't think there is a single person to be blamed for this but it's a whole political and economical system, which we all know is ruled by the seven sisters that are responsible for this catastrophe and not only this.
Masha, thanks for your time and honesty. The lyrics of "No Tears For You", from Exilia's album, "Naked", are inspiring, as are songs from other albums I have heard. Good luck for the rest of this year and in the band's future.
Thanks a lot for your support in US. All the best, Masha MysMane
Links
MySpace * ReverbNation * Facebook * Twitter * Site
Latest Multimedia
Label : Femme Metal Records
Review by Tony Cannella
In the realm of female fronted metal bands, there are so many great artists to choose from. Now, here in all its Femme Metal glory is a compilation released by Femme Metal records. "Beauty and Brutality" features 31-songs and over 2-hours worth of music, spread out over 2-discs from some of the best female fronted bands found anywhere. This collection also proves to be a useful resource and an education for anyone who is a fan of this genre of metal. The Femme Metal landscape is so vast and features so many bands of different shapes, sizes and styles, this compilation makes that fact all the more apparent. Disc 1 opens with the strong track, "Head Up High" from Floor Jansen's new project ReVamp. This is just an excellent way to begin things. From there the CD flows nicely as some well known, and not so well known bands are showcased, as well as many different styles. It is hard to pick out what made the biggest impression on me, because each band offers something memorable. But some of my favorites were Exilia, Dama, Magion, The Mary Major and Asrai. Infinite Tales ratchets up the heaviness on the brutal "Running Away". That is followed by the melodicism of One Without. Disc 2 begins with "Unleashed" from Epica's great latest offering, "Design Your Universe". Deadmanswake is next with the aggressive, "Back to Blood". The different styles are once again showcased with bands like Vanity Ink, Seven Kingdoms, Diva Suicide, Solsikk, Virus IV and A New Dawn. The fact is, there is so much music on these two CDs that it would take forever to go through track-by-track, so I apologize to any band that I left out. Suffice it to say, there is so much diversity on this compilation that even the most jaded of music fans should find something that pleases them. In the end, "Beauty and Brutality" features a worthy cross section of some truly great and underappreciated bands. This compilation succeeds in every way, but the coolest thing about collections such as this is the ability to find new bands which you might never have been exposed to. Proceeds go towards aiding Cancer research in the U.K., so it's all for a good cause as well.
Rating – 95/100
Tracklist
CD 1
"Head Up High" – ReVamp

"No Tears for You" – Exilia

"Rainy Roads" – Dama

"War of Hearts" – Magion

"A Vide" – Soulmaker

"Morning Sickness" – The Mary Major

"Longing For Serenity" – Disdained

"Stay With Me" – Asrai

"Lost Inside" – Crownless

"Shapeless" – Re-Vision

"Running Away" – Infinite Tales

"Withered Serenade" – One Without

"Shine" – Aperion

"Thoughts" – Reactive Black

"Elysium" – Apparition

"Gates of Damnation" – Triaxis
CD 2
"Unleashed" – Epica

"Back to Blood" – Deadmanswake

"Spell the Party" – Vanity Ink

"Somewhere Far Away" – Seven Kingdoms

"Crystals" – Diva Suicide

"Butterfly in Your Hand" – Exoterik

"My Cold One" – Özge Özkan

"Jaassa Varttunut" – Kivimetsän Druidi

"Frightening Lanes" – Virus IV

"Volatile Territory"- Solsikk

"Absence of Light" – Dimlight

"Doom Revail" – Raven Tide

"Masque of the Red Death" –

A New Dawn

"Inner Guillotine" –

VelvetSeal

"Destined" – Ex Libris
Label : My Place Records/Soulfood
Review By Tony Cannella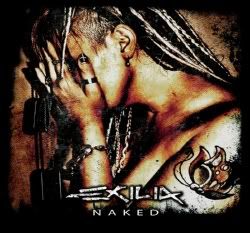 The new release from Italy's Exilia certainly showcases a quieter more sensitive side to this normally heavy and aggressive band. On "Naked" the band shows off their acoustic style. After a brief (and I do mean brief) 9-second intro, the band kicks off with "Coincidence". Immediately, vocalist Masha Mysmane proves she is up to the task, as she showcases her raspy delivery. Overall, "Naked" features 7-songs and just over 20-minutes worth of music. The band is at their best on "No Colors" and "My Own Army". The final track "No Tears For You" is the lone electric track and just a fantastic way to end things. If you thought that Exilia can only scream and play pounding metal music, than wait till you get a load of "Naked". This CD is definitely, the band stripped down and basic. It is actually a nice change of pace that should hold their fan base over until the band releases their next album.
Rating – 80/100
Tracklist
Intro
Coincidence
Stop Playing God
Fly High Butterfly
No Colors
My Own Army
No Tears for You

Line Up
Masha Mysmane – Vocals
Elio Alien – Guitars
Marco Valerio – Bass
Ale Lera – Drums
Links
6 color styles available:

Style switcher only on this demo version. Theme styles can be changed from Options page.