Browsing articles tagged with " femme"
US Power Metal band In Virtue and Femme Metal Webzine are proud to present exclusively the premiere of "In Service to His Madness", their debut videoclip from the self released album "Embrace the Horror".
Tune into http://www.youtube.com/invirtueofficial to see it at 12 PM PST (9 PM EST) on December 21st, 2012.
Join us at this event @ http://www.facebook.com/events/474438185928354/
http://www.facebook.com/invirtue
http://www.facebook.com/femmemetalwebz
http://www.femmemetalwebzine.net/
Interview by Danny Robertson, Marc Sels & Miriam C.
We spoke to Jessica from German folk metal act Lyriel to get the story behind the new album "Paranoid Circus" and more news about the band.
How did the band first get together?
Lyriel was formed in autumn of 2003. Oliver, Sven and Dani had been in a band called Sorrowsend. Oliver decided to found a side project with me and the other Sorrowsend-members joined the new project. We chose to add some other instruments and Lyriel was born.
Who are your main influences as a band?
Partially our music is inspired of the fantasy world and other musicians in this scene. It is sometimes not easy to find music that contains all our musical taste. We try to find a way and solution that is based on this concept. But we try also to develop our own kind of music and style. This is the idea behind Lyriel.
How long did it take to write and record "Paranoid Circus"?
The creative process just began after the release of "Autumntales". So we worked almost three years at this album. It sounds very long but a great attention to detail costs a lot of time and gives the album that certain something. We haven't got that possibility at the first two albums.
Are there any musicians that you admire?
There are a lot of good musicians in this world but I don't admire anyone special.
What are the album's main themes and concepts?
The main themes are several situations in life and its consequences and also personal experiences.
What inspired the album's title?
We thought that "Paranoid Circus" is the suitable title of the sometimes paranoid situations of life which we described in the songs.
What would you say are the main differences between the new album and previous releases?
"Paranoid Circus" sounds mellower. The first two albums were more an expedition of our own style and sound. Something what can be recognised with Lyriel. Our music gets more folk-influences and less of the Middle Ages. "Paranoid Circus" sounds modern and different as "Autumntales" or "Prisonworld".
Do you prefer to play live on stage or the studiowork (recording, writing new songs, rehearsals…)?
I, personally, prefer to play live on stage. I'm never satisfied when I'm singing in the studio. My voice is much better with a bit of adrenalin in it ;).
On the first CD there was a song in Elvish. Are you a Tolkien-fan? If yes, did you like the Lord of the Rings-movies?
I think we all are little Tolkien-fans but not fanatic. It was just an idea and the speech sounds very interesting. I like the movies and they are in my personal collection.
You played with Sabine Dünser, and she was a guest on the first CD. How was she to tour and work with?
Sabine was one of the nicest persons I've ever met. She was so native and we had the luck, to meet such a person on our first tour. She liked our music. One evening on the toilet, I catched her, singing "The Crown of the Twilight". This was very funny. We were so delighted that she followed our invite to sing on the album. Although she was a little ill, she gave her best and brought her ideas into the melodies of the song. We miss her!
Are there any interesting young female fronted bands in Germany?
Oh – there are so many, like Xandria, Leaves Eyes, Jennifer Rostock etc.
Which current acts would you say you share the most common ground with?
Blackmore's Night, The Gathering, Loreena McKennitt, Xandria, Within Temptation.
What is the band's greatest aim/ambition?
We try to reach as many people all over the world with our music.
Where the fans can buy the "Live auf Burg Greifenstein 2005" DVD and if it is sold out, as expected, shall is planned to publish out like a rerelease?
I'm sorry, it isn't planned at the moment, to re-release it but it is available at YouTube.
What's next for the band? Where can we next expect to see you perform?
We plan to produce a video of one of the songs. Anyway a tour to present "Paranoid Circus" is planned for this year and a few live dates are already fixed: 30.04.2010: Walpurgisnacht 2010, Bockwitz/Ger 02.-04.07.2010: 2. Bordun Rocknächte, Halle/Ger 11.-12.09.2010: Rollfeld Festival, Großhain Airport/Ger
Is music an escape from reality, or does it have to be critical concerning political and society?
Music is my passion. I just love to sing. Most of the lyrics are written by Linda and she described the critic on the society sometimes. I think one song of "Paranoid Circus" "Welcome" describes the whole feeling we have for music very well. ("Healing just as ruin – but it´s worth the fall it´s our last escape").
What is for you the cd, movie, book and live show of 2009?
More a book then a movie. Most of the lyrics base on personal experiences but not only of 2009.
Any last messages for people?
We like to greet and thank all our fans. We know that they had to wait more than three years for a follower of "Autumntales". Thank you for your patience! We hope "Paranoid Circus" can compensate this. Please visit our pages (below you can find the links). There you can listen to our music.
Links
MySpace * ReverbNation * Facebook * Site

Interview by Ed MacLaren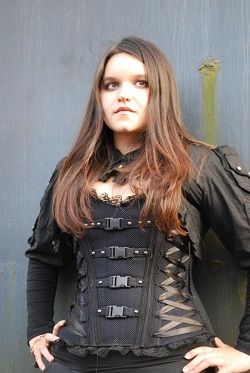 After numerous delays, Norway's Ancestral Legacy has just released an exceptional new album of doomy black metal with "Nightmare Diaries". But before the album was released the band experienced a nightmare for its own diary – the departure of longtime vocalist Elin Anita Omholt. While losing a vocalist might be a death knell for some bands, Ancestral Legacy are set to continue their own legacy with an excellent new vocalist in Mexican Isadora Cortina. Ancestral Legacy fans get the best of both worlds – they can listen to Elin on the CD and get to watch live as Isadora grows into her new band. Femme Metal got a chance to spend some time with Isadora and get her views on Mexican assimilation techniques for living in Norway, living the dream, and the importance of bringing your own shoes.
So how does a nice young woman from Mexico hook up with a bunch of long haired Norseman in a metal band?
I first met Eddie through MySpace, he added me as an Ancestral Legacy friend, I left a comment on the music and after some chatting we became friends. Like a year later he told me about a song he wrote and asked me if I was interested in working on it and of course I was – it's the song called "Atrapada en Pesadillas" from the EP. After the band got to hear the song, I met Christopher the drummer, we talked on MSN and things happened so I traveled to Norway for a month to visit him. While I was there Eddie told me they had not rehearsed in a while because of Elin's (former vocalist Elin Anita Omholt) accident, he was wondering if I could rehearse with them. After some months, Elin decided to quit and I was getting my visa to move to Norway and marry Christopher, it was kinda natural for them to ask me to join and it was like a dream come true to me. Now I live in Norway with the man of my dreams and play in the kind of band I always wanted to.
What was it about the band's music that attracted you to it? Were you a fan of Ancestral Legacy before you joined the band?
The first thing that attracted me was a song on their MySpace called "Murdered by Reality" I really love the ending of the song and how Elin sings it, I had it on my mind for weeks. After I worked with the song in Spanish, I got to hear "Out of the Dark and into the Night" from the new album and I could listen how mature and incredible the new material was. It was very mature compared to their older material and I think it's a very different sound from other metal bands with female vocals. I was not the kind of fan that screams and flash boobs when she meets one of the guys, I was more admiring how good musicians these guys are and how good quality songs they can create.
What's your musical background? Have you performed in any other bands?
Well, I had been most of my life a shower singer, then at 15-years-old I joined the concert choir of my school. My teachers were singers from the Mexican Military so it was a good way to start and of course I believed in myself as a singer. After three months of rehearsing two hours, five days a week they picked me as soloist. We had concerts out of Mexico City and we also sang for the President once. I had always been into gothic and metal stuff since my brother listened to Iron Maiden and my cousin to Metallica since I was a kid. Then I discovered that metal was also for girls by listening to After Forever, Nightwish and especially Tristania. My life changed and I knew that metal was what I wanted to sing. I tried to join some bands but my mom would not let me do it, so the only band I could join was my brother's cover band. We were playing four days a week in bars and it became a good way to get some money and train myself onstage. Anyway, I was getting frustrated that metal was not part of what the owners of bars let bands play. The good thing is that I learned to sing different styles; VERY pop things to more hard rock voices and that help me to get out of my head that the only way I could sing was the military-opera style I learned. In that period I did some presentations on TV, universities and musical contests. In 2008, I recorded two songs with the gothic German band Beyond the Void and also the song with Ancestral Legacy. Those experiences gave me a lot to learn on the studio and were very important to me. From then on my life completely changed so I went from singing metal in my room in front of the mirror to play original songs with the guys onstage.
How have things gone so far? Is everyone getting along? Is the band treating you well?
From the beginning they have been very nice and warm (that Nordic people is cold is not true at all). I was not sure what they were thinking of me until we did a three song-concert and they got really drunk, so they told me that they were really happy to have me on board. In the beginning they were hoping that my voice was not that soft. They wanted me to sing more powerful like Elin did because my voice can easily get lost within this hard music. But after rehearsing a lot with them – and in a way get used to the music without Elin's vocals – I got better and in the latest concerts they were telling me that I have improved a lot.
Replacing any longtime vocalist is a daunting task. Do you feel any pressure living up to Elin's vocal legacy? Considering that Elin's vocals appear on Ancestral Legacy's new album, "Nightmare Diaries", it must be difficult to step into her shoes.
Since the "Nightmare Diaries" album is Elin's album, I get to sing Elin's melodies but with the new songs I think I can bring a darker sound than Elin did. In a way I am not stepping into her shoes but coming with my own shoes to do my own thing. Elin is an awesome singer and I learned from her to print more power in my voice but now it is my turn to make music with them as Isadora not as the next Elin.
It was a long road for Ancestral Legacy to record and release "Nightmare Diaries" however the end result is a very strong doomy offering of black metal. How do you develop that connection to the music when you missed out on all the struggles to get it recorded and released?
In a way I didn't miss them that much since Christopher and Eddie were updating me on it via MSN and the release problems were on while I was moving to Norway. On the other hand, I was there but only through them. Since I came in, Eddie has given me songs and he is very open minded. He has never pressed me with what kind of lyrics or melodies he wants, he knows that I don't have experience writing vocals so he is very patient and helpful. The band know that the fact that I came in is gonna mean a change but at the same time all of us wanna have some new and different elements. Christopher has been into progressive drums and he thinks that that will improve his style with the band. We just wanna make music and we do it as it comes natural to us and that's the connection we all have with the music – no matter who came first or last.
What is your plan on reproducing the vocals live? What are you doing to put your personal stamp on the vocals?
For me, the most important thing live is that people get to feel the music as I feel it inside. If I am home alone I will not head bang or get really physically active, I just concentrate on the singing and practice on printing my feelings for the song in my voice. But when you sing live everything counts, and a good way to transmit what that music does to me is by being very active onstage. I hate to stand still and smile (as I had to do before) and of course since I practiced at home so much I can concentrate on the people there, in making them see that they are special to us no matter if they are old friends of just first time listeners. That formula works very well for me live, and it has helped me in the way that people don't compare me to Elin – they just accept me as I am and they like the music as it is on the CD with her and live with me.
Ancestral Legacy has been touring to support "Nightmare Diaries". What has been the fan reception to the album and your vocals?
DAMN AWESOME! For some reason I am always very worried of what the people will think of the band with me, but in the last concerts they have been buying CDs, coming to say hi and say how much they enjoy our music, telling me that they will be waiting for the new album with my vocals and of course head banging a lot! Especially they guys in Paris, they are so metal! I am really thankful that fans and friends of the band welcomed me in such a good way instead of just comparing me. And as a great plus, I was so happy after we made it to the local newspaper twice.
You've re-recorded "Separate Worlds" for Femme Metal's Demonic and Divine CD compilation. Have Ancestral Legacy been doing any other recording since you joined? Have your vocals and influence had an impact on the creative process of the band?
We have some new songs but we have not recorded them, just some demos without recorded vocals (since I don't have good recording equipment at home). But I have the lyrics and bad quality recorded vocals in my computer. I think new songs will be coming this year. Well, I don't believe it's my voice that impacts the creative process since Eddie has the same system: he writes a song, sends it to me as he once sent it to Elin and we work on it. He is not writing music for my kind of voice specifically. I have enjoyed it a lot; we have one song ready that is called "My Wretched Lord" and in a way I feel it's so mine and I feel it's easier for me to sing it. I think that will be for good in the future as it will be easier for me to interpret the new songs.
What are your aspirations since joining Ancestral Legacy? What are your goals for yourself and the band?
When I started my aspiration was to sing the songs as well as I could, now my aspiration is to write good vocals and lyrics for the new songs, and of course get a CD where I can read "Isadora Cortina-Vocals"! I have to say the band exceeded what I thought it would be. I never imagined I would play a gig in France or Germany. Now I see that everything is possible and I just wait for life to surprise me… Maybe one day we will get a world tour or something! Ha-ha! In my personal life my aspiration is to incorporate myself into Norwegian society, go to university, get to speak Norwegian perfectly and be a perfect wife.
Starting in a new band comes with a lot of new experiences. What have been your best and worst moments so far?
To start with a new band meant to start a new life with a new language to me. I do not regret anything and I have loads of new friends from all around the world. In a way, the best moments are each live concert we have had. After all of them we were always so happy. But especially the mini European tour we did was beyond everything. I didn't wanna come back! We went on tour with bands that became really good friends: Act III, Veil of Mist and Thorny Roses; all of them stole a piece of my heart. The worst has been that since I am not really used to the weather in Norway I get sick quite often so I usually come to the rehearsals with zombie face and a biiig pack of tissues. Unluckily, I got sick in France once so it was quite tiring to play, I was fighting with myself because I didn't want to sleep all day – I wanted to enjoy every single moment in and offstage!
Links
Interview by Si Smith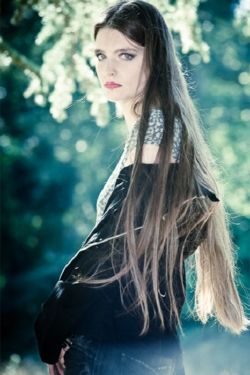 And here we are having a nice chat, this time, with Kat Ward about the second platter of the UK Progressive Gothic masters hAND. Let's hear what the singer she has to tell us…
If you don't mind, let us take a walk back in time. You describe your current musical incarnation loosely as "Prog goth", but originally you were a rocky trance duo? How did that work?! And where did you find Cris? (FYI Cris has now left the band and Dan Thomas is now our new drummer).
We started off with a piano, a guitar and a drum machine, the very early work of hAND is quite industrial sounding and very different to our current sound. We recorded one EP before we decided that adding a live drummer to the mix would really add impact and presence, especially on the live front. We advertised for a drummer on our local music forum, Cris turned up for an audition and we just hit it off straight away.
So moving on a little we find the band releasing 2 EPs, the second of which appears to have gained you some sponsorship and reputation in the industry. How was the feeling in the band at this time? Did you see something good coming, or were you just playing things "by ear"?
The second EP was really just a chance to see how we sounded as a three piece, it was also the first time we went into a studio to record so it was a nice experience all round. We sent it out to a few people for critique and overall response was very positive. At this point we just wanted to get some live experience, write some new songs and look into releasing a third EP. We were enjoying being a band more than anything else.
In 2007 you took part in the AKG Unsigned Heroes competition and won through to the top 20; eventually you signed to Copro Records. How was the band evolving at this time? Were you still reworking your original material, or constantly writing new stuff?
We're always writing new songs! When we signed to Copro it was a little bit of a wakeup call, I think we all took a step back and thought "ok let's start taking this a bit more seriously and see what we can do". The first album consists of most of our original material; there are songs on there that are from back when hAND was a duo.

And so the inevitable debut album loomed large on the horizon!! "Deadroom Journal" (July 2008) seems to have been received well in the press, with Metal Hammer describing it as "surprisingly inventive", and Kerrang comparing your lyrical world to Amy Lee but your musical approach as "reminiscent of Tori Amos-style experimentalism". Great praise indeed from two of the UK's most popular music magazines! How did you as a band view your debut album? Did it end up as you had hoped?
The whole experience of recording "Deadroom Journal" and hearing the final version was one of the best times of my life so far, I'm pretty sure that goes for the guys as well. It came out far beyond expectation, and we are all really proud of that record. Sure we listen back to it now and think we should've done this differently or that could be better, but it's still a great sounding album. It was really nice to hear all the songs we'd been working on and playing for a couple of years brought to life and done justice.

"Manuscript" and "Clannad Mass" were the only two tracks to make it to your debut album from your earlier releases. What was it about these two pieces that you felt was particularly worthy of a place on the album?

"Clannad" was always a favourite with the band and our fans, so we felt that it had to be on our debut album, everyone loved that song. We really wanted to represent the piano more and we had some interesting ideas for an album version of "Manuscript", so that's why it ended up as the first track.
Much gigging and promoting of the new album followed, but at the beginning of 2010 your UK tour dates were cancelled. Two cancelled tours in 12 months? That must have been a real downer for the band. What was the problem with the management? And how do you "bounce back" from something like that?
At that time we didn't have any management, we were doing everything ourselves. We were approached by an events company who we had played for before and they were really enthusiastic about getting us on this UK tour with a few other bands. Unfortunately the company disbanded and closed its doors before the tour got off the ground. We understood their reasons but it was a disappointment none the less. Before that we had been asked to support Ayin Aleph on a burlesque UK tour, this time the tour manager pulled out and we only ended up playing one gig with the band that we had arranged. After the second tour fell through we decided to focus solely on our second album, and not even think about the live side of things for a while. We lived in the practice studio, perfecting the songs and pre recording all the guitar/bass and piano.
It must have been a real buzz to join up with Femme Metal Records, as committed as they are to supporting and promoting their acts. Has it made a difference to the bands outlook and approach at all?
Now that we have a label and management team behind us that are actively promoting and getting our music and name heard; it's given us a definite boost as a band. We feel like we have a clear direction and always something to work towards. It also helps when dealing with others in the industry as they tend to see you as a serious act and not a "bedroom band" so to speak.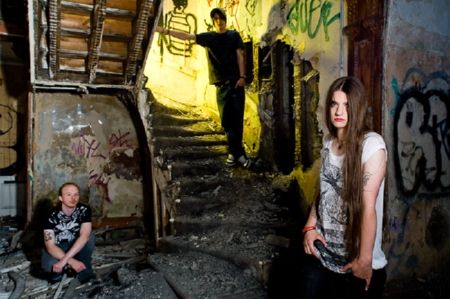 Towards the end of last year you were asked to guest on Isor's new album on the cover of "I've Got the Power". That must have been exciting! Did it tempt you to progress in an even heavier direction? Or are you happy with the band's "heaviness" as it is now?!
It was a last minute and spontaneous thing but I was very happy to do it. It was a nice feeling to be asked as Nick (drummer for Isor) has worked with lots of artists but chose me to guest on his album. In terms of heaviness, I would say we are writing "heavier" sections for some of the brand new material, but for us it's about a piece as a whole and we love contrast and unpredictability. I don't think we'll progress much more into the heavy side of things, but you never know.
The first thing you revealed with regards to the new album was the cover, which you posted up on your various sites. Could you explain its significance to us?
The whole album artwork was loosely based around a vinyl by Toyah called "The Blue Meaning". We all really liked the front cover and wanted to create something along the lines of that. We invested a lot of time and energy in a photo shoot for the artwork and let Gustavo run with it, we wanted photos to play a big part of it. He came up with about 4 different covers which were very hard to choose between, in the end we picked the one we did because it was a little bit darker and had a bit more mystery to it than the others.

It appears from the "Recording Breathing" video series that you released that you had a great time in the recording process of the new album!! What would you say is the key to successfully getting through this process alive and well at the other end (and with a great product!)?
Preparation before you even get to the studio is a major factor. The more practiced you are with the material the easier it is to record and it's going to make the process more relaxed and fun. You want to triple check every piece of gear and take spares if you can, something will go wrong!!! Other than that, discipline in yourself. Recording an album is a great experience and personally I want the finished result to be the best that it can be, if that means detoxing on caffeine, dairy, alcohol and the occasional smoke to make sure my voice is ready, then that's what I'll do.
The album starts with a deceptively simple song, after which we get "The Pier", a six minute journey through mellow parts, a really fast interlude and finally almost shouted/spoken vocals over riffing towards the end. With all that variety, how on earth do you decide upon the final structure of a song? Do you all have similar ideas as to where a song should be going, or do you all have conflicting influences and preferences that somehow create a coherent whole?
Sometimes we have a rough plan for a certain type of song and work round that, others we just go with the flow. We generally tend to write songs with the music first, and most of it comes from us having a jam until one of us plays something we all really like, and that's our starting point. I write all the lyrics completely separately from the band and match them up with whichever song I feel they suit the best, the vocal melodies are always the last thing to be worked on. All of us have very different influences and taste in music but we're happy to include bits from everyone's pool of experience, it's what makes our music so varied.
Being only a three-piece, the vocals are quite prominent in the mix and some of the backing is quite minimal in places. Do you feel that the band is limited at all because of this? Have you ever thought of having additional members?
I definitely don't see it as a limitation and it helps in writing by pushing us to think of more interesting ideas. We did experiment on this album with the track "Re-animation" (and are continuing to do so); it features some synth from Tom Johnstone – which works quite well! We're always trying to think of new elements and have discussed having a second guitarist from time to time; we usually come to the same conclusion that we feel it would make our sound more "mainstream" and lose some of the quirky edge it has now.

The album comes out on the 2nd May (It's was changed to June 6th) in the UK. Judging by the reviews you have received so far, how do you anticipate the album being received?
I hope the overall reception will be very positive, based on the reviews and comments so far it's heading that way. I think most reviewers will be able to appreciate the musicianship and intricacy of the music even if it's not a style that they would normally listen to. A big "thumbs up" from the UK prog scene would be very nice too!
You have played in the past alongside bands such as Delain, Octavia Sperati & Lahannya. Will you be (hopefully) touring the UK promoting this album? Any festivals planned?
Unfortunately not long before "Breathing" was released our drummer Cris decided to leave the band due to having other commitments; this has meant that any dates or plans for a launch party have had to take a backseat to finding a new drummer. Fortunately we have very recently recruited Dan Thomas to be our new drummer and are looking to get back on stage and playing shows as soon as we can.
Well we look forward to hearing more from the hAND camp in the future, but until then thank you so much for talking with us, we at Femme metal webzine wish you all the best with the album release!!
Cheers and thanks for the interview!
Links
MySpace * ReverbNation * Facebook * Twitter * Site
Label : Peaceville Records
Review by Davide Torresan
Ladies and Gentlemen, My Dying Bride is back. Three years have passed since the last album, "For Lies I Sire" and one year since the release of "Evinta", the dark symphonic reinterpretation of some of their songs. Only one year is a short lapse of time for the British. They occupied it writing a new chapter in their history. Indeed, they tried to change their sound with "A Map of all our Failures". They took the melodic parts of "For Lies I Sire" and they mixed them with the growl of their first works. So you might think that this album can be the perfect balance between melody and aggression: doom and gothic metal. The album begins with the beautiful "Kneel Till Doomsday". The tolling of a bell seems almost an invitation: the Requiem can begin. It's remarkable the acceleration with growl and drums in the middle of the song. It breaks the slow rhythm which lasts for its entirety. Aaron Stainthorpe has a warm, lulling voice in it. Another song that will remain imprinted in your head is "A Tapestry Scorned" with the sound of a beautiful organ, which gives a sacral tone to the album. The violin's inserts of Shaun MacGowan are truly refined, embellishing the titletrack. The latter represents the apex of melancholy with a slow and suffering pace, thanks to the work of Andrew Craighan on guitars. It's definitely worth mentioning the work on drums in "Hail Odysseus", alternating fast and slow rhythms. But all that glitters is not gold: this "A Map of all our Failures" has the fault of not being easy to listen. Sometimes i get the impression that the violin inserts are a filler. Some songs, though being dramatic and theatrical, are too long. The use of clean vocals is excessive, and it would have been nice if Aaron had used growl. This album is definitely a "must" for fans of the genre. But it has the fault of not adding anything new to the infinite discography of this band: they have already said it all with their previous albums. My hope is that they start to follow the example of some other bands, like Swallow The Sun. They should include some new elements to give some freshness and originality to the sound. It is undeniable that they tried something new with this album, but it is too little. The production is good, everything is almost in its own place. Certainly it's not inconcludent like the last Katatonia's work, "Dead End Kings". "A Map of all our Failures" is a wonderful opportunity for fans of the "Dying Bride". They only need to push the button "play" and enjoy the funeral march offered by My Dying Bride. All the others can listen to someone else.
Rating – 65/100
Tracklist
Kneel till Doomsday

The Poorest Waltz

A Tapestry Scorned

Like a Perpetual Funeral

A Map of All Our Failures

Hail Odysseus

Within the Presence of Absence

Abandoned as Christ
Line Up
Aaron Stainthorpe – Vocals

Andrew Craighan – Guitars

Hamish Glencross – Guitars

Shaun MacGowan – Keyboard & Violin

Lena Abé – Bass
Links
6 color styles available:

Style switcher only on this demo version. Theme styles can be changed from Options page.