Browsing articles tagged with " for"
Label : Southern Records
Review by Davide Torresan
Chelsea Wolfe is an American singer-songwriter and eponymous band from California. She released two albums: "The Grime and the Glow" in 2010 and "Apokalypsis" in 2011. Recently it came out a collection of acoustic songs: "Unknown Rooms". It is not easy to identify the genre that this girl proposes, but she suggests us the term "specific brand of drone-metal-art-folk". "Prayer for the Unborn" is a sort of quirk, experiment. Indeed Chelsea reproposes with her own style five songs of the English anarcho-punk band Rudimentary Peni. The change is literally radical since these songs have nothing to do with punk. They have a rock soul closer to alternative rock. Guitars are often used with fingerpicking. There are parts more quiet and others a little bit faster. Each song in the album is similar to the next one, and they show us a good singer. Chelsea's voice is really hypnotic and soothing. Continue reading »
Interview by Miriam Cadoni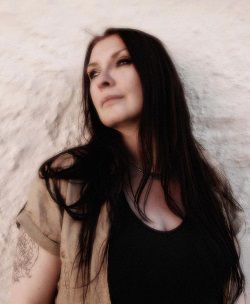 I must thank a dear friend of mind that some years ago introduced me to this particular musical genre [ the neoclassical/ambient genre] and consequently make me adore some of its important acts such Dark Sancuary, Dead Can Dance, Die Verbannten Kinder Evas & Dargaard. Today I've the pleasure to speak about Sweden's Arcana, that along the mentioned bands, represents one of the  most expert ensamble since their long career (their first release is to date is in 1996). In particular, I've contacted Cecilia Bjärgö, one of the singers and Peter's wife [the mastermind behind Arcana], for an interesting interview about their latest album "As Bright as a Thousand Suns" and some updates.
Dear Cecilia, first of all thanks so much for this interview! I hope that everything is ok with your personal life and work…
Hi Miriam=) I am fine, thank you. I am in the middle of changing apartment though, and that takes its time. Dust everywhere, cardboard boxes everywhere, stuff everywhere… and I am having such a hard time throwing away things;) Continue reading »
Label : Ravenheart Records
Review by Tony Cannella
Malta is not known as a metal hotbed. In fact, the only band I can think of that hails from there is the gothic, doom metal band Weeping Silence. The band formed in 1998 and released their debut album "End of an Era" in 2008. They followed that up with "Theatre of Life" in 2011 and have now returned with their new album "For the Unsung". Weeping Silence utilizes the tried-and-true method of beauty and the beast vocals to a huge degree of success.
The majority of the songs on "For the Unsung" have a melancholic vibe to them. The female vocals are excellent, strong and powerful and have a bit of Floor Jansen vibe to them. The male vocals are pretty much your basic beast styled death grunts. "For the Unsung" moves along at a rapid pace, awash with massive guitar riffs, great musical performances and some great vocalizing by the duo. Continue reading »
Independent Release
Review by Tony Cannella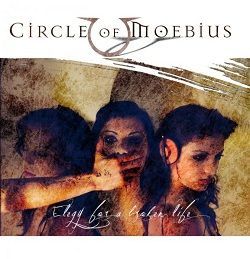 From Italy, Circle of Moebius was founded in 2003 by Paolo "P2K" Salvati. In addition to Paolo the band utilizes a wide array of musicians including two exceptional female singers Laura Prosperi and Eleonora Serafini. On their debut EP "Elegy for a Broken Life", Circle of Moebius offers up some conceptual progressive metal with some interesting lyrical content and cool guitar work courtesy of Paolo.
On "Elegy for a Broken Life", Circle of Moebius offers 7-songs 31-minutes of conceptual metal à la Queensryche. Also counted among their influences are Pink Floyd and Queen. You can definitely hear the Pink Floyd influence on "(Act 4) My Own Prison", but I'm jumping ahead. The songs are well written and the two female vocalists are quite good and they definitely work well together. They give the album something special, and they each bring their own style. After the opening intro "(Act 1) 08:29 p.m." the heavy riff on "(Act 2) Falling in the Dark" kicks in drives this energetic, kick ass song. "Kingdom Comes", the aforementioned "My Own Prison" and "Silent Dogma" are three other highlights. Continue reading »
Label : Rock Candy Records
Review by Tony Cannella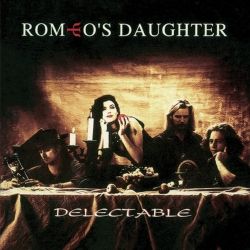 "Delectable" was the second album from UK mainstream rockers Romeo's Daughter. Despite the moderate success of their self-titled debut in 1988 it took five years for them to release their sophomore effort. On "Delectable" Romeo's Daughter provided a more stripped down, hard rock style and toughened up their sound a bit compared to the debut. Now, like the debut it has been re-mastered and re-issued via Rock Candy records.
The opener "Have Mercy" starts things off and showcases the bands more stripped down sound. Next is the upbeat, bouncy single "Attracted to the Animal". "Nobody Like You" is a blues-ish style power ballad, vocalist Leigh Matty really gives an impassioned performance on this one. "Nothing But Love" is next and opens with an AC/DC style riff. This is a very anthemic song and just flat out rocks! Other highlights include: "God Only Knows", "Ready or Not" and "Treat Me Like a Lady". There is one bonus track included here called "Talk Dirty to Me".
Unfortunately when "Delectable" was released in 1993 the musical landscape was changing and this album went largely unnoticed, and the band split-up soon after. Now Romeo's Daughter is back together and playing shows in the UK. Fans of AOR can only hope that new music isn't far off. Continue reading »
6 color styles available:

Style switcher only on this demo version. Theme styles can be changed from Options page.