Browsing articles tagged with " gothic"
Label: Wormholedeath
Review by Tony Cannella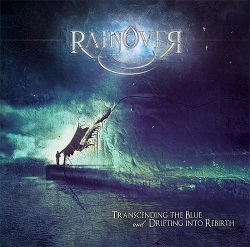 From Spain, the Gothic metal band Rainover was founded in 2003 using the name Remembrances. In 2011 following the completion of the album "Crystal Tears", the band suffered a mass exodus as four of their five members decided to depart. That would be crippling for a lot of bands both old and new, but Rainover has soldiered on and returned with a new line-up, a new label (WormHoleDeath) and most importantly a new album, "Transcending the Blue and Drifting Into Rebirth". This album title is rather appropriate because for Rainover this is a bit of a rebirth, I would say.
While Rainover is often cited as being a Gothic metal band – and yes there are those elements – I would say that they have far more to offer. Continue reading »
Label: Lunatic Asylum Records
Review by Tony Cannella
From Italy, the 'Vampire Gothic' metal band MandragorA Scream was formed in 1997 by female vocalist Morgan Lacroix. In 2001 they released their debut "Fairy Tales from Hell's Caves" and have consistently stayed true to their gothic metal roots, whilst still managing to add new wrinkles to the band concept. In 2009 they released their landmark album, "Volturna" and have now followed that up with possibly their most ambitious album to date, "Luciferland".
The ominous intro "The Chant of Furies" gets things off in a dark, foreboding direction. "Hekate – En Erebos Phos" is next and is strong out of the gates. The duel vocals of Morgan Lacroix and Terry Horn are done pretty well throughout the album. Continue reading »
Label: Massacre Records
Review by Tony Cannella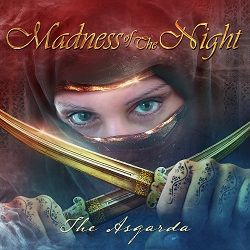 Madness of the Night is a Gothic metal duo from Sweden. They've just issued their debut album via massacre which is titled "The Asgarda" – and it is a trippy 48-minute excursion into the dark side of rock music.
Madness of the Night draws influences from a diverse range of bands such as Sisters of Mercy, Dead Can Dance and The Cult. Their music has a foreboding, dark and ominous vibe to it and singer Abir Blackshadow offers a unique vocal style to the songs. She's got the type of voice that fans will either love or hate, but once you hear it you can't ignore it. Now, on to the songs; in all there are 11-tracks including two remixes. Continue reading »
Domande a cura di Miriam C.
Trascrizione a cura di Arianna G.
Read the English version HERE.
Dopo sette lunghi anni di silenzio, gli Italiani Macbeth tornano a far capolino nella scena musicale e sono lieti di presentare in questo mese di Febbraio la loro nuova fatica discografica, "Neo Gothic Propaganda". Sette anni in cui la band ha dovuto affrontare fattori negativi ma anche positivi, come la stessa singer Morena Rozzi ci illustra in questa breve ma importante intervistata concessaci in occasione dell'imminente release discografica…
Dopo sette anni i Macbeth tornano con un nuovo album chiamato"Neo Gothic Propaganda". Prima di tutto vorrei chiederti perché ci sono voluti così tanti anni per rilasciare questo nuovo disco dopo la precedente release del 2007, ovvero "Superangelic Hate Bringers"? Quale è stato l' ostacolo più grande che vi ha quindi obbligati a una lunghissima pausa?
Sì. Hai detto bene, sono passati sette anni. Ci sono stati degli ostacoli, siamo stati in parte obbligati a questa lunga pausa per un problema alla spalla di Max, che non è una cosa da poco… e quindi siamo stati costretti ad annullare un tour in Cina ed alcuni concerti anche nell'Est Europa e in questa lunga pausa ci inserisco anche un mio lungo percorso personale: io e Fabrizio ci siamo sposati, che è il batterista, e poi da lì è nata Alice (ride). Continue reading »
Interview by Miriam C.
Transcript by Ary R
For read the Italian version click HERE.
After seven long year of silence, the Italian act Macbeth comes back into the music scene and the band is proud of introducing the brand new album, "Neo Gothic Propaganda", precisely this month. Seven years in which the band has to face some negative factor but also a few positive ones, as the lead female singer Morena Rozzi described us in this short but quite important interview, permitted for Femme Metal Webzine only on the occasion of the forthcoming release.
Macbeth comes back 7 years later with a brand new album called "Neo-Gothic Propaganda". First of all, why did it take so much time to release a new record after the release of the previous ones called "Superangelic Hate Bringers" and "Neo-Gothic Propaganda"? What was the main obstacle that 'stopped' the band activity?
Yes, sure. You were right, seven years have been passed. There were a few obstacles, we have been forced to take this long break due to a shoulder issue that Max had to face and this was a very important thing and so we had to cancel a tour in China and some other few show in the Eastern Europe and in between this long break, I'd like to put something that is really personal to me: Fabrizio (the drummer of the band) and I got married and our daughter was born lately. Continue reading »
6 color styles available:

Style switcher only on this demo version. Theme styles can be changed from Options page.