Browsing articles tagged with " gothic"

Interview by Arianna G.
In a busy environment which is the current metal scene, SAVN is the revelation band of 2014. Norwegian and dedicated to the gothic and folk melodies and led by the blonde vocalist Carmen Elise Espenæs, Stig Johansen and Anders Thue (ex-The Sins of Thy Beloved), SAVN's debut album gained positive acclaims from all over the world in a very short time. For the occasion, we exchanged a few chats with the singer of this combo and, in this in-depth interview, she tells us something about this new musical experience, without forgetting her "mother-band", Midnattsol, anticipating some juicy news as well.
Savn is a band formed by Stig and Anders. After so many years in which there were so many rumours concerning their band, The Sins of Thy Beloved, they've decided to start a new music project. Would you like to give a short biography of this new band for those people who are still not familiar with you?
Yes, of course! It was actually Stig that started the band, he felt that he needed something new in his life, something new in the music front, because nothing happened with The Sins of Thy Beloved, it was too silent for him, Continue reading »
Independent Release
Review by Tony Cannella
From Chile, Edenial returns with their second full-length album. Their debut "From the End" was released in 2010 and now they present their sophomore effort. The album has been mastered by the legendary Ted Jensen at Sterling Sound in New York City. The band mixes an eclectic brew of metal which is hard to define; the bands influences range from power metal to thrash metal to progressive metal and more. With all due respect to "From the End", "Innerpretations" definitely represents a step forward for Edenial.
The power thrash of the opener "Soul Echo" is an excellent way to begin things. Next is "Wrath" which begins with a doomy rapid fire guitar riff as the song goes off into some intricate technical directions. "Red Rum" has a great big melodic metal sound. Continue reading »
Label: Ghost Record Label
Review by Tony Cannella
So here is another band from Italy. They are called Wormhole and their debut is titled "The String Theory". They combine straight forward metal riffs with melodic rock, and gothic metal. Prior to this full-length they have release two EPs.
For starters, the sound on "The String Theory" is almost crystal clear and perfect. Wormhole is fronted by the consistent vocals of Valentina Marvulli who does an excellent job as her voice fits in perfectly with the music. It isn't too far out in front and it isn't in the back. The musicianship is impressive as well; everyone also has their own share of the spotlight. "Your Mortal Remains" is a cool opener that starts off with a slower tempo, but it progressively picks up. "Autumn Leaves" has a straight forward metal riff and a killer melody. Continue reading »
Label: Scarlet Records
Review by Tony Cannella
The Italian queen of horror metal Cadaveria returns with her 5th album "Silence" and silent is one thing she is not. Beginning with "Velo (The Other Side of Hate)", "Silence" is off to a wicked start.
Cadaveria is back with her mixture of extreme and clean singing as she alternates between the two. Musically, the band continues with its mix of Black Metal and Gothic Metal to create a dark piece of theater. Overall, "Silence" is a very strong record and songs like "Carnival of Doom", "Free Spirit" and "Existence" are huge highlights. My favorite track however is the brutal "Out Loud".
With "Silence", Cadaveria have released a whirlwind of an album which incorporates different styles but is always mindful to create a dark and sinister vibe. Continue reading »
Interview by Miriam C.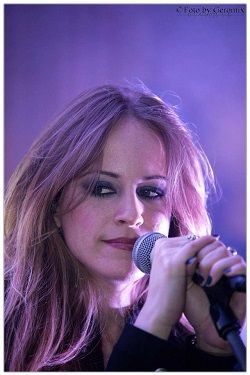 Tystnaden
is probably one of so many "underrated bands" Europe-wise, despite having what it takes to hit the big time in this difficult area, also thanks to a constantly evolving fresh and innovative sound. On the occasion of Go4Rock, we had a little talk with Giada Etro, a.k.a. Jade, the new frontgirl of this six-piece band from Udine (Italy), who reveals us some behind-the-scenes-activity about the new album, "Anima" and she also talked about her cooperation with the Croatian doom metal band Ashes You Leave.
Maybe I'm asking the wrong person, given that you joined the band a short time ago. Maybe I'm hindering you, but I wanted to know what is your opinion concerning the latest album, "Anima". What do you think about it?
To me, it's a wonderful record! I'm very proud to be able to perform myself in it, also because it had a great response with the reviews on a national and International basis. I like the songs, of course I do like the previous albums, although there has been a turning point here: the style is slighty different, but I must say that I'm really happy! My favourite track is "Mindrama", the second single, it's gutsy and the album is a truly pleasure to sing. Continue reading »
6 color styles available:

Style switcher only on this demo version. Theme styles can be changed from Options page.
Archives
Calendar