Browsing articles tagged with " growls"
Label: Napalm Records
Review by Tony Cannella
The Spanish symphonic metal outfit Diabulus in Musica returns with their third album "Argia". The band first burst onto the scene with their debut release "Secrets" via Metal Blade in 2010. After moving to Napalm Records, DIM released "The Wanderer" in 2012 and that brings us to this new record "Argia".
The intro "Et Resurrext (Libera Me)" gets things off to an interesting start as it reaches its crescendo and segues into the bombastic almost thrash metal like "From the Embers". This is just a great power metal tune with a beautiful up-tempo melody, very VERY heavy and Zuberoa Aznarez sharing vocals with keyboardist Gorka Elso who contributes some pretty ferocious growls. Continue reading »
Independent Release
Review by Luisa Mercier
"Welcome Madness" is the debut EP of this gothic-metal influenced Swedish band. I really like the imaginary they have created that resembles a bit that of the latest Nightwish release. Of course, the music is really different: the guitar riffing is quite powerful while Jade delivers her rock vocals counterbalanced by Matt on growls. It is quite straightforward metal as you can hear in "Beware of Zombies".
The beginning of "The Asylum" is very epic and the whole track has an interesting instrumental structure. The rhytm section is very apparent while the the whole song has a prog feeling, slightly avantgarde.  Continue reading »
Label : Grom Records/Tmina Records
Review by Davide Torresan
6th Awakening is a curious case of a band. This Swedish group was created in 2001 by the singer Lovisa Lundmark and the guitarist Mathias Hamerud. Over the years, they changed the line-up many times and because of this, they released only 3 demos. Until now, since the line up has settled and therefore has been able to condense the ideas of the members into the debut album. The genre that they propose is melodic death metal with different contrasts and shades, thanks to the sound and Lovisa's voice. The main feature of this singer is that she can do both clean vocals and growl. She's able to switch between the two styles with extreme ease. Just to give you an example, when she does the clean vocals she remembers me of Anna Murphy, the singer of the folk/death metal band Eluveitie. They have a similar vocal register. Now let's talk of the music. Continue reading »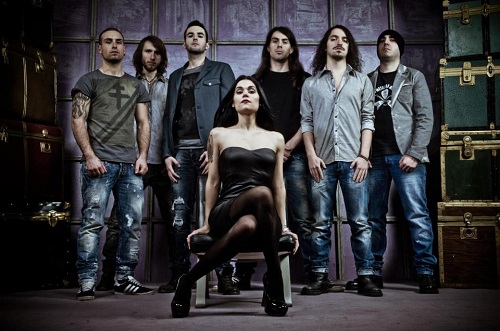 Italian symphonic metal band PURSUING THE END has been confirmed for ROMMELROCK 2013. The festival will take place in Maasmechelen (Belgium) on August 16-17 and they will have the pleasure to share the stage with THERION (special 25th anniversary tour), TOKYO BLADE and many others cool bands!  Continue reading »
Label: Mazzar Records
Review by Luisa Mercier
Voiceless Void come from Russia and "Song of Black Roses" is their fourth full-length. They offer to the audience a gothic-doom metal played in a rather classic way. Plenty of growling vocals, female vocals, guitars tuned down and lots of keyboards and synth. The opener "Be My Faith" is completely sung by male vocalist and I have to say that I don't like them at all. Way too raw for my ears and they lack violence and despair. The title track follows and we get to hear Olga, the female vocalist. She's got a pleasant dark half-operatic voice that is well suited to contrast Roman, the guitar player and growler. Something different is "Queen of The Lakes" which has an acoustic intro and some nice melodic parts mostly supported by synth and guitars. Listening through the album I have to make a great effort to find something really original, honestly the album is well produced, nicely played but something is missing. That idea that makes you say: "this is actually very good!". It stays an average gothic metal album that lovers of this genre may enjoy but not the others. Continue reading »
6 color styles available:

Style switcher only on this demo version. Theme styles can be changed from Options page.