Browsing articles tagged with " inferno"
Label: Inferno Records
Review by Tony Cannella
It seems like a lot of albums of the classic metal variety have been coming my way as of late. That's fine by me, keep 'em coming! One of the latest is the second album from the Bulgarian band Rampart. These guys and girl released their debut album "Voice of the Wilderness" in 2009 – which was an excellent debut in my opinion – and now they return with their sophomore effort "War Behest".
The first thing that comes to mind about Rampart is that Maria's vocals take some getting used to. She is not operatic and her style isn't clean. She definitely has that rough-around-the-edges technique. Musically Rampart mixes in bits of thrash metal to go along with the classic metal direction – either way, "War Behest" is definitely a throwback album that recalls the mid 80s – ah, the mid 80s, now that was a great period for music – sorry I was just getting a little nostalgic, let's move on, shall we? Continue reading »
Label : Infernö Records
Review by Tony Cannella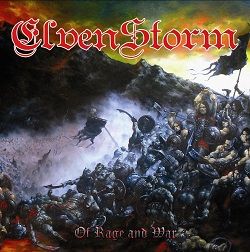 From France, Elvenstorm is a pure old school heavy metal band with thrash metal influences as well. They were formed in 2008 and in 2010 release their demo "Storm 'Em All". The four songs that made up their demo now appear on their debut offering, "Of Rage and War" released via Infernö records.
Okay, getting straight into it Elvenstorm comes out of the gate strong with the powerful duo of "Winds of War" and "Rebirth". The songs are driven by the maniacal riffing of guitarist Michael Hellström and vocalist Laura Ferreux. Her style is straight-ahead metal and is perfect for the music that is being played on "Of Rage and War". It just gets better with the next track "Witchhammer" which opens with some cool guitar harmony parts before transforming into a thrash-fest and some gang background vocals (shouts) are present near the end of the song. Continue reading »
Interview by Vard Aman
In my opinion, well played Doom Metal is one of the ultimate and most extreme forms of music, second to none when it comes to creating and unleashing powerful, dark and stirring soundscapes of emptiness, despair and (yet), total awe. Some people may disagree with me, depending on their personal tastes; but if you agree with me, you might want to do yourself a huge favour and check out an Australian band called Lycanthia. Lycanthia have recently released their second full-length album, entitled "Oligarchy", and on it Lycanthia produces all the soundscapes to which my above description applies. Founded in 1996, they have provided one of the sturdiest pillars of Australian Doom Metal, and have since become a household name – OK, maybe a name in one of the less frequented corners of the Doom Metal household (where you might find a Funnel-Web Spider perhaps), but they're rightfully and deservedly there none the less. Lycanthia is fronted by three vocalists, one male (Lee Tassaker, also the bassist) and two female (Vanessa Black, also on violin; and Megan Tassaker, also on keyboards). I chatted to Megan recently.
Hi! Welcome to Femme Metal Webzine.
Thanks for having me.
Let's start off with a bit of history: Tell us a bit about Lycanthia's formation and early years.
In the early days, Lycanthia started out as just a recording band made up of a group of friends. The main inspiration at the time -without naming names- was that many of their favourite parts of certain songs would be orchestral sections, or parts with female vocals but when you would see the bands live, those elements wouldn't exist. Lycanthia wanted to make a band that would be able to zone in on these elements AND reproduce them live. Once a demo was made, the next step was making it a live act.
What inspired the name?
The name was taken from the book Lycanthia, by Tanith Lee.
There have been quite a lot of line up changes over the years. How much of a hampering effect has this had on Lycanthia? (I'm assuming it has).
It has had an effect, as far as holding back recordings goes. Although we do try to take our time with recordings and make sure they are right, the last album "Oligarchy", would have been recorded much earlier if it weren't for those kind of hiccups. It's a shame that people hold it against you or try to judge your band when that happens as well, for the most part we have remained friends with ex-members. There have been many reasons people have left, from wanting to go in different creative directions, to having family or work commitments that have restricted their time. Having said that though, we are all very happy with our current line-up, it has definitely helped us step up and refine our sound further into what we want it to be. So as much as these things can hold thing's back, they can also push you further.
What other projects have you been/are you involved in?
I (Megan) am also in Avrigus, Lee is currently playing Bass for Cruciform and plays session bass for Avrigus. Mat is in Bleakwood and Blatherskite.
Tell us a bit more about Avrigus.
Avrigus is a recording band featuring myself and Simon Gruer. I would describe the music as atmospheric doom/gothic metal. The band was founded by Simon and the previous vocalist/keyboardist/composer Judy Chiara. I met Simon at a Lycanthia gig (before I was in the band), at the time I hadn't heard any Avrigus. He mentioned that he was wanting to keep Avrigus going but Judy was not longer wanting to be a part of it and he was searching for a new vocalist. He had tried to get it going with a few other people but it hadn't really worked out. So I checked out the music the next day and expressed my interest, he had heard demo tracks that I had sung on and was very enthusiastic. We met up and I dropped down some demo vocals for "Banquet of Souls", Simon was very happy with how it sounded. I think he wasn't 100% sure until he heard me play an original song though. I played "Beauty and Pain" on keyboard and sung it for him, he loved it immediately and we set out creating a bunch of songs that became the "Beauty and Pain" EP, available for digital download only at the moment on our website: www.avrigus.com. At the moment we are recording an album that was mainly written by Simon before I joined the band, most of the songs were written in the time between "The Secret Kingdom" - the last album with Judy, and the time that I joined the band. One original written by me will also appear on the album. At this time we don't have a sure release date as we are still in the process of finishing writing vocal lines and perfecting the orchestrations.
How would you describe Lycanthia's sound to those who haven't heard it?
A blend of old-school Death/Doom riffs, complimented by counter melodies on violin, harsh grim vocals and dual Female harmonies.
What is the significance of Doom Metal and the attraction to it, both as a musician and as a fan?
Doom is about creating an atmosphere and a mood, many other genres are just about technicality. For me music is art and a creation of expression, not that there isn't merit to being technically proficient, just that I prefer song writing to move me and hopefully move others.
Tell us a bit about your previous releases, "Myriad" and "Within the Walls".
"Myriad" was a first attempt at writing songs as a group for Lycanthia. A fairly collaborative effort, the majority of members were teenagers when this album was made and the sound was not as clearly defined as it is today. At the heart of it though, it was just made for fun. In between "Myriad" and "Within the Walls", we put out a single called "Inferno" which we recorded specifically for a compilation CD. By the time we came to "Within the Walls", Lycanthia had many other songs written – including some that ended up on "Oligarchy" (which obviously weren't in their current state then) – the songs that were chosen were the ones the band felt were ready for putting out into the world, that had been worked on and reworked until they were to the bands liking.
How has your sound changed over the years leading up to "Oligarchy"?
Some of the songs were written – in a much basic form – before "Within the Walls" and we were still working on them. As a band, having new members join allowed Lycanthia to be more diverse and imaginative, a lot of parts of songs we weren't so happy with were able to be brought to life in ways we had only imagined before.
Is there a possibility of re-working/re-recording and re-releasing some older Lycanthia material in the future? (Such as "Hope Lingers Yet" - it was a snippet of that song that introduced me to Lycanthia and left a lasting impression).
No, we have no plans to re-record "Myriad".
What has the response been to the new album so far?
The response has been fantastic. A lot of people have told us that we have brought the band into a new place with this release, and obviously it helped get us attention from Hypnotic Dirge Records who signed with us. It has also helped us score several endorsements.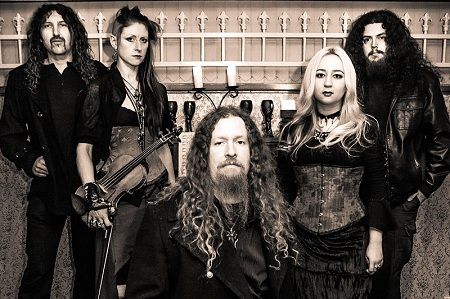 What inspires your lyrics and what are your general lyrical topics? I'm particularly curious about the stories behind "The Essential Components of Misery" and "Forgone".
"The Essential Components of Misery" is lyrically about the way we see the world around us. Although we are lead to believe we have freedom, we do not. We are lead to believe that we have choices, but the choices are really just to conform or be left behind. So in a way, it's a bleak reaction to the harsh reality of the world as we see it. "Forgone", this song is like a part 2, part 1 being "Eternity". So in the title of the two songs there is a hint to what the song is about… "Eternity… Forgone". It is probably our only song that is lyrically a fictional story rather than a story that comes from personal experiences or feelings. It is about a deity that falls in love with a mortal, and has to be stripped of eternity to embrace their lover. Although it is fictional, I think it is something that everyone can relate to, forbidden love.
Would it be true to say that "Forgone" is written as a poem first and foremost and that the song's lyrics are based on it? If so, does that apply as a general rule to most of the lyric writing process?
Sometimes that happens and other times if a lyric idea comes to mind, we will just write them down and set them aside until a song comes along that it suits. With all our songs, it's not so much lyrics to a song, as it is a poem to accompany the music. Once the poem is written, we arrange it melodically to suit.
How regularly do you play live and what is the response like at your shows?
When we aren't recording, we play live probably once every couple of months. The response is always great. We heavily advertise our shows to build up hype and we always enjoy playing live because that's when we get to experience crowd reaction to the music.
Have you done any international tours?
As of yet, we have not. We do plan to in the future though; it's something we all really wanting to do.
How healthy is the Doom Metal scene in Australia currently?
There has been increased enthusiasm for the genre lately. We have Mournful Congregation from South Australia, they play Funeral Doom. Okera from Melbourne, and Futility from Canberra are just some of the amazing doom bands that are also playing in Australia at the moment.
I've noticed a few ex-Lycanthia members around in Doom Metal bands, like Rise of Avernus (Andrew Craig), Rituals of the Oak (Sabine Hamad-Linfoot), and Murkrat and The Slow Death (Mandy Andresen). Can you tell us anything about them?
Firstly we'd like to mention that we are great friends with all these people. We are big supporters of all of these bands and love their music. In the case of Mandy, she begun Murkrat after leaving Lycanthia, it was a direction of music she had been heading towards for a while and we love it, but it isn't the sound for Lycanthia. The same can be said for Sabine, she found her tastes leaning towards a different direction, and you have to follow what you want to do musically, otherwise there's no fun to it. Andrew Craig is one of those guys who is always filling his time up with heaps of projects, we loved our time with Andy but in the end, he didn't have the time to put towards us along with all of his other commitments.
What do you all do when not playing music?
Steve is a car fanatic, always going to old car shows etc, he is also a heavily into ninjitsu. Mat is an armature photographer. Lee likes to do a lot of painting, he actually painted the cover of "Oligarchy", though it had editing and arrangement done to it, music and literature are big interests of his too. I go in and out of phases but always creating things, whether its poetry/lyrics, drawings or clothing, I also love to read. Vanessa takes part in many arts projects, creating and designing spaces.
Australia has always been one of my favourite countries. I like the people (well, more than I like most people at least) and the idea of clean first world cities in a country with so much open space and nature – the best of both worlds. But that's just my opinion. What is it like living in Australia for you? What do you like and what don't like about it? And is +40C really just "a tad on the warm side today, mate"? And have you ever seen one of those famous Sydney Funnel-web Spiders?
I am very much an Autumn person. In Australia, summer is a humid hell of heat, sweat and flies. In winter, I freeze, although I do enjoy the scenery of winter, the cold feels like pain to me and my sinuses suffer. The same sinus suffering happens to me in Spring-time, Autumn is perfect in-between weather to me. I do love that we have nature and cities in Australia, one of the thing's I dislike is probably that in general, the music industry in Australia is not very big at all. To be honest with you, I probably have seen a Funnel-web but if I have I didn't recognise it. I don't even think I know what they look like, which is probably really bad hahaha. Living in the city, I don't really see that many spiders and have to travel to see the wilderness.
Back on topic again, one final question: What is next for Lycanthia?
Next, I'm not sure I'm able to announce the very next thing that will happen, but it's coming in November. We should be able to announce soon. I'll keep you posted.
Thanks for chatting with us, good luck, we'll be watching and listening closely!
Thank you.
Links
MySpace * ReverbNation * Facebook * Twitter * Site
Label : Nuclear Blast Records
Review by Tony Cannella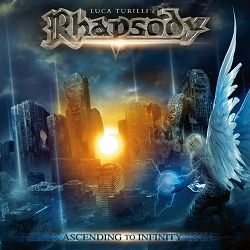 Several years ago the members of the virtuoso Italian metal band Rhapsody found themselves in a unique situation. The band – rather amicably – split into two factions with one half going on to be known as Rhapsody of Fire and the other side (this one) being led by guitarist Luca Turilli and being known (cleverly enough) as Luca Turilli's Rhapsody. While Rhapsody of Fire has already gone on to release several albums, "Ascending to Infinity" is the debut from Luca Turilli's band. With this album Luca Turilli's Rhapsody continues on the path of cinematic metal and brings it to a whole new level. Every song on "Ascending to Infinity" sounds like it could be the sound track to some epic movie. The scope of the music is so huge, ambitious and majestic. Luca Turilli's Rhapsody is not female fronted. Their lead singer Alessandro Conti does a competent job throughout the disc and has the perfect style to go along with enormity of the material – he's also got quite the vocal range. "Ascending to Infinity" includes some songs with choir-like backing vocals and some female vocals as well. Some of the highlights are: "Dante's Inferno", the 8-minute "Excalibur" and the 16-minute "Of Michael the Archangel and Lucifer's Fall" which is divided into three parts and is quite the epic to close things out. Another favorite is the slower tempo song "Luna" which features a female singing some of the lead parts. This song is interesting in that the female parts are sung in English and the male vocals are in Italian. If you are already a fan of Rhapsody than you should love "Ascending to Infinity", if you are not a fan of this band however than it probably won't win you over. Nevertheless, "Ascending to Infinity" is a huge sounding record that should further cement their reputation as purveyors of 'cinematic metal'.
Rating – 75/100
Tracklist
Quantum X

Ascending to Infinity

Dante's Inferno

Excalibur

Tormento e Passione

Dark Fate of Atlantis

Luna

Clash of the Titans

Of Michael the Archangel and Lucifer's Fall (

I.

In Profundis, II.

Fatum Mortalis, III.

Ignis Divinis)
Line Up
Alessandro Conti – Vocals

Luca Turilli – Lead Guitars and Keyboards

Dominique Leurquin – Lead and Rhythm Guitars

Patrice Guers – Bass

Alex Landenburg – Drums
Links
Facebook * Google Plus * Twitter * Site
Label : Inferno Records
Review By Tony Cannella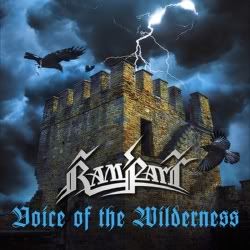 From Bulgaria, Rampart are a band that play no-nonsense, pure, true heavy metal à la early Warlock, Crystal Viper and Running Wild. With their debut release "Voice of the Wilderness" the band features 9-songs and 42-minutes worth of passionate and powerful metal with an energy and enthusiasm that is quite contagious. The opening number "Under Control" proceeds to get things off to a rousing and headbanging beginning. Track 2 "Warriors" starts off slow in tempo, but soon shifts gear into just a great straight-forward metal track with some cool vocals put down by Maria, with her voice reminding me a bit of Kai Hansen from his early Helloween days, this song also features a cool chant along style chorus. I would never say that the songs on "Voice of the Wilderness" are dated, but they provoke memories of metal as it was from about 1981-'84, when I was just getting into bands like Accept, Saxon, Manowar and the aforementioned Warlock and Running Wild, the material on this CD has that same feeling and vibe flowing through the songs. The songs feature some crisp and clean guitar work from the duel axe attack of Yavor and Victor, the leads are especially impressive and one of the best things about the material on this CD. This is a pretty powerful CD for the most part, as songs like, "Voice of the Wilderness", "The Flood" and the powerhouse closing number "Stay Aside" will attest to. Maybe Rampart won't appeal to the nu-metal crowd or to fans who just jump from trend-to-trend, but for those of us who miss the denim and leather days of the early to mid-80s, than "Voice of the Wilderness" will no doubt become a welcome addition to our collection. It is always great when a band plays what they want and doesn't bow down to the trends of a certain period or time and for that reason, I will always have a soft spot in my heart for a band like Rampart. In my opinion, this style of metal will always be timeless.
Rating – 90/100
Tracklist
Under Control

Warriors

Voice of the Wilderness

The Flood

Desert of Time

Orchrist

Age of Steel

Mirror to Dreams

Stay Aside
Line Up
Maria Doychinova – Vocals

Yavor "Yatso" Kamenov- Guitars, Backing Vocals

Victor Georgiev – Guitars

Alexander "Sashe" Spridonov – Bass

Borislav "Bobby" Glavev – Drums
Links
6 color styles available:

Style switcher only on this demo version. Theme styles can be changed from Options page.