Browsing articles tagged with " jesse"
Label : Cherrytree Records/Island Records/Universal
Review by Jesse StClaire
In today's pop music, the bass is down low, the tempo is fast and the vocals are processed to elaborate extremes. With this environment, a slower, smoldering album like "Devotion" by Jessie Ware truly stands out and shine. "Devotion" for the most part, has a very stripped down production to let Jessie's haunting voice shine through. The vast majority of the album are reserved mid-tempo songs with hauntingly beautiful vocals. The best example of this are the three kick-off singles, "Running", "110" and "Wildest Moments". They give a very clear glimpse at the album without revealing the true beauty hidden within it.
Another major theme on the album are songs with a 90's retrovibe. Most noticeably "Swan Song", "Sweet Talk" and the title-track. Continue reading »
Photos and report by Jesse StClair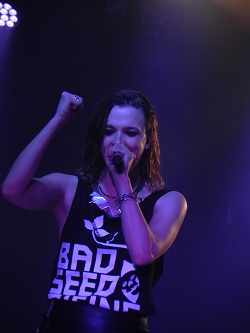 New Years Eve has long been a day of celebration and parties. Everybody knows about the massive countdown in Times Square, New York, but the true party was 3 hours south in a small club in Baltimore, Maryland. Halestorm headlined the Baltimore Soundstage on New Year's Eve to a sold out crowd of 1000 people.
The show was no ordinary concert, but rather a celebration of Halestorm's past, present and future. The night was divided up into two sections: Light and Acoustic as well as Dark and Electric. The first part of the show was the acoustic set. There was no intro music, the lights simply turns on and Lzzy Hale (vocalist, guitarist) walked onstage followed closely behind by the rest of the band. Everybody was dressed in white, and Lzzy even had on a long white gown. Almost right away, the band started playing "I'm Not an Angel" off their first album. Lzzy's powerhouse voice easy soared in the acoustic arrangements, with not a crack or flaw to be heard. Most bands soften their songs for acoustic sets, but not Halestorm. The band left after a few songs, leaving Lzzy alone onstage. Halestorm Rocked harder than most bands out there. Arjay (Lzzy's younger brother and the band's drummer) furiously pounded away on the Cajon drum box while his sister belted and screamed to a cover of Heart's "All I Want to Do Is Make Love to You". The band cleared the stage aside from Lzzy and Joe (the other guitarist). They talked about the old days of Halestorm where they would perform for hours in small bars. They launched into a favourite of theirs back then, a beautiful cover of The Bee Gee's "To Love Somebody" with just the two of them. Joe then left the stage leaving Lzzy alone. She told a humorous story about drinking an entire bottle of wine by herself and recording a song on her record label's voicemail which turned out to be "Hate It When You See Me Cry", which she performed on her own in a beautiful, stripped down arrangement. She then went over to the metal plated piano and played "A Rose in December" which is a song she wrote when she was 16 years old, and Halestorm was in its early days. That wasn't the only rarity in the acoustic set, in fact, most of this section was comprised of older songs, beautiful covers, and newer ballads which typically don't fit into Halestorm's rocking shows.
When Halestorm returned to the stage for the second segment, the Dark and Electric portion of the show, gone were the white gowns and attire and were replaced with black leather jackets, sunglasses and an overall sleek rockstar look. Once again, without any intro music, they dived straight into "Mz Hyde", which possibly is their heaviest song to date. It was quite a contrast from the acoustic set. Despite playing both guitar and singing, Lzzy found the time to run around the stage in her massive stilettos, a task no male rockstar could ever accomplish. Behind her on drums, her Brother Arjay was putting on quite the show. He kept making funny faces and sticking his tongue out at his sister. At one point, he was twirling his drumstick up in the air while using only 1 drumstick to do the part that typically both sticks were needed for. Continue reading »
Live Review & Photos by Jesse St.Clare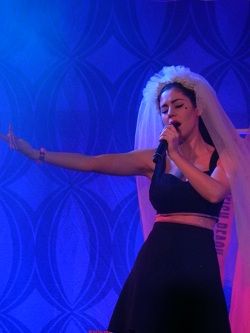 Welsh recording artist Marina and the Diamonds (or Marina Diamandis) is well known for being the quirky, Anti-pop star whose music often depicts American Pop Culture in a rather unflattering light. These days, most pop acts have a gimmick or a "thing" to compensate for a lack of voice. Marina proved on Monday night that this is simply not true about her. The Kool Haus was packed for a cold, windy Monday night and was filled with people of all ages who had drawn hearts on their faces in a trend that Marina herself started with them. Marina took the stage about 9pm with Madonna's "Hollywood" as her introduction music. It fit the theme of her show very well as one could say, Marina's works are like a continuation of where Madonna left off in 2003. Marina came on stage in a two-piece black skirt and halter-top and began with her semi spoken word piece "Homewrecker". She played plenty of newer songs off of "Electra Heart" as well as some older ones off her debut "Family Jewels". Marina's voice is much more powerful live and occasionally flirted with operatic notes in songs such as "Obsessive" and "Fear and Loathing". She also demonstrated musicianship when she sat down at a keyboard and played some songs acoustically and by herself. Throughout the night, Marina had two costume changes as well as many props to help visualise her story. The most dramatic of which was when she returned from the encore in a sparkly silver prom dress that would make even the prettiest of Prom Queens jealous. She had a coat rack on stage which she would very often pull hats, coats, scarves and just about anything imaginable so she could change looks without having to waste time running off-stage. She also had props such as a very massive hamburger on a tray and pompoms for "Hollywood" or a light-up heart belt for "Radioactive". Marina's stage presence on its own would have been engaging enough for the audience, but these props brought the show to a whole new level and made it all the more intriguing. The most memorable moment of the night was when Marina held up a toy dog that walked and balked. She proclaimed "I cannot have real pets because I'm a musician and pets die so quickly. This is my dog and I rescued her from the Betty Ford Clinic. She was addicted to meth". The show lasted for just over an hour and everybody left the show impressed. There was a massive sing-along party outside the show afterwards while fans waited for Marina to come out and sign autographs. Even though there were a lot of people outside waiting, and it was so freezing cold, Marina came out and signed something for every single fan that was waiting. She even took some time to interact with a very young fan who was attending his very first concert with his mother. The Kid picked a very good first concert to attend as it was everything you could have ever wanted to see: Incredible voice, great stage presence and all around visually stunning.
Setlist
Intro (Hollywood by Madonna)
Homewrecker
Oh No!

Mowgli's Road

Lies

I Am Not A Robot

The State of Dreaming

Power & Control

Bubblegum Bitch

Starring Role

Obsessions

Sex Yeah

Valley of the Dolls

Primadonna

Shampain

Hollywood

Radioactive

Fear and Loathing

Teen Idle (Encore)

How to Be a Heartbreaker (Encore)
Links
Label : Metal Blade Records
Review by Tony Cannella
The fourth and final of the Hammers of Misfortune re-issues by Metal Blade is "Fields/Church of Broken Glass", originally released in 2008. This San Francisco based band has really perfected their Avant-Garde/Progressive Metal sound, and with this album their progression continues. The organ heavy opening track, "Agriculture" gets things off to an excellent start. Right away, the organ on this track reminds me a bit of Ken Hensley's work in early Uriah Heep. This track is a great opener and a good way to begin things. Next is "Fields", this track features only the female lead vocals. The third track, "Motorcade" quickly became my favorite. This song features an infectious melody, a cool riff and excellent vocals. Other highlights include: the 8-minute, "Almost (Left Without You)", the 11-minute "Butchertown" and "The Gulls". The end result of "Fields/Church of Broken Glass" is quite a monumental opus. It has been cool to see how Hammers of Misfortune has progressed from album-to-album. The band is currently working on their debut for Metal Blade which should be out in 2011. Until then, these four re-issues will have to hold us over.
Rating – 91/100
Tracklist
Agriculture

Fields

Motorcade

Haruspex

Rats Assembly

Always Looking Down

Too Soon

Almost (Left Without You)

Butchertown

The Gulls

Church of Broken Glass

Train
Line Up
Jesse Quattro – Vocals

Patrick Goodwin – Guitar, Vocals

John Cobbett – Guitar

Sigrid Sheie – Organ, Piano, Vocals, Flute

Ron Nichols – Bass

Chewy Marzolo – Drums
Links
6 color styles available:

Style switcher only on this demo version. Theme styles can be changed from Options page.