Browsing articles tagged with " jimmy"
HALESTORM were the musical guests on last night's (Tuesday, January 29) edition ABC-TV's "Jimmy Kimmel Live!" The band performed two songs — "Love Bites (So Do I)" and "Freak Like Me" — on the show's indoor stage in front of a standing-room-only crowd. You can now watch video footage of the group's appearance below. Continue reading »
Interview by Connie Bach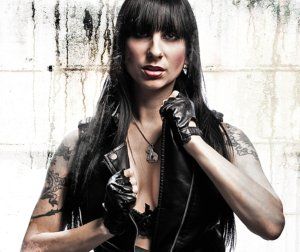 Rock with attitude. This is Sister Sin's personality. The "attitude" aspect is loud, edgy, and melodic. If you are furious with someone this is a great album for the situation. And if you are not in a rage, there is energy for entertainment, and plenty to spare.
Hi, Liv. What's going on with the band right now?
Hi! Right now we are playing lots of shows in Scandinavia and doin' some tours in Europe, we hope to be back in US early next year! The album is just released in Japan too so hopefully we will get the opportunity to do a tour over there next year too. This one's for the whole band. How did each of you get involved in rock music? What's your background?
Liv : Well, I started to get into rock in my early teens when I found Nirvana and Hole, and a Swedish metal band called Drain. Drain had Pantera as their favorite band and that got me into Pantera and the heavier stuff. I so wanted to become a rock star that I forced my to best girlfriends to start a band with me. After a while they got into it too ha, ha… We were called Sisters of Kali and we´re very, very dark and angry on everything. Jimmy : I got into rock music seriously when I was around eleven years old. I loved Metallica and Pantera at that time which friends introduced me with. Then I discovered more extreme music such as Slayer, Sodom, Entombed and later on bands like Morbid Angel, Deicide, Suffocation, Gorefest and also a lot black metal. I played in many bands in those days, mostly death and black metal bands. Then I had a break from playing and one day I heard from a friend that Sister Sin was looking for a new guitarist, knew nothing about who they were. But I gave it a shot since I always had a soft spot for classic hard rock and heavy metal. It turned out to be perfect! Dave : I stole all my brother's heavy metal vinyls after discovering Vanessa Warvick hosting "Headbangers Ball" in the early nineties. After that I got in to a lot of punk, hardcore and eventually black metal as well. Started playing guitar back then but moved on to drums for the usual reason that there weren't any drummers around. And here I am today, piss poor but happy with a Metal Heart, ha ha. It's been a few months since Benton, Sister Sin's bassist, unfortunately had to part ways with the three of you. Liv, how is the search for a new bassist going? What challenges does a change in line-up present, even with the qualifications you have in mind?
It's always very hard to find replacement for someone that you liked and that suited the band so well and we have been thru this before so we are pretty tired of this whole bassplayer thing. That's why this time we really need to find someone that has the passion for music and touring that we do and that could dedicate their life to this band. Even if you do find someone who is technically qualified the most important thing is always the social aspect. When spending so much time as we do in a van you can't have one guy you wanna choke to death every half hour. I think we´ve actually found the right man for job but he´s gonna do at least one tour before we make it official, for both parties sake.
Why does Sister Sin require that the new bassist have studio experience?
Do we? Ha ha… I didn't know that. No, but I guess it´s more of sorting out the serious ones, like we get so many e-mails from people who think that anyone can play bass and let me tell you; just because you can play guitar and get by doesn't mean you can play bass. What are you expecting with the tour with Grave Digger and Grand Magus?
I think that will be a blast! We haven't toured so much in Europe with all the focus that's been on U.S last two years so it´s gonna be cool for sure and we are hitting some very interesting countries as well, so I'm really looking forward to that.
What determines where a tour takes Sister Sin, or any other band? Why?
Since we haven't really sold shitloads of albums around the world we can't exactly pick and choose where and when we wanna tour and whom with. Many people ask why we go on tour with bands like Arch Enemy or OTEP and the reason is just that we got offered those tours and we need to be on the road all the time. Got nothing against any of the bands we´ve toured but yeah, if we could choose we would definitely tour with headliners that are more close to our genre and fan base. We´ve been over totimes and the reason for that is that our label has spent more promotion over there and we need to back that up.

Liv, you are featured as "Miss November" in Revolver's "Hottest Chicks in Metal" calendar. How do you feel about the award? Nice job. The reason I ask is that for some it is a source of pride, whereas some feel it mocks women in metal.
For me it's a pride!! I'm very, very glad to be one of the girls in that calendar, it's an honor. I truly can't believe it really, I'm just a working girl from Sweden and a big American rock magazine wants me in a calendar ? That's so cool! And I don't understand these people that think it's mocking women, if you are a beautiful woman with a talent, show it! Both your talent and your beauty, that calendar is a way to celebrate both in my opinion! "True Sound Of The Underground" did quite well on the charts. What does that mean for the band?
Of course it means a lot to know that people enjoy our work and that we hopefully can inspire others with our music. Not that you have to sell a lot of copies these days to end up on a chart but it´s a nice motivator for us that there is a growing market for the kind of music we play. Do each of you have a personal goal that you are fulfilling through being in Sister Sin?
Jimmy : Yes absolutely. I get to play guitar just they way I dreamed of when I first picked up a guitar and all the countless hours of practice finally pays off with releasing albums and touring, it certainly is a privilege and a dream come true.
Dave : Ever since first got in to heavy metal I always wanted to tour and see the world. And now I get to travel, see new places, new people and be on stage every night doing what I love to do. I've never dreamed of making lots of money (although it would be nice! ) and playing big arenas, I'm just glad that 3 nobodies like ourselves who have been stuck in a rehearsal studio for 5 years never gave up and it´s paying off the way I always wanted it to do. Liv : This is my personal goal, to be able to be in a great band and play live all over the world! One thing that would make it even better would to be able to live from the music one day, that's very much a goal for me. To just live 100% for the band, now I have to share my time with my job as a personal trainer.

Liv, Sweden (especially Gothenburg) has a huge metal scene, with many famous acts. Why does this scene influence Sister Sin?
I really don't think there are any Swedish bands that influences us really. There´s a lot of extreme metal coming out of here which obviously is what Sweden is mostly famous for in metal. A lot of those bands, like In Flames for example definitely inspire in another way though that you can make it if you just hang there, never quit and be true to what you love. Liv, Dave, and Jimmy, thanks a lot for your time. Your musical energy and commitment to Sister Sin is impressive. Hopefully we'll see you in the States again soon.
We will be back 4 sure!
Links
MySpace * Facebook * Twitter * Site
Latest Multimedia

Interview by Erwin Van Dijk
An interview with Bitchie, the guitarist from Hysterica. "There are not so any girls who are willing to practise or sacrifice as much as necessary." Hysterica is a heavy metal band from Sweden. This interview is with Bitchie, the guitarist and founder of the band. Besides the fact that Hysterica is good heavy metal band it is also a all women band and they are not afraid to show this.
The first question: with Heavy Metal I think of denim jackets full of patches. Do you have a patches jacket?
No, I don't have that kind of jacket.
Did you always wanted to become a guitarist?
When I heard Jimmy Page play guitar on the Zeppelin album years ago I decided to learn guitar. My dream was to sound and play like he did. Years after that I have discovered a lot more guitarists. The guitar is the ultimate instrument. The most beautiful, the toughest, the most heavy. So you can really express yourself on a guitar. I develop all the time and love to pick up my guitar at home and play.
What kind of guitars and amplifiers do you use?
I have a: Fender Stratocaster 1962. Beautiful and sounds really blues. Gibson firebird 1964. Jackson V-guitar.And a custom made guitar for metal. I play Marshall but I am still searching for the ultimate guitar sound.
And how did you end up in the music business?
I have been playing since I was 17 years old. How could you not?
Is it easy to combine Hysterica with your personal life?
Yes. At the moment we just live on our dream. (We are not living our dream yet). And the dream is to earn your living on your music and we all are prepared to do so.
And do you have other passions besides metal?
I have a lot of passions. I love to paint and anything creative in art. My family and friends are really important, including the band.
Did you have any other bands before Hysterica and/or are you active in any other bands now besides Hysterica?
I have played in a couple of bands before Hysterica. The last project was a heavy bluesband – A lot of Steve Ray Vaughan covers. This was really enjoying for a guitarist like me.
What is the idea behind the name of the band? It sounds a bit like Metallica but somewhere in the eighties Def Leppard had an album with the same name.
The idea was to create a female band that plays hysterical heavy metal. Couldn't think of a better name. And a band called Hysterica could, of course, only contain girls.
And how would you describe your music?
The music is hard, melodic and heavy. We hope the music gets right into your body and heart.
And what makes Hysterica different compared to all the other female fronted bands in the world?
We were hoping not to be compared just to women in metal. Think we leave this question open for the readers.
Speaking of women in bands, Hysterica is one of the few all women metal bands. We still have Girlschool or The Donnas (who are more into punk rock) but bands like Hysterica are scarce. Do you have any idea why and was it difficult to get Hysterica together?
Of course, there are not so many women out there who would fit in Hysterica. It is difficult to find good musicians but it is even harder to find good female musicians. There are not so any girls who are willing to practise or sacrifice as much as necessary.
What is your favourite Hysterica song and why?
There are a few favourites. It also depends in what mode you are. If you ask me I prefer the songs "Metalwar", "Undertaker" and "Girls Made of Heavy Metal".They are the best songs to listen to. I think "Bless the Beast" is the best song to play.
Your latest album is "Metalwar" released early this year. Are you already working on a new album?
Yes, we have a few songs finished. We played one ballad on our tour. This is coming on our second album. It's always good to play songs in front of an audience before you record it.
And how did the press and the fans receive "Metalwar"?
Mixed I would say. We are really grateful for 9/10 in Classic Rock Magazine in UK. A lot of reviews can you find at our website. We are getting great response from people that have bought the album.
You are the founder of Hysterica but is song writing teamwork in Hysterica or is there one mastermind behind the music?
We are all writing songs. Sometimes we come up with a finished idea but we are testing and producing it all together.
True Heavy Metal lyrics are usually full of the typical true heavy metal clichés. Were do you get the inspiration for the music and lyrics?
There are a lot of heavy metal bands that are writing like this. No specific. Our first album is very cliché and has this subject as a theme. We will deliver something new on the next album.
Hysterica has done quite a lot of gigs in Holland. What is your opinion of the metal scene in Holland?
They have great audience and we have a lot of fans there. The clubs are getting contribution from the government so bands always get paid well. You never have to take a risk.
Could you introduce us to the other members of Hysterica?
All girls are great personalities and musicians. We always have a great time and we all working hard to make the best out of Hysterica.
An all women heavy metal band is one thing but why did you choose to use these stage outfits?
Because we love it. We love our curves and the crowd does not seem to suffer.
Traditional heavy metal bands from the eighties used to boast about wild parties back stage and in the tour bus. Do you have any party stories you want to share with us?
Can't remember and I can't remember why!!
Do you see yourself as a role model for other women?
All women should have confidence to do whatever they want to. (And men). Follow your dream. It would be fantastic if Hysterica can inspire other young girls to start playing in a rock band.
Many female fronted metal bands are from the gothic or symphonic genres. Think of Epica or Nightwish that attract lot's of fans. What do you think of these bands?
Great bands.
Can you tell us something about the songs on the album "Metalwar"?
Our songs are about celebrations to metal, death and female power. The songs reflects what we wanted to say with our first album; to inspire girls to listen to/play metal and make people get into a "party mood" while listening to our album.
And why did you want Peter Tägtgren from Hypocrisy as producer for "Metalwar" and what was his influence on the album?
He is becoming a legend about his mixing. This was our dream and we contacted him in an early stage. He accepted and we are really happy that he did such great job.
There are many bands from Sweden but is this country an easy place for metal fans?
Unfortunately there are not many metal places for live gigs. But it's always crowded when good bands playing.
Why did you choose the name Bitchie as artist name? And what is your real name?
I am a Bitch. And that is my name.
To what kind of music do you listen yourself and what are your favourite songs and musicians?
I discover new bands all the time. All thanks to Spotify. That has to be the most ultimate at the moment. And bands get paid. Well a little anyway. This week I listen to Slipnot, Slayer, Opeth and Ella Fitzgerald.
Despite the fact this is the year 2009 there are still a lot of men who do not accept women on stage in metal bands. And did you have any negative experiences with the band?
We have no experience about this.
What more can we expect from Hysterica in 2010 and beyond?
We have been questioned to come to Brazil after next summer. There is more interest in Hysterica from the world than in Sweden so far. We are planning our second album and will record it next year.
What are your highlights with Hysterica so far?
When you come to a town you have never been to before and people know the lyrics. That is awesome. It happened a lot on our European tour. Two of our fans have got Hysterica-tattoos, that says a lot. But the best thing I have experienced with Hysterica so far is definitely our European tour. We had such a good time the whole tour. We had no fights and funny things happened all the time. We couldn't even sleep in the night because we couldn't stop thinking about all the crazy things that had happened. For example we got caught by the police in the middle of the night on the Dutch border. We were sitting in our tour bus looking like whores with our managers sitting in the front of the bus. When the police looked in the back they found our swords, which are illegal in Holland. And three of us didn't bring our passports and I cried; "I thought Europe was one country". I had to eat that up later… Thanks for your time. Hope to see you in the future.
Links
Latest Multimedia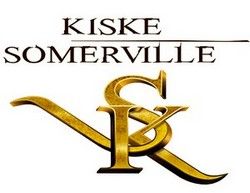 Interview by Robin Stryker
When Femme Metal last spoke with American singer/songwriter Amanda Somerville in late 2009, she had just released her solo album "Windows" and was looking forward to an exciting new project. Fast-forward to today, and Amanda's project — an album of rock and metal duets with Michael Kiske (Helloween, Place Vendome) — is ready to hit the streets on 24 September 2010. Read on for the inside story on Kiske/Somerville, little pink pig butts and the windows to Amanda's soul
.
Amanda, a warm hello to you and a belly-rub to Blitz! Thank you for returning to Femme Metal for Somerville Part Deux.
Thanks so much! It's nice of you to have me, and Blitz is pleased, as well.
We are thoroughly smitten with "Kiske – Somerville", your new album with Michael Kiske. Duet albums are rare creatures in the world of metal. Who was the mastermind behind the idea of recording an entire album of duets?
Why, thank you; so am I! It was actually Serafino's (of Frontiers Records) idea. It seems that Michael has the boss of a record company as a huge fan and a musician couldn't wish for anything better, I suppose!
When and how did you first learn about the project? What was your reaction?
It was sometime in the spring of last year, I believe. Mat Sinner called and asked if I'd be interested in doing a duet album with Michael Kiske and I was very flattered that I was on their list of prospective singers. I thought it would be great to finally be able to work and sing directly with Michael after a long time of kind of indirectly working with him on projects like Aina and Avantasia, so I was thrilled!
"Kiske/Somerville" has a stellar line-up of musicians. My doodle of who worked with whom and on what projects ended up looking like a diagram for a microchip. Would you introduce your cohorts, and tell us which of the gentlemen you have collaborated with before?
Certainly! Mat Sinner (Sinner, Primal Fear) was the creative mastermind behind the project as the producer and principal songwriter. I'd never worked with him before, but it was really a great experience because he's very competent as a musician/producer/songwriter but he's also a very laid back, nice guy. After we did the recordings, it went so well that he asked if I'd like to go on tour with him with another project he was overseeing called Rock Meets Classic and that was also a lot of fun.
Magnus Karlsson (Starbreaker, Primal Fear) did some great guitar work and songwriting for the album, as well. I'd never worked with him before this and haven't had the chance to meet him in person yet, but I'm sure I will.
Jimmy Kresic (Voodoo Circle) co-wrote some songs and performed keyboards and did an excellent job. This guy is a freak, and I mean that very positively!! He was on the Rock Meets Classic tour with Matt and me and totally blows me away as a musician and as a person. He's quite the character!
Martin Schmidt is a great drummer and all-around good person. It was in his studio that we recorded my vocals for the record and he did the engineering. He was also on the Rock Meets Classic tour and we had a blast together.
Sander Gommans and I had worked together already back in his After Forever days and he and I also did the HDK project together. We wrote 3 songs for the album and he also played some guitar parts on the project. He's also quite a talented guy and has become an even better musician and songwriter since I first started working with him back in 2003.
Was this your first time working with Frontiers Records? Was it a good experience?
It wasn't really my first time because I'd helped Oliver Hartmann out with a few things for his albums while he was still signed with Frontiers, though it was my first time being really involved with them. And yes, it's been a very good experience.
Mat was originally slated to write the entire album but you and Sander ultimately wrote three of the tracks – "Arise", "A Thousand Suns" and "Set Afire". How did the switch come about?
After Mat had asked me to be a part of the project and sent me some songs, which I liked, I called him back to ask if there was any room for getting involved in the creative side of the music. He said they were open to ideas, so Sander and I got busy and wrote 4 songs for the album initially but one was too heavy on the metal side, so 3 made it onto the album, which is cool. I'm just as much a songwriter as I am a singer, so it was really great that I was able to add to the creative side of things on this album, as well. It makes my connection with the project even closer and more personal and it's like my baby, too. :-)
Considering that you all live in different cities, what was the song writing and recording process like?
Well, I'm not sure how Mat, Magnus and Jimmy went about their songwriting and recording exactly but nowadays with the internet, it's so much easier to collaborate from afar. I like to do my songwriting one on one, if at all possible, so Sander and I wrote and recorded the songs we did in his studio (Eternia) together in the Netherlands. Michael recorded his vocals in his own studio in Hamburg and I recorded with Mat and Martin in Martin's Audiospezialist studio in Stuttgart.
A quick detour before getting back to the music. I laughed myself silly reading your recent twitter post: "You know you've made it when girls are taking their clothes off to your music. Yep. Strip clubs are playing my songs." In your wildest imagination, did you ever think your music would be the soundtrack for the thong-and-stiletto set? As a public service to, errrmmm, stimulate the global economy, are there any particular tracks that really make those dollar bills and Euro notes fly?
Haha!!! I'd never really given it much thought, to be honest, although I always could picture "Get Me" in a movie soundtrack set to some sexy club scene. Once a couple years ago, a woman who gives lessons on how to strip actually asked me if she could use that song in an instructional video she was making, so that was already the start of it. Apparently, "Get Me", "Inner Whore" (surprise on that one, eh?

and "Out" are favorite choices.
The other completely random thing that caught my eye was the jingle you wrote and recorded for a swine flu vaccine. What was your inspiration while writing the song – rashers of bacon, piles of pork chops, endlessly watching the movie Babe? And where, oh where, can we get a hold of it?
Oh, man, this is funny! Yes, it was truly one of the weirdest things I've done in my career, but I still think it's so cool. I mean, it was for a vaccine against this sickness that caused diarrhea in pigs and the ad campaign had a huge pic of a little pink pig butt. How hilarious is that? I'm extremely silly, so I didn't really need any big preparation for writing this but I'll tell you what: it was the hardest singing job I had because I could not stop giggling while I was singing! And seriously – you cannot sing well when you're laughing. As far as where you could find it, I really don't know. Only my family (it was a huge hit with my nieces) and the company I did it for have it. Perhaps that'll be a Somerville Rarity that I'll include in some compilation at some point!
Okay, back to more serious things. The first single "Silence" and its music video were released on 20 August 2010. Why was this song chosen to introduce fans to "Kiske/Somerville"?
I think it's a great song but it's also a good "middle road" pick to sum up what people can expect from the album. It's one of my favorites that I didn't write.
It was interesting to read that, despite having worked on albums together previously, you and Michael met for the first time while shooting the videos for "Silence" and "If I Had a Wish". How was it to finally meet him in person?

If you've seen my video blog I did for the video shoots, you can see that I was very excited, of course. And it's funny, because those videos I record are really candid. I'm just shoving my camera in people's faces at random intervals and so when you see Michael's face when I explain that it's the first time we've met face-to-face after working together on earlier occasions, he looks a bit confused. That's because he never realized that it was me who sang the "Silver Maiden" demo for him, for example, or that I was also part of Avantasia, so that was all news to him! And it's great that I got that initial surprised reaction on camera. :-
)
Michael is known for his vocal range, including the ability to hit some impressively high notes and his fast vibrato. Which songs on the new album best showcase these particular talents?
I don't know that one song particularly showcases his talents better than the others because you can hear his trademark sound in every one. However at the end of "One Night Burning" there's a high harmony in that little "This love is killing me" part and he's singing that together with me. That's HIGH!

In your previous work, your vocals have spanned the range from operatic (
Epica
) to rock/power-pop (
"Windows"
solo album) to fiercely hard-edged (
HDK
). Where along that continuum do your vocals on
"Kiske – Somerville"
fall?
This was a very comfortable album for me to sing, range-wise. Wikipedia states that I'm a mezzo-soprano and I don't know who entered that but it's not correct! I can actually sing everywhere from tenor to soprano but I'm most comfortable as an alto. I don't like singing really high because I think it just sounds silly and I was happy this album wasn't operatic and all over the place. I'd say that stylistically it's pretty much in the middle of things I've sung, probably more rock than anything. It's powerful in some places and delicate in others, so it's a nice balance.

The new album is a vocals-driven album but the musicianship is also top notch. What tracks most appeal to you for their composition?
Taking the biased route, I'd say that "Set Afire" is probably my favorite but more so because of the extremely personal meaning it has to me, but my other favorites are "Second Chance" and "Silence". I think both of those songs are beautiful and heart-wrenching.

My personal favorite for sheer emotional impact has got to be "A Thousand Suns", a personal song that feels like first being flayed and then sprayed with acid. It's a lovely track, but the lyrics are nothing short of painful. Do you ever have second thoughts about spilling your heart into lyrics that a bunch of strangers will hear?
Thank you. Yeah, it's kind of a heartbreaker! Michael says that's his favorite song of the entire album, which is a huge honor. You know, I can't do things any other way, so I really don't have a choice in spilling my innermost feelings for the world to pick apart as they will. Songwriting is the highest form of communication and expression that I have and so it ultimately ends up being the biggest crack in my privacy, as well. That's actually what "Windows" is about: I see my songs as the windows to my soul and it's not always easy living with the breeze that comes in through those open windows. But not only for me. It's not easy for the people in my life who sooner or later end up in those songs, either! But I guess that's the price of being (or being involved with) a songwriter.
People who attended Sirens of Metal II in Detroit (USA) were lucky enough to be the first hear you perform two of the new songs – "Set Afire" and "A Thousand Suns" – with Ashley Peacock (The Times) singing the male vocals. How was the reaction?
Yeah, all 3 people in audience loved it. Haha! No, the reaction was very positive and more than anything, my band loved playing those songs and so did I! Seriously, I love-love-love performing those songs and when you pour that much energy and enthusiasm into something, people usually appreciate it.
Is a tour for
Kiske/Somerville
in the works?
We would love to do one but it certainly comes down to how well the album does. So it's up to the fans!!! Unfortunately, the people who would be doing work for a tour like this, which would be very expensive (as tours simply are), need more security than just Michael's and my desire to want to perform the songs live.
You have been quite cryptic about your future plans, except to say that something BIG is in the works. Can you give us any more hints? The suspense is *killing* us.
Well, I guess the unveiling wasn't exactly as much of a sudden *bang!* effect as I'd envisioned it being a while ago but the big surprise was that there's going to be another Avantasia tour in November-December and I'll be a part of that again but this time also with Michael!!!! I've known for a while but it had to be kept under wraps. Surprise!

I think it's super cool and have been really excited about it, I just couldn't say.
Thank you again, Amanda, for talking with us. Do you have any parting words for your fans at Femme Metal?
Thank you for your interest and excitement about the album, and I very much hope to be able to play somewhere near to you and get to meet some of you sometime soon!!!! xox

Links
MySpace * ReverbNation * Facebook * Twitter * Site
Latest Multimedia
Label : Frontiers Records
Review by Tony Cannella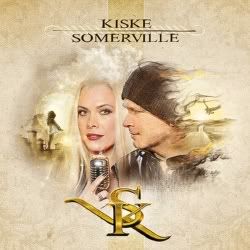 "Kiske/Somerville" is the long awaited collaboration between (ex-Helloween vocalist) Michael Kiske and Amanda Somerville. When two ultra talented singers come together it has the potential to be obviously very good. I'm happy to say that Michael Kiske and Amanda Somerville have hit a bull's-eye. First of all, Michael Kiske has always been one of my favorite singers and to pair him with such a great female voice, like Amanda Somerville, is a "can't miss" event. The songs run the gamut of blazing, guitar oriented hard rock, to symphonic rock, to some truly, melodic and catchy numbers. The opening song, "Nothing Left to Say" even has a "Keepers…" era Helloween vibe to it and gets the CD off to a great beginning. "Silence" follows that up and is the video track for the CD. "A Thousand Suns" is a great mid-tempo, ballad track that sees both Kiske and Somerville singing their hearts out. "Rain" is a bouncy up-tempo number. On this 12-song, 53-minute release, the vocals are split pretty evenly between the two singers as they duet on all of the songs. Other highlights include: "If I Had a Wish", "Arise", "End of the Road" and "Devil in Her Heart". You cannot discount the contributions of some of the other musicians, who helped in the creation of this CD, people like Mat Sinner of Primal Fear, Magnus Karlsson and ex-After Forever guitarist Sander Gommans. On "Kiske/Somerville" two great singers have come together to create an excellent piece of work. It remains to be seen if this just a one off, or we will see more music from this duo. Whatever the case, if this is just a one shot deal, "Kiske/Somerville" has left us with a pretty good album. The song writing, musicianship and vocals are inspired all the way through!
Rating – 90/100
Tracklist
Nothing Left to Say
Silence
If I Had a Wish
Arise
End of the Road
Don't Walk Away
A Thousand Suns
Rain
One Night Burning
Devil in Her Heart
Second Chance
Set a Fire (Bonus Track)
Line Up
Michael Kiske – Vocals
Amanda Somerville – Vocals

Magnus Karlsson – Lead Guitar, Guitar, Keyboards

Sander Gommans – Additional Lead Guitar

Jimmy Kresic – Keyboards

Mat Sinner – Bass and Backing Vocals
Martin Schmidt – Drums
6 color styles available:

Style switcher only on this demo version. Theme styles can be changed from Options page.