Browsing articles tagged with " krull"

Interview by Arianna G.
In a busy environment which is the current metal scene, SAVN is the revelation band of 2014. Norwegian and dedicated to the gothic and folk melodies and led by the blonde vocalist Carmen Elise Espenæs, Stig Johansen and Anders Thue (ex-The Sins of Thy Beloved), SAVN's debut album gained positive acclaims from all over the world in a very short time. For the occasion, we exchanged a few chats with the singer of this combo and, in this in-depth interview, she tells us something about this new musical experience, without forgetting her "mother-band", Midnattsol, anticipating some juicy news as well.
Savn is a band formed by Stig and Anders. After so many years in which there were so many rumours concerning their band, The Sins of Thy Beloved, they've decided to start a new music project. Would you like to give a short biography of this new band for those people who are still not familiar with you?
Yes, of course! It was actually Stig that started the band, he felt that he needed something new in his life, something new in the music front, because nothing happened with The Sins of Thy Beloved, it was too silent for him, Continue reading »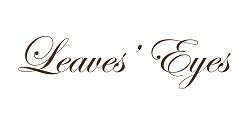 Interview by Ary R
After the great success gained with her new solo album, "Libertine", the amazing Liv Kristine comes back with her band Leaves'Eyes and she introduces to the metal audience this new record, "Symphonies of the Night". On the occasion of the release of this Norwegian/German band, we've got the chance to exchange again a few word with the blonde singer and we talked about this new brand music effort.
Hi Liv and welcome back on Femme Metal Webzine. How are you doing, first of all?
Thank you, all is well, we are on our way to Russia, actually sitting on the plane right now. I am happy that Christmas is knocking on our doors..that means a few days off with my family. We will spend a week in snowy Austria at a cottage with a few friends – skiing, cooking, sauna, relax – perfect!
After the great success gained with "Meredead", Leaves'Eyes comes back with a new record, "Symphonies of the Night". It deals with the history of 13 heroines of the past. Would you mind telling us something more about the concept? Continue reading »
Label: Napalm Records
Review by Tony Cannella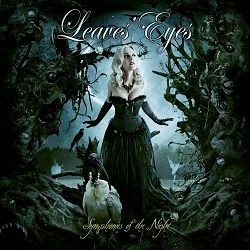 "Symphonies of the Night" is the title of the 4th full-length album from the German/Norwegian metal band Leaves' Eyes. The band – which is led by the duel vocals of Liv Kristine and her husband, Atrocity main man Alex Krull – has forged a pretty consistent and solid career for themselves based on an excellent body of work and "Symphonies of the Night" certainly rates right up there with their previous efforts.
The opening number "Hell to the Heavens" is simply awesome and my favorite track. What a great way to start things. Liv Kristine and Alexander Krull continue to be one of the most unique vocal tandems who use the "beauty and the beast" technique. Continue reading »
LEAVES' EYES — the German/Norwegian band formed by ex-THEATRE OF TRAGEDY singer Liv Kristine Espenaes Krull and members of ATROCITY — has set "Symphonies Of The Night" as the title of its new album, due later in the year via Napalm Records.
A new LEAVES' EYES video, for the song "Melusine", featuring footage from live shows, tours and festivals like Wacken Open Air in 2012, can be seen below.
Interview by Ed MacLaren
From her groundbreaking contributions to the seminal goth metal band Theatre of Tragedy to even bigger success fronting the eponymously named Leaves' Eyes, Liv Kristine is one of a few women who have truly earned the status of femme metal icon. With the release of her third solo album, "Skintight", Liv continues to offer fans a new and diverse musical perspective along with her unique vocal skills. Femme Metal had the privilege to speak with Liv about her creative process, the secrets to her longevity, and her dreams for the future. Congratulations on the release of "Skintight"! It's another fantastic showcase of your creative talents. Listening to a new Liv Kristine solo album is always an interesting pleasure. What you hear is always unexpected but at the same time it's totally you.
Thank you so much! This album is me, straight from the heart, just very down-to-earth, natural and personal. It really deserves the title "Skintight".
Your solo efforts don't come along that often – although in your defense you're a pretty busy woman. What happens that points you down the solo path? Does the mood just overtake you and you have no choice but to focus your creative energies in that direction?
My solo work and Leaves' Eyes have the same status for me, however, I've needed more time in between the releases of my solo albums than when it comes to Leaves' Eyes releases. There is no explanation for this "rhythm", though. My first solo album "Deus ex Machina" was released eleven years ago, the second one "Enter My Religion" in 2006/2007. However, "Skintight" is my most personal album so far and the one I appreciate the most. I need my solo albums next to Leaves' Eyes. I never plan an album, the songs, or the percentage of slow and fast songs. I just compose it and record it and then when it's released, the audience decides what to think of it. I hate trends and forced ideas. I'm glad my record label trusts me and lets me do my own thing and follow my own instincts. "Deus ex Machina" is probably the one album that had the most influence from the label, external producers etc. and it mirrors a very young "myself". I hate the picture on the cover, though! Something went wrong when printing the booklet, I guess. "Enter My Religion" is the album that celebrates the freedom I felt after winning my artistic freedom back after a terrible time spent in court. And I was happy becoming a mother! With "Skintight", I have taken a big step and gained more independence and self-confidence. It feels really good to release this album, and I am really looking forward to my next one!
What was your goal when recording "Skintight"? Did you accomplish what you set out to do?
I was aiming at one thing: making an album that's ME – just listening to my inner voice. Concerning the song-writing process for the album, I never really "plan" a production. Most ideas just appear unexpectedly, like for instance when I wake up early in the morning at 6.a.m., or perhaps they come along with a glass of red wine when all is quiet in the house. I always carry a little book for notes with me, just in case. The next thing is to call Thorsten and meet up in the studio, which is, luckily, close to where we are living.
The lyrics on "Skintight" are very personal reflections for you as are your lyrics for Leaves' Eyes. Do you have a different mindset when you're writing for one or the other or does it all come from the same place?
My solo work is where I put all my childhood memories, my experiences being a young woman, ideas about love, marriage, memories from travelling, and becoming a mum. Leaves' Eyes has a special concept to every album and I sing in up to seven languages. All lyrics on "Skintight" were written in English. I guess it's just a matter of feeling comfortable in my own artistic "expression" both lyrically and musically.
"Skintight" is a Liv Kristine solo album but you're working mainly with Thorsten Bauer and your husband Alexander Krull from Leaves' Eyes. For a solo effort, why did you decide to keep your collaborations within the "family"?
As I already mentioned, I only want to be independent being an artist, so I would chose any label that would let me do whatever I want, in my own studio, with the musicians I choose to work with myself. I don't care so much about what the trend is like; I'd rather listen to my inner voice and pay attention to my artistic development and my own goals.
Did the writing and recording experience evolve differently than working with Alexander and Thorsten on "Skintight" than on a Leaves' Eyes project?
The composing period and recording period of "Skintight" was much, much shorter than any Leaves' Eyes production. The complete production of "Skintight" was stripped down to a few instruments to make the album warm, focused and intimate. That was my thought from the very beginning.
Was it still essentially a mutually collaborative effort or did you ever have to put your foot down and say, "This is my album and we're doing it this way !"?
This time we did it MY way! I am so grateful that Thorsten, Alexander and my label supports me doing this – achieving my goal!
Does releasing a solo album give you an opportunity to indulge your diverse musical influences in the context of your own music? "The Rarest Flower" has a wonderful Tori Amos flow to it.
Thank you, that's a really nice compliment! I have a varied taste in music: Coldplay and One Republic in the car, Black Sabbath at every party, Tori Amos when relaxing, Edvard Grieg when cleaning, Amorphis when typing interviews and Madonna when cooking! Tori Amos inspired me to record in the way we did. I think she's a genius!
"Skintight" gives you an opportunity to make use of your full vocal range in a more "natural" sounding environment. As a singer, was it a specific goal to experiment with your voice on this album and try some things that just didn't "fit" Leaves' Eyes?
First of all, Thorsten (co-song writer), Alexander (husband and producer) and myself, rebuilt one of the recording rooms so the engineer and the one being recorded are in the same room. The room also has a fantastic view out on the southwestern forests and wine yards! Both music and voice were recorded in a "one-take" procedure to keep the songs real and natural, like Tori Amos, because we wanted to intensify the emotional flow in a natural way. I hate recording little bits and pieces and making pauses between verses and choruses. I would like my friends and fansto hear that this is me. I really don't need to polish my vocals, nor my identity.
You're releasing "Skintight" at the same time as the special edition of "Njord" and on the eve of a Leaves' Eyes tour of the United States. What was the rationale of releasing the solo album now instead of waiting until next year and back it with a solo tour?
I was just eager to have it released as "Skintight" was completed in January 2010. I just couldn't wait! "Skintight" along with "Enter My Religion" and "Deus ex Machina" gives you three full albums of solo material.
Do you think that you've established a unique identity for yourself as a solo artist separate from being the lead singer or Leaves' Eyes or Theatre of Tragedy?
If I take a look at the progress between all my albums, I feel good about it. Album by album I've become more independent and gained more self-confidence. After "Deus ex Machina", which ended in a terrible court case, I have learned to speak out when I feel that something is not all right, fair, or my taste. "Enter My Religion" was a very important step towards freedom for me after a very tough and exhausting period, the ups and downs with Theatre of Tragedy and endless touring. I have been around for 17 years now and I can thank my friends, fans and family for that!
It's also been 15 years since the release of Theatre of Tragedy's self-titled debut "A Distance There Is" still gives me chills every time I listen to it. An amazing vocal performance! Do you ever reflect on the progression and evolution of the musical genre you helped define? Did you have any idea it would explode the way it did?
That's really a wonderful compliment, thank you from the bottom of my heart. No, we would never guess back in 1995 that we would be the trigger and founding band of such an explosion in metal – creating a new metal genre. At first, we were really screamed at by music journalists for mixing extreme contrasts of beauty and the beast in metal, however, the metal fans voted for us to become the band of the year, best new comer a.s.o. world wide. Then the explosion came! Some time ago, I met Tuomas from Nightwish. He really made me blush, he said, "There would have been no Nightwish without you". That went straight into my heart!
You're considered one of the definitive voices of the metal genre – gothic or otherwise – often imitated but never duplicated. Your musical contributions helped open doors for many women to express themselves musically in a genre then dominated by men. Did you think, at that time, that women would ever become such a fixture on the metal scene?
I had no idea! I am so glad that my members of Theatre of Tragedy back then let me step out of the background-singer position and into the front-vocal position! I guess that was the important step to take.
With more and more female-fronted metal bands appearing all over the globe, is there any advice you could offer any young woman wanting to strap on a corset and jump onstage?
Speak out for yourselves and listen to your inner voice! Do not pay so much attention to the money and the fame, because it can hurt you really bad! Be yourself! Be creative, always develop! And stay healthy.
You were still a teenager when you started performing professionally and even now you are still able to keep your music relevant with a fresh perspective and point of view. How do you do it?
I've always had a great passion for music and art in general. I was born with a very creative mind and a voice that can do multiple things. Moreover, I take good care of myself, stay in shape, and have a very healthy living style. I'm 34 now and just won a 10 km run in south-west Germany and my winning time was the best I ever achieved. That's nice! Being a mother also gives me so much power in my daily life. Having my own wonderful family is the greatest luck on earth! I consider myself a very lucky person: I'm able to combine family and music! I never earned the big money, however if I ever do, I have huge plans. My ultimate goal with my solo work is to sell "millions" of albums so I can start my own foundation, helping children in need worldwide. Moreover, I'm dreaming about starting a bilingual/trilingual music kindergarten for kids with special needs and abilities, children that have a "handicap" somehow and do not fit into the typical, official kindergarten concept. Music can help these children in a social, psychological and physical way and they have so many "hidden" abilities that we need to discover and trigger! This is only possible in such suitable, loving and stable surroundings like a "special" kindergarten or school. This is my dream for the future.
You've had an incredibly diverse and prolific career. Are there any songs from any stage in your career that hold a special place in your heart? What makes them so special?
"A Distance There Is" (ToT), "For Emily" (Leaves' Eyes), "Irish Rain" (Leaves' Eyes), "Blue Emptiness" (Liv K.), "Twofold" (Liv K.) and "The Rarest Flower" (Liv K.). They're special because they're all linked to happenings in my life and they make me cry every now and then. It's like holding up a mirror to my own emotions.
What next for you after the Leaves' Eyes US tour? Will you try to do some "Skintight" promotion in the new year?
My next tour will probably be an acoustic tour, some shows in December and the rest next February or March, in intimate locations, with chairs, candles… Let's call it "A Night with Liv Kristine". I will bring three musicians and play songs from my solo albums, some acoustic Leaves' Eyes pearls and maybe "A Distance There Is". Vocals, guitars, piano and percussion.
(Famous) Last words?
"My greatest luck is to give some happiness and love to others". This is what my mother always told me and she is so right! Through my art, I am able to do this and my fans and friends have made my dream come true. I have the best fans in the world! Thank you!
Photo Credit
Photos by Stefan Heilemann
Links
MySpace * Facebook * Twitter * Site
Latest Multimedia
6 color styles available:

Style switcher only on this demo version. Theme styles can be changed from Options page.