Browsing articles tagged with " lacuna"

 Intervista raccolta da Arianna G.
(con un grossissimo ringraziamento ad Andrea Carbone)
Umiltà, disponibilità e soprattutto fierezza sono le caratteristiche che contraddistingono la bellissima Cristina Scabbia, lead singer femminile dei Lacuna Coil, che proprio in questo freddo mese di Novembre tornano on the road pronti a promuovere "Broken Crown Halo", omaggiando tutti i fan italiani regalando loro 4 date imperdibili su tutto il territorio. In occasione della prima data Italiana tenutasi a Bologna, abbiamo incontrato presso lo ZR la bella frontwoman milanese che, in questa lunga ed esaustiva chiacchierata, ci ha raccontato qualcosa in più sull'ultima fatica discografica, senza disdegnare qualche argomento piuttosto personale..
Continue reading »

Interview by Tony Cannella
The veteran Italian metal band Lacuna Coil has been blazing a metal trail across the U.S. as part of the Hottest Chicks in Hard Rock tour – which by all accounts has been a huge success. With their new album "Broken Crown Halo" set to be released the band is poised for a long road of touring. Recently we spoke to one half of the bands lead vocal duo Cristina Scabbia to talk about the new album, the departure of two key members and more.
You are currently out on the Hottest Chicks in Hard Rock tour. How has it been going so far?
Continue reading »
Label: Century Media Records
Review by Tony Cannella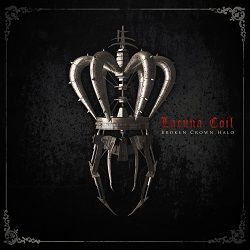 It's hard to believe that Italy's Lacuna Coil first released their self-titled debut EP sixteen years ago. Well, obviously a lot of time has passed but the band has maintained a certain amount of consistency on their subsequent releases. Some albums have been better than others, but for the most part the band has delivered throughout their history. 2014 sees the release of the seventh Lacuna Coil full-length album entitled "Broken Crown Halo" which in my opinion is the most inspired work this band has done in years.
The opening track "Nothing Stands In Our Way" is just pure awesomeness and a song that is all about positivity and gets the listener pumped for what is to follow. That is followed by "Zombies" and "Hostage to the Light". Continue reading »
Label: Inside Out Music
Review by Tony Cannella
Arjen Anthony Lucassen released the last album on the Ayreon moniker back in 2008. Since then he has kept his creative spirit alive working on various other projects. Now he returns with the latest Ayreon opus entitled, "The Theory of Everything" and for someone who has a long career based on big, grandiose epic productions, "The Theory of Everything" may just be his biggest and most thoughtful yet. It is always interesting to see some of the musicians Arjen uses on the Ayreon albums and "The Theory of Everything" is no different. Some amazing singers make appearances here including: Tommy Karevik from Kamelot, Marco Hietala from Nightwish, John Wetton from Asia, King Crimson and Uriah Heep, Cristina Scabbia from Lacuna Coil and Sara Squadrani from Ancient Bards. Continue reading »
The Sevendust, Coal Chamber, Lacuna Coil tour rolled into Hartford, Connecticut and played to a packed and crazy house at the Webster Theater.
Just joining the tour is the California based experimental metal band Stolen Babies. This is a name that I have heard only in passing, and this would be my first time experiencing them live or otherwise. Their sound is a quite interesting mix of metal, cabaret, polka – how's that for an eclectic mixture? The band is fronted by female vocalist Dominique Persi; she also plays the accordion throughout most of their set. Yep, you read that right, a metal band with a full time accordion player. They played for about 30-minutes and I was impressed with their performance. They had a lot of energy and they eventually won over the crowd. Most impressive was the drummer Gil Sharone – he attacked his kit non-stop through the whole set. They are touring in support of their new album "Naught" – which I'm told is "pretty good." Continue reading »
6 color styles available:

Style switcher only on this demo version. Theme styles can be changed from Options page.