Browsing articles tagged with " lacuna"

Interview by Tony Cannella
The veteran Italian metal band Lacuna Coil has been blazing a metal trail across the U.S. as part of the Hottest Chicks in Hard Rock tour – which by all accounts has been a huge success. With their new album "Broken Crown Halo" set to be released the band is poised for a long road of touring. Recently we spoke to one half of the bands lead vocal duo Cristina Scabbia to talk about the new album, the departure of two key members and more.
You are currently out on the Hottest Chicks in Hard Rock tour. How has it been going so far?
Continue reading »
Label: Century Media Records
Review by Tony Cannella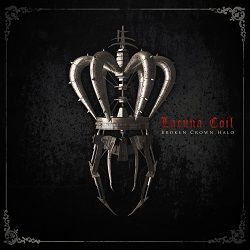 It's hard to believe that Italy's Lacuna Coil first released their self-titled debut EP sixteen years ago. Well, obviously a lot of time has passed but the band has maintained a certain amount of consistency on their subsequent releases. Some albums have been better than others, but for the most part the band has delivered throughout their history. 2014 sees the release of the seventh Lacuna Coil full-length album entitled "Broken Crown Halo" which in my opinion is the most inspired work this band has done in years.
The opening track "Nothing Stands In Our Way" is just pure awesomeness and a song that is all about positivity and gets the listener pumped for what is to follow. That is followed by "Zombies" and "Hostage to the Light". Continue reading »
Label: Inside Out Music
Review by Tony Cannella
Arjen Anthony Lucassen released the last album on the Ayreon moniker back in 2008. Since then he has kept his creative spirit alive working on various other projects. Now he returns with the latest Ayreon opus entitled, "The Theory of Everything" and for someone who has a long career based on big, grandiose epic productions, "The Theory of Everything" may just be his biggest and most thoughtful yet. It is always interesting to see some of the musicians Arjen uses on the Ayreon albums and "The Theory of Everything" is no different. Some amazing singers make appearances here including: Tommy Karevik from Kamelot, Marco Hietala from Nightwish, John Wetton from Asia, King Crimson and Uriah Heep, Cristina Scabbia from Lacuna Coil and Sara Squadrani from Ancient Bards. Continue reading »
The Sevendust, Coal Chamber, Lacuna Coil tour rolled into Hartford, Connecticut and played to a packed and crazy house at the Webster Theater.
Just joining the tour is the California based experimental metal band Stolen Babies. This is a name that I have heard only in passing, and this would be my first time experiencing them live or otherwise. Their sound is a quite interesting mix of metal, cabaret, polka – how's that for an eclectic mixture? The band is fronted by female vocalist Dominique Persi; she also plays the accordion throughout most of their set. Yep, you read that right, a metal band with a full time accordion player. They played for about 30-minutes and I was impressed with their performance. They had a lot of energy and they eventually won over the crowd. Most impressive was the drummer Gil Sharone – he attacked his kit non-stop through the whole set. They are touring in support of their new album "Naught" – which I'm told is "pretty good." Continue reading »
Interview by Ary R.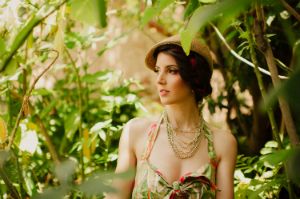 Some of you know this band thanks to Ryan Folden's work, After Midnight, some other got in touch with these guys on the occasion of the Dark Adrenaline tour by Italian act Lacuna Coil. Who are we talking about? The answer is here: American band THIS IS SHE, that in this 2012 enter the music scene with a well-respected EP, "Nobody Is Ok". As soon as the tour came to an end, I had the pleasure to exchange some chats with the sweet Alana Grace, that revealed something about this European tour and about the new goals of the band. This week Femme Metal hosts an interview with This Is She and we have the pleasure to talk with the singer Alana Grace.
Hi Alana, welcome on our website. How are you doing?
I'm doing great! I'm happy to be back from tour and relax into the holiday season. It's my favorite time of the year, and I'll get to see my family soon so it's a good time.
This Is She is an American music reality that slowly tries to introduce itself in Europe in the proper way. Would you like to share something about the band biography or about your musical careeer?
I met Christian and Ryan back in 2009 when I toured with the Vans Warped Tour. They were out with their band After Midnight Project at the time, and we all bonded together throughout the summer. Both bands had their ups and downs and in 2011 I think we were all ready to try something new for a change. I had an idea for an electronic rock band, and I was looking for players right as After Midnight Project decided to take a hiatus. So we hopped in the studio together and wrote for a few months before starting to play live. Finally we released our first EP in July of this year and have been trying to promote it ever since.
You've ended up the European tour recently, This is She was chosen as the support act for the Italian band Lacuna Coil. How would you describe this experience?
It was an incredible experience for us to go on tour with Lacuna Coil. They are so good live it was a little intimidating at first, but they were very nice to us and we became easy friends. I would say the crowds were awesome for us. They have a really dedicated fanbase who generally had checked us out before coming to the shows. It was so much fun to see some people were already familiar with our songs, and it really made us feel at home with their fans.
6 color styles available:

Style switcher only on this demo version. Theme styles can be changed from Options page.
Archives