Browsing articles tagged with " madrid"
Madrid, Spain-based female-fronted dark gothic metallers TEARS OF MARTYR have inked a deal with Germany's Massacre Records. The band's second album, "Tales", will be released on April 26th. The CD was recorded in August 2012 at the New Sin Studios in Loria, Italy, with Enrik Garcia and Luigi Stefanini.
Commented TEARS OF MARTYR: "We are happy and excited to work with Massacre Records. We are looking forward to the release of 'Tales' and we hope you'll enjoy it!". Connect at Facebook for more updates.

Interview by Robin Stryker
Originally from the Canary Islands, Tears of Martyr now calls Madrid home. For those craving a dose of dark gothic metal, the band's new release "Entrance" will feed your hungry metal beast. Mmmmm, a delicious helping of shining soprano vocals (a truly fine voice) paired with light-eating death metal vocals. Femme Metal sat down with Berenice Musa, female vocalist for Tears of Martyr, to get the whole story. Dig in!
Hello Berenice and welcome to Femme Metal. For those who have not heard Tears of Martyr's first full-length release, "Entrance", how would you describe it?
Hi Robin, I would like to start by saying that I am really excited about this interview and that for me it is a huge pleasure to answer your questions and introduce Tears of Martyr to the Femme Metal readers. "Entrance" is an invitation to anyone who wants to experience the world of Tears of Martyr. A journey through many emotional states, like anger, despair, revenge, wrath, resignation against hope, salvation or self-esteem. We regard each song as a unique play, with characters, who develop through the story, and at the same time each song contains a message open to any personal interpretation. "Entrance" isn't a paradigm or a utopia; it's our personal view of the human being and its reality, whose existence we compare to a chessboard controlled by fate.
Many bands make only a few songs from their albums available on the Internet. Why did Tears of Martyr make all 12 tracks available for streaming on its official band site?
Our intention with "Entrance" was to spread our music and the band name to any possible place in the world. That is the main reason why we decided to offer our music for free worldwide.
How has the feedback from reviewers and fans been?
I can proudly say that we are receiving very positive feedbacks, both from the media and the fans. It is an enormous motivation for us to continue with the hard work.

Your soprano vocals on "Entrance" are beautifully pure and clear. What type of musical training have you had?

100% classical training. I started studying classical singing in Gran Canaria and moved then to the Netherlands to finish my Bachelor's Degree. Nowadays I continue studying with private teachers and repertoirists in order to improve my technique and work on new repertoire. For me, singing is like a long distance run; you always have to be prepared and in shape, and it is dangerous to allow yourself to rest on one's laurel.
Do you remember wh
at first sparked your passion for music? Did you grow up in a musical family?
No member of my closest family is a professional musician, though I remember having grown up surrounded by music. My father is truly a music lover; he used to play his favourite bands' CDs when he was at home and he also likes singing. I keep a special memory from my childhood: it was my father who was the one in charge of bathing me in the afternoon before dinner. While doing this, he used to sing to me and whenever he would stop singing I immediately started to say: "Go on Dad, go on!!". Probably he was the one who passed on to me his passion for music. Apparently this passion in me grew up in a different way, as singing has become my profession.

Please introduce the other members of Tears of Martyr, and tell us a little bit about them.
Well…please let me introduce you to Miguel Ángel, he plays guitar and shares with me the singing parts. He is the only founding member who remains in the band and practically all the music and lyrics com
e from his highly creative mind. Next one is
Doramas
, he is our drum player since 2001. Before he entered as an active member in
Tears of Martyr
, he had always been very close to the band. Apart from being a personal friend of many of the founding members,
Doramas
did the design of the first demo tape of the band,
"The Essence of Evil"
. Together with
Javi "Astur"
, guitar player since December 2008, he spends most of his time doing management tasks, like looking for gigs, updating the MySpace and the web, promoting the band and the CD on the Internet, etc… Our last signing is
César
, bass player since July 2009
.
How did a classically-trained soprano become the female vocalist for a metal band with extreme male vocals?
To answer this question we have to go back to 2000. In that year I collaborated in the first CD of a local band from Gran Canaria called Carne Cruda (Raw Meat). They organized a concert in order to present their work and asked me if I wanted to take part in it. Of course I agreed without any doubt. Immediately after my performance with Carne Cruda, a very close friend of Tears of Martyr approached me and told me that the band was looking for a singer like me. I was given a sort of business card with two telephone numbers on it. After a few months I finally decided to phone the first number on the card; it was Miguel Ángel who answered. This is how it all started!!
Over the years, Tears of Martyr have gone through periods of great difficulty. Jumping back to 2007: half the band quit, and you, Miguel Ángel and Doramas decided to move the 2000 kilometers from the Canary Islands to Madrid. Can you give us an idea of what it was like to make such a major decision, both for Tears of Martyr as a band and for you personally?
It certainly was a tough decision for us personally (we left behind our families, friends, our homes and jobs) but not tough as a band decision. The band was feeling the need of a change for quite a long time. We knew that if we wanted to grow up as a band the best thing to do was to move to the continent. As you already said, in 2007 half of the band quit and the question we made ourselves was quite decisive: we had to start over again, that was for sure, but we had to decide if we wanted to do it either in Gran Canaria or in Madrid. And the answer was clear: it was "then" or never. Personally, for me it wasn't such a hard decision; I deeply believe in Tears of Martyr and I would bet my life on it. Nowadays, I have adapted myself to Madrid and to its crazy and wild life rhythm. The only two things I miss from Gran Canaria are my family and the sea. Whenever I feel nostalgic and homesick, I take a plane and in two hours I'm on my little beloved island and with my dear family.
What is the metal scene like in Madrid, compared to the Canary Islands?
First of all you have to bear in mind that Madrid is the capital of Spain and compared to it, Las Palmas de Gran Canaria, which is the town I come from, is a very small place. As you may be probably thinking, in Madrid there are more opportunities. That is true; it is easier to get in contact with other musicians from the scene and there are more chances to play. But, on the other hand, there is more rivalry, because there are more bands here in Madrid. In addition to all this, our music, not only in Madrid but generally in Spain, is not mainstream and, unfortunately, is still considered underground music. However this reality won't reduce our yearning for self-improvement, both as a band or each one of us as musicians.
Tears of Martyr has top-notch musicians collaborating on "Entrance", such as Dani Fernández (ex-Dark Moor), violinist Julio Fernandez, and a six-person vocal cast that includes Beatriz Albert (Ebony Ark). How did the band's collaboration with these musicians come about?
For the recording of "Entrance" we had the necessity of a session bass player and somebody recommended Dani Fernández to us. After contacting him and negotiating a little bit, he accepted to record the bass lines. The work with Dani was excellent and we continue having a friendly relationship with him. The rest of the musicians that took part in the recording, they are all close friends of ours. For this our first recording we wanted to create a comfortable working atmosphere, that is the reason why we chose to surround ourselves with good friends.
The band has played concerts alongside Dark Tranquillity, Swallow the Sun, Draconian and To/Die/For, among others. What is your best memory from a Tears of Martyr gig?
All of our concerts are special to me but if I have to pick just one I would choose our first gig in Madrid. It wasn't actually an important concert but I was really excited to feel that somehow we were starting to fulfill our dreams.
I can't resist going completely off-topic, so here goes:

Favourite vice?
Chocolate!! Believe when I tell you I can't resist the temptation when it is about chocolate!!
Most embarrassing album/artist in your collection?
I actually listen to a wide variety of music styles. If you could take a closer look to my CD collection you could find from metal to classical music, pop music, jazz, chill out, etc… But none to feel embarrassed of.
Cartoons, yes or no?
Definitely yes: Simpsons, Futurama, Family Guy, American Dad but also older ones like Maya the Bee, The Pink Panther and an old French cartoon TV production called "Once upon a time…". It is a compilation of cartoons that covered issues like the human body, history, the outer space or science. I really liked this one when I was a child.
Any pets?
A dog called Ozzy
If you were not a musician, what would you want to be?
Historiographer

What are Tears of Martyr's plans for 2010?
Our short term plan is to continue with the promotion of "Entrance" inside and outside of Spain. There are as well some concert dates to be confirmed and shortly our new web will be finished containing many surprises.

Thank you, Berenice, it's been a pleasure talking with you. Do you have any last words for your fans?
I would like to thank you, Robin, for giving me this opportunity to share with you and the Femme Metal readers pieces of my own world, where Tears of Martyr is included. I also would like to invite everyone to join our group on Facebook and, to keep up with current events related to the band, visit our web or MySpace.
Links
MySpace * Facebook * Twitter * Site
Latest Multimedia

Interview by Connie Bach
Hailing from Madrid, Crownless carries a sound all its own, which is tough to describe. With its mix of Nane's clean, strong vocals, combined with Sergio Mena's sinister growls offers a lovely contrast. "Lost Inside" is from their self-titled album, "Dark Evolution", that will be released next year and is on the Femme Metal compilation coming out in October.
Hi, Vanessa. We are so glad Crownless decided to contribute to "Beauty and Brutality". I'm just curious, where did the name Nane come from?
Hi! Nane is a nickname that a good friend of mine started using about eight years ago to call me. It seems that Nane is the way some Spanish children say Vane and Vane comes from Vanessa. My friend thought I was like a child and I use that name since then.
Though this is Crownless's first release under that name, can you tell me about the band's creation and history under the name Anzeray?
Well, this is a question that people usually ask. Three of the actual members of Crownless were in Anzeray but that's the only relation between Crownless and that band. I mean, we had great times and we did great music together but Crownless is a new band, with a new musical approach and a different concept not an Anzeray's evolution. When Anzeray broke up, time went by and one day Jorge Escudero phoned me and told me "Hey, I'm thinking in a new band, would you join me ?" and the rest is well known.
What forced so drastic a line-up change in 2006 and why the name Crownless?
The new line-up is a consequence of all we were talking about before… CrownLess is a new band, not an evolution so, in fact, there have been no line-up changes by now. Why CrownLess? There was a list with… about ten different possible names for the band. All of them had some kind of symbolism about our feelings or about our purposes. Crownless is a very representative name for a band that doesn't believe in kingdoms. We voted and Crownless won.
Where did you learn your vocal skills? What is it like, working with a duel vocalist like Sergio?
My mother taught me the basics when I was a child but after that I continued learning by myself. I really can't remember my life without singing. I have had lots of microphones since I was a child. I loved singing, everyday and everywhere. Sergio is a very talented singer. I really love the sound of his voice. And I think that we are a great vocal couple. The contrast between our voices and the different ways we can sing make us very versatile and, I think, attractive. I'm very proud of that.
Nane, what is your personal history with the band, and the metal music scene?
I'm very very VERY shy, haha. Even though I love singing, I never thought about being part of a band until I was about twenty years old. I started singing in a cover band called Gargoyle. We played greatest hits from bands such as Stratovarius, Skid Row or even Manowar! Haha. It was nice but Manowar really wasn't my style XD. After that, some years after, I joined Anzeray. That was the time when I started learning classical technique by myself. With work, I managed to combine this operatic approach with my clean vocal skills. Then Anzeray broke up and I started again the "looking-for-a band" process…and finally, CrownLess came into my life. Before Gargoyle I sang and played guitar for friends, but never imagined something like this.
Turning now to the album, how was it "born" and how did the creative process go?
Well, the song "Lost Inside" is an exclusive version for the compilation, so the album is not released yet. We are at the studio at the moment. There is, however, a demo cd that was released in 2008 named "CrownLess". That was our "introduction" to the metal scene. The creative process for the album is being hard, because we want to give our best. Anyway, we are proud and we are sure you'll like the results. We're looking forward to showing it to the world.
How does the process of building an album and a following, change the relationships within a band?
I think all this process is giving us the possibility of knowing thoroughly the rest of the band members. We talk a lot and we spent a great part of our time together, recording, creating, changing lines… working to make a dream come true. I've always said bands are like a love relationship and an album is the fruit of that union.
As far as the song "Lost Inside" goes, what is the concept behind it? How does it relate to the rest of the album?
"Lost Inside" talks about anguish and death, about those nights in which you cannot sleep, and then, you start thinking about your existence. We live everyday with death around us but we decide to ignore it because that makes live something easier to deal with. "Lost Inside" talks about the moment when someone realizes that cannot ignore that anguish. I think the album will be a dark album in almost every aspect: composition, arrangements, lyrics, album art… Anyway death is something that comes to us as life does, so there will be moments for hope as well.
How do your songs relate to your life, and the lives of the band members?
Music is an expression of the soul. When I'm sad, I always sing. That always comforts me and helps me to go on. Also when I'm angry, when I'm in love or when I'm happy. I think in CrownLess we all need music and we have lots of things to say to the world, as our listeners do.
Metal fans can be quite crazy. How do you like to connect with them?
We love them! We are logged at CrownLess Official Forum and we chat there with fans. Also we try to meet and chat with them on gigs. When I'm on stage, singing, I love to see their faces and notice that they are feeling what I'm saying the same way I do. There's no money to pay what they can make you feel only with their eyes. It's awesome.
What is the most memorable thing a fan has done to show support? What was your reaction?
They have done t-shirts, play cards, they've come to gigs far away from their cities…but the most hilarious thing I remember now was when they bought some horrible underwear, wrote on them support and love phrases and threw them to us when we were on stage. We couldn't believe it. What a moment! Hahaha.
What's the craziest thing that has ever happened on tour?
We have played with some important bands such as Deathstars, Sonic Syndicate, UDO… so we have some anecdotes to tell. But let me tell you one that made me feel really happy: when we played with Sonic Syndicate, we didn't know that their producer was Jonas Kjellgren (Scar Symmetry). By chance, on that gig, we played "The Illusionist", a Scar Symmetry cover. When we were playing the song, some Sonic Syndicate band members liked our cover and phoned Jonas to tell him that we were playing one of his tunes, in fact, he listened to us performing the song! Later this Sonic Syndicate guys told us that he was very happy and grateful to us! Amazing!
Can you give me a sense of what life is like inside a tour bus?
Oh, I'd love to be inside a tour bus for months! That would be a great signal! In fact, life together in a reduced space is not easy but there are always great moments to remember. It's your family on the road.
To bring it home, I'd like to give you, and each of the other members of
Crownless
, a chance to offer the world anything you want to say. This for everyone to reply to in their own words and feel free to be creative, imaginative and honest.
First of all, thanks to you for this kind interview. We would like to thank Carrie Sharp and all the Femme Metal staff. You've counted on CrownLess for this compilation and we are very, very proud and grateful. Thank you. To the rest of the world, check out this compilation!, check out CrownLess music! And check out www.crownless.es!.We are waiting for you there! Nane
Thanks,
Nane
, for taking the time to answer and thanks for
Crownless
's contribution to
"Beauty and Brutality"
.
It has been a really nice and interesting interview. It has been a pleasure.Thank you.
Links
Label : Lausan Records
Review by Tony Cannella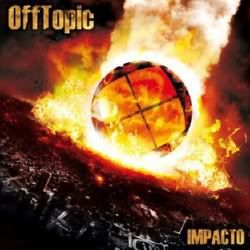 Spain's OffTopic has existed since 2006. Following up their impressive "Backstage" EP, OffTopic releases their fourth full-length album titled "Impacto". Unlike their previous EP however, OffTopic has returned to singing in their native Spanish language and the result is very good as the album cruises along on the strength of some truly powerful classic metal style guitar riffs and the ever more assured vocals of Rosa Ibáñez. With the powerhouse opening riffs of "Cuarto Sello", "Impacto" simply explodes with an intense, ferocious brand of heavy metal. The bombastic headbanging riffs keep coming with the thrashy "Fuara de Si". The next track – and my favorite – "Siempre" is more of a mid-tempo song that has a great, melodic vibe to it. I simply love the vocals of Rosa Ibáñez as she continues to grow in confidence and ability and does just an amazing job throughout "Impacto". The next track "El Elagido" has sort of an AC/DC style vibe at the start – in fact the opening kind of reminded me of "Whole Lotta Rosie". "El Elagido" is a bit of a departure from the rest of the material but it is no less effective. The beautiful power ballad "Albrázame" is another one that grabbed my attention. Other highlights include: "Pierde el Control", "Iberia" and "Sigo Viva". With "Impacto", OffTopic continues to grow and emerge into one of Spain's best metal bands.
Rating – 87/100
Tracklist
Cuarto Sello

Fuara De Si

Siempre

El Elagido

Abrázame

Pierde el Control

No Hay Nada

Intro

Iberia

Veinte Años

El Caminante

Hoy Tocas Para Mi

Más

Sigo Viva
Line Up
Rosa Ibáñez – Vocals
Toni Sánchez-Gil – Lead & Rhythm Guitars
José Luis López – Bass

Cristian Millán – Drums
Links
MySpace * ReverbNation * Facebook * Twitter * Site
Independent Release
Review by Tony Cannella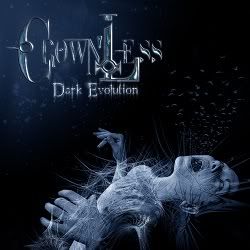 From Spain, Crownless plays a dark brand of symphonic power metal. The band was formed in 2006 and released their initial demo in 2008. In 2011 they released their debut full-length "Dark Evolution", and here it is. Crownless is fronted by the strong soaring female vocals of Vanessa Nane and sometimes male vocals are provided by bassist Sergio Mena."Lost Inside" opens things up and the vocal dynamics between the two singers is well evident, Vanessa has a very diverse voice and Sergio has a strong clean vocal style that meshes well with Vanessa's. "Dark Embrace" is next and Vanessa shows her ability to sing in a semi-operatic style as well as more of a power metal technique. Next is "Ravens in the Storm", this song is one of my favorites and it is just a darkly beautiful tune. "Omen" is next and features guest vocals from Raul of the band Cripta. Other highlights include: "Fading Dreams", "Silent Tears" and "Freak Garden". For the track "Thorns" Crownless are joined by Mats Levén (ex-Yngwie Malmsteen, Therion, At Vance, among others). This is one of the heavier songs here and Mats' presence helps propel this one into being one of the better tracks on "Dark Evolution". "Dark Evolution" is concluded by the hugely epic 13-minute "Mirrors". The song is enormous in scope and is divided into five parts: "Eyes of Sand", "Not Me", "Shards", "Solitude" and "Eyes of Sand (reprise)". This is just a great artistic statement for a young band to make and a great way to close the album. There are a lot of really cool power metal bands emerging these days. I don't think I have ever seen such quality associated with any one genre in metal. There are some bands who are rapidly climbing to the top of the genre, and with "Dark Evolution", Crownless is one such band.
Rating – 88/100
Tracklist
Lost Inside

Dark Embrace

Ravens in the Storm

Omen

Fading Dreams

Ataraxia

Silent Tears

Thorns

Freak Garden

Mirrors
Line Up
Vanessa Nane Ramirez – Vocals

Jorge Escudero – Guitars

Sergio Mena – Bass & Vocals

Pablo Sanchez – Keyboards

Pablo Bazan – Drums
Links
6 color styles available:

Style switcher only on this demo version. Theme styles can be changed from Options page.