Browsing articles tagged with " metal"
Interview by Peach Galea
Kobra and the Lotus is a Canadian heavy metal band formed in 2009 by lead vocalist and songwriter Kobra Paige and  we have been lucky enough to catch the Priestess herself for an interview here at Femme Metal Webzine during their recent UK tour and ask about their upcoming EP "Words of the Prophet" . On top of this I'd would like to thank Kobra for taking the time out of your busy schedule for this interview. I have been a fan of Kobra and the Lotus for a few years and would like to congratulate her on the art and professionalism shown within each album to date.
Let's start with a few questions about your latest video for "Black Velvet". What lead you to make the decision to do a cover of Alannah Myles classic song "Black Velvet"?
Well, Alannah Myles has been a very big mentor. In my life actually, I played a Beatles tribute with her when I was 19 and she was very encouraging. I love her stuff, I love what she did in her heyday especially and I loved "Black Velvet", I was a huge fan of it. When we mixed the first album she called me in the studio just to say "Hey, carry the torch well for the next generation". I really appreciated it, I think she is underrated and I really wanted to bring her around again to the world. Continue reading »
Label: FA/Bertus
Review by Peach Galea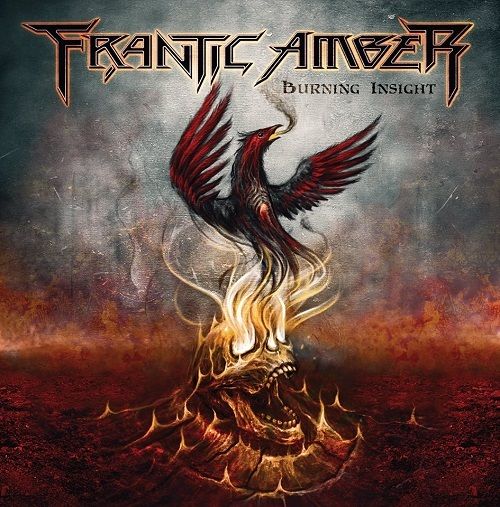 Frantic Amber is a international metal band based in Stockholm, Sweden. This melodic death metal band have originated from four different countries (Sweden, Denmark, Japan and Columbia) producing a sound that is intense and packed with tasty heavy riffs and soaring melodies that are sweetly met with the aggressive vocal chords of Elizabeth.
The album "Burning Insight" begins with an intro track of which in itself has some beautiful twists and turns to bring you into the album's title-track. Lyrically this album has very powerful meaning behind it as each track gives you a deeper insight into the band itself and the art they create together. You will love this band in their entirety if you follow band such as Arch Enemy and At the Gates. Continue reading »
Interview by Tony Cannella
"Lucifer I"
is the title of the debut album from Lucifer. The album has certainly been one of my top highlights for 2015 and is a must for fans of classic doom metal and classic 70s rock and metal. It really does capture the magic of that classic musical era while still keeping their foot firmly planted in the present. Recently we had a chance to catch up with vocalist Johanna Sadonis (formerly of The Oath) to talk about what is going on in the world of Lucifer.
First of all welcome to Femme Metal and congratulations on a great debut album.?Speaking of your debut… "Lucifer I" was released this past June. How would you describe it?
Thank you. "Lucifer I" is taking a bow to our influences, the great ones of the 70s entwined with our love for classic doom.
The song that really stood out for me was "A Grave For Each One of Us". It really is a beautiful song with some meaningful lyrics. What can you tell us about that song? Continue reading »
Label: Season of Mist
Review by Warren Mayocchi
Funeral doom is not a metal genre to which I typically listen, and that is what has been created by Shape of Despair. Perhaps the dark, slow and heavy genre is an acquired taste, or maybe it requires the right mood – but most music sounds wrong if you are not in a responsive personal place. On "Monotony Fields" the band have created an album of cinematic dirge. To be clear, that was a compliment. There are many elements contributing to the expansive music created by the band which keep the sound thoughtful even without any lead vocal. This is clearly demonstrated on the opening track -  "Reaching the Innermost" – where we only hear the sound of the band for the first 5 minutes after which the lead vocal begins. Continue reading »
Label: Rise Above Records
Review by Warren Mayocchi
Big riff laden heavy seventies sound. This album is awesome. I love listening to bands that I have not heard from before, will it be a sonic surprise? At best the discovery of new artists is an experience of absolute joy. Lucifer have pleased me greatly with what they have done on their debut album. They have called their first album, in what may be a small tribute to Led Zeppelin, "Lucifer I". On their Facebook page the band give themselves a genre of "Heavy Magic Rock", in other places they are labeled as heavy/doom rock. I think the former is more appropriate, though there is a sense of doom in the band's name and some of their lyrical imagery. There is also a haunting element to the vocal style of their lead singer Johanna Sadonis, but together the band are simply playing up a musical masterpiece. However you classify them, this is a band that plays heavy rock extremely well. So compliments to Dino Gollnick on bass and Andrew Prestidge on drums with Garry Jennings co-songwriter/studio guitarist. Continue reading »
6 color styles available:

Style switcher only on this demo version. Theme styles can be changed from Options page.