Browsing articles tagged with " metal"
Interview by Tony Cannella
The German metal band Xandria are currently on tour in North America with Sonata Arctica and Delain. This is one of the better tours out there. On a sweltering late summer afternoon I was able to sit down to talk to new front lady Dianne van Giersbergen, about her first recording experience with Xandria, her inaugural U.S. tour and… pancakes. It was an enjoyable experience and this is what she had to say…
First off, please tell us a little about the new album "Sacrificium" and how would you describe it to anyone who may not have heard it?
It's a symphonic metal album of course. It tells many tales, some of them are really about how to sacrifice yourself for a loved one, for a goal you believe in or for a better life. That when you die, the idea doesn't die with you. That's really the vision we had in mind. In the end, not all of the songs are about this. I must also say that when I joined Xandria all of the songs were already written, so the vision is way more with the guys. I share their view completely, but I don't know exactly how everything originated. Continue reading »
Live review  by Abigail Henry
On the 10th May many fans, united by their love and support for German band Xandria, travelled to attend the annual Dames of Darkness Festival held at The Robin 2 in Bilston, England. Armed with a new album and a new singer, the audience eagerly anticipated Xandria's return to the stage.
The atmosphere was fantastic. Beers were poured, food was served and everyone had gathered to the stage to watch great performers own their set and audience. When Jaded Star had finished their last song, in which I was still in awe at, mesmerized by Maxi Nil's incredible talent and charisma, I couldn't help but feel the excitement knowing Xandria were soon to begin. Having been very familiar with their previous work with Lisa Middlehauve and Manuela Kraller, I did not know what to expect from Ex-Libris singer Dianne Van Giersbergen.
The second the music began the audience in unison cheered and displayed their happiness at the sight of the Phillip, Marco, Steve and Gerit taking position, but there was still one person missing. Continue reading »
Interview by Michelle Henriquez
Recently we've had the opportunity to interview Witch Mountain singer Uta Plotkin while they were on a European tour. For those of you who don't know Witch Mountain, be prepared to hear something very different. Witch Mountain is a mix of doom and blues with songs about horror stories, life experiences and dreams. The band founded in Portland, Oregon, will soon be releasing a new album, "Mobile of Angels", in September 2014. Witch Mountain is in many ways a very unique band. Witch Mountain is a Doom Metal band with clean female vocals and it therefore brings another feel to doom metal. In this way, it differs from traditional doom metal bands that have mainly male grunts. Continue reading »
Independent Release
Review by Tony Cannella
Clocking in at 37-minutes, "Haven, Lost" the debut from Italy's HavenLost lies somewhere between an EP and a full-length. Whatever the case, this symphonic metal band was formed in 2010 and this debut was released in 2013.
In addition to symphonic metal, the band throws in other influences such as Gothic metal and classic heavy metal. The three singing styles on display are a male gothic sounding clean voice (similar to Vintersorg), screaming male vocals and operatic female vocals. "Carillon" is a strong opener and focuses more on the clean male and female vocals. The main riff has a classic metal vibe to it and the violins give the song a mournful-ness to it. The piano intro to the next song "Haven, Lost" creates a melancholic vibe before the song picks up in tempo, before… coming to a halt with rain and thunder sound effects and the melancholy returns. Continue reading »
Independent Release
Review by Tony Cannella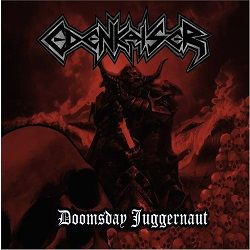 Edenkaiser is a "Thrashened" Black Metal band from Spain. The band formed in 2009 and has just issued their debut EP "Doomsday Juggernaut". After the opening intro "Obsidian", "Enter Mephisto" kicks in and comes on fast, loud, heavy, blasting and just freakin' insane. Lianne's vocals are wickedly brutal and way over-the-top (and I mean that in a good way). Next is "Inner Kingdom" which continues the brutality of the previous track but also mixing in tempo changes and rain sound effects which succeeds in giving it an eerie feeling. Musically the band comes across like a juggernaut. "A Jewel in My Skull" is a pure intensity and heaviness. The final two songs "Kill For the Crown" and a cover of the Vomitory song "Inferno" brings things to a fittingly vicious conclusion. I loved the simplicity of the production. Continue reading »
6 color styles available:

Style switcher only on this demo version. Theme styles can be changed from Options page.
Archives