Browsing articles tagged with " metal"
Interview by Ary R.
Third album for the Spanish act Diabulus In Musica that is going to introduce to the fans the brand new creature, "Argia", a record which shows us how a band can gain a new lease of life, with a stronger dedication and which wants to show the world that they're not a band like all the others we know. Today we host the beautiful frontman of this band, Zuberoa Aznárez, who tells us in this short but intense interview something more about the album, about the new lineup and the future goals for this Spanish combo.
Hi Zuberoa and welcome back to FM. "Argia" is the title of this brand new record. Would you mind to explain, first of all, the meaning of the album title and to tell us the differences we can find in this album compared to the previous one?
Hi! Thanks! :) "Argia" means "Light" or "clear" in our regional language, Basque. This title somehow reflects how we feel now. Gorka and me had to start from scratch when the other band-members left. It was very hard at the beginning, but we both alone managed to write new songs, find new band-members and play some live shows in only one year. We saw the light in our path again and we had a clear view that we had to continue making music, just because we love it so much that we cannot live without it. Continue reading »
Label: Napalm Records
Review by Tony Cannella
When it was announced that the long running German symphonic metal band Xandria parted ways with vocalist Manuela Kraller after just one album ("Neverworld's End") it came as a huge shock. What would this mean for one of the more durable and consistent bands in the symphonic metal scene? Well, the band has enlisted Ex Libris vocalist Dianne van Giersbergen and has released a new album ("Sacrificium"), and while it may be debatable whether or not this is their best work, it certainly is an album that sees the band pulling out all the stops.
The opening song "Sacrificium" lets us know what we are in for, straight away. At over 10-minutes it is interesting that they chose to begin the album with an epic of this nature. Dianne van Giersbergen's vocals are huge and wickedly operatic. Continue reading »
Label: Napalm Records
Review by Tony Cannella
From Russia, Arkona has already made a heavy footprint in the pagan/folk metal genre. Now they return with their 7th album (yes, I know, It's hard to believe) "Yav". The thing I have always loved about Arkona is the ability to mix in elements of thrash, black metal and traditional metal along with the pagan and folk influences. In Maria "Masha Scream" Arkhipova the band can boast a top-notch front lady – a fact she proves again and again on "Yav".
Even though "Yav" features only 9-songs, it clocks in at a whopping 68-minute! There is plenty of cool epic stuff here, like the 9-minute opener "Zarozhdeni". The next track "Na Strazhe Novyh Let" shows off the diversity of the band and is one of the best songs they've ever done. Continue reading »
質問文翻訳 Yoshiaki Miyasaka
Voice of Divine Childrenは、いつ誕生したのですか?
さぁ?!(笑) 

私が加入したのは結成後だから分からないけれど、
2年前くらいかな。
VODCに加入する前から、Asamiさんは既にGuardian Hackerのシンガーとして知られていました。このバンドへは、どのようにして加入が決まったのでしょう? Continue reading »
Independent Release
Review by Tony Cannella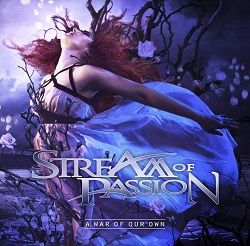 Originally starting out in 2005 as an Arjen Lucassen project, the band Stream of Passion has evolved into so much more. With their 4th album, "A War of Our Own" that evolution continues…
"A War of Our Own" is a 13-song, 1 hour musical journey that showcases what fans have grown to love about this symphonic/gothic metal band. Not the least of which are the dramatic and beautiful vocals of Marcela Bovio. Each song is meticulously crafted and is nice additions to the growing SOP catalogue. The opening track "Monster" is like a monster out of the gate. The song features some huge riffs at the beginning but shifts tempos throughout and is just plain stunning – and the best song. You have to love Marcela's voice; she's much underrated, in my opinion. Continue reading »
6 color styles available:

Style switcher only on this demo version. Theme styles can be changed from Options page.