Browsing articles tagged with " metal"
Label: Napalm Records
Review by Tony Cannella
In addition to her main gig with Leaves' Eyes, Liv Kristine has forged a prolific solo career for herself in recent years. This actually began in 1998 with her debut solo effort "Deus Ex Machina", but it wasn't until 2006's "Enter My Religion" that she began to regularly release her solo material. In the past, her solo work has had a more organic, rock and even a pop-ish feel to them. With her newest release "Vervain" Liv has gone in a heavier direction, incorporating all of the elements of her previous works whilst adding heavier, doomy guitars and a gothic vibe to the songs.
"Vervain" features 10-songs and 43-minutes worth of music and I believe this is Liv's most focused solo material to date. "My Wilderness" is a solid opening track. It is an up-tempo song with a great opening riff that just pounds away. Continue reading »
Independent Release
Review by Tony Cannella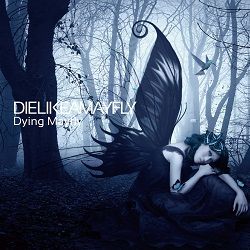 Dying Like A Mayfly is a Gothic metal band from Japan. Their debut EP is entitled, "Dying Mayfly". The mixing of gothic metal and heavy pop of "Dying Mayfly" gets us off to a fast start. The eerie – almost horror movie like – "Whiteberry Shining Cicada" is next and is my favorite song. The vibe of this one is ominous and the sweet vocals of Rosiel make it even more so. Next is "At Sea" and this proves to another strong track. The final song is the ambience fueled "Everlasting Requiem".
Die Like A Mayfly are interesting in the way that they combine Gothic metal with almost a heavy pop sound.
There are many different elements at work here and that contributes in making "Dying Mayfly" a worthwhile listen. Continue reading »
Independent Release
Review by Tony Cannella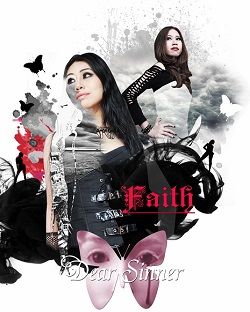 Dear Sinner is a gothic metal band from Thailand. They formed in 2000 but have only been known as Dear Sinner since 2007. They started out playing a death metal style before transitioning into more of a sympho-gothic, romantic style when the band changed their name. In 2010 Dear Sinner released their debut album "Sin", and followed that up with the EP "Dark to Light". Now, the band returns with album number two, "Faith".
Dear Sinner features two female singers, although I will admit that it is hard to differentiate the two. Their style is ultra-operatic and some might feel that they are a bit over-the-top, suffice it to say, some may view the vocals as an acquired taste – but there can be no doubt that the two vocalists possess a huge amount of talent. Musically, I was instantly drawn into the intricately classical style of their compositions. The intro track "Voiceless Angel" segues into the bombastic opener "Crimson Moon". Continue reading »
Independent Release
Review by Tony Cannella
From Indonesia, Blodwen are not a new band to emerge on to the Femme Metal Genre. They have actually been in existence for 10-years. They released their debut album in 2010 and followed that with a number of EPs and singles. This particular EP "Requiem for Odette" is not a new release. Instead, it is a digital only re-release to celebrate the bands 10th anniversary and it can be downloaded at Band Camp.
Blodwen are a very high caliber symphonic metal band and lead vocalist Bernice Nikki is one of the more talented operatic front women on the scene. The band fuses classically inspired compositions to go along with their bombastic metal sound. "Requiem for Odette" begins and ends this 20-minute EP of the same name. Continue reading »
Label: Victory Records
Review by Tony Cannella
Sweden's Sister Sin is one hell of an in-your-face, confrontational band. With their 5th album "Black Lotus" this Gothenburg based has really upped the ante and produced – what I believe to be – their best album.
Even though Sister Sin comes at you head on, that does not mean that they don't have a sense of humor. Just listen to the lyrics to one of the best songs "Chaos Royale", 'I'll put an end to all music that sucks, according to my flawless taste', that is just a sampling but throughout the record lead vocalist Liv spits out the lyrics with all the subtlety of a machine gun. Musically, the band continues to have that classic Motorhead vibe. Another favorite is "Count Me Out" which has a great slow build before developing into a grinding track with a great, anthemic chorus. Other highlights include: "Au Revoir", "Desert Queen", "Stones Thrown" and "Ruled By None". Continue reading »
6 color styles available:

Style switcher only on this demo version. Theme styles can be changed from Options page.
Archives