Browsing articles tagged with " metal"
Label: Ferocity Records
Review by Tony Cannella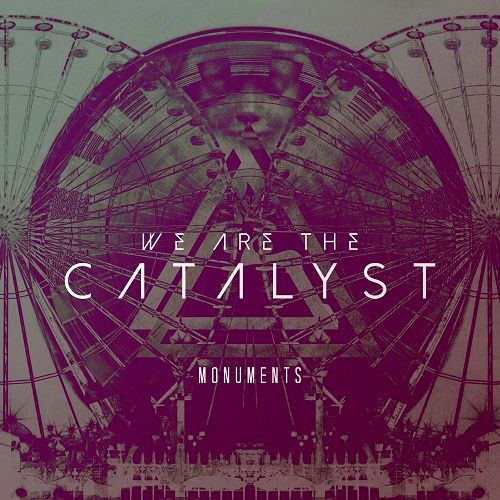 We Are the Catalyst is an Alternative metal duo from Sweden. Catrin Feymark is the female vocalist and she is joined by male vocalist and multi-instrumentalist Kenny Boufadene. Both are from the Swedish band One Without – who were a pretty awesome band in their own right – and has joined forces to release a debut album called "Monuments". The fact that these two are from One Without definitely piqued my interest.
We Are the Catalyst are certainly one talented duo. Catrin Feymark is the main vocalist but Kenny Boufadene chimes in from time to time with his rough vocal delivery. It really is an awesome combination. The opener is "Fight for Air" which features some killer vocal harmonies and a bit of a Paramore vibe – only heavier. Continue reading »
Label: Underground Symphony
Review by Tony Cannella
Hailing from Italy, Eternal Silence is a Symphonic Metal band. They formed in 2008 and in 2010 released the EP "Darkness and Regret". In 2013 they issued their debut full-length "Raw Poetry" which is an epic piece of symphonic metal with cinematic influence.
"Raw Poetry" begins with a 1 ½ minute cinematic type intro that sets the mood as it segues into "The Day of Regret". I would say that Nightwish probably serves as an influence to Eternal Silence, but that is not to say that they are a clone of the popular Finnish band – there are some similarities but Eternal Silence does enough to differentiate themselves from Nightwish. "The Day of Regret" begins with male vocals provided by guitarist Alberto Cassina. Continue reading »

Interview by Arianna G.
In a busy environment which is the current metal scene, SAVN is the revelation band of 2014. Norwegian and dedicated to the gothic and folk melodies and led by the blonde vocalist Carmen Elise Espenæs, Stig Johansen and Anders Thue (ex-The Sins of Thy Beloved), SAVN's debut album gained positive acclaims from all over the world in a very short time. For the occasion, we exchanged a few chats with the singer of this combo and, in this in-depth interview, she tells us something about this new musical experience, without forgetting her "mother-band", Midnattsol, anticipating some juicy news as well.
Savn is a band formed by Stig and Anders. After so many years in which there were so many rumours concerning their band, The Sins of Thy Beloved, they've decided to start a new music project. Would you like to give a short biography of this new band for those people who are still not familiar with you?
Yes, of course! It was actually Stig that started the band, he felt that he needed something new in his life, something new in the music front, because nothing happened with The Sins of Thy Beloved, it was too silent for him, Continue reading »
Independent Release
Review by Tony Cannella
The Virginia based progressive rock/metal band Brave began their career in 1996 under the name Arise From Thorns in 1997 they released their debut demo followed by a self-titled full-length in 1998 and then the album "Before an Audience of Stars" followed a year later before the band changed their name to Brave. Under this new moniker the band has gone on to release two EPs, two full-lengths and a compilation, but has not released any new material since 2008, until now. Which brings us to their new 3-song single "Surrounds Me".
The 15-minute disc begins with "Surrounds Me". Michelle Schrotz has a fantastic voice. Fans of While Heaven Wept will know her as their keyboardist but with Brave she gets to prove what a top flight vocalist she is. "Surrounds Me" has some cool tempo changes and a pretty heavy riff as well as a great solo to finish the song. Continue reading »
Independent Release
Review by Tony Cannella
From Chile, Edenial returns with their second full-length album. Their debut "From the End" was released in 2010 and now they present their sophomore effort. The album has been mastered by the legendary Ted Jensen at Sterling Sound in New York City. The band mixes an eclectic brew of metal which is hard to define; the bands influences range from power metal to thrash metal to progressive metal and more. With all due respect to "From the End", "Innerpretations" definitely represents a step forward for Edenial.
The power thrash of the opener "Soul Echo" is an excellent way to begin things. Next is "Wrath" which begins with a doomy rapid fire guitar riff as the song goes off into some intricate technical directions. "Red Rum" has a great big melodic metal sound. Continue reading »
6 color styles available:

Style switcher only on this demo version. Theme styles can be changed from Options page.
Archives
Calendar