Browsing articles tagged with " mortis"
Label: Nuclear Blast
Review by Davide Torresan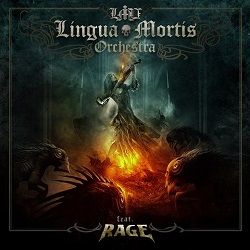 Lingua Mortis Orchestra is the Rage's side-project of Peter "Peavy" Wagner. It is already happened in the past that the band decided to blend their heavy metal with the orchestrations of a real orchestra. In fact albums like "Lingua Mortis", "XIII" and "Ghosts" have already symphonic sonorities. The collaboration with the orchestra continued and for this reason it has been founded the project Lingua Mortis Orchestra. Their first album, "LMO", is the work of all the members of Rage accompanied by 2 orchestras, a German and a Spanish one with a total of more than 100 elements. And it doesn't end here. The family of Lingua Mortis Orchestra includes also 2 female presences: Jeannette Marchewka and the soprano singer Dana Harnge. Continue reading »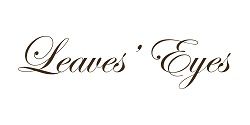 Interview by Ed MacLaren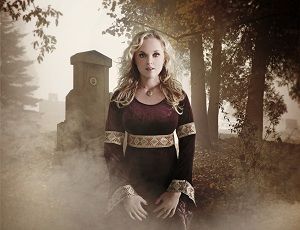 In the European metal scene, Liv Kristine is an icon. From her years with the seminal gothic metal band Theatre of Tragedy to her current success with Leaves' Eyes, she is the archetype to which all female metal singers are compared and measured against. With their fourth full-length album, "Meredead", Leaves' Eyes have created their magnum opus – a brilliant fusion of music, melody, rhythm and language that transcends categorization and redefines the definition of metal. After finishing a spring tour with Midnattsol and Tarja, Liv took some time to talk with Femme Metal about her creative process and the creation of "Meredead".
Since our last interview for your solo album, "Skintight", you've returned once again with your fourth Leaves' Eyes album – the brilliant
"Meredead"
. Could you actually get any busier without having to clone yourself?
(Laughs) True, we've been very busy the last six years! However, I was born with a hyperactive artistic mind, so being creative – composing, writing lyrics, recording and performing – is something I really enjoy doing. It's all a part of me and experience has made me become the person and artist I am.
Concerning our latest production, we needed about one and a half years for the complete production of "Meredead", which is only possible because we do have our own studio – Mastersound Studio. The composing process went overwhelmingly fast. It was one great pleasure writing and recording the album together with Thorsten and Alex. We actually just arrived back from tour, and I'm now looking forward to further shows and tours. In April we toured with my sister Carmen's band Midnattsol, and then in May we joined Tarja. Wow! Both tours were full of magic moments when the ladies got together! Busy, for sure, but very happy!
"Meredead" sounds fantastic – a full, rich musical experience from beginning to end. It has everything fans love about the band but expands the Leaves' Eyes sound in some interesting ways. With each album your music becomes more progressively intricate and layered – complex and elaborate. Was "Meredead" a deliberate direction or an organic outgrowth of the writing and recording process?

I'd say it was an organic outgrowth of the process. We just started composing with an open mind. "Meredead" is our fourth album, and in my opinion there is no need to reduce ourselves to a certain style. The artistic development is the basic energy for the survival of an artist, and art as such. The press, fans and friends say that "Meredead" is "the most diverse, emotional and best-sounding production" by Leaves' Eyes so far, moreover, "Leaves' Eyes have created their own genre". Believe me, this warms my heart! We never go with the commercial flow; we only go with the creative flow of the band! I prefer not to force Leaves' Eyes into a specific already settled musical genre. I would rather say that Leaves' Eyes' music combines elements of gothic metal, classical music, folk music, with history and mythology.
You, Alexander Krull and Thorsten Bauer are the core of the band. How would you describe your working relationship – the role each of you plays in the band?

True, Alexander, Thorsten and I are the songwriting and production team. Most of the time, music comes first, then vocal lines and words and then we work even more on the instruments until the three of us have a good feeling about it. Thorsten is our main composer, whereas words, concept and vocal lines are my area. Alexander is our producer meaning he's the person in the band that gets only half of the sleep compared to Thorsten and myself. There is always a strict deadline, there a tons of different instruments in our music to take care of in the mix. Everything is recorded live in our studio except for the Lingua Mortis Orchestra from Minsk. Moreover, Alex is a perfectionist. I am really happy my husband didn't suffer from a heart-attack yet – he's incredible!
Seeing that "Skintight" was such a departure from your band material, did it take you and the guys some time to switch gears and get into a Leaves' Eyes groove for recording the new album?
No, not at all. We compose and record in two different recording rooms. However, normally there is only one production going on at the time. Anyway, the mental "switch" is no problem at all. After all these years, doing everything by ourselves, there are enough reasons to call us professionals. I know very well that I'm surrounded by first-class musicians.
You've also added some new members since "Njord". How are their contributions adding to the core trio?
The feeling within the band and between the band members has never ever been as positive, strong and inspiring as it is now since the latest line-up changes. That's utterly important for the existence and the creativity of the band. I am so, so proud of my guys! It's such a pleasure composing, recording and touring with them. We already knew Sander van der Meer and Roland Navratil for a long time before they joined the band. Sander replaced Matze on guitars, who quit because of family growth, whereas Roland replaced Chris Antonopoulus, who had different plans for his future. J.B. is our session player on bass, joining in after Alla Fedynitsch decided to pay more attention to her 9 to 5 job. After joining in, Sander and Roland were immediately members of the Leaves' Eyes family. They travel from Holland and Austria to stay and work at Mastersound Studio as often as possible. We often hang out at my house after work, as I love cooking spicy Indian food and baking my special "Norwegian" cakes, moreover, sharing some bottles of wine.
"Meredead" integrates much more folk elements and melodies than previous albums. The pipes, fiddles, flutes – the more diverse instrumentation on
"Meredead"
really expands your musical palette.

For the production of "Meredead" it was highly important to us that each song had its own "face", individuality and perfect, crystal clear sound to strengthen the emotional effect. We just let the music inspire us to add new and interesting "spices" to our music, like pipes, the nyckelharpa – a Swedish folk instrument – the fiddle, cello, classical orchestra or the flute. That's what makes the album that diverse and exciting as you discover a different story, different instrumental combinations, different ways of singing even in various languages in each song.
"Meredead" or "deadly sea" is the underlying theme of the album. How does that concept of death by water thread through the songs on the album? It's an interesting contrast as water is also looked at as a giver of life.

The title is my own word-creation: To my grammatical knowledge, "Meredead" could mean 'dead by the sea', 'or the deadly sea'. Poetically, we could add some imagination and lyrical sound and say "Sea of Death". Secondly, the word "Meredead" sums up some of the themes rooted in my lyrics on the album. I grew up by the fjords, and I sense pure luck every time I return to my birth-place. Yes, you are so right, water is the giver of life. Again you find a whole palette of contrasts in our music, which has always been a feature for both Leaves' Eyes and Theatre of Tragedy, my ex-band, that actually founded the "beauty and the beast" concept in metal back in 1995.
Your lyrics generally look to the epic history of Norse literature and mythology for inspiration but on "Meredead" you've gravitated towards other cultures for inspiration. What was the genesis of that expanded outlook?
I just let the music itself inspire me. If I chose a theme from Nordic mythology, I would include Norwegian lyrics. It was very intimate to sing in my mother tongue Norwegian, it makes the lyrics even more emotional and personal. Singing in Old-English meant digging my nose in my Old-English grammar books once again, however, I am very interested in historical languages, which I also studied. I think that Old-English has a very special "sound" phonetically. You'll find Froeya, three-headed trolls, vampires, ghosts, witches, Vikings travelling on sea, Viking ladies mourning and of course many images from the Norwegian harsh weather and wild nature landscapes. I guess there is some homesickness towards Norway in my lyrics actually, it's more than obvious that I miss my home country.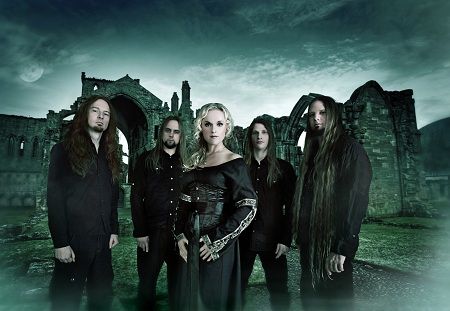 You've also expanding your use of language on "Meredead". You obviously spend a long time working on your lyrics and the meaning and symbolism of the songs. Given your affinity for language are you taking the opportunity to experiment with phonetics to provide a different listening experience?

Yes, phonetics is a great help for me. I studied Old-English, Gothic, Middle-High German, phonetics, phonology, language acquisition, next to Modern English and Modern German at the university in Stavanger, Norway, and then following up at the University of Stuttgart, Germany. Sometimes I use lyrics existing only in the form of a phonetic string of sounds. Such a phonetic sequence has an important meaning: it conveys an emotional state provoked by that particular sound of my singing. My acoustic aim is not the words and a certain thematic content; it is the sound and the emotional effect of it in the listening experience.
Despite the hardships and dangers that are such an integral part of those adventurous and epic stories, your lyrics give them a romantic perspective of love and commitment. This view seems very deeply rooted in your personality and creative muse.
Thank you very much, that's a wonderful compliment. I always had a very creative mind. My childhood was also highly creative. I grew up in the nature, far away from the city. I was lucky: I had the space, the room to breathe, to expand, use my intelligence, fantasize, to live out my dreams. There weren't that many play-mates around, however, I had a fantastic childhood. I still have no problems "activating" my free, creative artistic spirit and mind. It seems to be a never-ending process rooted in my genes. I really hope that I will always be creative!
Your vocals are more emotional and intimate than previous efforts. Is it the lyrical content that is bringing this out – your relationship to the material?
Absolutely. Singing in Norwegian, for-example, is very special, also having my sister, Carmen from Midnattsol, next to me, being my duet partner in some songs. Wonderful Maite Itoiz from Elfenthal also inspired me highly during the recording process of my vocals. I have truly learned a lot from her.
You have a number of excellent guest stars on "Meredead". Maite Itoiz and John Kelly (Elfenthal), Anette Guldbrandsen and Victor Smolski's Lingua Mortis Orchestra provide great performances – even your sister Carmen Elise Espenæs (Midnattsol) makes an appearance. What got them involved?
We met Victor Smolski some years ago at a festival with Leaves' Eyes and Rage in Greece. It's an honour to work with him and the Lingua Mortis Orchestra from Minsk. Victor is a genius, moreover, he understands the musical goals of Leaves' Eyes. I had wanted to sing a duet in Norwegian with my sister, Carmen, since our debut "Lovelorn"! It feels so good having her next to me. I think our voices complete each other perfectly. Some days ago, we had two visitors at our studio, Maite Itoiz and John Kelly from the band Elfenthal. I love their music, both of them are outstanding musicians and composers. There is a deep friendship between Elfenthal and Leaves' Eyes. It is my deepest wish to sing with Maite on the next Elfenthal album. Her voice is such an inspiration to me, and it was such an honour and pleasure for me to sing with both Maite and John on "Meredead". Anette is a long-time friend of mine, moreover, she studied music and singing. She had some brilliant ideas for the folk songs, and she has a unique voice.
With the epic concepts of your albums have you ever entertained the idea of creating a full-blown rock opera based on a Norse character and story with a number of supporting guest vocalists? It would almost seem like a natural evolution to your last three albums.

What a wonderful idea! This would be fantastic! Let's hope the universe hears this! I would love to do it. I have seen Elfenthal's "The Blue Elf's Dream" and I am stunned. What an amazing show. Maite Itoiz and John Kelly are outstanding composers, musicians and performers.
You've had much ongoing success in music appearing in two big bands – first Theatre of Tragedy and now Leaves' Eyes. Does success with Leaves' Eyes feel any different than what you achieved with Theatre of Tragedy?
I always wanted to become a singer. Singing is a part of my nature. When I was little, I thought everybody was able to understand music and control their vocal chords. The fact that my parents were interested in music – listening to it – plays an important role: I grew up with Black Sabbath, Deep Purple, Edvard Grieg and Tschaikowsky, and female singers like Enya, Madonna, Kate Bush, Abba, Tori Amos and Monserrat Caballe. From the very beginning, I've followed my musical instinct: I wanted to combine a romantic, female, angelic voice with powerful, impressive music. Then suddenly, when I was 18 years old, I found myself in the middle of writing music history with Theatre of Tragedy, being one of the founders of "gothic metal with female voices" and "the beauty and the beast concept"! I am first of all grateful to our fans and friends all over the world, who have been there for me throughout all these years! This feeling has remained the same – my gratefulness towards my fans. Being thrown out of Theatre of Tragedy was perhaps bad luck; however, sometimes bad luck leads to good luck. Today I have Leaves' Eyes; it's like having a family, next to my own family. For me two dreams have come true: I am a full-time singer, and I am a mother.
How do you manage such a busy career as well as being a parent? Do you have any advice for women in the business that are hoping to have children one day and still pursue a music career?
You need a good plan in your daily life, you need your own studio not far away from your home, moreover, a family who is there for you. My plan is strict however, and effective: when I work I am working my ass off; when my family is around and needs me, I am only there for my family, keeping our rituals. In between work and family I do a lot of sports, sauna and yoga, which is my way to recharge my battery if necessary. And then, from the business point of view, find the right people to support you, honest people. And speak out if you have an opinion. Money can be such an evil means to make you forget about your inner voice.

You've recently finished a tour with Midnattsol and Tarja. When do you hit the road again and where will your travels take you?
We do have a few festivals this summer, then hopefully a North American and an Asian tour, including India.
Your music is reaching more and more people internationally – you even toured India recently. How are you enjoying your progression towards becoming a truly global band?
There is this special feeling that gives me the energy and the inspiration to travel the world – I get caught up in every moment that I am able to share with my audience. Every performance is one process of giving, and receiving, I call it "exchange of positive energy" between the band and the audience. I really have to say that we do have fantastic fans. I am looking so much forward to every gig, and to meet our fans after the show!
(Famous) Last words?

Give a little bit love, and you'll get it back. My mother taught me that. Thank you, mother.
Photo Credit
Photos by Stefan Heilemann
Links
MySpace * Facebook * Twitter * Site
Latest Multimedia

Interview by Erwin van Dijk
An interview with Liv Kristine from Leaves' Eyes. This interview is all dedicated to the forthcoming album "Njord".
"Njord" is the third full length Leaves' Eyes album. (the other two were "Lovelorn" and "Vinland Saga").
I am absolutely happy and satisfied with the album. We've never worked this hard before with a production, but we've reached our goal. I would even say, we even went further than we thought was possible, technically seen. It has always been important to me that our sound and art is authentic, i.e. that you can hear from the very first tunes that this is Leaves' Eyes! We also want that our audience really get the feeling of being on a wonderful journey. I feel that our music needs a special well-written and interesting concept which is just as important as the sound, and "Njord" gives you all this.
"Vinland Saga" introduced the Viking elements in Leaves'Eyes. But "Njord" also seems to have some Irish themes, like the songs "Emerald Island" and "Irish Rain" . With "Njord" comes the EP "My Destiny", which contains besides the song "My Destiny" in two versons also an acoustic version of "Scarborough Fair" and two non album tracks.
"My Destiny" is a song you can easily "tune into". It's a good way to introduce the album (out 28.08.), although you will of course have less commercial songs on the record, too. On "My Destiny" is actually an EP, for the price of a single, with four non-album tracks, and one extra album song.

"Vinland Saga" was a concept album. Is "Njord" written with the idea to tell a story or are it twelve individual songs?
The lyrics mainly deal with characters from northern mythology (e.g. "Njord", "Fröya's Theme", "Nine Wave Maidens", "Ragnarok"), or with places and historical happenings (e.g. "Scarborough Fair", "The Battle of Maldon", "Emerald Island","Irish Rain", "Les Champs de Lavande"). This is why I found it necessary to deal with all these different languages. "Vinland Saga" is based on Leif Eirikssons discovery of America, even the EP, "Legend Land", which followed soon thereafter. "Njord" has a much broader concept, travelling through history, and into Nordic mythology. It has always been important to me that our sound and art is authentic, and that our audience really get the feeling of being on a wonderful journey.The lyrics are written in 8 languages (english, middle-high german, old-english, gaelic, norwegian, icelandic, french and one "self-made" linguistic fictional phonetic sequence)… I even sat down to study a bit French to be able to write one French lyric. I did study Old-English and Middle-high German, so it was really nice to be able to use this knowledge. Gaelic is completely new to me, though, but fortunately I found a wonderful person who helped me. "Njord" is an album that demands an expansion in linguistic terms.
This is your third album. What are the differences between "Njord" and "Lovelorn" and "Vinland Saga"?
Our debut "Lovelorn" was very refreshing and a wonderful start for the band, also the press and the audience were surprised. However, you shouldn't forget that we all have a huge experience and knowledge as musicians of Atrocity and former ToT (Theatre of Tragedy) to rely on. This brings Leaves' Eyes a wide step forward, so we were really no newcomers in our genre. Moreover, I really have to say that Atrocity + Liv Kristine is a magic formula! I took my experience from my favourite ToT releases "Velvet Darkness They Fear" and "Aegis" as a basis for Leaves' Eyes music. Our second album "Vinland Saga" was a manifistation of the music of Leaves' Eyes – we had "settled" in the genre gothic metal with female vocals. "Njord" is the perfection of both our 2 former albums. Since the first demo recordings for "Njord" we have been able to achieve goals that we thought back in 2007 after the "Vinland Saga" release would be quite impossible. I am so proud of my band members – "Njord" is a dream coming true, and all the hundreds of sleepless nights were worth it. We all have developed as musicians and technicians and this is experience that is unpayable. "Njord" (producer: my husband Alexander Krull) has a power to it that even is more intense than any previous production I've been part of. Technically, we constantly have new ideas and aims. We have our own studio and therefore we have the opurtunity to specialize in technical tasks concerning album and DVD productions. "Njord" has even a more bombastic but delicate sound that "Vinland Saga", because techniques allows it. We recorded the classical parts in Minsk (Lingua Mortis, supervised by Victor Smolski), we had a complete local choir (Al Dente) singing the choir parts, moreover, a special artist playing solos on special instruments like the uillian pipe and the whistle. All this makes this album a multilayered and highly interesting experience for our listeners, for your ears, hearts and minds. If I should describe "Njord" in four words I would say bombastic, emotional, contrastive, and pure.
Where do you get the inspiration for the songs. Some sources are clear, like Ireland and the Norse mythology but what really inspires you to write a song?
It's first of all my love for my homecountry, the Norwegian Nature, history, my family, the culture – everything I grew up with! I feel that our music needs a special well-written and interesting concept, and I want to travel through time and space. For me history has always been extremely interesting, and even when I left my homecountry Norway and moved to Germany 12 years ago, I had more books about the Vikings with me than clothes and shoes. I have travelled a lot and been able to see a lot of the world. History, languages, and geography has always interested me. Thorsten is the main composer of Leaves' Eyes, he works out his ideas on his guitar. "Irish Rain", however, was an idea I had one early morning. I hurried to the studio and worked out the tunes with him. Sometimes, ideas just appear to my mind, like a complete "song".

And can you tell us something about the songs on "Njord" and "My Destiny"?
We recorded 18 (eighteen!) songs, and all of them are placed on the single "My Destiny" (out now) or the album "Njord" (out late August). Our listeners will get a lot for the money. That's a way for us saying "thankyou" to our fans and friends all over the world. To mention a few examples, "Fröya's Theme" is one of my favourites on the album, too, next to "Irish Rain". "Fröya's Theme" is about eight minutes long, it includes five languages, inclusive two "speaking" parts done by Alex and myself respectively. It tells the story about Fröya, the Goddess of sex with her extreme power of beauty. However, her lover Od leaves her as he has "wandering eyes" for other beautiful women. Fröya travels around and through the worlds in Northern Mythology to find him. Her tears are made of gold and they heavily strike the earth. This song is an epic masterpiece composed by Tosso, our guitarist.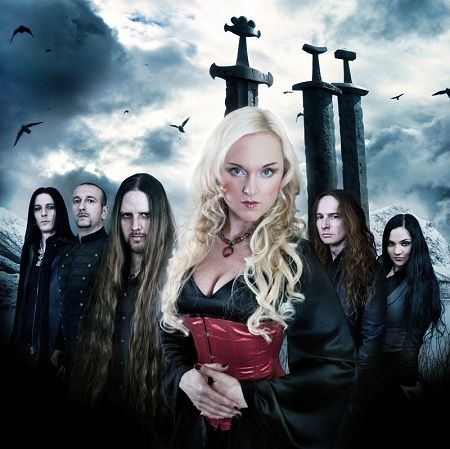 Is "Scarborough Fair" a Simon and Garfunkel cover and if it is, why did you choose this song?
I was an exchange student in the English town Scarborough, and I got very interested in their culture. This song is a folk song sung in the middle ages, also by the Vikings, on a trading market, in Scarborough. I wanted to rewrite the tune into a more heavy version and I am very happy with the result!

"Les Champs de Lavande" is a French title. Lavande means Lavender and the South of France (the Provance) is famous for its wide fields (champs) of lavender.
Can you tell us something about this song and why is it a bonus track?
As we had composed the instruments for this song, I thought about France immediately! I immediately sensed the smell of my favourite flower and scent, lavender! The Provance Lavender was famous already in the Middle Ages. I sat down and tried to put together a Franch lyric, and a friend of mine in France corrected it. This song just had to be about Lavender, and it sounds more authentic and special when it is sung in French.
While recording "Njord" you were supported by The Lingua Mortis Orchestra under the aegis of Victor Smolski and a classical choir. Most people will know Victor Smolski from his work with Rage. And this band does not exactly belongs to the same genre as Leaves'Eyes.
How did you find him and what was his influence on "Njord"?
We met Victor during a Rage/Leaves' Eyes' show in Greece in 2007. We are so happy that he liked the idea of working with us. It adds the important depth and bombastic character in our music.
The Special Edition will have a Drakkar (viking ship). What can we expect?
This is a way for us saying thank you to our fans and friends. Remember, many of them are collectors. I used to collect Madonna and Black Sabbath/Ozzy special merchendise objects.

One of the things that would make a lot of fans happy is a duet between the Espenæs sisters. (think of Beyonce and Solange Knowless doing a duet). Have you ever considered this for "Njord"?
It's not that easy since my sister moved back to Norway a couple of years ago, however, I am planning a duet on our fourth album, which will be a folk-oriented album, planned to be released in summer/fall 2010.

Do you already have some details about an upcoming tour?
Europe in November 2009, USA/Canada December 2009, then Europe and Russia in the beginning of 2010, and another long tour in the Autumn of 2010. Moreover, we have planned an acoustic tour between 28.08.-02.09 (please check the news!). We will play a capella in some of the Media Markets, for free for our fans, and we will have a lot of time to make photos with everybody, have a chat with our fans and friends and write some autographs. I enjoy acoustic tours. It's a nice way to keep up our close relationship with our audience, moreover, we are able to show that we are good musicians and can play live without a huge stage with a huge technical plan behind everything.
And which songs can we expect live?
A set-list still has to be decided on.
Although I think you will be very busy with the promotion of "Njord" this year and 2010 I would like to ask when we can expect a new Atrocity album and a new Liv Kristine solo album?
It's been 3 years since "Enter My Religion", and it's always good to gain a different aspect of your own art after some time has passed by. Right now, I am just about to finish the final recordings of my third solo album, and I see things in a new perspective now. "Enter My Religion" was an expensive production on a major label, however I made the decision in 2008 to release my third solo album on a another label, with a smaller budget, but having more freedom about the whole process, from the very first demo track, until the final master. I am very proud of "Enter My Religion", however I have developed as an artist and technician and my third album will be a huge step forward. I have put my focus on sounding just like myself, recording songs in one take, so you "get" me with everything I am, my character, my emotional level, my breathing, sometimes perhaps perfect, sometimes maybe not. I just want the audience to hear ME, not some singing lady with a pretty nice voice. I want to creep up inside your hearts and senses. I wrote all the songs together with Torsten (guit. Leaves' Eyes), all the lyrics myself, and my husband Alex is the producer of the album. Atrocity are already finishing their next Atrocity feat. Yasmin "Calling the Rain", which will be out end of 2009/beginning of 2010.
Links
MySpace * Facebook * Twitter * Site
Latest Multimedia
Label : Femme Metal Records
Review by Tony Cannella
Here we are again. This is the latest compilation album put out by Femme Metal Records and like the ones before it, this is as comprehensive a look into the Femme Metal scene that you are going to find anywhere. "Melody and Malice" features 32-songs and over two hours worth of music spread out over two discs, in short, this compilation is packed to capacity with some great music. The beauty of compilations such as this is that it displays how wide and varied the Femme Metal genre is. All styles are well represented here, from power metal to symphonic metal to goth metal to prog metal to thrash metal, well you get the point. CD 1 begins with the modernized metal warfare of Deadlock with the track "Virus Jones". Exoterik is next with the great track "Revive", another modern metal song with some great moments of melody. Kittie is ferocious as ever with "Cut Throat" and In This Moment are on hand with the ultra melodic "A Star Crossed Wasteland". Mongrel contributes the chugging, marching vibe of "Zombie War". This compilation does a great job in mixing the well known bands such as Kittie, Lacuna Coil and Arch Enemy with some of the more obscure acts like Regardless of Me, Katra and Alerion and it all flows together quite nicely. The first disc is completed by the raucous hard rock of Jaggedy Anne (who also gets my vote for the best band name). It would be difficult to go track-by-track (not to mention long), but suffice it to say there is something for everyone here. Some other highlights that can be found on disc one are: the great classic metal outfit from Poland, Crystal Viper with "Blood of the Heroes", "And Their Eulogies Sang Me to Sleep" by the Canadian metalcore troupe The Agonist and the UK's Sarah Jezebel Deva with "The Corruption of Mercy". Disc 2 begins with the Romanian Power Metal band Magica with "Wait for Me", which is one of their very best songs (in my opinion). With compilations such as this, it is possible to find those gems that otherwise you might not be privy to. One such band for me, would have to be Witchburn from the U.S. I was completely blown away by this band and their down tuned contribution "Bleed the Stone", just excellent. After that, we get the more familiar with Austria's Edenbridge and The Mariana Hollow. Luna Mortis contributes "Ash", sadly this band is no longer with us, but "Ash" is a pretty good representation of what this band from Wisconsin had to offer, which is a lot. Two of my current favorites Triosphere (with "The Anger and the Silent Remorse") and Solsikk ("Relish in Nervous Delights") are two more highlights. Other highlights that can be found on the second disc are: Achilla (another revelation as I had never heard them before), Amberian Dawn, Evil's Desire and Rising Dream. I can't imagine the work that goes into compiling a compilation such as this. It must be a daunting task, but the end result is a resounding success. Like the compilations before it, this is a great place to start if you would like to investigate some great Femme Metal bands.

Rating – 95/100
Tracklist
Disc 1
Deadlock – "Virus Jones"

Exoterik – "Revive"

Regardless of Me – "Until I Die"

Kittie – "Cut Throat"

In This Moment – "A Star Crossed Wasteland"

Mongrel – "Zombies of War"

hAND – "Fate Sewn On"

Decadence – "Vulture"

UnSun – "Whispers"

Katra – "One Wish Away"

Crystal Viper – "Blood of the Heroes"

Winter Storm – "The Embrace"

The Agonist – "And Their Eulogies Sang Me to Sleep"

Alerion – "Turn of Fate"

Sarah Jezebel Deva – "The Corruption of Mercy"

Jaggedy Ann – "Skin of Your Teeth"
Disc 2
Magica – "Wait for Me"

Witchburn – "Bleed the Stone"

Edenbridge – "Higher"

The Mariana Hollow – "Your Halo"

Luna Mortis – "Ash"

Beneath the Stares – "Guilty Bystander"

Achilla – "Mirrors"

Amberian Dawn – "Talisman"

Lacuna Coil – "Spellbound"

Triosphere – "The Anger and the Silent Remorse"

Solsikk – "Relish in Nervous Delights"

Noctis Notus – "Scarlet Storm"

Arch Enemy – "I Will Live Again"

Further From The Truth – "Drifter"

Evil's Desire – "Touched by Insanity"

Rising Dream – "Religion for the Weak"

Interview by Tony Cannella
After almost 30 years in the music business you would think that Doro Pesch might become jaded or cynical. Not so. Through it all she has managed to keep a positive attitude and nobody works harder than the German metal queen. In speaking to Doro one thing is abundantly clear, she is the most genuine, down-to-earth and above all the nicest (okay that's three things), people you will ever meet. In early December 2011, she was kind enough to answer a few questions and here is what she had to say
First let's talk about the 25th anniversary DVD. Tell us a little about it, and how do you feel that it has finally come out in the U.S.?
I'm so happy that it is finally released in America. It was definitely one of the happiest days in my life, and definitely one of the biggest days we've had musically; it was such a great, awesome night. We prepared for the concert for the whole year, and to build the stage took a whole year. The Warlock we had on stage was one of the biggest highlights; it took about nine months to build. In the 80s we always had the backdrop with the Warlock painted on and this time I thought for my 25th anniversary, I wanted to have a really, really big sculpture and it took like nine months, and the guy told me the day before that it might not be ready tomorrow night, and I said it has to be ready because that's the big day! We had so many great guests, all the people who meant so much to me, people I grew up with and people I admire and respect. Yeah, we had tons of great guests there. To start, the first guest performance was Bobby Blitz (from Overkill). I think Bobby is one of the greatest front people, he has so much energy and is always so powerful and always has a great vibe. He was the first one who came up as a guest, it went really, really great and the fans loved it. So I was really relieved that the first guest went over so great. From there on, my old Warlock band members came up and we did like a little reunion and then Jean Beauvoir came on, Axel Rudi Pell, Chris from Grave Digger, and The Scorpions – Klaus Meine and Rudolph Schenker they came up and we did "Rock You Like a Hurricane" and "Big City Nights". That meant so much to me. When I started with my first band we always heard about The Scorpions and read about them and I knew they were one of the biggest bands in Germany, so the first time I saw them was in 1986 at the legendary Monsters of Rock festival, actually we did two in Germany and one in England at Castle Donington. It was a phenomenal line up, it was The Scorpions, Ozzy Osbourne, Motorhead, Def Leppard, Bon Jovi and Warlock, it was unbelievable and in Germany The Michael Schenker group was playing on it, so many great bands. So it was the first time I saw The Scorpions and I thought "Wow! If we ever could last that long, and always put on a great show like that", I was really inspired. It meant a lot to me that they came to my 25th anniversary. It just took one phone call, I called Rudolph Schenker and I said, "Hey, I'm planning this celebration for the 25th anniversary and I just wanted to know if it would be at all possible if you guys had the time and come celebrate with us, and he said 'you know what? Give me a date and I'll call you back, and then he called back and said "Yeah, we're coming". We played a song with Tarja Turunen "Walking With the Angels" and it went over great. We did the full metal female version of "Celebrate" with all of the great ladies of metal which I think was one of the mega highlights on the DVD. We had many, many more guests and we did "All We Are" with everybody and the stage almost couldn't hold all of the people, it was so crazy, the fans were singing along, then Sabina Classen from Holy Moses and Liv from Leaves' Eyes held me up in the air. It was so touching, I cried because it was so great to see all of the fans with their happy faces. It was a 3 ½ hour show non-stop and it was so great to celebrate with my friends and dear fans. The fans came from all over the world from America, Argentina, Brazil, Greece, Italy, and Spain from everywhere. It was one of the greatest days of my whole life and I'm so glad we could record it. We did a couple of release shows in New York, Philadelphia and Chicago, they went great. New York was packed, it was sold out, of course I live in New York most of the time when I'm in America, and it's like my hometown.
Any chance of any additional U.S. dates coming in the future?
Actually, I think it will be next year. We do our next tour in December in Germany and then I wanted to finish the album. I think it will be next year, I want to do a full tour, but there are no dates at the moment. I definitely want to make sure that we finish the record first.
You are currently working on the new album, right?
Yeah, we are well into production, we have some killer songs on the way, some of the songs I played live. One song is called "Raise Your Fist", the title might be "Raise Your Fist in the Air", but I don't know yet, it might be like the second "All We Are". We will continue working on the record in January and it will have some heavy, great fast songs and some beautiful, touching ballads. We can probably expect the first single in spring and the album around summertime.
You did a run of shows in October/November, how did they go?
Yeah, we went all over Europe. We started in Moscow, Russia, which is one of my favorite cities to play in Europe. We have had the chance to play countries where it wasn't possible in the 80s, there's like a huge fan following and it's great. So we started in Russia and then we went to Poland and that was great, the fans were so excited and it was a hell of show, then we went to the Czech Republic, then Spain, Belgium, France and we played shows in Germany, it went really, really well. We started the European tour after the American dates, and everybody was happy, it felt good. The machine worked really well, it was well oiled and all of the songs sounded really good. The band played great – I am always so proud of them. We had a lot of great experiences, met a lot of cool people. We made a lot of new fans, I think, and some of the younger fans who saw us for the very time, that was actually very exciting. We played some songs that we haven't played in a long time, like for example "Without You" off of the "Burning the Witches" album, which was a really nice surprise. Then the new song "Raise Your Fist" went over really well. We played the Wacken anthem "We Are the Metal Heads" which is always a good song to sing along to. We played many, many encores, as long there wasn't a curfew, sometimes we played 2 ½ to 3 hours a night.
It must be nice have such a huge catalogue to change up the shows from time to time.
Yeah, every show is different. There are always fans that follow us on the whole tour, so they can always expect something different at the shows.
You have a tour of Germany coming up this month (December 2011), right?
Yeah, actually next week. The guys are flying in tomorrow and there will be two days rehearsal and then we leave on Wednesday. In the next couple of days we are starting, and it'll go up to Christmas, then I will go back to the States and continue working on the album.
What about the new Christmas single, "Merry Metal Xmas"?
We just released the Christmas single on the 9th of December. You can get it online, through Nuclear Blast and it is also coming out on vinyl, which is a cool thing. It is a duet with Tom Angelripper of Sodom. The cover is very cool, you see pictures of us when we were little kids celebrating Christmas, some funny pictures and then you see some photos of us today. It's a real good song. It's a fun song to sing along to.
Who are you working with on the new album?
I am working with Andreas Bruhne from Sisters of Mercy, who I have worked with the last few years. We have some great songs in the making. I've worked in New Jersey already with Mike Goldberg. Yeah, there are some other people I am working with. I don't know who will mix the record; there are some big names so it should be very interesting. I'm just In the middle of weighing all the options and of course I want to get all the songs done. There are some good people who will be coming into the picture, I want to have some great guests and stuff, but I don't want to say who because then it wouldn't be a surprise, and it wouldn't be good if didn't work out. But yes, there are some great guests in the making.
One of the coolest things that have happened in the past year was when you joined Dio's Disciples with former members of Dio for some shows in Italy and Spain. What was that experience like?
Oh Tony, it was so awesome and I was so happy when they asked me to fill in for Ripper Owens, I had the chance to fill in for Ripper Owens because he had to go to his daughter's wedding. I did the Spain gigs and it was one of the greatest experiences and it was such an honor to play with all the cool guys from Dio's band like Craig Goldy, Simon Wright, Scott Warren and James Lomenzo was on bass, Toby Jepson was the other singer. It was so great to be a part of it, and such a great honor and I was so happy that Wendy Dio thought of me to fill in for Ripper Owens, I was so grateful, so thankful, I love Ronnie James Dio and I'll always loved him and I was so happy to stay somehow close to the Dio family and I definitely felt part of the family, I felt so welcomed and they were so supportive. Going on stage in front of all the people, it was a wild experience, I always have stage fright, but then it was hardcore. They were so kind to me and I think we did some killer shows together. On one hand it was very uplifting, but on the other hand it was very emotional and sad. It was a very, very intense emotional experience. I am still not over the fact that Ronnie is no longer with us, but it's great to have his music. I am always thinking of him and it was such a great honor to be part of it and sing all the beautiful songs. I gave my all and I wanted to make the fans happy. Some of songs I fell in love with all over again, songs like "Catch the Rainbow", that was my favorite song, every time I sang it together with Toby Jepson, it was so powerful. On that tour everyone's vibe was so cool and so loving. It was unforgettable, so phenomenal to be a part of it. Of course nobody can sing as great as Ronnie, and we always tried to give our best and to keep his spirit alive.
In the past few years you have been a guest on albums by bands like After Forever, Sister Sin and Girlschool. Do you like doing stuff like that?
Yeah, I love it! I love being a guest on other people's records. There is actually a great connection and friendship with those bands, and usually when we tour together we stay friends, with our support bands or bands we meet in a festival situation. I love it. Girlschool I've known since the early 80s and Sister Sin, they actually opened up for us, and I know they are getting a huge following in the states. I'm always happy when people have the right attitude, and they have what it takes. Liv (from Sister Sin) is a great lady and she was actually on our 25th anniversary show in Düsseldorf. She was part of the full female version of "Celebrate", than she asked if I could be a part of this Motorhead cover they were doing and I said "Oh Yeah, I would love to do it" and we went right into the studio, the same with Girlschool and there is some other bands that I've done some work with Saltatio Mortis which is a really great band, last year I did something with Grave Digger. Yeah, I love doing stuff like that.
Are you aware of the Warlock tribute album "Tribute to Steel"? What do you think of it?
Yeah Tony, I think it's been out for a while. I think some bands did a great job; I love the version of "Für Immer" from the Scandinavian band Sabaton. I think it's wonderful. The record company put so much thought into it. It was cool idea and a total surprise to me. It came out great.
Speaking of Warlock do you think you might do anymore special shows with them in the future?
At the moment there is nothing planned. I'm concentrating on the upcoming tour (December 2011) and then next year finishing the album. We are still in contact, I still talk to Michael (Eurich – drummer), I saw Niko (Arvanitis) at the fan-club meeting and he always comes to the concerts when we play close by. I don't know, some people would never want to do it anymore. The bass player (Frank Rittel) is the first one who gave up music; he gave up playing bass, so it'll probably never be the original line-up anymore.
Does anybody know whatever happened to (original guitarist) Rudy Graf?
No, the last I saw him was many years ago. I loved Rudy, he was a great guy, great musician, but I haven't seen him in a long time. I invited him to the 25th anniversary concert, I left messages but I don't know I f I had the right number, he never returned the calls, so I don't know if he ever got the messages, but I definitely invited him.
Final question. Thank you for doing this interview. Is there anything you would like to add to the interview to wrap it up?
Yeah actually, I just saw Motorhead a couple weeks ago in Germany and there is a new Motorhead DVD out called "The World is Ours" and there was a part where I hopped on stage with them to perform "Killed by Death" a couple of months ago in New York. Wow, I was so happy that it made the DVD. The New York gig was awesome. I just saw it, it just came out and I am sure the die-hard Motorhead fans know about it, so maybe the fans would want to check it out. I definitely want to give the fans something great on the next record, I hope they love it as much as they used to love songs that mean so much to them. I would love to have like another "Triumph and Agony", which is always one of our greatest albums and greatest memories. I definitely want to try my best to please the fans and make them happy. I definitely put my heart and soul on this record and I hope they love it, and I hope that we will see each other very soon. I deeply appreciate all of the fan support, and I love the fans more and more every day. They are the reason why I can continue doing this and always fight for the music because of the tremendous support and love of the fans. Sometimes it's really, really hard but I can never give up because there are so many people out there who support us, even in spirit or in their hearts. The fans are the most important thing in my life and will always be. I wish the fans a merry metal Christmas and a killer, happy and healthy New Year and I hope we see each other really soon.
Links
6 color styles available:

Style switcher only on this demo version. Theme styles can be changed from Options page.