Browsing articles tagged with " music"
Label: Sony Music Finland
Review by CriX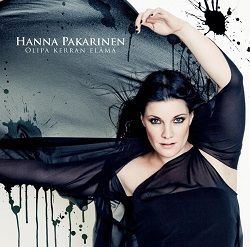 Hanna Pakarinen was the first winner of Idol's Finnish edition in 2004, after Eurovision in 2007 and 5 albums she's back with a new album. Her music is the perfect mix between rock and pop and her 'scratchy' voice makes the songs unique in its genre. Let be enchanted by this multi-faceted album and so, the first song is "Olipa kerran elamä" ("Once Upon a Lifetime"), that has been chosen as the second single, and it's a really good track that personally brought back to my memory the best of the 80′s sounds. "Laitetaan kuolema polvilleen", "Let's Death to the Knees" is the most rock song of the whole album and its keyboards intro is really particular. From the rockiest one to  "Jokapäiväinen" ("Everyday") a ballad that was designated as the first single for "Olipa kerran elamä". One of the best track of the whole album is "Anna minut takaisin"; whose Hanna's immaculate vocals creates an atmospheric, magical surrounding. Continue reading »
Label: Control Freak Kitten Records
Review by Luisa Mercier
Norwegian Rebekka Karijord produced one of my favourite 2012 record, "We Become Ourselves" with her dark and elegant atmospheres. She is multi talented since she also is an actress and with this new project, we also discover her ability as soundtrack composer. The record is largely piano and organ based, mostly instrumental with some vocals. Unlike her previous albums, the voice here is not used to sing actual lyrics, but it is used as an instrument mixing perfectly with the other arrangements.
I found particularly striking the opener "Prologue", with its crescendo full of drama. It is wonderfully written. I would not recommend this record to start listening to her musical production, but the people who lover her more "pop" vein will also lover her as arranger and composer. Continue reading »
Label: All Out Music
Review by Tony Cannella
La Strange – also known as – Angela Castellani is a singer from Northern Italy. Her debut album is called "Queen of Disguise" and is made up of 10-songs and 38-minutes worth of worthwhile melodic hard rock.
The bluesy opener "Control" gets the ball rolling. Angela's voice carries a lot of Fire and passion, and that continues on the next song the haunting "Addicted to Some Thoughts". "Enjoy All Their Lies" starts off as ballad before transforming into a like-able up-tempo rocker. This song changes tempos several times and Angela pushes her vocals to the limit. Other highlights include: "Far Away", a cover of the Michael Jackson song "Give in to Me" and the last two songs "Queen of Disguise" and the ballad "You Finally Knocked Me Down". Continue reading »
Label: Total Treble Music
Review by Alessandra Cognetta
The American punk rock band Against Me! is back with a new album. After their "White Crosses" (2010), the band went through a tour cancellation, a change in their line-up, the creation of their own label and, in 2012, Laura Jane Grace's coming out as a transgender woman.  "Transgender Dysphoria Blues" follows, musically, the path forged by their previous works, especially the earlier ones. It is, nevertheless, a chance for discovery and (self) introspection unlike anything I have ever listened to.
Most of the songs deal, obviously, with gender dysphoria, but this is not an autobiographic album. It is the vocal and lyrical expression of someone's feelings, and a very powerful (and rough, at times) expression at that. Continue reading »
Label: Warner Music Sweden
Review by CriX
The queen of swedish pop-rock, Marie Fredriksson, is back with her 8th full length, "Nu!". Marie is mostly known as the singer of Roxette but she has a long career as solo artist. All her albums are in Swedish and if you like Roxette's music surely you will like her solo project too.
The album start with "Kom vila hos mig"  ("Come Sleep With Me"): it's a very catchy song and its chorus stucks immediately in the mind of the listener, I really appreciate the part of guitar and I think they have made a good choice to take it as the first single. With the second track "Det bästa som nånsin kan hända" ("The Best Thing That Can Ever Happen"), the tones are slowing down but personally the best song of the whole album is "Det är nu!", in this track you can hear all the different colours of Marie's enchanting voice and it's very emotional. Continue reading »
6 color styles available:

Style switcher only on this demo version. Theme styles can be changed from Options page.