Browsing articles tagged with " music"
Label: Reprise Records/Warner Music
Review by Tony Cannella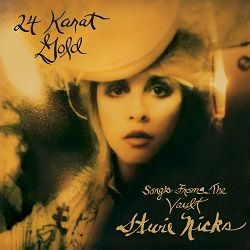 To say that Stevie Nicks is a rock and roll legend is an understatement, naturally. She has influenced countless artists over the years – both with the iconic Fleetwood Mac and through a successful solo career. With her 8th solo album – and first since 2011 – Miss Nicks returns to expound on her legend status.
"24 Karat Gold" is a bit different than your average new album. The album track-listing is mostly made up of re-recorded demos that were originally done between 1969-1987. It's obvious that Stevie Nicks had a ton of music in the vaults and it is a great thing that she decided to share the songs. Lasting over an hour, "24 Karat Gold" opens with the up-tempo "Starshine" and is followed by the AOR rich ballad "The Dealer"; this is Stevie Nicks at her best. Continue reading »
Label: Jyden Music
Review by Tony Cannella
From Sweden, Akribi is a progressive metal band who fuses Dream Theater style song arrangements with heavy riffs and clean vocals courtesy of Jessica Åhman. The band was formed in 2003 and in 2011 released their debut album – this one here – "Black Morning Sun".
"Black Morning Sun" is over an hour long and several of the songs fall in the very prog-ish 6-9 range. Akribi are not afraid to go off the beaten path either as the songs occasionally veer off into tangents, jams and signature time changes. It all manages to keep the listener on their toes and wonder what's coming next. In addition to the longer songs, the band also gives us some shorter more immediate numbers. Continue reading »
Label: Epic/Sony Music Finland
Review by CriX
What happens if you put an actress, a cellist and 2 established musicians in the same band? An explosion of energy and pure rock music. Cherry & the Vipers is a Finnish rock band is formed by singer and actress Kirsi Ylijoki, the guitarist is Samuel Leminen, the bassist is Jarkko Strengell and finally we have Apocalyptica's  Eicca Toppinen playing the drums instead of his cello. Someone could think that's something peculiar but you have to absolutly check out their debut album, it's a good work, and if you like rock music, well, this is the band that you were looking for. "Rakkauden punk" introduces the album and it gives the right boost with Kirsi's scratchy vocals that give us an overall vision about their explosive music style. Continue reading »
Label: Ravenheart Music
Review by Tony Cannella
Training Icarus is a melodic heavy metal band from London, England. The band is recently signed to the Ravenheart label (quite honestly one of the coolest of labels) and has issued their debut output, "Stand Aside".
The energetic opener "Stand Aside" comes crashing through to start the album. This song is based around a swirling guitar riff and lead vocalist Leigh Turner's expressive metal delivery. Throughout the 60-minutes worth of playing time, the band holds nothing back and delivers a truly metallic statement. The next Track "Nightmares" has a chugging riff and the song has an eerie, foreboding quality. The band certainly adds generous amounts of melody to their metal. Continue reading »
Label: Chess Club Records/RCA Victor/Sony Music
Review by Luisa Mercier
MØ is a Danish singer songwriter, the last of my many discoveries from the lands of snow in Northern Europe. Her true name is Karen Marie Ørsted, while MØ just means "maiden" in her native language. I must say that her musical career in the beginning followed another path, since she started in rap five years ago and still some influences are to be found in her music. The album, "No Mythologies to Follow" has been produced by Ronni Vindhahl and it features several influences. As told above, rap is one of MØ greatest love and this can be clearly heard in the production, while the music spans from synth pop like in "Slow Love" which has an 80′s vibe, to more atmospheric stuff like "Dust Is Gone" which I recognize could be a Lana Del Rey track, very smooth and emotional. Continue reading »
6 color styles available:

Style switcher only on this demo version. Theme styles can be changed from Options page.
Archives
Calendar
November 2014
M
T
W
T
F
S
S
« Oct
1
2
3
4
5
6
7
8
9
10
11
12
13
14
15
16
17
18
19
20
21
22
23
24
25
26
27
28
29
30