Browsing articles tagged with " music"
Label: Sony Music Deutschland
Review by Tony Cannella
The long running German alternative rock band Guano Apes has enjoyed a long career since their inception in 1994. Their 1997 debut "Proud Like a God" featured two songs that made a minor dent in the U.S. charts, those two songs: "Open Your Eyes" and "Lord of the Boards" certainly hinted at a bright future for the Apes. Despite disappearing from the American market, the band has continued to release albums in Europe and now they return with their 5th album, "Offline".
I have to admit that Guano Apes kind of fell off my radar after the debut. Oh well, it's my loss I guess because "Offline" has some pretty cool tunes and now I am curious about their music prior to this. "Like Somebody" is a punchy opener but it is the next song "Close to the Sun" which gets my vote as the best track. Continue reading »
Label: Flaming Passion Music/AFM
Review by Tony Cannella
FYRE! is a powerful and energetic hard rock outfit fronted by Argentinean vocalist Alejandra Burgos. The band has released their debut album "Missy Powerful" via AFM and it features 14-songs and 50-minutes worth of infectiously rollicking hard rock tunes that are impossible not to like and have some affinity for.
Let's get started… Right out of the gate "We Are Here" is a great opening and introduction to this killer band. "Get the Hell Out" follows and it features a nice up-tempo, bouncy chorus and also includes a saxophone solo and some cool interplay between the lead guitars and sax. "Stay Until the Moonshine" has a bit of an acoustic base but is still an up-tempo rocker. Continue reading »
Interview by Alessandra Cognetta
FYRE!
is an international band revolving around the charismatic figure of vocalist and guitarist Alejandra Burgos. Alejandra left her home in Argentina to pursue a musical career in Europe and, in three years, FYRE! built the foundations for their debut album, "Missy Powerful". The album is an energetic blend of rock and metal influences that showcases the input of all the band members. This was going to be a face to face interview but, due to the postponement of some of their tour dates, it turned into a very nice skype conversation. I talked with Alejandra and her fellow bandmate and bassist, Lars Ratz, about the album, its conception and the band's recent activities. But enough with introductions, it's time to dive in and discover the energy and friendliness of this Palma de Mallorca based band!
Hello and welcome to Femme Metal, Alejandra! How's it going, especially since the recent news about the tour being postponed?
Lars: The tour was very very great so far, it was amazing to open for an artist like Anastacia who has a great voice and a great personality. She actually has a really "rock" appeal in her live shows and she even does a Guns N'Roses & AC/DC medley, which was really interesting. Continue reading »
Label: Reprise Records/Warner Music
Review by Tony Cannella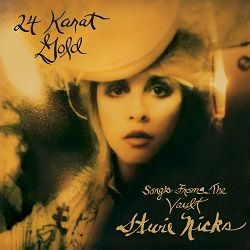 To say that Stevie Nicks is a rock and roll legend is an understatement, naturally. She has influenced countless artists over the years – both with the iconic Fleetwood Mac and through a successful solo career. With her 8th solo album – and first since 2011 – Miss Nicks returns to expound on her legend status.
"24 Karat Gold" is a bit different than your average new album. The album track-listing is mostly made up of re-recorded demos that were originally done between 1969-1987. It's obvious that Stevie Nicks had a ton of music in the vaults and it is a great thing that she decided to share the songs. Lasting over an hour, "24 Karat Gold" opens with the up-tempo "Starshine" and is followed by the AOR rich ballad "The Dealer"; this is Stevie Nicks at her best. Continue reading »
Label: Jyden Music
Review by Tony Cannella
From Sweden, Akribi is a progressive metal band who fuses Dream Theater style song arrangements with heavy riffs and clean vocals courtesy of Jessica Åhman. The band was formed in 2003 and in 2011 released their debut album – this one here – "Black Morning Sun".
"Black Morning Sun" is over an hour long and several of the songs fall in the very prog-ish 6-9 range. Akribi are not afraid to go off the beaten path either as the songs occasionally veer off into tangents, jams and signature time changes. It all manages to keep the listener on their toes and wonder what's coming next. In addition to the longer songs, the band also gives us some shorter more immediate numbers. Continue reading »
6 color styles available:

Style switcher only on this demo version. Theme styles can be changed from Options page.
Archives