Browsing articles tagged with " netherlands"
Interview by Michelle Henriquez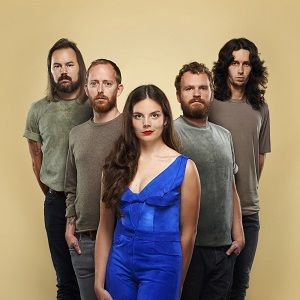 The Netherlands based band GOLD define themselves as "a contemporary rock band that's heavy because of the songs, not the sound, but why? Let's discover with us more about their music and their debut album "Interbellum" released via Van Records on 2012 with this nice chat happened few months ago with both singer Milena Eva and guitarist Thomas. 
How did you experience the show?
Milena: Yeah, it went great we think, it is kind of hard to grasp the feeling 5 minutes after the show, but I think we did alright.
Thomas: We made a few mistakes but because we were a bit stressed playing a set of just 30 minutes and lacking the drummer for quite some time. Plus it was great to play a set for such a big crowd. We played some festivals in Holland and even Sweden but nothing this size. Continue reading »
Interview by Alessandra Cognetta
The European Enigma Tour has just started and Epica decided to once again play a couple of shows in Italy. Their packed concert in Rome gave us a chance to have a nice chat with Coen Janssen and discuss Epica's recent accomplishments and collaborations, from music videos to videogames, but also some more peculiar matters, like the role of streaming services in metal music.
The venue was warmed up by an energetic opening set from Dragonforce, whose newest member, Italian drummer Gee Anzalone, had a very uplifting message for the audience. But the crowd went completely crazy when the first notes from "Originem" started playing, greeting the band with incredible enthusiasm. The setlist was very diverse, spacing from the old classics to the latest singles, and Epica proved to be the usual more than well-oiled machine, delivering a memorable performance.
Continue reading »
Label: Suburban Records
Review by Tony Cannella
Wow! The new album from Dutch prog metallers Kingfisher Sky is pretty freakin' good. Their 3rd album "Arms of Morpheus" continues on the bands progressive/folk-ish path which began with their 2007 debut "Hallway of Dreams" and things just keep getting better and better.
Opening with "Hypnos", this is a great moody track with changing tempos and a bit of a dramatic vibe; this is a good way to start things. From there we go into "At Least You Tried" continues the album on a positive course. "King of Thieves" is the first single and features a good amount of symphonic and folk elements to go with the prog. Other highlights include: "Open Your Eyes", "Strength of the Endless" and "The Morrigan". Continue reading »
Independent Release
Review by Tony Cannella
End of the Dream is a female fronted metal band from the Netherlands that was formed in 2010. They have recently issued their debut 6-song self-titled EP. Let's have a listen, shall we?
First off, for an EP this is pretty long. Clocking in at 33-minutes, EOTD presents a longer than your average EP, not that I'm complaining. "Colder" opens things and is a pretty cool way to kick things off. The riffs are sharp and the song is dramatic with a solid groove to it. The next track "Follow the Angels" begins with a slower tempo before a choir kicks in and then the heavy guitar riffs. I would describe the band as a cross between Within Temptation and Evanescence. Lead vocalist Micky certainly has a pretty cool and expressive voice. Continue reading »
Label: V2 Records
Review by Tony Cannella
From The Netherlands, theNAME are a hugely underrated band. They formed in 2000 and have just issued their fourth album, "Unchained". The sound is a mix of hard rock and metal with groove-laden riffs. They have toured extensively throughout Europe with some of hard rock and metal's biggest and best acts – most recently theNAME has shared the stage with Tarja Turunen.
From the opening track "Draw the Line", the riffs are so damn infectious and the songs boast a lot of power and energy which are contagious as well. The songs have a certain groove metal quality with the riffs. The production is very clear and in-your-face. Continue reading »
6 color styles available:

Style switcher only on this demo version. Theme styles can be changed from Options page.