Browsing articles tagged with " oliver"
Interview by Gaia Stella Rotondi
Transcription by Alessandro Narcissus
Intro by Miriam C.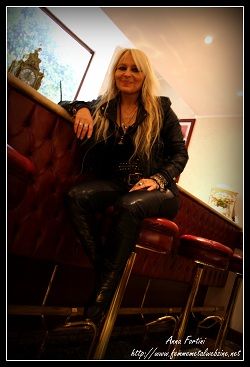 On a hot summer day (to be precise on the 12th September) we've met in a hotel in the centre of Milan during the promo day dedicated to "Raise Your Fist", the German metal queen Doro. Let's hear directly from her the latest news. Some words dedicated to the memoir of the late Mr Ronnie James Dio are present and we join with her to his memory publishing this interview.
Today Femme Metal is pleased to have the metal queen Doro Pesch as guest. Hi Doro, how are you?
Hi there, I'm very good! Thank you for the interview, it's great to be here in Italy!
We know that your new album, "Raise Your Fist", produced by Nuclear Blast Records, will be released on October 19. Could you tell us something about it?
We've worked for over half a year on it. We recordet it all over the world, from New York and New Jersey to Hamburg, we've mixed it in Danmark with Jacob Hansen, who'se the producer and engeneer for all of it. I wanted to make sure that the sound is hard, powerful and really, really good. The first song, "Raise Your Fist in the Air", I kind of had the feeling it might be the first single. So I sent it out to many people, everybody mixed it, and then it was hard to choose 'cause many were really good, but when I heard Jacob's work I said, "Okay, you're the one!". There are some special guests on the record: I sing a duet with Lemmy (Kilmister from Motörhead Ed.) on one of my favourite songs, "It Still Hurts", which is a very touching and emotional ballad, and I love it so much, and I also love Lemmy for the longest time, he's great! Then we have another guest, Gus G, the guitar player of Firewind, and he plays a solo on "Grab The Bull (Last Man Standing)". A good friend of mine made contract with Alex Krull from Atrocity and Leaves' Eyes, and he's a guest on that song as well. Then there is "Hero", which was the first song we wrote for the record, and it's a tribute to Ronnie James Dio: so many fans were totally heartbroken when he died – including myself, I was totally devastated and after all this time I still am! – so I really wanted to say thank you and pay respect to him.
Could you tell us something about the importance that Ronnie had in your life?
Yeah! Beside being an amazing singer, I think definitely one of the best, he was a great friend and my biggest inspiration! I had the chance to meet him many times, we toured together – actually my second big tour, back in 1987, it was with Ronnie James Dio and it was great because it was the peak of heavy metal with big venues and fans, it was unbelievable and really unforgettable! Then we had the chance to tour again a couple of times and one of the greatest experiences was the American tour in 2000, because, as you probably remember, in the Nineties grunge was big and heavy metal had a really difficult time; and then, in 1999 I felt it was coming back somehow and I did a song for Ronnie James Dio's new album, then he held a release party in New York and I was there and I went to say hi, and he was like "Hey, I like the song so much, it's magical!". And a couple of weeks later we had our record done – I was "Calling The Wild". We were in the middle of an interview with a radio station in Tennessee, and we were talking and they asked if we had any touring plans, I was like "Not yet, but of course we want either to open up for someone or do our own club tour", and then the lady said she was like "What about Ronnie James Dio?", and she was going to interview him in a hour so she suggested us to him! And a couple of weeks later we were on tour together and it was great! The last leg of the tour was in Florida and we always sang the encore together! He went to the monitor guy asking for a second microphone and came on stage. In 1987 I could not speak English that well, so we were just like "Hi, great show", but in 2000 we really got much closer and became really good friends.
In "Raise Your Fist" you had the chance to work with many other musicians. As you said, you collaborated with Gus G from Firewind and Lemmy from Motörhead. How did it feel to work with legendary and new generation artists at the same time?
It's great every time! It was a honour to work with somebody special like Lemmy. He's my hero, I love Lemmy! We played together in the very early 80′s and now we were on tour together two years ago, and it's great. He's very soulful and a total gentleman, a great talker, a great musician. With younger generations, when people love music there's always this common ground. With Alex Krull we always met in Wacken and he suggested that we do something together and his wife Liv Kristine, she was at my 25th Anniversary gig and performed on "Celebrate" along with all those great ladies that met on stage. And we all felt connected then. There is one song on the limited edition called "Strong And Proud" which I wrote to talk about this connection with all the female vocalists. I think it's pretty cool because we're all supporting each other and connected, there is a lot of unity.
An EP was released on August 3rd, to precede the upcoming album. The EP contains four songs and it includes also a French version of the single "Raise Your Fist in the Air". Would you like to talk about the reasons of this choice and about the EP in general?
After I recorded the demo of the song, I played it to some people involved with Wacken. When they heard it they were very enthusiastic about it and wanted me to play it at the festival. It was not finished yet, but they really wanted it, so I was like, ok, I can try. Then I played it and I got a great response. Everybody's fists were in the air. It was the first day and I played it in front of about 50,000 people, they all liked it, so I thought it could be a great single. Then I tried it out a couple of times when I played in Europe, in Moscow, and I also wanted to play it in Lyon, in France. I tried to say something in the native language, so I asked "How do you say 'Raise your fist in the air' in French?" and they told me "Lève Ton Poing Vers Le Ciel" and it was really cool! And then there is another story: one day I was introdued to a girl called Vanessa who really wanted to hear a song in her native language because she only speaks French. On my previous album I recorded several versions of "Herzblut", like in Spanish and in Portuguese, so I also made one in French and I dedicated it to Vanessa. She was really happy! She has two sons and said "When I have a girl, I will call her Doro!", which was really cool! I was very happy! So I decided to do another French version on this album.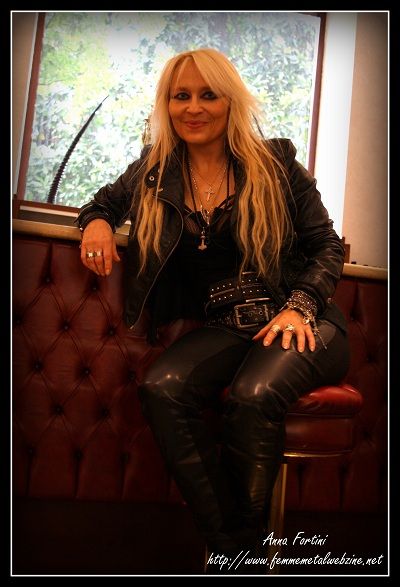 The guitar player on "Raise Your Fist" is Luca Princiotta, an italian musician. How did you meet him?
I met him a couple of years ago. I was in Italy doing a little appearance for Clairvoyance. There I met Luca and I knew he was a great musician. Then joined us for the keyboard when Oliver Palotai was busy touring with Kamelot. We really got along and played many gigs, so he joined in as guitarist for the new album.
You have released also a video for the single "Raise Your Fist in the Air". We know that you love the city of New York, but the video was shooted in the Bronx area. Why did you choose this place and how would you describe this experience?
It was quite an adventure, quite dangerous too! In New York it's very hard to fill in to get a permission and stuff. So we were like, okay, you know what? We just go there with our truck. We go everywhere we want and when the police comes we just get back on our truck and run away! We went all over and then elsewhere too. We went to all kinds of neibourghoods in the Bronx and in Harlem, and while I was singing, suddenly people were coming up to see what we were doing. At a certain point there was like a gang, and we were like, "Oh God, sorry, we were just shooting a little video!", but they liked the song although I think they were more into rap or that kind of music, so we asked them to join us and it was really cool! Everybody came in, we shot under a bridge, there were also some homeless people who showed up as well, even a guy who said he liked jazz but stopped all the same, and my band was in the video too, so… gang members, homeless people of New York, all united by music, it made all of it immediate. It was much fun!
You often play at metal festivals, such as the Wacken Open Air. What do you think about festivals and how is your relation with the fans during these events?
I love playing festivals. My first time playing in Wacken was in 1993 and there were maybe 2000 people. It was very small, just the area where now the bands' dressing rooms are. And since then every four or five years I came back, and a certain point there were 20,000 people and the whole thing was going bigger and bigger. What I love so much was that the organisers of the festival were two die-hard metal fans, because no one wanted to do metal festivals in the early 90′s, so it was a festival from fans to fans, you can still feel it today. And the village near it, everybody is very welcoming to all the metalheads, back then somebody even welcomed us to sleep, which is really great because, you know, all those guys with long hair and tattoos and stuff… So I specially love Wacken, but I also love Gods of Metal, Metalcamp… I love it all, every festival is special in its on way. People from everywhere come and enjoy so much music, you can see all your friends, all those bands, all the fans of other bands, everybody has stuff to do but you can reconnect with the fans.
In 2006 you made your cinematic debut in the film "Anuk". You returned to the set for the second part of this film that will be released at the end of 2013, and it is called "Anuk – The Path of the Warrior". Would you like to talk about this film and the shooting? Is it true that the soundtrack will contains music from the upcoming album?
Yes. The producer is called Luke Gasser. He asked me for the movie and then I did some more music for the film, very different in a way, for there is not only words. We were doing the music together and I just came back for shooting the movie. It was a little more difficult than usual because I also had to do the promotion then go on tour. This is the second part to end "The Path of the Warrior", it's an adventure, the good guys against the bad guys, it's set in 2000 BC. The first movie was a lot of fun! It's an independent movie, the budget is not big, it's just not like a Hollywood budget, but everybody put so much energy in it. It's very demanding, getting up every day in 5 o'clock in the morning, then working hard for 16-18 hours a day, there were 50 horses, many people who did the stunts, I was filming often in the water so I also hoped I would not get ill – but I didn't! On the last record, "I Lay My Head Upon My Sword" was for the movie.
You're on the metal scene since the early 80′s. Is it difficult to hold the crown of Metal Queen for such a long time? What is changed since the beginning of your career?
Well, it's so nice when people have good things to say about you, it makes me so happy! But actually I'm just a normal metalhead. I still love metal, I still love the fans. I just try to make the fans happy, which is the most important thing to me, it's my mission. For so many years it's been great and I owe much to the fans, they always support me in good and in bad times, like when grunge was big in music. I love my fans more than anything and it's my aim in life to make fans happy and to give them something they can believe in and enjoy, give them some positive power. Now, being called a "Metal Queen" is such a big word, I just work each day to make something nice, but it's only me, I still feel like when I started it all, when I was 22. It feels like 6-7 years ago, not certainly like 26 or 27!
Thank you so much for being here and replying our questions. Is there anything else you would like to say to your fans?
Yeah! The most important thing in this world to me, which will never ever change, is my love for them. I'm still there, I'm still giving 100%, and I want to say thank you to all of them! They give me all the energy and all the support, so… thank you so much, it's very important to love each other!
Credit Photos
Exclusive Photos shot by Anna Fortini
Links
MySpace * Facebook * Twitter * Site
Latest Multimedia
Interview by Ed MacLaren
After an extended hiatus, Erben der Schöpfung has returned with the excellent "Narben der Ziet". The new music seamlessly combines metal and electronica in an industrial cloak of dark melancholy. Femme Metal gets personal with vocalist Dina Falk about the making of "Narben der Ziet" and her approach to music.
"Narben der Zeit" is finally out and it's definitely worth the wait. How has the response been to the CD so far?
Since we've still been fighting for the rights to finally release it – even if we got the rights to do so – we did not reach as many people as we could have. The response of those who we've reached is actually very good and we are happy about it.
It's been eight years since "Twilight" but many could say this is a new band. How did you and the rest of the new members get involved? Is Oliver still the creative center?
On "Narben der Zeit", he still composed all of the songs but with a little help on the ballad "Homeless" which I personally wanted to get done and on the album. On everything else, he did the structuring and composing and we just put our stuff on top. So it's still his project but with a band around him that is helping out on some stuff.
The current band has been together now since 2005. When starting "Narben der Zeit" was there a conscious attempt to start in a new direction or to continue Oliver's original concept of the band? How did "Narben der Zeit" evolve during that time until now?
We just started without any plan but knowing that we would be a little metal, a little electro and dark. That was it. We can't force the project towards a particular direction. We just start working and watch the results. One of the things we also knew was that we are getting away of this symphonic-female-metal image that a lot of people still put us in.
"Narben der Zeit" (or "Scars of Time") is an interesting title considering the tumultuous history of the band. Time heals all wounds but you still can bear the scars of the past – looking forward to the future while remembering past lessons. Is there an autobiographical reference within "Narben der Zeit"?
The album title has nothing to do with the band's history but with any lifetime. I guess that everybody has his wounds and scars of time and I guess this will keep on going like this for a lifetime. We chose this title because everybody has got his own and personal scars.
"Narben der Zeit" has evolved the Erben der Schöpfung sound considerably since "Twilight". The metal sections are heavier, the EBM sections are more danceable and the overall feel of the CD is much darker. How did the music for "Narben der Zeit" develop?
This is just a natural development of Erben der Schöpfung through changing members, through Oliver's personal development and through time. We didn't force anything because we think that forcing development does not work. Development is something working independently and in need of time and different phases. You need to develop yourself too otherwise your project is standing still as well.
I'm having a tough time figuring out how to categorize your music for my iPod (which is a good thing in this case). Metal has progressed to a point where it incorporates many different genres to keep the music fresh and moving forward. I see Erben der Schöpfung as a metal band at the core but then again others might argue that you're a very heavy EBM band. How do you view the band's sound?
This is difficult to answer. I'm not a friend of categorization and categorizing our own music is giving me a hard time! Well, I know that people need categories in their whole life to get a certain order to it but I like things that drop out of the usual schedule. Maybe Erben der Schöpfung is just something not fitting in anywhere or even better: fitting any mood. If you feel metal you'll hear metal and if you feel EBM you'll hear EBM.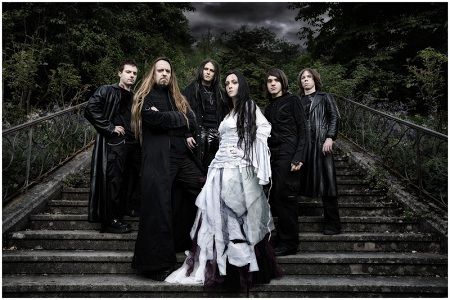 Having that inherent uniqueness in your music lets you stand out from other bands and helps you carve out your own niche. Musically, the rewards are many but are there any drawbacks to following a distinct musical vision?
We don't fit in anywhere! Of course, you'll have a hard time doing something unique or new that people are not used to. There are some that just don't understand our music and act very different because of that. The worst case is if they fit you in a certain category that we don't fit in and then tell us that we'd done an awful job. Also, we are always kind of unsure – even if we are not up to fulfilling expectations – but doing something unusual is making us scan a lot of reactions. We have to find our place and maybe settle down or maybe not.
There is a recurring theme running through "Narben der Zeit" dealing with children and child-like qualities. Tracks like "Jane Churm", "Homeless", "Leaving" and "Your Lullabies" are told with a child-like innocence but at the same time from a perspective of innocence lost. How did the lyrics develop for this CD and what experiences did you draw from while writing them?
While writing the lyrics to "Narben der Zeit", I mostly wrote down the first thoughts that came upon my mind. I didn't play a lot with words and I didn't think about them for a long time so it's just my first thoughts and feelings. That was a good way for me to write the first lyrics but they were also very open to attack and very personal. If I now look at the lyrics it is a lot about looking back and discharging childhood or a certain piece of my inner child. I would say that I've lost a lot of innocence in my childhood and early teens to twenties but I'm gaining it back now in a whole other quality. There was a lot of reformation and inner cleaning going on during the last two or three years and I guess that the lyrics to "Narben der Zeit" were doing their part.
Your ethereal and melancholy vocals are a perfect fit to the dark gothic mood of the music – it makes for a diverse listening experience with headphones in the dark. How did you develop your vocals when recording this CD?
Developing vocals was a similar process to writing lyrics for this album. I just sang whatever came upon my mind and it was fitting the mood; I came in listening to the plain composition, writing the lyrics and even now listening to the songs. It's a strange mood but it was the only way for me to do the vocals on this album. Anything else just didn't feel right.
What are your tour plans for supporting "Narben der Zeit"? Are there any international dates planned or touring overseas?
We definitely want to present "Narben der Zeit" live and play gigs but we don't have any dates planned yet. Right now it's very difficult to tour if you are starting or restarting a project and next to it three of our band members have to attend school so we do have to plan very tight. But we are working on it and hope to play live soon. Dates overseas are depending on how many people would like to see us playing and on getting in touch with a good fitting booking agency.
Hopefully, we won't have to wait another eight years for new music from the band. Is there any new music in the works or a remix album?
I hope so too! We are working on new songs right now and for now it's looking very good to record a new album soon. We are very productive and industrious since Christmas but a lot of work is still waiting to be done.
2009 is gone and we're into 2010. Does the band have any musical New Year's resolutions for the new decade?
We'll see!
"Narben der Zeit" is rapidly becoming one of my favorite CDs of 2009. What were your top CDs this year and what made them standouts for you?
Ouph… Actually, I didn't listen to a lot of music this year besides our songs…maybe Devil Driver's "Pray for Villains" and Rabia Sorda's "Noise Diary" but I've missed all the other good releases in 2009. I've rather been listening to old ones that year.
Links
Latest Multimedia

Photo by Roberta Ilaria Rossi
Gig Review by Marcy Bell
It's clear: Epica and Italy are entwined. The concert at the Alcatraz in Milan on the 27th October was a huge success for Simone Simons and her fellows. Stage B was almost full, there were more fans and friends than in the previous tour. As in 2008 Epica were supported by the Finnish Amberian Dawn and in this new tour also by the brand-new German band: Sons of Seasons lead by Oliver Palotai. The Dutch band presented live some songs of the new album "Design Your Universe" but most of the show was made with hits from the past such as "Black Infinity", "Cry for the Moon", "The Phantom Agony" and "Consign to Oblivion". The gig started with the new "Resign To Surrender" and then it went into the old mood with "Sensorium", hands up with Simone and the whole band with the beginning of "Quietus" and then the Oriental style of "Fools of Damnation". It was time for "Design Your Universe" and the first single "Unleashed", the beat of Ariën on drums started very loud running through "Martyrs of the Free World". Epica's classic "Obsessive Devotion" led the central part of the show, as it's always a pleasure listen live this song with Mark on growl and Simone running back and forth the stage in a seven minutes Epica-old-style-vibes. "Tides of Time" showed all the deep and sweet part of Epica with Simone solo in all her vocal talent and Coen on piano: a moment that gave you shivers on your spine. The band went again on stage with the last three songs: "Black Infinity", "Mother of Light" and the techno-version of "Phantom Agony". The latter was an enjoyable surprise for the crowd that started dancing with color lights as in a dance floor. Good point for Epica indeed. The encore was with "Cry for the Moon", "Sancta Terra" and the final "Consign to Oblivion". The show was good, the crowd really enjoyed it and finally we can say that Epica are improving themselves live in every tour.
Links
MySpace * ReverbNation * Facebook * Twitter * Site
Label : Massacre Records
Review by Tony Cannella
It is hard to believe that it has been 13-years since Helena Iren Michaelsen first burst on to the metal scene as the female vocalist for Trail of Tears and singing on their excellent "Disclosure in Red" debut. From there she released an album with the band Angel (not to be confused with 1970s arena rock outfit of the same name), before finding her home fronting Imperia. The band released their debut "The Ancient Dance of Qetesh" in 2004, followed that up with "Queen of Light" in 2007 and now have finally issued their long awaited third album "Secret Passion". "Touch of Your Hand" is a great opener and one that sets the tempo straight away. Helena is in fine form vocally throughout the 60-minute playing time of "Secret Passion". You have to respect the depth, character and emotion she is able to convey with her voice. She can go from an operatic style to more of a mid-level range, whatever the song calls for. "Secret Passion" is next and slows the pacing down a bit at the start before slowly picking up steam and settling into a steady groove that helps to elevate it into being one of the best songs offered up here. Other highlights include: "Fragile", "Out of Sight", "Let Down", "Violence", "Hold On", "Greed" and I could go on and on. "Secret Passion" is concluded with "My Sleeping Angel" a song that sees Helena dueting on the track with Everon vocalist Oliver Philips. The digi-pack features the bonus track "Mistress" which is quite an interesting song.In my humble opinion, "Secret Passion" is Imperia at their best and one of the best things that Helena Iren Michaelsen has recorded in her long, distinguished and underrated career.
Rating – 95/100
Tracklist
Touch of Your Hand

Secret Passion

Fragile

Out of Sight

Let Down

Violence

Like Rain

Suicide

Hold On

Greed

Missing It All

My Sleeping Angel

Mistress (Bonus Track)
Line Up
Helena Iren Michaelsen – Vocals

Jan Orkki Yrlund – Guitar

Gerry Verstreken – Bass

Steve Wolz – Drums
Links
MySpace * ReverbNation * Facebook * Twitter * Site
Label: AFM Records
Review by Tony Cannella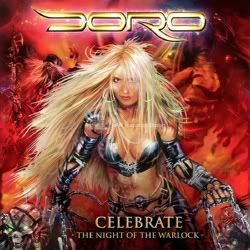 On December 2008, Doro has celebrated her 25th anniversary as a performer. Man, how time flies. The German metal queen has released a 5-song EP, appropriately titled "Celebrate – The Night of the Warlock". This is a very special release that fans of Doro and fans of metal in general should eat up. This EP contains three distinctively different versions of the title song. The first is just Doro on lead vocals with some help from her fan club on background vocals on the chorus. This gives the song a totally live and energetic feeling. You can envision an arena full of Doro -maniacs singing along. The next version of the song features special guest vocals by one Mr. Biff Byford of one the most legendary bands of all time (in my book anyway) Saxon. It is always a pleasure to hear Biff's vocals and he and Doro have tremendous chemistry together. The third and final version of the song features an all star line-up of female metal stars. It really is a whose who. Just some of the singers represented are: Floor from After Forever, Sabina from Holy Moses, Liv from Leaves' Eyes, Veronica from Benedictum, Angela from Arch Enemy and the girls from Girlschool – just to name a few. The song itself is truly a great song, that is indeed a celebration for anyone who loves rock and especially metal. "The Night of Warlock" is next and it begins with an eerie intro featuring a demonic male voice, but quickly turns into a rousing rocker. With the title DORO once again gives a little nod and a wink to her past but the song itself fits right into her current catalog. The final song "Rescue Me", is a beautiful heart-felt ballad. Something that Doro has become known for over the years and this will not disappoint. The final verdict is this: "Celebrate – The Night of the Warlock" contain 5-songs and 23-minutes worth of music that is more than just a celebration of 25 years of performing on a stage. It is also a celebration for those of us who have been along for such an incredible journey – a journey that will continue for a long time to come. Get it!
No Rating
Tracklist
Celebrate

Celebrate (feat.Biff Byford)

Celebrate (Full Metal Version)


The Night of the Warlock
Line Up
Doro Pesch – Vocals

Joe Taylor – Guitars

Oliver Palotai – Keyboards,Guitar


Luca Princiotta – Guitars,Keyboards

Nick Mitchell – Bass

Johnny Dee – Drums
Links
6 color styles available:

Style switcher only on this demo version. Theme styles can be changed from Options page.