Browsing articles tagged with " ontario"
Interview by Lindz Riot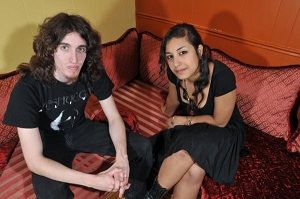 When people hear of Quebec, Canada they immediately think of Montreal, but to the east lays Quebec City where many good things are happening for Metal and Ambient experimental music alike. There you will find a gem, a diamond in the rough by the name of Manahil. Arabic for "The Sources" they are a duo that describes themselves as "Ambient music for Metal Heads" and from listening to them you can hear the concept. It is very refreshing! Fronted by the soulful and exotic voice of Hind Fazazi alongside piano wiz and musical visionist Mathieu Fiset, they are definitely adding something new to the music world. During their Ontario, Canada tour I have had the privilege to house them and sit down with them to get into their minds about what Manahil is and what they are doing that is so different.
Welcome to Femme Metal guys! Thank you so much for doing this interview with us. It's a real pleasure. So how are you two liking your Ontario tour so far?
Mathieu: Great ! So far only one show down, but we played here last October with Stream of Passion and Unexpect and that was great. I can't wait to play Toronto tonight and Oshawa next week with Mary and the Black Lamb and Modified.
Hind: I cannot judge for the moment! But at least, people here are friendly …let's see if the Toronto gig tonight will be as nice!
How did you two meet?
Mathieu : Through a friend of ours. I asked Hind to come up to record a Steven Wilson cover song just for fun, but we ended creating music with an ambient instrumental track I had. This first song is the opening track of our first album.
Hind: I was fifteen years old at that time, and I already knew Mathieu was a great piano and keyboard player. We tried some covers together, in English first, but then we rapidly decided to experiment something new in Arabic, because we both were curious, open-minded and tired of traditional music!
How did you decide on your sound? Was it a vision or something that just came out through jamming together?
Mathieu: We never planned anything really, but of course with the knowledge that she could sing in Arabic and the fact that I love exotic music, we just ended up doing lots of oriental stuff in the beginning. But later we added the pop, rock, electronic and progressive stuff.
Hind: We just ….let ourselves do whatever we wanted to. We knew that our two energies were going to give something unique. We jammed a lot in the beginning to see what we could create together, and then just continued that way until now!
What are your musical backgrounds?
Mathieu: As a kid I was in love with the soundtracks of my favourite movies and then the music of Alegria from Cirque du Soleil really had an impact on me when I was 5 or 6. I took some piano lessons then stopped because the lessons were not what I imagined it would be. Later on, when I was 14, I started listening to metal so my interest in music came back. At 15 I joined my first metal band and slowly became a professional musician.
Hind: When I was a young little girl living in Morocco, I loved…Celine Dion! Then, when I moved to Quebec, I switched radically to thrash metal, Nu Metal and female fronted metal bands! Slayer, Sepultura, Korn, Within Temptation, Evanescence…afterward, I began to listen to Opeth and opened my mind to non-purely metal music, such as Nine Inch Nail, The Cure and Indian music.
What artists have really influenced Manahil?
Mathieu: That would be a long list! But I can say that my favourite bands are Tool, Nine Inch Nails, Porcupine Tree, Opeth but also some other artists have had a major impact like Peter Gabriel, Rachid Taha and Hans Zimmer.
Hind: For me, singers like Amy Lee, Tori Amos, Norah Jones and Susheela Raman, a folk-indian artist, influenced my interpretation.
You say you are ambient music for metal heads, what do you mean by this statement? Are you both heavily into metal?
Mathieu: Yeah, as you might guess by now, we both listen to a lot of rock and metal music, but we need something to balance it all, so we create kind of an ambient or electronic version of the metal music we want to hear.
Hind: As I have already said, we LOVE metal and listen to metal bands, but we hate to categorize ourselves as metal heads. Also, we don't want to get bored by doing the same old style all the time and we absolutely adore oriental music and mixing styles that every open-minded metal head should appreciate.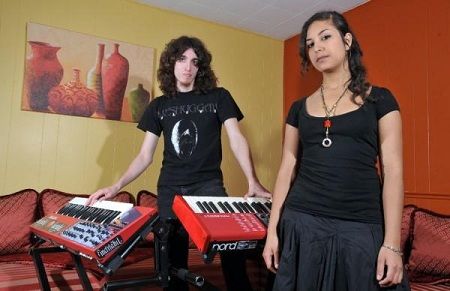 Would you ever consider making Manahil a full band project?
Mathieu: No, because from the beginning we decided Manahil was the two of us, the creative force we are, and not a musical style.So even if we often have collaborators and live musicians, we prefer to keep the basic of Manahil as the two us.
Hind: Manahil, in Arabic, means The Sources, it's only us two and we are the sources of the music we create!
What has the respond to your music been like in the Province of Quebec?
Mathieu: I don't really know, to be honest. It's a positive response for sure, but since it's a really personal music, everyone feels different to it.
Hind: It's particular! Manahil is a very introspective music and in a show context, where people are used to scream, it's weird. It's as if the crowd finds it special to just listen and let the music enter in their hearts.
Do you think you will be well received in Europe?
Mathieu: I guess!
Hind: I really think so. The North American audience is definitely different. The expectations are different, and I think, honestly, that the cultural aspect will be positive for us. We are a non-typical band, and maybe, I say maybe, it will be fully understood in Europe.
Why do you feel the metal scene in Quebec has been progressing so rapidly as of late compared to the rest of North America? Do you agree with this statement?
Mathieu: I guess it's mainly because there's a lot more metal heads in Quebec so with a bigger crowd, you can have more bands, more shows…but I mostly feel there's too much of the same thing. We certainly have some of the best extreme metal bands in the world.
Hind: I agree with Mathieu on that, particularly in Quebec City…Quebec, metal city! But yeah, there is too much of the same: too much black metal bands, classic Hardcore bands… it's not very diversified!
Tell me a bit about your new album, where did you record it? Who produced it? What can we expect to hear?
Mathieu: I produced, recorded and mixed it myself, mostly in my home studio but you'll like to know that we recorded the vocals in Cardinal, Ontario. Musically, it's a new experiment, more than a new direction. As much as we love the new album, we won't do the same for the next album, just like every recording we've done and will do. It's even more "Ambient music for Metal heads" than the first album. It's a deeper, more sophisticated production which I'm really proud of and we went in musical areas that we never dared to explore yet, opening the door for more experiments in the future. We're growing up I'd say!
Hind: Yeah, the composition of this album was a nice and refreshing experience. First, Mathieu sent me what he had done…the musical tracks sounded less melodic and more electronic to me… I didn't know, at first, what I could sing on that! Then I experimented to write my melodies in a totally different way, and the result is amazing: a mix of very melodic vocals mixed with dark-electro-industrial-oriental music!
I noticed a hint of a Jazz influence on your most recent EP, can we expect to hear something like that on your next album?
Hind: No, or maybe inconsistently in a few back vocals. We both love jazz, but we already explored what we could do with that on "From Roots to Clouds", "Alouanou Sama" is totally something else!
Last question: Outside of music, what are your lives like from day to day living?
Mathieu: Music is my day job, but I'd say I don't play as much as I'd like to. Doing lots of planning, booking, promotion, paper work, I don't take much time off, but I like to change my mind from time to time playing games and watching stuff on YouTube. I'm a complete nerd, so I don't have of a much social life.
Hind: I'm going to University, studying philosophy and politics. Those subjects are my main passions with music. I am involved in my community, and I try to be active to promote a provincial political party by the name of Quebec Solidaire. I'm a part time musician, but a full time good citizen, I think. I read a lot and love to party with friends!
Photo Credit
All the photos by Fred Laroche
Links
Live Review & Photos by Jesse St.Clare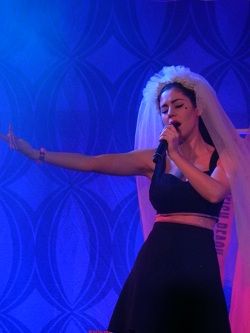 Welsh recording artist Marina and the Diamonds (or Marina Diamandis) is well known for being the quirky, Anti-pop star whose music often depicts American Pop Culture in a rather unflattering light. These days, most pop acts have a gimmick or a "thing" to compensate for a lack of voice. Marina proved on Monday night that this is simply not true about her. The Kool Haus was packed for a cold, windy Monday night and was filled with people of all ages who had drawn hearts on their faces in a trend that Marina herself started with them. Marina took the stage about 9pm with Madonna's "Hollywood" as her introduction music. It fit the theme of her show very well as one could say, Marina's works are like a continuation of where Madonna left off in 2003. Marina came on stage in a two-piece black skirt and halter-top and began with her semi spoken word piece "Homewrecker". She played plenty of newer songs off of "Electra Heart" as well as some older ones off her debut "Family Jewels". Marina's voice is much more powerful live and occasionally flirted with operatic notes in songs such as "Obsessive" and "Fear and Loathing". She also demonstrated musicianship when she sat down at a keyboard and played some songs acoustically and by herself. Throughout the night, Marina had two costume changes as well as many props to help visualise her story. The most dramatic of which was when she returned from the encore in a sparkly silver prom dress that would make even the prettiest of Prom Queens jealous. She had a coat rack on stage which she would very often pull hats, coats, scarves and just about anything imaginable so she could change looks without having to waste time running off-stage. She also had props such as a very massive hamburger on a tray and pompoms for "Hollywood" or a light-up heart belt for "Radioactive". Marina's stage presence on its own would have been engaging enough for the audience, but these props brought the show to a whole new level and made it all the more intriguing. The most memorable moment of the night was when Marina held up a toy dog that walked and balked. She proclaimed "I cannot have real pets because I'm a musician and pets die so quickly. This is my dog and I rescued her from the Betty Ford Clinic. She was addicted to meth". The show lasted for just over an hour and everybody left the show impressed. There was a massive sing-along party outside the show afterwards while fans waited for Marina to come out and sign autographs. Even though there were a lot of people outside waiting, and it was so freezing cold, Marina came out and signed something for every single fan that was waiting. She even took some time to interact with a very young fan who was attending his very first concert with his mother. The Kid picked a very good first concert to attend as it was everything you could have ever wanted to see: Incredible voice, great stage presence and all around visually stunning.
Setlist
Intro (Hollywood by Madonna)
Homewrecker
Oh No!

Mowgli's Road

Lies

I Am Not A Robot

The State of Dreaming

Power & Control

Bubblegum Bitch

Starring Role

Obsessions

Sex Yeah

Valley of the Dolls

Primadonna

Shampain

Hollywood

Radioactive

Fear and Loathing

Teen Idle (Encore)

How to Be a Heartbreaker (Encore)
Links
Interview by Eetu "Ene" Niskanen

We have reached Kittie singer Morgan Lander for let know to all our readers the latest news about the brand new album "In the Black". Enjoy!
Hello Morgan and thanks for doing our interview!
No problem and thank you for chatting with me

This year you released your new album, "In the Black", how much work did it take to get it done and released?
This album was actually written and recorded over a fairly extended time. Most of the ideas and songs were at least sketched out while we were on tour last summer and fall, but nothing was really set in stone until after we were released from our label and were free agents. We then decided it was time to get down to the business or writing, and then once we felt that we had some great material, we went into the studio for 3 weeks to record. It was a very relaxed, laid back experience. No pressure what so ever!
Do you see any improvement compared to the earlier albums?
Comparing our previous works to "In the Black" is like night and day. We are a totally different band ability-wise and maturity-wise. We have come a long way since our "Spit" days.
Also with this album you changed labels, how was the change and how is the new label?
It was amazing to finally be signed again in Europe through Massacre Records, and through E1 Entertainment in North America. Everyone has been so accomidating and helpful with every aspect of the release. We are proud to be a part of the E1 and Massacre families.
You also have a new bassist, how is it working with her?
Ivy actually joined the band in 2007, and she has been a great addition to the band. She is super talented, driven and really just wants what we all want, which is to make Kittie the best that we can be. We all get along and have such a good time playing together, its nice to have that kind of stability finally!
Was it important to get female bassist to stay as all-female band?
Yes and no. While we were waiting to fill the void left by Trish when she exited the band in mid 2007, we had our friend Jeff Phillips join us for a few tours. He also played with us for a few years early on in our career. We honestly just wanted someone who knew the songs and was good at what they do, so it was never really an issue. When it came time for a permanant replacement, however, we knew that reputation-wise, we should be looking for a female. It's actually not that important to find a woman, but in a way thats what most people expect when they hear the name Kittie.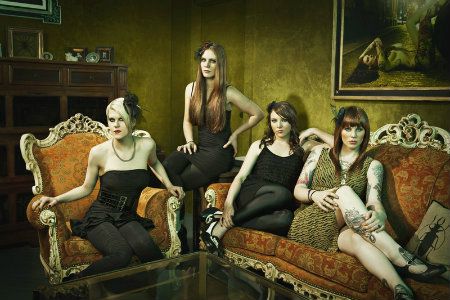 I just did interview with Masha from Arkona so I'll ask you the same question, there are still very little bands with female growler, how did you come up with the idea of extreme vocals performed by you?
Honestly it was something that came naturally to me. It was a way to express how I was feeling and in order to match the dynamic and power of the songs we were writing, I needed to scream. It was never really a very conscious decision, it was all very organic and my style and abilities developed over time.
From the new album, what are your favourite songs and why?
I love songs like "My Plague", "Forgive and Forget" and "Cut Throat" for their speed and intensity, and I especially love "Sorrow I Know" for its dark feel and somber mood. I love the entire album, but these are stand-out tracks for me!
After all these year with Kittie where do you see girls in 5-10 years?
I see us continuing to make music and tour. We are all still young and have so much more to learn and to offer musically. There is no slowing us down!
What kind of music do you listen yourself and how often?
I have quite a diverse set of songs in my iPod that I listen to on a regular basis. I listen to something extreme and heavy just about every day while I am at the gym, and I find that bands like Carcass, Behemoth, At The Gates and Metallica all work really well for high-intensity purposes! I do have alot of more rock based stuff that I listen to often aswell, like Kings of Leon too, for the more chill moments!
Who are your biggest influences?
Personally I don't really have too many idols musically, but I was shaped early on by bands like Van Halen, Heart and Ted Nugent. I respect and admire so many bands though, especially if there is hope or perseverance in their story. Bands like Pantera and Metallica give me hope for the future of the greatness of heavy metal.
In the end, are you working on any quest performances, if not would you like to do?
And by quest do you mean tours abroad? Because we are definitely hitting up Europe and the UK this January in support of "In the Black"!
Links
MySpace * Facebook * Twitter * Site
Latest Multimedia
Interview by Ed MacLaren
Since blasting out of the Great White North in 1999, Canada's Kittie has pushed and evolved from its nu-metal roots into a tight thrash-oriented unit of massive metal mayhem. With the twin guitar attack of vocalist Morgan Lander and Tara McLeod backed by the bludgeoning rhythm section of bassist Ivy Vujic and drummer Mercedes Lander, Kittie's new album, "I've Failed You", is anything but one, reaching new levels in the band's songwriting and sound. Femme Metal got a chance to talk with Morgan about the new album, the changes in her writing, and her dedication to Canada's national beverage.
"I've Failed You"
is a failure in title only. Massive riffs, great vocals. Straight to the point, no filler. A pretty successful combination. Do you agree?
I do, of course! I think this album came out much better than we ever could imagined and as it started to take shape, we knew that it was going to be a monster!
The album features some heavy thrash guitar. It must have been a blast for you and Tara McLeod to throw down on this album.

Tara and I always have a blast when we are writing and playing together. We still have wildly different styles but I think that's what makes this band so interesting and allows for us to continue to evolve. We're always pushing ourselves to be better, play faster and challenge the expected for us.
"I've Failed You"
is a testament to the turbulence in your own life for the last few years. Did writing the album work as a type of catharsis for you?


I certainly didn't set out for it to be like that but going into it I knew that it was going to be tough. I had no idea where to begin. As it turns out, this really was the most difficult and cathartic experience I've been involved in. I promised myself that I would be honest and real with the things I wanted to express, and it certainly helped me to see the situation for what it was and allowed me to grow from it and move on.
Did opening up through music let you push your songwriting to another level?
I think so. We certainly wanted to out do ourselves. At the same time, I think a lot of the songs have a downtrodden, slow feel to them because of the emotions involved. The defeat, the guilt, the sadness. I was physically affected by it and it contributed to the end product.

You, your sister Mercedes and Tara all write for the band – it seems like a very integrated creative core. Has the writing process gotten easier for you or are there challenges with every album?
It wouldn't be a band if there weren't challenges. If things came easy, there would really be no reward. The writing process between the three of us has become easier in that we all know how each other writes and works, so we know the others next move and usually we can anticipate where the song will go. There are always challenges in writing though, whether it be getting stuck on a part or finding the right riff, or scrapping a song all together.
You slow it down to an effectively sludgy pace on tracks like "What Have I Done" and "Time Never Heals". What's the key to a good metal "ballad"?
I think for us, its all about the emotion. It's important to connect with the feeling of the song and the reason behind it, and really bring that forward. Ballads can be huge and heavy too.
Your screams and your clean vocals have never sounded better. On
"I've Failed You"
it feels like they've each become a distinct personality. How do you know which voice is going to show up on a given track?

I've always prided myself on my ability to have a voice for every emotion on a song, if needed, and have worked hard over the years to make that distinction glaringly apparent. Usually when a song is in its beginning stages, is when I start the process of figuring out what will go where. Some songs are written with the specific intent of becoming a "singing only" song but for the most part, it's not until the song fully takes shape do I have a set idea of the patterns and vocal styles. It takes time and practice and hearing the song over and over again, as well as channeling the emotion I feel that is put into the riffs of the song.
It looks like Kittie has finally hit upon a stable lineup and it shows in the ease and confidence of the album's performances. Is there some kind of relief now that you've nailed down a solid lineup and you can get on with the business at hand?
It's a relief, yes but I feel that everything happens for a reason and that we would not have been able to appreciate the stability we have now if it weren't for the instability of the past. I feel like each line-up change was a learning experience for us and shaped Mercedes and I into easy-going chameleons.
How important was it to have Siggy Meier return to the helm on this album? He was a big part of helping you level up your sound on "In the Black".

I think it was of huge importance to have him return to produce "I've Failed You". He is responsible for helping the band to re-define our sound with "In the Black", so it was a no-brainer to have him return. He really knows what we are looking for, sonically, and really helps to get the best performances out of us possible. On top of all of that, he is a great friend and Beach Road Studios is a really laid back place with a great environment. We feel welcome and comfortable there, which makes for a better output I think.
You recorded
"I've Failed You"
at Beach Road Studios in the picture postcard town of Goderich, Ontario on the shores of Lake Huron. It's almost surprising you could record such a heavy and aggressive album in such an idyllic setting. Does the recording location ever have an impact on your writing and recording?
In terms of writing, no, as we always come fully prepared with songs and structures for the session but the environment itself is rather relaxing and no-pressure, making for a pleasant experience. It's creative, it's fun and we work at a good pace. Nothing is ever set in stone and with Sig we're always able to try new things and experiment.

You've dealt with your share of negative press in the past. Do you think that with
"I've Failed You"
you've successfully bludgeoned critics long enough with better and better albums that they have to finally give you some props?


This is the music business and if I have learned anything over these past 15 years, it's that you cannot please everyone. We just continue to do our own thing, improve at our own pace and make the music that we identify with and love. I think with time and effort, that people are beginning to take notice, at the professionalism, the musical improvement and the changes. They're noticing that we aren't giving up and are getting better with every album, so that says something to them and they're giving us props for that. I can't complain.
Kittie has hit the 15 year mark. You've essentially been leading this band for half your life. Do you feel any kind of accomplishment having this kind of longevity?

Absolutely. This industry is so fleeting, especially now and it really say something to me, that we've been able to do this for as long as we have. I'm still humble, still amazed, however, that on the eve of my 30th birthday, that I am still in this band, touring and making music. If asked 15 years ago, I would have laughed in your face. It's a good feeling.
What's it been like for you and your sister Mercedes to essentially grow up in a band? Is listening to your early material like looking back at your high school yearbook where you?? Are cringing at a certain chord progression instead the hair style you wore back then?

It can be like that at times. There were a lot of things going on behind the scenes that made it unbearable sometimes, but overall it was a good experience. The memories are fond and I would never want to go back and re-live them but I wouldn't change anything about those days, either. I am the person that I am today because of it. We all grow, evolve and change, as people. We just so happened to do all of our growing pains in public.

When you look at the teenage Morgan do you still recognize her in you? Despite all the struggles and roadblocks in the bands history do you still have any of the wide-eyed amazement and optimism of that kid from London, Ontario?
I see some of her in me, now, but for the most part she has turned in to a jaded, angry, cynical beast! (Laughs) I'm still enthusiastic about my music and the band, however and am still amazed at times that this is still my life.
I'm sure after all these years you're sick of the women in metal angle of too many articles and interviews. But with that said there's no question that there's been more than a few young woman who've looked at Kittie and said, "They're women and they rock! I want to do that too!" and then they run out and start their own band. A great compliment as a musician and as a woman in metal.

And I applaud them for that! There is nothing wrong with inspiring ANYONE, be them male or female, young or old. I can't say I see myself as a role model but it is always nice to know that what you do makes people want to better themselves.

When you think of specific countries, certain styles of metal will come to mind. Canada? Not so much. Is that an advantage from a creative standpoint not to have one type of music being constantly funneled around you?
Canada, as I'm sure you're well aware, is quite the melting pot of diversity, and I think that funnels down into other aspects of our society and culture. Food, clothing, art. So in a way, I wouldn't expect that diversity to leave music untouched, too. We have all kinds of different things going on and it makes for a really wonderful, vibrant scene, and creatively it doesn't pigeonhole anyone. We just do what feels right and aren't expected to follow any particular rules.


What's the most Canadian thing about you and the band?

Our devotion to the glory that is Tim Hortons!

In addition to Kittie, you also run your Poisoned Black clothing line and the X of Infamy management company and all of this before your 30th birthday. Are you intent on becoming the metal equivalent of Jay-Z?

I'm quite certain that I have more than 99 problems! (Laughs)
Do you ever see yourself putting down the guitar and focusing more on your other interests?


I think I will always gravitate towards music in some capacity and perhaps one day this band may not exist but that doesn't mean that I will stop being creative or being an artist.


(Famous) Last words?

"My works cast down and trampled to dust is no defeat. The soul that built them cannot die. My home burned, I dress in ashes and bend my arm to the harp and sing a while. My love is dead, I mourn and live. My revenge is to live."
Latest Multimedia
Links
Interview by Lindz Riot
So many forms for femme metal exist, the most common being in symphonic or heavy metal. But what about straight up metal that just rocks? I've been searching high and low and when out at a local show recently I found Canadian rockers Embracing Soul. Fronted by singer Chelsea Pisano and guitarist Brandon Iajecznyk, though this band may be young, they bring the energy and the old school spirit of a metal/rock infusion. Also, it's just fun and a guilty pleasure to dip back into music that heals and fuels teen angst. Of which, this band brings forth that feeling well and honestly, especially in their recent EP "Shadow". I (Lindz Riot) was able to catch up with this local act to ask them what Embracing Soul is all about and how it works for them at such an early stage in their musical lives.
Hey guys! I want to thank you both for joining us here at Femme Metal for this interview. First off please tell me about how Embracing Soul came to be?
Thanks for this opportunity! Well, Brandon and I met in 2007 at our high school. Brandon was already in a band playing metal that sounded kind of like Trivium and As I Lay Dying. They broke up at the end of 2008, he joined another band, and we decided to create a side project. We created it because we had all these ideas of what we wanted new metal to sound like. Also because Brandon's current band was very progressive and he had ideas that didn't fit into that genre. A bit after we started writing and recording, we recruited a bassist and our guitarist Tom. Brandon was our drummer. Now, we still fight with member changes, and I've taken on the role of bassist, but we've found steady ground.
Sounds like quite the switch up, but glad to hear its working for you guys now. How would you describe Embracing Souls sound?
We've been trying to figure that out! hahaha. So many people tell us different things like our riffs sound like Pantera or Death, our vocals sound like a collaboration between Evanescence and Opeth, and our music sounds like a mix of death metal and melodic metal.
Brandon: It ends up just being a thing that we make, and it sounds cool and we like it.
Chelsea: I just go with 'gothic, rock/metal' and hope that works.
You've released your first LP "Shadow", how has the response been?
We always sell more at each show, so it's going well! It was finished January 2010 so we look at it now and knowing so much more about recording, we're not as pleased, but we still love all the songs just as much.
So this release was a self-produced effort?
Yes. We produced it, we got the copies made up, and we distribute it at shows. Slow paced, but we have big plans for our next one.
Well congrats! That takes a ton of time and effort. And how have people responded to your live show?
We've noticed we get a really good response from the crowd at our shows. We don't bring a room full of people, but normally once we start playing, the room fills out and the crowd thickens. People have a good time and they tell us afterwards, so we're happy about it.
From your experience so far how do you feel about the Toronto hard rock and heavy metal scene?
Brandon: It's terrible.
Chelsea: There's a lot of good talent in Toronto, our only problem is that we play shows with the wrong group of metal heads. We've ended up playing a lot of death core shows and that's not who we are at all, but that's the main genre out in Toronto now. The people out here don't seem to like it live as much if they can't mosh the entire time or if a whole song isn't only growling
It is quite a mash up, at least we have good bands tour through, but you are definitely right about local show grouping. With the strong underground Femme Metal movement, do you feel things would be different for Embracing Soul if you were relocated in Europe?
I think we would get a lot more recognition. Even looking at our list of Facebook fans, the more dedicated fans are from European countries. The arts scene and appreciation for women and music, no matter the genre, is also a lot greater there. I think it would be fun to tour there lol
Amen to that! So briefly tell us about your musical training and backgrounds?
Brandon: HA! None. I taught myself guitar and basically everything I know about song writing. I just screw around until it sounds good.
Chelsea: I've never taken vocal lessons and I learned all I know about guitar and writing musical compositions from Brandon and I learned bass on my own. Neither of us have taken lessons for anything, nor even have taken music in school. Well, I don't think the year of Clarinet helped Brandon in high school…
Brandon: No… not at all lol
That certainly is impressive guys. K next question: Top 10 most influential bands for both of you! GO!
Evanescence, Opeth, Korn, Godsmack, Disturbed, Tool, Slayer, In Flames, Trivium, Epica.
Wicked. If you could play with any three bands, who would they be?
Korn, Evanescence and Disturbed.
Outside of the band, what do you guys do in your daily life?
The band is our daily life! Well, not all the time, but when we do break, it's for school and video games. We do spend a lot of our time just jamming, writing and recording though. It's what we find fun and what we're studying in school anyway.
What is it that you two study in school anyways?
Chelsea: I am studying Entertainment Management. This is basically for managing bands or artists, getting to know all the legal aspects of the industry and all the right ways to get bands higher up in the music industry.
Brandon: I study Audio Engineering. Basically I want to record bands in the studio.
You guys seriously sound like a super team of which any band would be jealous of, or well, wish to have. So with all of this being said, what does the future hold for Embracing Soul? Can we expect to hear some new music soon? Any other big plans?
We are currently taking a writing break. With all the stress involved with school, we don't really have time to practice too much, but we're always writing. We've already started on some new recordings actually. These will just be promotional copies until we get into the studio (which we plan on doing after school). Our song writing is constantly improving, so the songs we're currently working on, we're very excited about. So yes, there is a lot to come from Embracing Soul in the next year! We're looking forward to it.
Links
MySpace * ReverbNation * BandCamp * Facebook * Twitter * Site
6 color styles available:

Style switcher only on this demo version. Theme styles can be changed from Options page.