Browsing articles tagged with " possible"
Interview by Vard Aman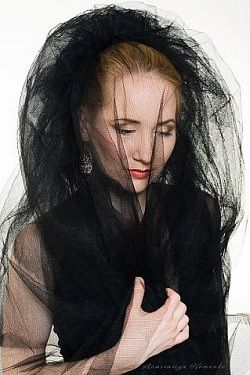 Vocalist, Olga Salikhova, has over the years become a familiar name and face (and voice) in Russian Female-fronted Metal, having fronted bands such as Slavery, Oktagon and Luna Aeterna. Currently, she is singing for one of the pioneering bands of Russian-based Doom Metal, Voiceless Void, as well as her own project, Core. I caught up with her for a chat about her musical career to date.
Hi Olga! Welcome to Femme Metal Webzine. So, to start off with: when did you start singing?
When I was a little girl my granny used to take me a long way to our summer cottage on a bike on the rear seat, and I used to sing all the way to entertain both of us. Later when I was 7 I went to music school and joined a choir, and I liked being part of it.
Did you have any special training?
Yes, I did! When I was a teenager, I felt a great desire to get a Grammy and to conquer the world, and I was quite sure it won't take me more than, say, 5 years, so I started attending some weekend classes at a musical studio. There I experienced my first individual vocal classes. After that all my training was mostly with different private vocal coaches.
What was your first band?
I was 17 then, it was a very nice band called Slavery, they lived in a different city in the Moscow Region, so I had to commute to our rehearsals twice a week and my parents had to meet me really late at night coming back. Slavery was kind of melodic power metal with dark lyrics and kind of gothic image. They were really nice guys and the founders of the band are still my friends.  There are only a couple of live audio recordings from our gigs and a demo. Unfortunately, even though they existed for 10 years, they didn't release any albums, even after I left the band.
According to Metal Archives, Slavery split up for the second time in 2010. When was the first time? Was that also when you left?
No, when I left the band, they found another female leader, also named Olga (Mashkina), also a blonde, there were kind jokes about that in the group and among our fans that the band attracts such front girls. I know after Olga Mashkina they had another blonde singer, Nastya. I actually don't know much about their first splitting-up, I know about the second one in 2010, I was involved then.
How were you involved?
I took a break in my musical career after I left Luna Aeterna. I didn't sing at all for about 4 or 5 years. I communicated with my ex-music colleagues very seldom, only occasionally. Then one day I met with the bass-player of Slavery, Irina, and she suggested that I join them again because their singer, Nastya, was leaving the band for personal reasons. I agreed with enthusiasm, we started rehearsing together, it all was nice and we were discussing recording an album, but after a month of rehearsals the guys decided that they felt exhausted and lacked creative inspiration and new ideas for our music. That's how we split up, basically.

Interview by Ed MacLaren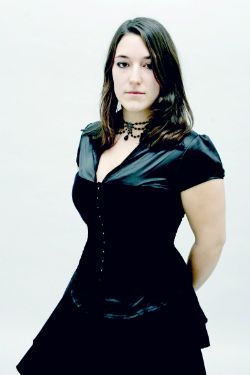 Barely into their 20s, Germany's Voices of Destiny has a musical maturity that belies their young years. With their shining debut, "From the Ashes", Voices of Destiny is packed with massive chops and soaring vocals that match many of the premier symphonic metal bands you're listening to right now. Vocalist Maike Holzmann joined Femme Metal to talk about the creation of "From the Ashes".
Congratulations on the new album! With Massacre Records no less. How are you and the band enjoying the ride so far? The feedback must be excellent.
Working with Massacre and all the great people we met during the recording process is awesome. Of course, we got some positive reviews and comments on our homepage, but we can't tell how often the album is sold by now. We will know better in a few weeks.
"From the Ashes" is a very multi-textured album that draws you in deeper each time you listen to it. There's a lot of detail happening musically. What's the key to maximizing the "From the Ashes" listening experience?
Maybe just sitting down and listening to the album carefully and consciously. If you read the lyrics while listening this might also maximize the experience. You can interpret them and find out how they fit into your life.
What's really impressive about "From the Ashes" is the number of potential singles: "Ray of Hope", "Return from the Ashes", "Apathy" and "All Eyes on Me" are all standout tracks. Each song on the album can stand on its own as well as a cohesive part of the whole album. Was that the band's approach during the songwriting process?
Yes, indeed. We didn't write the album as a concept album. Some songs already existed for 2 years or longer. But we thought they'd fit the album as well. Every single song is good on its own but concerning the whole album they reach another level somehow.

Interview by Miriam C.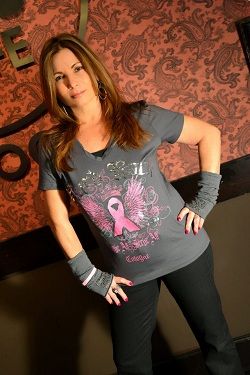 If metal impersonate as a queen the German Doro, instead in the melodic rock/AOR territory the true deal is the US Robin Beck. Known for the uber huge hit single "First Time" in 1988 born from a jingle of a Cola Cola commercial, after 6-years-break from the last album "Livin' on a Dream", Robin do her comeback with her 9th album "The Great Escape" on her own imprint, Her Majesty's Music Room. Want to know more? Continue to read this extensive interview…
Hi Robin, first of all thanks so much for accepting this interview! For me is a real pleasure to host and promote you in my webzine and I thank you for finding time out of your busy schedule to reply this humble questions.
Thank you Miriam I am happy to.
On your official biography, you stated that since you're a little child you wanted to be an artist and when you were 10 yrs old you have written your first lyric. Now, being passed so much time, did still keep it and what you think about it?
This is not a secret lyric. It's a childhood song about love of course… "Key to My Heart" Sort of a country song. I think it was pretty good for a kid.
Despite the fact that you are world famous singer, during your break for raise your daughter Olivia, you have still recorded album as a background singer. From this experience what you have learnt? Any good memory to share with us about that period?
I don't have anything but good memories… and still more coming. My daughter is the light of my life! You do learn from being a mother how to be a parent from your children. If they are happy… then you've done a good job… so I give myself a gold star. I will also say that from having Olivia that I became more conscience of how important school really is… this something I took for granted while I was growing up. I hated school but it's the most important part of our lives to begin with.
Let me get you to the early times of your career, at that time what were your favourite musical acts and are your musical tastes changed now?
Ha… Janis Joplin, Joe Cocker, Aerosmith, Queen, the Beatles, Stevie Nicks, Carol King, Crosby, Stills, Nash, Taylor and Reeves and the Supremes. Just to mention a few.
Your debut top hit single "First Time" in 1988 was a spin off for a Coca Cola commercial, how you got involved in it? Also the video clip was different in EU and in the US, why?
I was chosen to sing "First Time" the jingle… then the song was written and it just flew high by popular demand first in the U.K. – They then did an American Version since Americans don't speak English I guess! LOL It was perfect the way it was first created… then we simply rocked it out for the simple reason that I was noted as rock artist and that's the way they envisioned it for the States.
How was the genesis of your last album "The Great Escape", when you have started to nail down the first lyric?
Hummm… really don't remember specifically. It just came when it came… and out popped the entire album. We worked for about 5 months straight on it.
Your latest studio album was 2006′s "Livin' on a Dream" (now I'm excluding the re-release of "Trouble or Nothing"), why it passed so much time since then?
I was putting together my own label and time was just flying by. I was also managing a band at that time and devoted a lot of attention to them.
How's born the partnership with Tommy Denander and James Christian (that's your husband)?
I met Tommy during a "Radio Active" invite to sing a song… and from there it was a relationship of 3. Me, James and Tommy. We are all very tight. James my husband is in House of Lords. He might be the best producer I've ever worked with. Not just because he's my husband, but because he really gets me and knows better what I can do than even I do sometimes… it's great to have these 2 men by my side.
What's your personal meaning and what do you want to express with the title album "The Great Escape"? Or it's simply related to a lyric present in the album?
For me it's meaning was simply to take a break from life and listen to some great music. But the song is literally about getting away or escaping the trappings of a bad relationship. The title of the album really has nothing to do with the song I'm afraid. I kept it because I just loved the image I had created in my own head. When I'm listening to music that I love… all my cares vanish. That's what I want for my fans.
Two songs that totally hit me are "The One" and "Don't Think He's Ever Coming Home". What are the subject of this lyrics?
You hit the nail on the head with these two songs Ms. Miriam. "The One" is clearly about the love of my life and how to let him in on it. "Don't Think He's Ever Coming Home", is a whole other story… this is an unhappy ending for a girl who tries to keep a man that truly wants to be with his intended. Some girls are just lying to themselves and this song spells it out for them in a most unforgiving light.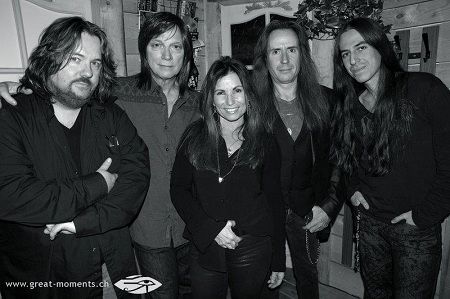 On "That All Depends" you sing with Joe Lynn Turner, how do you feel to realize such a dream? How was standing literally (and singing) beside him?
Ha… that's funny… I've known Joe Lynn Turner and have sung with him for years and years… you'd think I'd be immune'd by now … but he's dreamboat. I've always loved his voice and his way. I can't say enough nice things about Joe Lynn Turner. It was great that he took the time to do this with me. Hopefully we will do another song together in the future.
In February 2009 you founded your label Her Majesty's Music Room, why? I mean you haven't no more faith in the labels?
Yep! That's it in a nutshell. It's a smaller system but much more satisfying. I mean really… working with a label can make you or break you… but working with my own label makes me happy.
The re-recorded release of "Trouble or Nothing" include 4 bonus tracks. If I got it right the songs are original from that session and why at the time weren't included into the album?
No no no…. these songs were not from that time period. They were fresh newly written for the re release of "Trouble or Nothing".
In the 80′s MTV was the leader in broadcasting and promoting AOR bands/singer like you now after 20 years or so we find that internet, with its connections of webzine and sites dedicated to music, is taking the lead. What do you miss of the 80′s from this point of view? And also how much do feel confortable this all this new technology? Have you already notice any pros and cons for your activity?
It's great… no matter what this is how we evolved. For me it's wonderful. I have much more exposure… sometime not the exposure that you want but as they say… all press is good for the artist… good or bad.
Watching your long, stellar career what it is missing is a full concert DVD. Any plans to record it?
Yes… we almost did it at Firefest. But I'm looking to do something that spans my career, not just a rock concert. This takes time but I can assure you not too much longer.
Finally your EU fans have the chance to meet you during your upcoming "Here Comes Trouble Tour" made of 10 dates running thru Germany, UK, Switzerland and Austria. Any project for a full European tour?
I am trying to put that together already. It was only the beginning to start this year after so many years of being missing from the touring circuit. It will take some more time to build up the audience awareness… let's start here. Tell everyone to keep an eye on www.robinbeckrocks.com for coming tour dates in 2013 and Facebook as well.
After this EU tour, what are your next plans and if yes, are you involved in other musical related stuff?
I am in the middle of making a new album right now. We are also discussing new tour for 2013.
Olivia, your daughter is following your artistic footprints, would you mind present her and her songs?
She's amazing and living her dream right now as an actress… but this girl has pipes and she can do anything she wants to. I would be proud to see her live her life and use her talents to make her own dreams a reality.
I've a just a little curiosity to fullfil, you know I'm from Italy and time ago you have recorded a duet with Pupo (that's a real famous songwriter/singer here). Do you mind tell me how's born this collaboration? To me, discovering this was such strange because Pupo doesn't really represent the attitude of a rock star.
Well there's not that much to tell… he reached out to me to do a duet with him and I did. It was fun… and Olivia was only 10 months old at the time so she was in my arms the whole time I was with Pupo singing.
Well, Robin, we're at the end. I really thank you for your time. Please greet your fans and our readers as you like. Really thanks, Miriam.
Please come visit me at my website www.robinbeckrocks.com and on Facebook. I would love to see you there. If I'm in your area please come out and say hello. Watch my website for any details in the coming months. All my love.
Links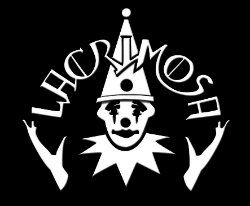 Interview by Miriam C.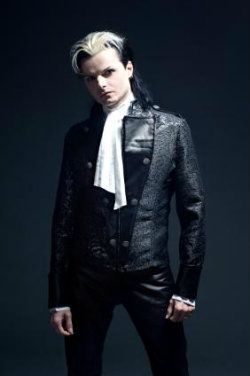 After four three of silence gothic/darkwave Swiss duo Lacrimosa are back! So we took the chance to ask a few question to the mastermind Tilo Wolff about on "Revolution", the new album out on Hall of Sermon.
Hi Tilo, first of all thank so much for reply at our questions. How are you??
Pretty fine. We are on tour in Germany right now, have the last five shows ahead and so far we are pretty happy with everything that happend during the tour!
"Revolution" comes after a three year break with "Sehnsucht", how was the album's genesis, when have you started to nail down the first lyric?
Actually the first lyric for "Revolution" was "This Is the Night" which I wrote in Bejing right after we played there in 2009. So the first seed for this album was planted while we were still on tour with "Sehnsucht" which might also be the reason why this new album sounds like the conclution of the previous one.
For this last album you have worked with Mille Petrozza (Kreator) and Stefan Schwarzmann (Accept), how's this collaboration was born and how was working with them?
It was quite spontaneous. Mille was at my house visiting me and I played him the track "Revolution" in a version recorded by myself. He instantly liked it and asked if this would be the final version. "Why?" I replied and he said that he'd like to play this song himself. Of course I had nothing against it and then he played more and more songs getting really into it! Afterwards I asked Stefan if he'd like to participate on the production since we already some time ago talked of doing something together, and well, so it developed.
Will you shoot any videoclip from the "Revolution" album? What songs will you choose?
Yes, we made a short clip for "Irgendein Arsch ist immer unterwegs" and a live clip for "Revolution" which is in the post production right now.
How is to be your self entrepreneur of your music? What are, in your opinion, the pros and cons? Also I've read that you have taken the decision to not sign anymore external band like has happened with Sandra Schleret's Dreams of Sanity, why?
The pros are that there is no-one telling me what I shall do and what I shall not do. I can write and produce exactly the music I want to free from any commercial aspects! This is essential for me! The cons are that I don't have much free time. This is also the reason why it always takes so much time from album to album. While other bands are on tour their record labels are preparing the next album and taking care of the promotion while I'm just busy traveling and playing.
Between "Sehnsucht" and "Revolution" are passed 3 years, there's something that you'll change in "Sehnsucht" and, in your order of ideas, what are the differences between the last album and this one?
I improved in the production and mixing matter but I love "Sehnsucht" as it is. Pure and majesticaly unpolished while the new one is straight, direct und uncompromising – so far my favorite album!
What is the lyric in "Revolution" that you are more fond of/attached to? And why?
"Weil Du Hilfe brauchst". Here it all comes together for the album. If we don't realize that we have needs that need to be fullfilled and that there are people around us that might need our help, if we don't realize that we all are sitting in the same boat and will only survive if we row together and not against each other, than we might be lost!
In your long musical career what is/are the thing(s) that you regret the most and there's something that you'll change?
Of course when you are doing all by yourself and have no adviser you make mistakes here and there but all in all I am pretty happy with everything and if things would have been different I wouldn't be where I am right now and where I am right now makes me thankful, so no need to regret anything so far!
How should consider the status of your other band Snakeskin? Something is going on or all is quiet and would be for a long long time?
Well, it's all a question of time. Since years I want to make a new album for Snakeskin but I just don't come to it. Maybe in the end of next year, let's see.
Maybe this question can sound harsh to you but I hope to explain well what I would like to ask : what you can tell me about Anne's musical background and, if I recall right, in 1994, what was triggered the decision to insert/add her in the line up? In the end what was the thing that you have been hit/intrigued about her?
Since I started with Lacrimosa I was trying to find a female voice suiting my voice. Already on the first album I recorded with some but never was so completely happy. When I heard Anne plus she playing after I never had a good live keyboarder I asked her in for some test recordings and musically and personately it worked perfectly.

Well, dear Tilo, I really thank you for this interview, hope you'll finding it entertaining and interesting. I would ask you now to greet your fans and our readers. Thanks
Thank you and take good care!
Links
MySpace * Facebook * Twitter * Site
Interview by Luisa Mercier

It was on 2006 that we heard news, for the last time, about Bill Leeb's electronic pop project Delerium. After that nothing. But with 2012, after 6 years of silence, Delirium reappears in the music business with the fourteenth album called "Music Box Opera" and since I have always been a great Delerium fan, so it was a great pleasure to have this exclusive interview from Bill.

It's been a long time since "Nuages du Monde". How does "Music Box Opera" connect with the past and how does it differ from it?
The concept is still the same, we are trying to create ethereal electronic pop music. Having said that, a lot has changed in the world and with all of us so there's definitely a growing scenario going on with all the people involved… More specifically would be that we've come along way in writing, producing and programming and our tastes have changed… We've all matured and we've evolved and we tend to think that it comes out in the music.

There are some new entries among the singers, together with already known voices like Kristy Thirsk. How and why did you choose the new ones?
With every record we try to evolve and bring new flavours into the mix, we usually make a list of potential singers we want to work with. We then reach out to them and through attrition and luck we end up with people we respect and want to contribute to the album. It's definitely a lengthy task cause a lot of people have busy careers and lives so sometimes these things take much longer than anticipated. That's why its also been 6 years been albums, good things take time.

Am I wrong or the sound is more electronic? What audience do you expect to reach in the music business overcrowded by mainstream acts?
No, we've definitely put away all the organic instruments and have gone for a really electronic feel this time. More programming, no acoustic guitars or anything. We thought it was really time to change it up and go down the electronic road, which is kind of where Delerium started from anyways, we like things to be really tweeky now and since technology has so much to offer now we try to expand our horizons.

Have you ever felt so hopeless towards music scene as to want ro give up everything and just go back to a normal kind of life?
No, being an artist is something that picks you, you don'y really pick it. I think all artists are tortured souls, whether they are successful or not because how does one measure success. Is it done through the amount of status you have versus how much wealth you obtain? Or is it just trying to be a pure creative genius who's simply putting forth something you think the world needs to see or hear. It's a never ending journey, you could ask any artist of any genre and they will all tell you pretty much the same thing. No piece of art is ever perfect or complete, you go on forever striving for that perfect song even though in the back of your mind you know it's unreachable, which keeps you going. As far as normal goes, I don't think anybody lives a normal state, the world is a pretty complicated place.

On an happier note, is there still something you have not tried and you would like to do -music related – in the future?
I would definitely like to score a major motion picture with a real budget that is very artistic and off the beat and track. This is something that has always eluded me and kept my curiosity, I keep hoping that this will be the one thing will still come to fruition down the road. We just finished our second video game soundtrack for a game called AirMech with Front Line Assembly so we are interested to see how that will pan out and where it will lead.

Future project? Touring?
Touring has become a very insidious proposition because it seems like it's hard to put the show together that you want, and putting something out there that is less than 100 % of your idea and vision feels like you are not reaching your full potential for your audience to see. Everybody tells you now day to go out, lofi, low cost, literally get in a van and tour but is there really a point to that? Will that actually help sell records these days? This is a question the band always talks and thinks about, so at this point we are pretty undecided what the future of live shows will be at this moment in time. Having said that, if the feedback merits it and there is a real demand we will obvious give it a rethink and possibly hit the road and do some shows.
Links
Latest Multimedia
6 color styles available:

Style switcher only on this demo version. Theme styles can be changed from Options page.