Browsing articles tagged with " powerful"
Interview by Ed MacLaren
Finland's Katra made a big impact in 2007 with its debut album, the folk/symphonic metal hybrid "Beast Within". Originally conceived as a solo effort by the band's namesake, Katra Solopuro, she carved out a fine niche for herself in the metal world. But instead of continuing down that same path on her next album, she expanded Katra to include the band full-time to augment her own considerable songwriting skills. Together they retooled an already unique sound and returned with an even stronger sophomore effort – the aptly titled "Out of the Ashes". Femme Metal got the chance to chat with the lovely Katra on the key changes, musically and personally, that combined to create "Out of the Ashes".
"Out of the Ashes" hits the ground running with the pounding track "Delerium". It's heavy riffing sets the stage for the rest of the album. Were you trying to make a statement right away that you were going a different direction with this album?
Yes. We felt that "Delirium" was one of the best songs to represent this album.
On "Beast Within", you called the shots and now with "Out of the Ashes" you're working as part of a group. Why did you make the decision to change Katra from essentially a solo project to a full band?
Well, during that time we've kind of sealed together as a band. We've been a full band on stage and on tour for a long time now and every one of us wanted to change the settings to be a full band on paper too.
How did you go about selecting each band member? What musical qualities and personality traits were you looking for?
I wanted to gather good guys and musicians that I already knew before Katra. It was important for me that we get along well on the stage and also behind the scenes. Musically, I wanted the guys to have their own sparkle and visions about music overall and, of course, good skills technically.
How would you describe the chemistry between you and the rest of the band?
We co-operate really well, we all know how to have some fun and we enjoy a similar style of humor, which can be quite black sometimes. (Wink)
Did you have any problems getting used to the new dynamic? Was it difficult to relinquish an element of control over the music? Did you run into any problems at first?
I think everything worked out without problems.We've found a good way to co-operate and everyone has their own important role in a band. Democracy rules.
How did your creative process change with the input of the band?
Now the whole band composes and arranges; there's at least one song from everyone on the album. Usually the basic structure and idea of song is made by one of us and then everybody arranges their own parts. I write the vocal melodies and lyrics. Riffs, chord progressions and song ideas are usually done before and then we build it up together.
You can hear new energy in the harder-edged sound of "Out of the Ashes". You toned down the symphonic and folk elements and cranked up the guitars. How has Katra's sound evolved between albums? How would you describe your new musical direction?
"Out of the Ashes" is a more mature and powerful album if you compare it to "Beast Within". We wanted to take our sound in a bit more straightforward direction with less orchestration, but with a more intimate feeling.
Was the change in musical direction a natural outgrowth of the new "collaborative" environment or was it a conscious decision?
I'd say both. Of course, the fact that everyone's taking part in the composing process has a straight effect on our sound, but we also wanted to consciously develop our sound in a more rough and rockish way.
"Beast Within" was an excellent album but after the experience recording of "Out of the Ashes" in a band environment would you have recorded your debut any differently?
Hmm… maybe not. I think it's only natural that things develop and change. Of course, there's always something that we could change, but it's better to keep your eyes on the road and head towards the future.
On "Beast Within" , you favored more operatic vocals drawing out the length of notes. You've expanded your already impressive singing style to include a quicker delivery to match the speed of the music. Was there a lot of experimentation on "Out of the Ashes" working out the vocal parts or did you just go with the flow of the music?
Thank you! For me, the most important thing that influenced my style of singing was when I got in to study theatre music and music drama at the University of Applied Sciences. The main point of singing is now in jazz/rock technique more than classical. So, on this album I made the vocal lines to support more of the technique that I'm studying now.
Tracks like "Vendetta" and "Anthem" are great tracks and add new elements to the Katra sound. What differences do you hear when you listen to "Beast Within" and "Out of the Ashes"?
I hear a lot differences. It's definitely more guitar driven now. We have less piano parts and orchestrations. My voice is different and closer. Lyrics are dealing with heavy issues rather than fairytales. Overall, I feel that the sound is more intimate and represents us more.
You've said that "Out of the Ashes" feels like your first album. Why is that?
Maybe because it's the result of our co-operation and I've put so much feeling and experience into it. I was having a really hard time a few years ago and I kind of feel that making this album was like free therapy for me.
Does the title of "Out of the Ashes" have a personal meaning to you and the band?
Yes, it does. As I said I've experienced really difficult things during last few years.I feel that nothing is easy.You have to always bang your head against the wall until it breaks… or you give up. Almost every song on the album is about the end of something, "After the fire there are only ashes, then it's one's decision, whether to stay or rise out of the ashes and start again". The album title is a statement: refuse to give up.
You had a memorable show opening for Theatre of Tragedy in Mexico City this summer. How would you describe the concert?
I have no words for it… It was absolutely amazing! The atmosphere was unbelievable. There were lots of people sharing the moment with us, singing with us and having fun with us.
Did you take away anything from the experience to use in future shows?
Yes, I did. I always take some pieces and fond memories from the shows and the next time I will try to give something extra from myself to the audience.I love the fact that music is so universal and goes over boundaries. That's something I noticed literally during our gig in Mexico.
Did you road test any of the new songs? How did they come across live?
Yes, we did. We played "Out of the Ashes", "Delirium" and "Hide and Seek" at gigs long before we started composing material for this album. We felt that they worked really well – especially "Delirium".
What are your tour plans for the fall and the new year? Where can we see Katra live?
The booking management is not in our hands, but I hope we can do a tour in Europe at some point.
(Famous) Last words?
You can't experience being alive without realizing that you have to die. But it's just as impossible to realize you have to die without thinking how incredibly amazing it is to be alive.
Latest Multimedia
Photo Credit
All the photos by Peero Lakanen
Links
Katra : MySpace
Katra Solopuro : Facebook

Interview by Robin Stryker

Two years after releasing their debut album "Reversing Time", Greek/Turkish progressive symphonic melodic metal band, Dreamtone & Iris Mavraki's Neverland, returns with its second album "Ophidia" (AFM Records 2010). Femme Metal sat down with Greek female vocalist, Iris Mavraki to get the inside story on the band and its new album.
Welcome, Iris, and thank you for joining us today! Would you start off by telling us why you joined forced with the Turkish band, Dreamtone, to form Neverland? What was it about Dreamtone's music that caught your attention?
First of all, hello Robin; it's a pleasure to be with you! Well…. A few years ago, my son Orpheus Spiliotopoulos, who was at that time reviewing for the Greek site MetalTemple.com, suggested I listen to a CD entitled "Unforseen Reflections" by a band called Dreamtone. I was immediately, tremendously impressed by the power of their compositions and the symphonic elements in their music. Then I found out that they are from Turkey; a nice surprise to me as I was then also singing with the Turkish Symphony Orchestra, so I suggested we get in touch. There was something in their music, something really different.
Neverland was born as a project to combine metal with a symphony orchestra for live performances. At what point did Neverland mature from a concert project into a full-fledged band?
That didn't take long really! As I mentioned above, that's how it started in my mind for sure, the metal band working with an orchestra and being about the live performance. It was certainly our first idea for it, but we quickly realised that there was so much more interesting material and potential that could be shared, and that it had to be right to start a new band recording our own music! We decided to unite forces and become Dreamtone & Iris Mavraki's Neverland, and we've never looked back!
For someone who has never heard "Ophidia", how would you describe the album's sound? And, for fans of "Reversing Time", what are the biggest differences between the two albums?
I think "Ophidia" has the more powerful sound of the two but it also combines, in some parts, an Anatolian, Mediterranean, spicy touch, Medieval parts, symphonic parts and bombastic melody too. I think it goes further than the first one! "Reversing Time" was maybe more symphonic; we had The Istanbul Philharmonic Orchestra play on it, but both albums ultimately have the identity of Dreamtone & Iris Mavraki's Neverland because they're written with all the musical styles present.
Which bands have influenced Neverland's sound the most?
Hard to say as I think each and every one of us have different influences. But, if asked specifically, I would say: Blind Guardian, Jon Oliva's Pain and many others!
What does "Ophidia" mean, and does the title play into the album's overall theme?
Well, "Ophidia" basically tells the story of how the evil inside every one of us slowly corrupts anything and everything. Our title track is basically a semi-electronic, semi symphonic, mid tempo piece with its subtle change of pace as well as some nice guitar tricks. The song covers the theme from the perspective of "evil" as having a tongue and speaking. The song presents evil as a "snake", slowly crawling inside our minds. "Ophidia" means worshipping the snake or following the path of the snake. Since humans almost always lie, the song suggests that we are all Ophidians… In the album, there are a lot of different meanings in the songs as well though, I don't think we had a total concept of "Ophidia", but just tried to represent just a few of them.
Please tell us a bit about your musical training and background. Also, who are your personal musical heroes?
Well, I studied classical piano and had singing lessons at the National Conservatoire And Hellenic Conservatoire of Greece in Rhodes. I was a member of the Municipal Choir of Rhodes for about 10 years, and a member of an amateur theatrical group there. I have been singing alone and with bands for many years and with Symphony Orchestras from Turkey and elsewhere, at numerous concerts for the "environment", "against racism", "antiwar concerts", "for human rights", etc. I had many different influences, starting with: Joan Baez, Maria Callas, Janis Joplin, Pink Floyd, Metallica, Trans Siberian Orchestra, Leonard Cohen, Blind Guardian, East West Divan Orchestra and Daniel Barenboim, plus Mikis Theodorakis who you might know? I was very lucky back in the 80's to have had an audition with David Gilmour (Pink Floyd). I think that all these years of experimenting with many kinds of musical styles and in several different languages, have given me a wide range of repertoire and experience.
With your background participating in human rights concerts and given the historic tension between Turkey and Greece, how important are politics to Neverland?
It's not really about this, but there is some aspect of it to think about I suppose! If you think about it, our countries have had bad relations for many years and are slowly recovering from these wounds of the past, so it is important that we help promote such a conscience, especially in the young. To build a cultural bridge through music is the best way to spread messages of hope and peace, as music is a universal language, no? "Politics" in the narrow sense of the word, is for Politicians. I think, for us, it's a matter of keeping eyes open helping people to be more aware of things. We, as people from Greece and Turkey, have far more to share than those who try to divide us can take away! We share the same sun, and that means "light". It's politicians that create the problems, not us!
The new album has fantastic guest appearances by metal vocalists Jon Oliva (Savatage, Trans Siberian Orchestra, Jon Oliva's Pain), Edu Falschi (Angra, Almah) and Urban Breed (Pyramaze, ex-Bloodbound, Tad Morose). How did these collaborations come about?
Oganalp and our band members contacted all of them and asked them if they would accept an invitation to be our guests basically, and it's so wonderful that they all accepted. It's really wonderful having people like this on our new album. It's humbling!
Neverland will be touring Europe with Jon Oliva's Pain in October. Is the tour a direct result of his guest vocals on "Ophidia"?
We were planning to go on tour anyway, but, I think Jon's appearance on our album definitely played a role. I think the general reaction to the album from the fans is also so great that that plays its role too and is the main reason for us being accepted on the tour.
One of the most touching songs on the new album is "Places Unknown", a farewell to Mike Baker (Shadow Gallery) who passed away in 2008. During the upcoming tour, will Neverland perform "Places Unknown" or "Reversing Time" (feat. Mike Baker) — the title track from Neverland's debut album, which was also Mike's last official release before his death — or are emotions still too raw to sing these songs during a live performance?
Emotions are, of course, still present and raw. It was such a shock for us, and especially for the Dreamtone guys, who were in touch with Mike for a long time. But the fact that he sang "Reversing Time" and that this was his last song recorded; you know the lyrics of the song? Well, it seemed to me, very strange. There are sometimes things you simply just can't explain in words and that is one of them, sorry! Yes, we will be playing these two songs, definitely! May Mike rest in peace and in our memories.
Speaking of tours, how was ProgPower Europe 2009? What is your best memory from the festival?
It was a terrific experience; bands from different countries, a fantastic audience that came just for the Festival. It was amazing. I was impressed by Evergrey's acoustic performanc. We had lots of fun and good memories. We hope to be there soon, once again. Promoters, audience and bands were all awesome and very friendly to us!
Congratulations on the video premier of "This Voice Inside" on Headbangers Ball (MTV Greece)! Why did Neverland pick this song as the album's first music video?
Well, "This Voice Inside" is about the main character of "The Wheel of Time" series, Rand Al'Thor, one of the main characters of the book. It mainly tells of Rand's unwilling turn into an anti-hero, whilst constantly trying to battle with the voices inside his head. It's a powerful song. You're right. It had its premier on Headbangers Ball (MTV Greece)! In fact, they will be presenting it again, as we have a concert in Rhodes at the Colorado Club (Rhodes) on June 10th. We picked the song because it was powerful, of course, but also because it somehow defines the album's sound. There are more complex and alternative tracks than that one, but it shows generally, what to expect from the album!
Which is your favourite Neverland song of all time, and why do you feel a strong connection to the song?
Mine is actually "Black Water", off "Reversing Time". It talks about, black water; oil, or more specifically petrol and reminds us of the eternal fight humans seem to need to have to keep control over it. It is a lovely song also, from the pure musical side!
If you could design the perfect Neverland gig, what would it be like (venue, guest appearances, etc.)?
I would love to do this! First of all, I would design it with a Symphony Orchestra, of course, live with Neverland. I would have all our guests appear also, in memory of Mike Baker. I'd do two big concerts. One in Athens and one in Istanbul. And I would give this the title, "Connecting Bridges"!
How is 2010 shaping up for Neverland?
So far, it looks very exciting. In Rhodes, the concert is organized by the Road Knights, the MCC of Rhodes (The Harley Davidson Club of Rhodes) and my son Orpheus will present "Ophidia" and us. Orpheus presents Headbangers Ball (MTV Greece) now and is also writing for Rock Hard (Greece) and they will be our Media Sponsors. Then we're preparing for our European tour with Jon Oliva. It will be great. There are many shows booked, and we will visit several countries. I believe we've just added two more gigs, one in the Czech Republic and one more leg in Germany? It will be a great experience,w e will have a real chance to connect with our European listeners, and I'm so looking forward to it. 2010 is probably going to be our most active year to date.
Thank you for taking the time to chat with us, Iris. Do you have any parting words for your fans at Femme Metal?
I thank you also, it was a pleasure to speak to you. Thank you for some really good questions. I send our greetings from this part of world and hope to perform somewhere close to you soon, hopefully in the UK? Keep listening and supporting Metal Music; it's a good way of life and it rocks!
Links
MySpace * Facebook * Twitter * Site
Latest Multimedia
Interview by Robin Stryker
Illuminata is a new band from Graz, Austria with two multi-talented female singers, Katarzyna Nieniewska and Lisa Tomantschger. Illuminata's three-song EP, "A Frame of Beauty", has a lushly symphonic sound with the added beauty of passages featuring the piano, guitar and flute. Read on to learn more about this exciting new band.
Hello, Katarzyna and Lisa! We're glad you could join us today. Would you tell us a little about Illuminata's history and how you became involved with the band?
Well, the band was founded in 2006 by Luki, who played bass then and Dave. The guitarist of their former band joined and, as they had a pretty clear concept in mind, they auditioned two female singers and a keyboarder. The current line-up exists for about half a year now. We've released three records: the two EPs "Lachrymal" and "A Frame of Beauty" and one full length album "From the Chalice of Dreams".We have played concerts together with Elis and Grossstadtgeflüster and are currently looking forward to performing our first festival. That's Illuminata in a nutshell.
Katarzyna: After a long, tiring and unfortunately fruitless search for a band that would suit my style and ambition, I almost reached the point at which I wanted to abandon the thought of being in music altogether. At exactly that moment, I came across Illuminata's ad and it instantly clicked.
Lisa: Since Illuminata's search for a new singer was quite active, they rather found me than the other way round. One day they contacted me via a social network website and we arranged a meeting where Katarzyna and I noticed that we had already seen each other at university (and an exam we both failed). We instantly got on well and that's pretty much how I became a member of Illuminata.
Who are the other members of Illuminata?
Besides us (the singers), the band consists of Lukas Knöbl on guitar, Dave Slut on drums, Chris Vide on Bass and, for the moment, Sabrina Supan on keyboards.
I was sorry to read that your keyboardist, Sabrina, is moving to Germany. How is the search for a new keyboardist coming?
As said above Sabrina will, for the time being, remain with us as a guest musician so we can be on stage until we find a replacement. So far, we cannot say anything definite about a new keyboarder. We don't want to rush this decision as we are not just looking for some hands to play the keys but for a proper new member of Illuminata; so character is very important to us.
What does the name Illuminata mean?
Our name means, translated from Latin, "the illuminated one". In essence it expresses what we are trying to do, to illuminate people with our music. The female form underlines the influence female musicians and especially we singers have on the whole concept of Illuminata and it also fits to our ideal of the band as a unit.
How would you describe the music on "A Frame of Beauty"?
Although the songs are a bit slower than on the previous album we think they are much more powerful and focused. We are always trying to push our boundaries so it's got a lot of progressive elements in it, yet it is packed with emotion and passion. It simply is Illuminata.
Which bands influenced your sound the most?
We guess that all our favourite bands have influenced the way every single member contributes to the sound. The general style of our sound is however inspired by classical composers like Wagner on one hand but also modern composers like Hans Zimmer on the other.
The third song on the EP is an acoustic track in Polish called, "Czlowiek bez twarzy". What is the song about?
Katarzyna: The English title would be "Man Without a Face". This character in the song is afraid to show his true self, not recognising that he in fact hurts himself and others by always trying to manipulate in order to avoid being hurt. He represents that paradox in human character in general.
In 2008, Illuminata released its full-length debut, "From the Chalice of Dreams". Why was "A Frame of Beauty" released as a three-song EP?
One reason was our technical resources improved a lot at the time compared to "From The Chalice Of Dreams" so we could create orchestration as it sounds on "A Frame of Beauty". However, it took us quite a lot of time to get confident with these new possibilities. As we really wanted to improve in terms of sound with this release, we decided to concentrate on fewer songs in order to do them properly. After all, it took the band and our tireless Master of Sound, Mister Mac, almost a year to finish that record. It wouldn't have been possible to do a quality full-length album straight away. Another reason was that, for the first time, we did not copy the record ourselves. So we wouldn't have been able to realise anything other than the EP financial-wise without the quality suffering.
Of all the songs recorded by Illuminata, which is your favourite and why?
Katarzyna: It's a difficult choice, but one of my favourites is definitely "Czlowiek bez twarzy". The song is based on personal experiences, so it has a great emotional intensity for me.
Lisa: I like "Arnediad Lôr" from the "From The Chalice Of Dreams" album best. Maybe because the song was written before I joined the band and, as we have so much new material already, I don't have to practice it as often as our new songs which means I'm not sick and tired of it yet

Just kidding… I like it because it's a really powerful song, it has a very catchy melody and for me it creates a very special atmosphere.
You have both been involved with music since you were small children. Would you tell us about your musical backgrounds and training?
Katarzyna: Ever since I was a little girl, my family sang a lot at home. At school I sang in choirs and later performed in a musical. During High School I started taking vocal lessons in popular as well as classical singing. Presently I am improving my technique further with a speech-level-singing instructor.
Lisa: When I was young I experimented with a lot of different instruments like the violin, flute, drums, guitar and piano. I have always been singing in addition to that and finally settled for it. I've received professional lessons in classical singing for three years now and an additional five years of training in popular singing. Like Katarzyna I'm currently broadening my horizon with speech-level-singing.
When did you first become interested in metal?
Katarzyna: At the age of 19 which is in fact quite late, I suppose.
Lisa: I think it started at the age of 13. I had braces and a lot of pimples then, so I guess it helped me a lot. I could release a lot of anger and frustration by listening to metal.
What percentage of your music is driven by passion versus technique versus inspiration?
Katarzyna: Technique is a prerequisite of for making quality music but for me passion is even more essential. In my opinion passion is a means for transporting emotions. It's that certain spark that makes music genuine. Inspiration plays a major role in the writing of music. In general these three components have to add up to at least 100%.
Lisa: In my opinion all three factors are equal and it depends on mood and condition; we compose them differently every day but in the end they always amount to 100%.
How has the audience response been to Illuminata's live performances?
Usually the reaction ranged from "Hell, yeah!!!" to "Show us your tits!!!" . No, seriously, so far we've never received a single negative response to our performance. Of course, people sometimes compare us to bands they think are similar, after all the concept of female fronted metal with classical elements is not exactly new. But overall we think people appreciate the "I haven't heard anything like this before" experience we provide.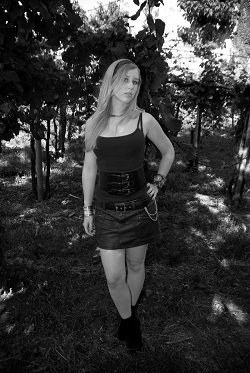 What are the biggest challenges for a new band like Illuminata? Is metal considered underground music in Austria, or has it entered the mainstream?
It is very difficult to be recognised when you are a young band nowadays. You literally need to grope for all the presence you can get which is often quite tiresome and difficult financial-wise. At the moment we finance everything we do from our own pockets. As a band we actually pay equipment, transport, merchandise and new releases quite through our nose. Another challenge is, of course, the search for gigs which often results in "You can play concerts when you've got a name but you can't get a name without playing concerts". Another challenge for new bands is the establishing of a network. We found that especially for a new band it is vitally important to have as many connections as possible. It might not sound romantic but often it matters who you know rather than who you are. However, we think the most important challenge is not to be caught up in all those "problems" and not to forget the music over them. We always wanted our music to determine who we are as a band and we will stick to that. Although metal is a quite established scene, not only in Austria, we think that the flair of underground is in a way essential to metal. It will always be something different or more extreme no matter how many people like it. As for ourselves, we think that in this respect we are pretty much underground of the underground. There are not many Austrian bands that are in a similar vein, though we have many, many young metal bands. Oh, well at least that way no one can accuse us of running with the pack .
If you could go back in time, what would you change and what would you leave the same?
We wouldn't change anything. We think that every phase we went through with this band was a phase of development towards our current level.
What can we expect from Illuminata in 2010?
One thing we can confirm is that we've just been invited to perform at the Newcomer Stage of this year's Metalcamp Festival. So you can definitely expect an overwhelming show there. In general we will be playing more gigs this year than ever before, just check our websites for dates. Furthermore, we are looking forward to release our second long-player "A World So Cold" (that's actually the first time we reveal the title to anyone) this year which is doubtlessly going to be the biggest thing we've ever done in terms of both sound and writing. Currently we are working on the last details within the songs and we will kick off the recording as soon as possible. Again do check our blogs and websites for updates.
Thank you both for taking the time to chat with us today. Do you have any parting words for your fans at Femme Metal?
Stay Metal!!!
Links
Interview by Danny Robertson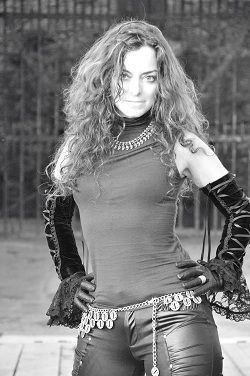 Giorgia Gueglio, singer and founder for heavy/melodic Italian metal act MasterCastle, spoke to us to discuss their debut album "The Phoenix" (released April 2009) and the band's history.
How and when did the band first get together?
I founded the MasterCastle band together with the guitar player Pier Gonella on 2008. We had many bands and collaborations in the past and we decided to put all experience and energy in something different. Pier wrote many hard rock/heavy metal songs and riffs using a particular baritone guitar, and we experimented my female voice on them. The result was an amazing mix for us. We went away composing and we called Steve Vawamas as bass player and Alessandro Bissa as guest drummer. We had known them for many years, as musicians and as people and their arriving changed the project into a real band. We finished 4 songs and we send them to the Lion Music label. They immediately proposed us a deal and we released the album "The Phoenix" on April 2009. We are grateful to all of Lion Music staff's work and promotion for us.
Who first influenced you to become a vocalist?
My musical background is based on British and American hard rock. My first influence was David Coverdale of Whitesnake. I like his voice because it's full of energy and very expressive.
Who/what are the band's main influences as a whole?
Of course Whitesnake was a great influence for me. Then many 70′s, 80′s stuff like Led Zeppelin, I like very much Robert Plant's voice also.
What inspired you to name the band MasterCastle?
We choose the MasterCastle name during travel after a gig. We were searching for something that could represent Giorgia Gueglio and Pier Gonella. Finally we found "Master" because of the great experience of Pier, as guitar hero, composer and producer and "Castle" because of my travelling passion. I visited many castles, especially in Scotland, and they've given me great emotions. So the two words are very common, but putting them together they become something different and original. You can translate them as "Main castle", or "castle of the master", and we like all those meanings.
How long did it take to write and record "The Phoenix"?
We sent a 4 tracks demo to Lion Music on August 2008. And at the end of December 2008 we sent to Lion Music all the stuff: the master of the album, three bonus tracks for the Japan release (Japan's edition was released on September 2009 for the label Spiritual Beast), all graphic and booklet files. I consider this as a record! We worked very hard, but without stress, because all the band really believed in MasterCastle's music and this has given us all the necessary energy.
What are the main themes and influences behind the tracks on the album?
I wrote all the lyrics and I get inspiration from human nature as well as forgotten tales and events. For example, the song "Greedy Blade" tells about the disaster of Vajont, a dam on the Italian alps that after a landslide, created a giant wave that destroyed towns and villages in the valley. The titletrack tells a story of human nature that needs to be as strong as the phoenix, the legendary bird which dies and is born again on his ashes. The song "Princess of Love" is a mystical tale about the magic presence of a clan of witches dancing in the forest. I really like this song and we made a videoclip that people can see on our MySpace.
How would you describe your sound? Are you comfortable with labels?
It's not easy to describe our personal style. When we sent the stuff to Lion Music, they described my voice as "very powerful" and I'm very proud of this. Thinking about female (vocalists), expecially metal heads, they always think simply about a voice that is higher than a male voice and frame this in the gothic style, with very few exceptions. I don't wanna do this. I try to be different from all female singers, putting all my energy and power in my voice, not necessarily going so high in frequences. Some months after the releasing of MasterCastle's album, I'm happy that people understood this and considered my voice as an original and particular. All MasterCastle sound was considered unique, not only because of my voice but for the original way in combining heavy metal and hard rock with classical influences.
What would you say has been your biggest non-musical influence?
Many non-musical things influence me, expecially in the lyrics. Maybe the biggest is nature. I like mountains, the sea, I like the color of nature, expecially in autumn and the sounds of nature. In the song "Cradle of Stone" I talk about this and about how man often kills nature with progress and technology. As I said before, I also like travel and visit uncontaminated places. They give me a lot of emotions and inspirations.
Who are your favourite current bands/acts? Made any recent CD purchases?
My last purchase was "The Resistance" by Muse. I like their music and their personal way of mixing rock with classical stuff.
Which other bands/acts, past or present, do you feel you share the most common ground with?
I think Whitesnake, Led Zeppelin, Kate Bush, Mike Oldfield.
What's next for the band? Any tours in the pipeline?
After the release of the album we made some gigs, expecially in Italy but we started immediately composing other songs because our plan is to release another album in April 2010. Lion Music have given us another deal, so we are currently working towards the next MasterCastle album. The album is called "Last Desire".
Any last messages for people?
First of all, thanks to you for this interview. Then I invite all listeners to MasterCastle site, where you can find our videoclips, unreleased songs and many other stuff. See you soon on stage!
Links
MySpace * ReverbNation * Facebook
Latest Multimedia
Label : Mascot Records/earMusic
Review by Davide Torresan
I confess that I knew nothing of Beth Hart, until yesterday. Bad, very bad. Searching for a bit of information about this singer, with surprise I found a very good voice, and a genre that I never thought that I would have liked. Yes, because Beth's songs are truly unique and original. During her musical career she was good enough to surround herself with talented musicians to match her lyrics at times painful, sometimes happy and carefree. They perfectly describe her life, her personal experiences, both positive and negative, suggesting all with influences that range from pop to rock to jazz and blues. Fame and success came thanks to the smash-hit "LA Song (Out of This Town)" which aired during Episode 17 of the 10th and final season of the telefilm Beverly Hills, 90210. In 1999, her career was stopped by drug addiction and an unmedicated bipolar disorder. As a result of this bad period, redemption came, thanks to a new love, and of course her music . A live DVD, some albums, and the collaborations with famous artists such as Slash, in the beautiful "Mother Mary", and with famous guitarist and rock/blues singer Joe Bonamassa in the album "Don't Explain" in 2011, have contributed to spread her charismatic voice and her talent as a musician in the whole world. "Bang Bang Boom Boom" is her eighth album and gives us a broad overview of her potential. Piano, guitar and drums accompany her voice, at times soothing, as in the song that gives the title to the album, other stronger, as in "Caught Out in the Rain", which shows off her versatile voice, a voice very strong and powerful. It's definitely worth mentioning the work of guitar and Beth's keyboard that "lull" the listener languidly. The atmosphere is that of a dark, gloomy room, at the bar, with a glass of whiskey in front of us. The melodies of songs like "Better Man" or "Swing My Thing Back Around" with its jazzy rhythm are easy to listen to and addictive. "Spirit of God", with its easy-going rhythm is definitely the best track of the lot, to which is impossible to stay indifferent. Every time I listen to it, I am not able to stand still on the chair, moving my head to the music. The gospel insert is very nice. But there also some sweet and quiet songs like "Everyday With You" and "There in Your Heart", in which Beth clearly speaks of love. It' a new subject for her, as in previous albums she had never written about it. They are hymns to love. I can recomend you to take a look at the video of "Bang Bang Boom Boom" to realize the enormous work behind this album. A work full of shades and colors, sad and lively. Those of the life of Beth Hart.
Rating – 80/100
Tracklist
Baddest Blues

Bang Bang Boom Boom

Better Man

Caught Out in the Rain

Swing My Thing Back Around

With You Everyday

Thru the Window of My Mind

Spirit of God

9. There in Your Heart

The Ugliest House On the Block

Everything Must Change
Line Up
Beth Hart – Vocals, background vocals, keys & acoustic guitar

Jon Nichols – Electric & acoustic guitars & background vocals

Tom Lily – Electric & acoustic bass guitars & background vocals

Todd Wolf – Drums & percussion
Links
MySpace * Facebook * Twitter * Site
6 color styles available:

Style switcher only on this demo version. Theme styles can be changed from Options page.