Browsing articles tagged with " sabina"
Interview by Miriam C.
People, we're in front of a legend. Or better a metal LEGEND. If think about thrash metal, the first band you'll gonna refer to, at least in the European musical panorama, is German's Holy Moses. Why? The reason is really really  simply 'cause without Sabine Classen, there'll be no Angela Gossow, Alissa White-Gluz and Runhild Gammelsæter singing in any whatsoever extreme metal band. Holy Moses's first demo release date back in 1980 but it's the third demo, published in 1982, "Satan's Angel" that marks Sabina's debut behind as a band vocalist until their break-up in 1994. Right now, after 30 years of activity, it's really natural that a band undergoes a lot of lineup changes but with their new album "Redefined Mayhem", Holy Moses seems to have found a stable line-up and vocalist Sabina Classen, guitarist Peter Geltat and bassist Thomas Neitsch took some time to speak about it. Thrash on! Continue reading »
Label: Lifeforce Records
Review by Tony Cannella
Ladies and gentlemen, Deadlock has re-arrived! On their latest output, "The Re-Arrival", the German melodic death/thrash metal band Deadlock brings the listener a melding of the old and the new – and here's the kicker – it all sounds fresh and vital in today's metal landscape.
With "The Re-Arrival" Deadlock present us with 15-songs and over an hour's worth of material, some re-recorded versions of older favorites and three brand new songs. The first new song is the opening track. "An Ocean's Monument" which happens to be a ferocious opener – this song gets the listener pumped right away. The band is fronted by the clean female vocalist Sabine Scherer and screamer extraordinaire John Gahlert. The two of them make an awesome combination. Continue reading »
Label: SPV/Steamhammer
Review by Tony Cannella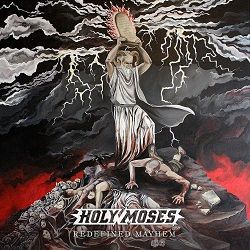 It is very rare to find a female in metal music – especially extreme metal – that has had the career that Sabina Classen has had. She is a true metal legend, role model and icon and it's hard to imagine the metal world without her. Now she returns with a new Holy Moses album entitled "Redefined Mayhem". I believe this is their 11th album and Sabina and the band show no signs of slowing down or mellowing out.
All the elements that fans have come to love about Holy Moses are well represented on "Redefined Mayhem", and then there is Sabina Classen's voice which still has the ability to portray aggression and ferocity. Continue reading »
Interview by Ary R
We've already had the great pleasure of talking about Izegrim a few years ago and now we have still the chance to talk about this band. Led by the blonde Marloes, this Dutch combo comes back with a new record, "Congress of the Insane" and we've got the chance to talk about this new studio album with the singer.
Hi Marloes. Welcome back on Femmemetal.net! Today we're here in order to promote and to talk about the fourth Izegrim album, "Congress of the Insane"… so would you mind to tell us something about this studio album?
Hi you all, great to be back at Femmemetal! Tell you something about the album? I guess all the questions in the interview below cover the whole story behind the album, so let's not wait and get this conversation started, haha!
This is the second record that will be released via Listenable Records. If I'm not mistaken, your previous work, "Code of Consequences" was released in 2011 for the same record company. How did your record deal come to life?
Continue reading »
Review & Photos by Erwin Van Dijk
Mario's Metal Meeting is a festival organized by the Mario's Metal Mania webzine. This edition is the third festival and the first I've attended. The reason why? Holy Moses of course! Holy Moses does not need an introduction. You thought Arch Enemy was brutal? Think again! Holy Moses started in the Eighties as the first female fronted thrash metal band. And, more important, in an era where women were supposed to be Eye Candy in glam rock video's or groupies back stage Sabina Classen sounded more brutal than a lot of other thrash bands from the eighties. With Girlschool and Warlock (Doro´s first band) Holy Moses was one of the very few bands with women in the line up that sounded like the boy bands and not as a gimmick or boy fantasy. Because Mario's Metal Mania is oriented at the brutal underground stuff this Sunday evening is all about Thrash. Yep, it is Thrash time! Many things from the eighties have become popular again the last few years, including the Next wave of Eighties Thrash Metal. The first two are the girl less younglings from this decennium while Acrostichon and Holy Moses are veterans from the last millennium. Hyades is a band apart with more experience than Hatchery and Sanity's Rage. Acrostichon is a female fronted thrash band from Tilburg (Killburg). They broke up a long time ago and this is a reunion gig. You can compare Corinne a bit with Marloes from Izegrim who is also responsible for the grunts and bass. Another thing: patches are mandatory! This was the second largest concentration of Denim jackets with lots of heavy metal patches I've seen this year (although I think the Heavy Metal Maniacs Festival will break the record) Sabina is the queen of denim with patches by the way but she left hers home today. (like me – the cats had used it as a mattress) I missed first band due to hangover the size of the Andromeda galaxy. The second band was rather boring and I did not like the style of the singer. I did not waste space on my memory cards either for this band. Hyades did a lot better. The name Hyades is derived from the Greek Mythology (Ὑάδες) and means "The rainy ones". They are a sisterhood of nymphs that bring rain in the autumn. Well, we did not see any chicks on stage nor it was raining outside. What we got was a band from Italy who clearly had much more experience than Sanity's Rage. The music itself is maybe not that special but like bands such as Municipal Waste it works live. To satisfy al the wearers of denim with patches Hyades did a nice version of the Beastie Boys "(You Gotta) Fight for Your Right (to Party!)" The Beastie Boys haven't done this song live since 1987 so this it the closest you can get! (and Holy Moses has covered this song ages ago).
Acrostichon – Singer Corinne Van Den Brand here on the left- was founded some twenty years ago and disbanded 10 years ago. I've never seen them live during the nineties. Back in those days Acrostichon was the first female fronted death metal band from the Netherlands. Today Acrostichon has returned for a single reunion gig (although I suspect the lady and gentlemen of Acrostichon simply have missed being onstage). Suddenly the floor was filled with family, fans in faded Acrostichon shirts and small kids. One of them was very good in crushing plastic beer cups like the way my hero Dirk Jan crushes gnomes in the Dirk Jan Comic. Compared to the thrash of Hyades Acrostichon's death metal was slow and sluggish. No music for a moshpit but a vast wall of sound. Like many death metal bands the musicians were doing their thing without much show. Singer Corinne was clearly enjoying herself. A good gig but maybe a bit outdated qua music and presentation. This is the second Holy Moses – Singer Sabine Classen pictured here on right – gig at the 013 in two years. Last year (2008) this band was the opener for Obituary at the main hall of this venue and now they are the headliner in the small hall. Is this bad? Not really. It is better to rule in hell than to serve in heaven. Take Lacuna Coil. In 2006 this band was the headliner on the main stage of this venue and last year they were the opener for some crappy band named Bullet for my Valentine. How low can you go? And Sabina still has a large ring binder for all the song texts. And it took (traditionally a while) to build the drum kit. The current gigs are still based upon the album "Agony of Death" from 2008, which is one of my favourites of that year. And what can I say about the gig? For starters, my hangover did not bother me the moment the band started. As usual Holy Moses did a great gig. Sabina also gave some young kids at the front row some extra attention (must be her mother instinct I suppose) Unlike many other musicians on stage you always get the feeling that Sabina is one with the fans instead of a performer at work. I like that.
Links
Holy Moses : MySpace * Facebook * Site
6 color styles available:

Style switcher only on this demo version. Theme styles can be changed from Options page.