Browsing articles tagged with " sandra"
Label: Sony Music Deutschland
Review by Tony Cannella
The long running German alternative rock band Guano Apes has enjoyed a long career since their inception in 1994. Their 1997 debut "Proud Like a God" featured two songs that made a minor dent in the U.S. charts, those two songs: "Open Your Eyes" and "Lord of the Boards" certainly hinted at a bright future for the Apes. Despite disappearing from the American market, the band has continued to release albums in Europe and now they return with their 5th album, "Offline".
I have to admit that Guano Apes kind of fell off my radar after the debut. Oh well, it's my loss I guess because "Offline" has some pretty cool tunes and now I am curious about their music prior to this. "Like Somebody" is a punchy opener but it is the next song "Close to the Sun" which gets my vote as the best track. Continue reading »
Independent Release
Review by Tony Cannella
From Austria, the band Ecliptica formed in 2003 and features the duel male/female vocals of Sandra Urbanek and Tom Tieber. On their 4th full-length release, "Journey Saturnine", the band offers up a strong mix of heavy metal and hard rock.
The intro "Saturn's Theme" leads into "Journey Saturnine". After that we have crunchy riffs of "Fire! Burn!". The guitar riff is quite infectious all the way through and the chorus reminds me a bit of Blind Guardian. This is one of the heavier songs and features a good amount of input from Sandra Urbanek. Male vocalist Tom Tieber has a gravelly vocal style and he handles the bulk of the vocals but Sandra does a good job when she is called upon. Continue reading »
Label : Napalm Records
Review by Davide Torresan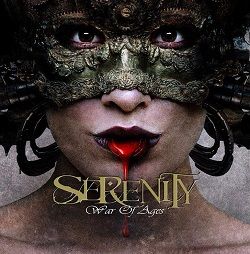 With this "War of Ages" Serenity reaches the goal of the 4th album. Time really flies since it seems like yesterday when I listened to their debut album "Words Untold & Dreams Unlived". I was really blown away at the first listening and so even now. With a very attractive artwork, result of the creative genius of Seth Siro Anton, I was surprised by the freshness of the sound though it was the first work for the band. The following "Fallen Sanctuary" was the one that made me fall in love with them: catchy melodies, little hints of growl, epic guitars and choruses that remained in your head at the first listening. "Death & Legacy" was the album that made them famous worldwide thanks to the important collaborations with some of the most renowned female metal singers in the world. Besides the Serenity's concert at the ProgPower USA Festival in 2012 was a great success for them and for the American fans. Continue reading »
Label : Napalm Records
Review by Tony Cannella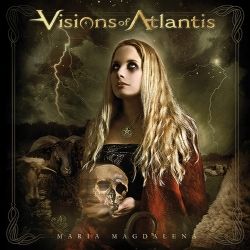 It's only been a few months since Austria's Visions of Atlantis returned with their new singer Maxi Nil and the excellent "Delta" album. There is no doubt that all eyes were watching to see what VOA would come up with after such a lengthy absence, and I think it is safe to say that that they delivered. Now they return with a new 6-song EP called "Maria Magdalena", and VOA continues to ride the momentum that they established with "Delta". I was not aware that the song "Maria Magdalena" is actually a cover of a song by a German pop singer named Sandra, but damn it still sounds like a Visions of Atlantis song to me. It is an up-tempo catchy number that features some great vocal work from Maxi and Mario who have great chemistry together. "Melancholia" is next and is arguably the best track among the six included here. It starts off with a slower tempo, piano and Mario Plank's vocals before the song picks up in heaviness and turns into a powerful track. Mario handles a large portion of the vocals while Maxi joins in on harmonies and the chorus. "Change of Tides" begins with a heavy symphony vibe and soon develops into a melodic track that sees Maxi and Mario trading off vocals and the song itself is so catchy and has a memorable hook that just reels the listener in. Maxi takes center stage on the ultra melodic "Distant Shores" as the EP is completed by a re-working of "Last Shut of Your Eyes" (originally on the "Cast Away" album), and "Beyond Horizon – The Poem Part II". "Beyond Horizon" in particular is a beautiful ballad and after the thunderous melodic metal that comprises the EP, I can't think of a better way to end things. It has been well documented that VOA have undergone a number of line-up changes over the years, but let's hope that this is the one that sticks. In my opinion Visions of Atlantis have become one of the top bands in the Symphonic Metal genre and "Maria Magdalena" is further proof of this.
Rating – 90/100
Tracklist
Maria Magdalena
Melancholia

Change of Tides

Distant Shores

Last Shut of Your Eyes

Beyond Horizon – The Poem Part II
Line Up
Maxi Nil – Vocals

Mario Plank – Vocals

Cris Tian – Guitars

Werner Fielder – Guitars

Martin Harb – Keys

Thomas Caser – Drums
Links
Interview by Marc "Peston" Sels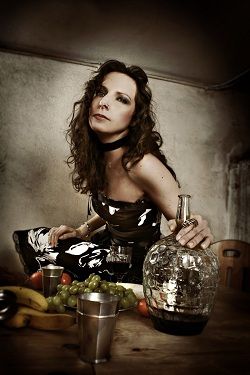 Elis is a band from Liechtenstein and was formed in 2003 after the split from Erben Der Schöpfung. In 2006, on July 8, their vocalist Sabine Dünser died of a celebral hemorrhage. She was replaced by Sandra Scheleret, well known as guest-singer on some Samael-cd's and ex-vocalist of Dreams of Sanity. It is with this Austrian musician that I had this interview.
How is the Beauty and the Beast tour going?
The tour was really nice! I think it is very rarely that you have so many nice people together without any exception. We enjoyed it a lot. I even had the chance to join Atrocity for the tour as a guest vocalist. This came very surprising as it was a spontaneous idea, but I had lots of fun.
Can you tell us something about the new album "Catharsis"? Some favourite numbers?
"Catharsis" is very important for me, the reason is that it is like a new chapter, a new beginning for me. About a year and a half before I joined Elis I got the diagnosis Morbus Hodgkin which is a kind of lymph node cancer. In the months that followed I had to go through chemo- and radiotherapy, and it was a very hard and harrowing time for me. I completely changed my way of living, and since then I see things totally different. When I started working on the vocals for "Catharsis" all these feelings broke their way to the surface, and so most of the lyrics are very closely connected to what I experienced at that time. All songs are very dear to me but I guess my favourite numbers are "Firefly", "Mothre's Fire" and "Das kleine Ungeheuer".
Was it hard to replace Sabine, emotionally and musically talking?
Yes it was hard, I think for all of us. When somebody passes away so young and so unexpected it is hard to continue. Although we really liked eachother a lot from the beginning on, for me it was difficult to find my own place in the band, and for the guys it was hard to start a new chapter. We took some time to find together. Musically wise it was not that difficult because Sabine's lines are nice to sing and her lyrics touched me a lot, so I feld connection to the songs very quickly.
Is it easy to produce the same sound on stage as on the albums?
No, I wouldn't say so. In the end it is very difficult to get a good live-sound. Mainly it depends on the sound engineer, and we are not often able to bring our own one.
"Griefshire" was a concept CD. Isn't it difficult to play some songs live, or don't you use these songs on stage?
We are playing the "Griefshire" songs life, but never in the context of the concept. It is not so difficult because we see each of them as an indipendent individual, with it's own message. For example "Show Me the Way" has a great statement.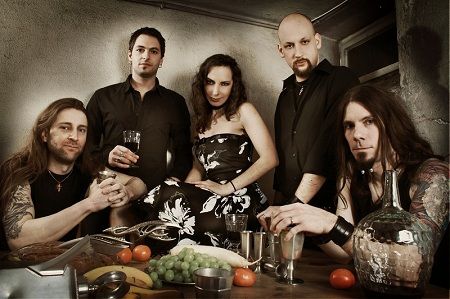 With the digipack edition of "Catharsis" comes a DVD from the gig at the MFVF 2007. What memories you have of that festival?
It was very touching because the audience welcomed us so well. The were happy with us that Elis is back on stage again, and we felt very comfortable that evening. I'm happy that this was the concert that was recorded for the live-DVD!
The band keeps the tradition of putting a few German songs on the album? Do you think non-German fans can enjoy this?
We hope so! Just see how people can enjoy Rammstein…hehe In the end the German language simply has a very different sound than English and it is tempting to use it as a stylistic device.
You also sing in Siegfried. How do you keep both bands apart?
As Siegfried was not so active in the last years there was never any problem for me. It is just coincidence that both albums were released at the same time. I do not do the lyrics for Siegfried and just contribute some vocal lines, so there is no "creative problem";). It is very nice to have the chance to show also another side of my voice, and the guys from Siegfried are really cool people, we have lots of fun when we are working together!
Is Elis, like a red somewhere, from the Greek Elis, land of Helia, or is there another explanation?
The name comes from the poem from an Austrian poet (Georg Trakl) "An den Knaben Elis" (to the boy Elis). Sabine made a successful song about this when she and the guys still were calling their band Erben der Schöpfung. They then decided to rename the band after this song.
What are the plans for 2010? Touring? A new cd? Etc…
So far nothing concrete but we are working on this! Touring would be very nice and of course we have to work on new material.
Links
6 color styles available:

Style switcher only on this demo version. Theme styles can be changed from Options page.