Browsing articles tagged with " scars"
Interview by Ed MacLaren
After an extended hiatus, Erben der Schöpfung has returned with the excellent "Narben der Ziet". The new music seamlessly combines metal and electronica in an industrial cloak of dark melancholy. Femme Metal gets personal with vocalist Dina Falk about the making of "Narben der Ziet" and her approach to music.
"Narben der Zeit" is finally out and it's definitely worth the wait. How has the response been to the CD so far?
Since we've still been fighting for the rights to finally release it – even if we got the rights to do so – we did not reach as many people as we could have. The response of those who we've reached is actually very good and we are happy about it.
It's been eight years since "Twilight" but many could say this is a new band. How did you and the rest of the new members get involved? Is Oliver still the creative center?
On "Narben der Zeit", he still composed all of the songs but with a little help on the ballad "Homeless" which I personally wanted to get done and on the album. On everything else, he did the structuring and composing and we just put our stuff on top. So it's still his project but with a band around him that is helping out on some stuff.
The current band has been together now since 2005. When starting "Narben der Zeit" was there a conscious attempt to start in a new direction or to continue Oliver's original concept of the band? How did "Narben der Zeit" evolve during that time until now?
We just started without any plan but knowing that we would be a little metal, a little electro and dark. That was it. We can't force the project towards a particular direction. We just start working and watch the results. One of the things we also knew was that we are getting away of this symphonic-female-metal image that a lot of people still put us in.
"Narben der Zeit" (or "Scars of Time") is an interesting title considering the tumultuous history of the band. Time heals all wounds but you still can bear the scars of the past – looking forward to the future while remembering past lessons. Is there an autobiographical reference within "Narben der Zeit"?
The album title has nothing to do with the band's history but with any lifetime. I guess that everybody has his wounds and scars of time and I guess this will keep on going like this for a lifetime. We chose this title because everybody has got his own and personal scars.
"Narben der Zeit" has evolved the Erben der Schöpfung sound considerably since "Twilight". The metal sections are heavier, the EBM sections are more danceable and the overall feel of the CD is much darker. How did the music for "Narben der Zeit" develop?
This is just a natural development of Erben der Schöpfung through changing members, through Oliver's personal development and through time. We didn't force anything because we think that forcing development does not work. Development is something working independently and in need of time and different phases. You need to develop yourself too otherwise your project is standing still as well.
I'm having a tough time figuring out how to categorize your music for my iPod (which is a good thing in this case). Metal has progressed to a point where it incorporates many different genres to keep the music fresh and moving forward. I see Erben der Schöpfung as a metal band at the core but then again others might argue that you're a very heavy EBM band. How do you view the band's sound?
This is difficult to answer. I'm not a friend of categorization and categorizing our own music is giving me a hard time! Well, I know that people need categories in their whole life to get a certain order to it but I like things that drop out of the usual schedule. Maybe Erben der Schöpfung is just something not fitting in anywhere or even better: fitting any mood. If you feel metal you'll hear metal and if you feel EBM you'll hear EBM.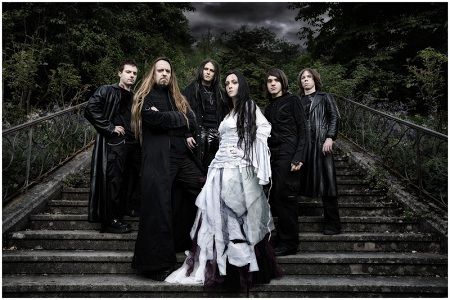 Having that inherent uniqueness in your music lets you stand out from other bands and helps you carve out your own niche. Musically, the rewards are many but are there any drawbacks to following a distinct musical vision?
We don't fit in anywhere! Of course, you'll have a hard time doing something unique or new that people are not used to. There are some that just don't understand our music and act very different because of that. The worst case is if they fit you in a certain category that we don't fit in and then tell us that we'd done an awful job. Also, we are always kind of unsure – even if we are not up to fulfilling expectations – but doing something unusual is making us scan a lot of reactions. We have to find our place and maybe settle down or maybe not.
There is a recurring theme running through "Narben der Zeit" dealing with children and child-like qualities. Tracks like "Jane Churm", "Homeless", "Leaving" and "Your Lullabies" are told with a child-like innocence but at the same time from a perspective of innocence lost. How did the lyrics develop for this CD and what experiences did you draw from while writing them?
While writing the lyrics to "Narben der Zeit", I mostly wrote down the first thoughts that came upon my mind. I didn't play a lot with words and I didn't think about them for a long time so it's just my first thoughts and feelings. That was a good way for me to write the first lyrics but they were also very open to attack and very personal. If I now look at the lyrics it is a lot about looking back and discharging childhood or a certain piece of my inner child. I would say that I've lost a lot of innocence in my childhood and early teens to twenties but I'm gaining it back now in a whole other quality. There was a lot of reformation and inner cleaning going on during the last two or three years and I guess that the lyrics to "Narben der Zeit" were doing their part.
Your ethereal and melancholy vocals are a perfect fit to the dark gothic mood of the music – it makes for a diverse listening experience with headphones in the dark. How did you develop your vocals when recording this CD?
Developing vocals was a similar process to writing lyrics for this album. I just sang whatever came upon my mind and it was fitting the mood; I came in listening to the plain composition, writing the lyrics and even now listening to the songs. It's a strange mood but it was the only way for me to do the vocals on this album. Anything else just didn't feel right.
What are your tour plans for supporting "Narben der Zeit"? Are there any international dates planned or touring overseas?
We definitely want to present "Narben der Zeit" live and play gigs but we don't have any dates planned yet. Right now it's very difficult to tour if you are starting or restarting a project and next to it three of our band members have to attend school so we do have to plan very tight. But we are working on it and hope to play live soon. Dates overseas are depending on how many people would like to see us playing and on getting in touch with a good fitting booking agency.
Hopefully, we won't have to wait another eight years for new music from the band. Is there any new music in the works or a remix album?
I hope so too! We are working on new songs right now and for now it's looking very good to record a new album soon. We are very productive and industrious since Christmas but a lot of work is still waiting to be done.
2009 is gone and we're into 2010. Does the band have any musical New Year's resolutions for the new decade?
We'll see!
"Narben der Zeit" is rapidly becoming one of my favorite CDs of 2009. What were your top CDs this year and what made them standouts for you?
Ouph… Actually, I didn't listen to a lot of music this year besides our songs…maybe Devil Driver's "Pray for Villains" and Rabia Sorda's "Noise Diary" but I've missed all the other good releases in 2009. I've rather been listening to old ones that year.
Links
Latest Multimedia
Interview by Connie Bach
Diva Suicide's flavor is a constructed system of layers. It kind of reminds me of chocolate-covered pretzels, with the hard, solid guitar at its core.The layer of synthesized elements and sweet, emotional lyrics adds the "chocolate" in the equation. I feel I'm hearing undertones that call up the alternative music of the early nineties when I listen to "Scars", Diva Suicide's debut release.
Hello, Xs.
Hey hey

The name Diva Suicide stems from a photo shoot you did. Would you tell me more about the career that led you to be the band's singer?
Singing is my passion and I have always been involved in bands and when I had the chance of joining Diva Suicide I jumped on it.
As a singer, what inspires your lyrics?
Depending on the song really. Sometimes personal situations and thoughts, sometimes just general things in life…
In the past, you mentioned you are interested in animal rights activism. Do you intend to use your musical career to promote animal rights activism and how?

Yeah absolutely – I think it's really important that bands support these causes. Music unites and makes people think. The more we are, the stronger and more able to change things. I'm delighted to see bands like London After Midnight and Undercover Slut promoting animal rights.
The song "Crystals" is being featured on Femme Metal's upcoming compilation. What is the concept behind this song?
I wrote this song thinking of those whose lives are so meaningless that they have to gossip of someone else's and who put a label on you because of your image without caring for what's inside.
Moving on, you joined the band after your photo was their cover art for a demo. How did you become connected to the band and what were your impressions?


I was a friend of the band's members and they got in contact with me when they were looking for a singer. Our manager and some of them came to one of my rehearsal's with my previous band… they liked what they saw and offered me to be the new singer for Diva Suicide.
How has working in a home studio influenced the type of music and the relationships between band members?

Working in a home studio has its good and its bad things. On one hand, soundwise you can't have 100% the final product you'd like to but of course it's more comfortable to record there as you spend lots of hours so it feels like being home and you've got more time to experiment new solutions.
Building on that, what does Diva Suicide have in mind for the near future? Is there another album in the works?


Actually, we are working on our first full length album, which we thinks it's gonna really represent the energy and the personality of the band as it is has developed during the past months.
What does it take, for you and your fellow band members to navigate your day-to-day lives around rehearsing, playing shows, etc?
Sometimes it can be really hard work but at the end of the day it's worth it cos' the band is my life and even if we have to fight against lots of problems and sometimes some idiot we always get around and do what we wanna do at the end.
What do you personally enjoy doing in your free time? Any crafts, hobbies, or other musical side projects, or other pursuits?

There's little free time outside the band and it's always about music too. Love going to gigs and checking out other bands on the scene or spend hours discovering new bands and buying new CDs. I also like enjoying time on my own reading or writing too, though.


I've visited London in the past, and the city has a relaxed atmosphere. Many noted female-fronted bands have sprung from the city's streets. Is there anything about the city that ever comes to mind while performing?
I think London can be really stressful if you live it day by day. At the moment we are really excited about our forthcoming gigs around UK and abroad and we'll take this as a chance to take a break from the city for a little while. Also we are really looking forward to play in front of the audience of other cities which we've heard are really cool.
Thanks for your time, Xs. Diva Suicide definitely brings a fresh take on the metal scene.
Thanks!
Links
MySpace * ReverbNation * Facebook * Twitter
Label : SPV
Review by Tony Cannella
The 2nd album from Germany's My Inner Burning is called "Eleven Scars" and features eleven tracks. Coincidence? Not sure, but the songs do flow nicely together and have a conceptual feel. My Inner Burning first ascended on to the metal seen with their 2010 self-titled debut and now they find themselves on a new label (SPV) and a brand spanking new album, that showcases their modern metal, female fronted sound. I have read where My Inner Burning is described as Gothic Metal, but I personally don't see it, just another case of a band with female singer being lumped into the whole Gothic thing. If anything, I would call My Inner Burning just a straight forward melodic metal band, which is just my own opinion and other people may draw different conclusions. One thing that I did find endearing about My Inner Burning's 1st album and this one as well is the power, energy and rawness of their music. From the opening track "Masquerade" the band presents a fine mixture of melodic music with heavy and angry sounding elements. Female vocalist Becky Gaber is a true singer who adds a lot to the melodicism of the band whilst the male vocals/shouts provided by guitarist Jorg Janssen gives the band their aggressive, angry edge. "Eleven Scars" features a playing time of about 43-minutes and most of the songs fall in the 3-5 minute range. Songs like "Analize", "Electrified" and "For the Last Time" head straight for the jugular, while the cool ballad "When I'm Gone" offers a chance to catch your breath before the slamming "Demons" picks up the intensity once again. "When I'm Gone" really stood out as a highlight for me as well as the track "Enemy of Mine", which is brimming with attitude. Throughout the course of "Eleven Scars" the band are also on top of their game and there are many crunchy, head banging riffs to appease the metal crowd. My Inner Burning has made a huge step in the right direction with "Eleven Scars". This album continues where their debut left off, but it is also a positive step for the future. While I do like this album and give it a definite 'thumbs up', some of the music begins to sound a little similar near the end, but that's ok, because at 43-minutes long "Eleven Scars" never wears out its welcome.
Rating – 82/100
Tracklist
Masquerade

Analize

Electrified

For the Last Time

When I'm Gone

Demons

Done With Denial

Gone Wrong

Enemy of Mine

New Breed

Home-Sick
Line Up
Becky Gaber – Vocals

Jorg Janssen – Guitar, Shouts

Torsten Sauerbrey – Guitar

Daniel Pietrzak – Bass

Niklas Kahl – Drums
Links
Label : Solarfall Records
Review by Andrea Disgraced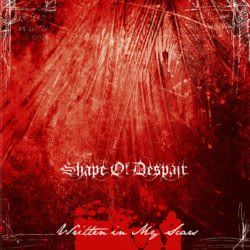 Masters of decadent funeral doom Shape of Despair are finally back after six years (not considering that sort of self-titled compilation out in 2005) of silence. Well, what we have here is "just" an EP, also a really brief one, considering the band and genre – total length is about 11 minutes for two songs, not an extreme length if you know what I mean. Moreover, it's always more difficult to judge an EP than a full-length, you don't have much to appeal to and in this case more than ever, since we have only two tracks. Coming to the music, I must say that I've been a bit personally disappointed, only hoping that this is an appetizer for a greater opus – arriving soon if possible and not in 5 years!

– which bring the band back to its throne of romantic funeral doom. Actually I say I'm a bit disappointed because all these years for two songs that, be it clear, are not bad but absolutely nothing you'll die for, seems a little poor to me. The EP kicks off with the title-track "Written in My Scars", whose soaring melodies place the song right in-between their latest two albums, without sounding too similar but letting us cast a glance in what might be the future of the band, which is a positive note in this sense. Most interesting for the readers of this webzine I guess, in this song you can hear Natalie Koskinen's usual backing vocals consisting in ooohs & aaahs that surely hel building the right atmosphere; nonetheless, don't expect to hear more female chants on this EP. Which isn't bad per se, every member of this band contributed to build a genre, and Pasi's distinctive, suffering growls are certainly able to carry the song. Only, since Natalie has a particular and cold clean voice, it wouldn't be bad to hear more from her in the future – and for those not knowing what I'm talking about, chech out her other band Depressed Mode. In this song is absoutely worth mentioning the good work done by Samu at the drums. Second track is titled "The Bliss of Sudden Loss", that nothing will add to your judgement or liking of the EP, in good or evil. But, I couldn't help noticing the initial and final riff (that accompanied by our usual and beloved SoD-keyboards bring a big smile on our doomy faces) sounds similar to the main riff of Draconian's "Scenery of Loss"… now maybe it's me who's not good at musical theory enough to judge but that's what my ears and "heart" told me.

In conclusion, I guess this is the typical fan-only release; I'm sure the band itself intended it that way. Now we're all waiting for more!
Rating – 63/100
Tracklist
Written in My Scars
The Bliss of Sudden Loss
Line Up
Pasi Koskinen – Vocals
Natalie Koskinen – Vocals
Jarno Salomaa – Guitars
Tomi Ullgren – Guitars
Sami Uusitalo – Bass
Samu Ruotsalainen – Drums
Links
Independent Release
Review By Tony Cannella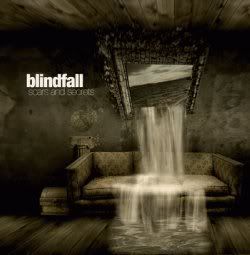 There is something instantly like-able about the Spanish band Blindfall and their new album "Scars and Secrets". Maybe it is the infectious enthusiasm and energy that comes through the speakers or perhaps it is the punk-like vigor mixed with a heavy pop groove, set to the backdrop of crashing metal riffs. Whatever the case, this band from Spain has got all bases covered on "Scars and Secrets". "Black Dolls" provides a strong beginning. "Deep Inside" keeps up the volume and intensity. The ballad "Truth Left Behind" provides a strong, change-of-pace moment and was one of the highlights for me. The band gets back to rockin' on "Lost Children", a powerful and catchy tune. Another different song is "The Question Song", with its funky beat and rap-like vocals. The band really branches out on this one. Other highlights include: "Love Yourself", "Scars and Secrets" and "Other Lives". "Scars and Secrets" from Blindfall is a straight ahead in-your-face rock record.
Rating – 79/100
Tracklist
Black Dolls
Deep Inside
Other Lives
Crossing Minds
Truth Left Behind
Lost Children
Love Yourself
The Question Song
Scars and Secrets
Suspiro
Line Up
Inga – Vocals
Jool – Guitar
Chema – Bass
Vinsss – Drums
6 color styles available:

Style switcher only on this demo version. Theme styles can be changed from Options page.